Where to stay in Umbria (5 Places we love)



Where to stay in Umbria.
I don't hide my affection for Umbria. Over the years we have visited, vacationed, cooked, explored, sipped, hiked and slept our way through Umbria, affectionately called "the green heart of Italy" for its landlocked status and plethora of forests & mountains. 
Sleeping our way through Umbria might sound a little risque, but I promise, it's not!  I love finding beautiful places to stay- and since it can be simultaneously a challenge + a joy- (and something I truly adore doing-) we have stayed at many places over the years. The thrill of the hunt, I suppose.
I wanted to share my 5 favorites with you- This is my "short list". The places I loved staying at with my family and friends, and have recommended to everyone.
All of them but 1 (Roccia Viva) are great for families with multiple bedrooms, bathrooms, outside areas, views & other things that make them special.
There's only 1 of the 5 that I have returned to however, and so I start with that one. My dear friend Letizia's B&B on a magical mountain near Assisi…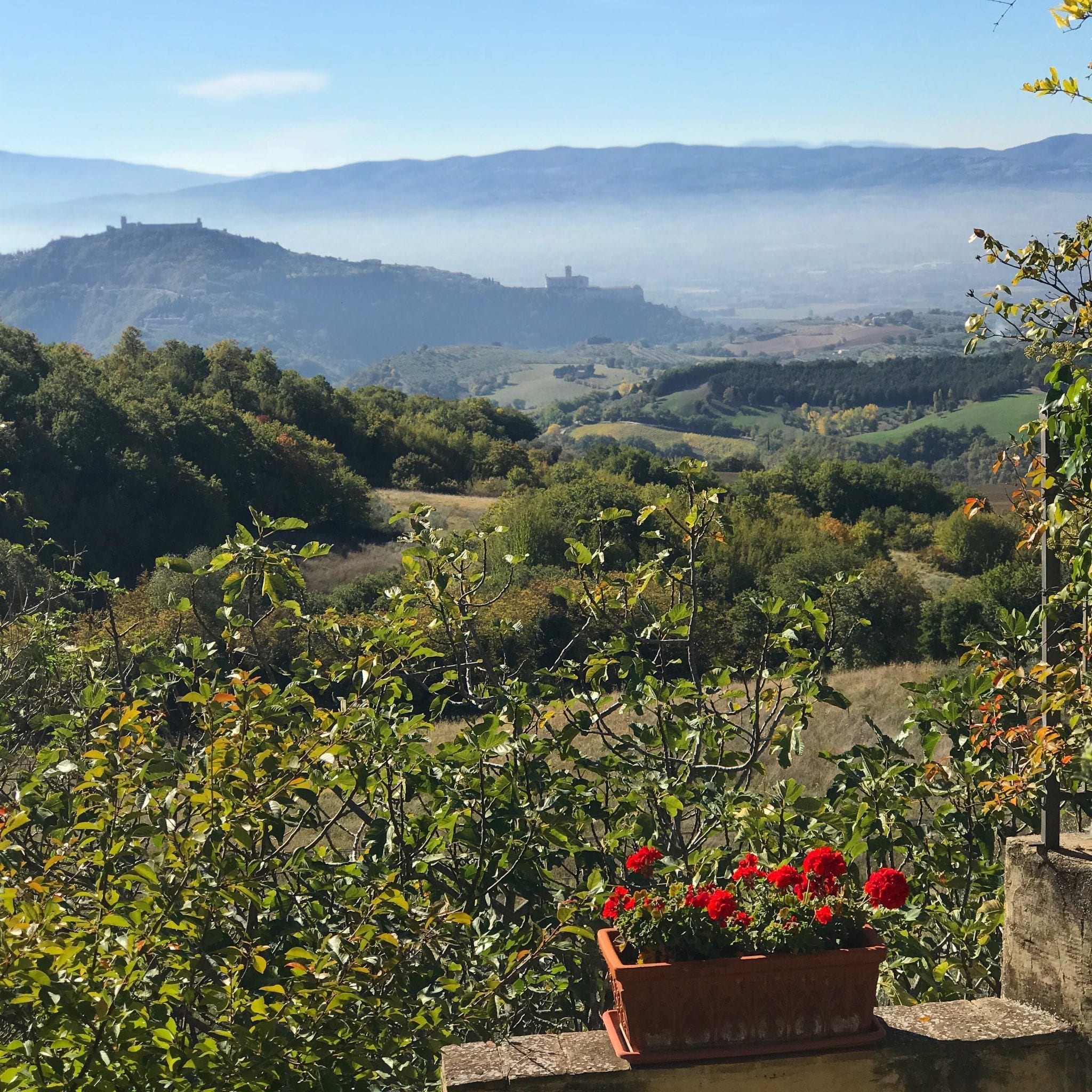 Alla Madonna del Piatto is a small eco-friendly B&B and vacation rental, near Assisi in Umbria. Letizia & Ruurd are the best hosts in the world, and take care of your every need and spoil you with delicious food & wine. The property has drop dead gorgeous views of the valley looking towards Assisi- and the best star watching terrace in the whole world according to Ben (and all of us!)
It is quiet, remote, blissful, and a great location for exploring Umbria. We've stayed in the B&B and have also rented the vacation apartment which was great for our group of 5 (with 2 bedrooms, office with pull out couch, living room, kitchen and 2 bathrooms.) Letizia also has a cooking school at the B&B that I highly recommend you take part in!
While you can take a taxi to the B&B, having a vehicle is highly recommended so you can explore on your own. Assisi really is magical, and lovely to visit in the evenings after the tour groups have left. We also love to visit Gubbio, Perugia, Bevagna, Montefalco, Spello, Trevi from here, they are all easy day trips. The nearest town facilities to the B&B are in Santa Maria degli Angeli, about 15-20 min drive away. There are many shops, grocery & specialty food stores and more in this town.
Letizia has excellent advice for all the best things to do, see & eat in the area and is very well-connected in the community, all the better to give you all the best tips!
Things we love: We adore this place and return again and again. It is cozy and relaxing and you feel loved and well looked after by Letizia and her husband. They have traveled the world and have friends from all over, and that is evident when you see the eclectic collection of art throughout the B&B and hear their stories- they're truly people after my own heart!
I love Letizia's cooking + learning from her. The outdoor spaces are beautiful. (there are several with flowers and herbs, vines & fruit trees) I love that you can literally hear a pin drop out there while sitting on the terrace at night. (or anytime really)
It is so quiet and tranquil that all you can hear are the birds above you as you look out over the valley below with the Basilica of St. Francis glittering on the opposite hill. It's a great place to unplug and reconnect with nature.
Letizia & I, along with our wine expert Barbara, lead culinary tours based from her B&B every autumn- we'd love to have you come along!  (details over here)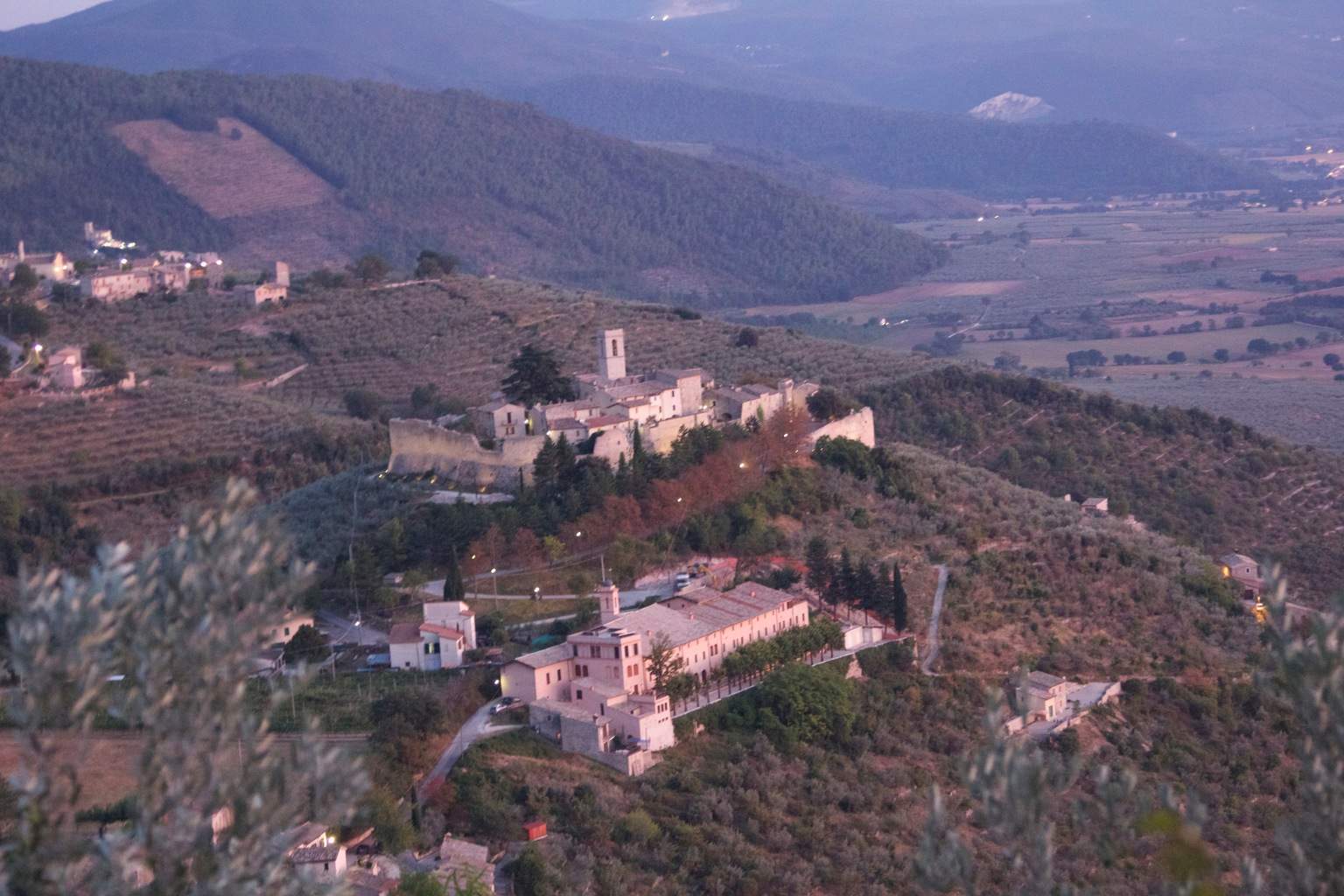 Roccia Viva is a romantic getaway for 2 in the hills above Campello sul Clittuno. The apartment is attached to the owners home but very private with its own entrance, terrace, & parking.  The large terrace is the perfect spot for aperitivo and evening meals as you watch the sunset over the valley and the stunning tiny walled village of Campello Alto.
It is quite remote and quiet, perfect for someone who doesn't need to be 5 minutes from a gas station or bank. (There are restaurants and shops within  15 min or so, however) We loved exploring the area during the day and returning each evening to sit on the terrace for aperitivo. Car required.
Things we love: Drop dead gorgeous views, large terrace, large modern bathroom, lovely well equipped modern kitchen & cozy, well-lit seating in the living room. The owner is an architect and you can tell how much thought and care he put into the design. The location is great for exploring Spoleto, Montefalco, Bevagna, Spello, Trevi, Assisi. We LOVE this place.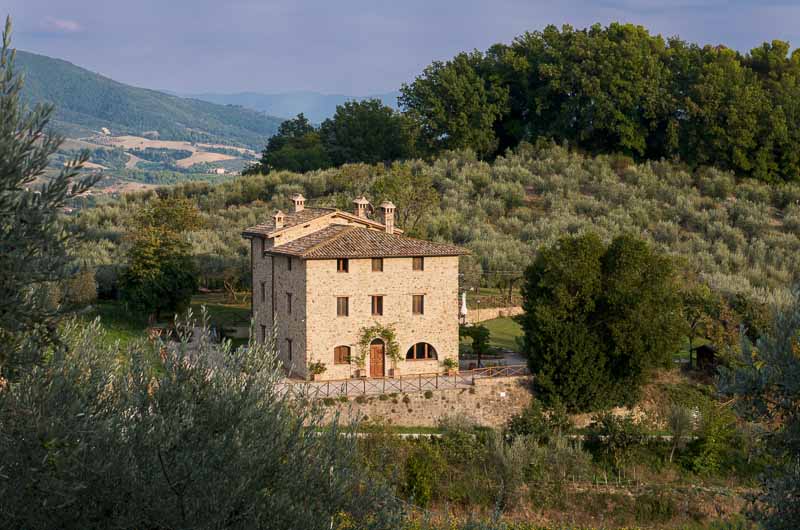 Casa delle Rose is a charming apartment on the ground floor level of the owner's farmhouse, with its own private entrance. It was perfect for our family of 4, with 2 bedrooms (twin beds for the kids- hurrah!) 2 bathrooms, a lovely large modern kitchen + living room. Cozy, beautiful & quiet, this house is in the midst of the countryside but just a short drive to many lovely places in Umbria.
The house sits in a gorgeous little valley surrounded by olive groves, vineyards, and farmland, not far from the village of Canalicchio. Within walking distance (up the gently sloped hill) is a lovely inn with a restaurant we had dinner at several nights. Really handy for days when you don't want to cook but you've been out exploring all day and don't want to go far. The house has a large garden & pool, which is shared with the owners- but they usually used it early in the morning for exercise so it felt very private.
What we loved: The apartment was perfect for us. Not too small or too big. The house is decorated really nicely with interesting art on the walls (the owner is a photographer) and everything you need in the kitchen. The location was great- quiet, peaceful & remote (which we personally love) but close to all kinds of places to venture to during the day. (Car definitely required)
Deruta is not far, where you can find dozens of ceramic shops. The owners shared their favorite vineyard with us, "Scacciadiavoli" which is not too far from the house, and ended up being a favorite of ours as well. I loved waking up to find fresh fruits and veggies from the owners on our porch for us to eat. Such a nice touch! They were close by if we needed them, but not intrusive at all, and truly lovely people- I felt we had new friends by the end of the first day.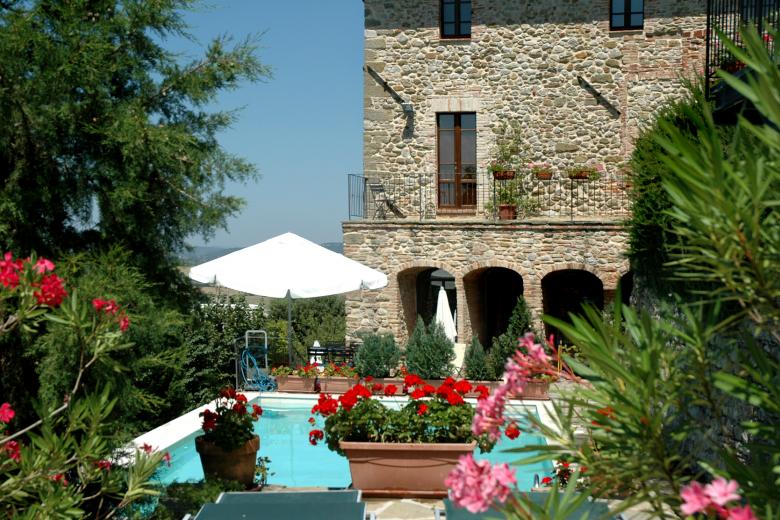 via L'Antica Vetreria
L'Antica Vetreria is a beautiful & unique property with 5 apartments in the wall of the village of Piegaro, overlooking the valley below. It was a 13th-century glass workshop in ruins and bought and lovingly restored by 2 Americans from Seattle who now live in the village.  There are 4 apartments that are great for couples or families, and 1 large apartment (the villa) great for a group.
When we stayed, we were a group of 8 and rented several apartments which worked out great for us to have our own space but also have a place to gather together for games and meals. The villa is gorgeous but it was rented while we were there.
We befriended the friendly Australian families that were staying there and got a peek at the inside. I'd definitely return- it was the best spot for 2 families traveling together! We were there in winter so did not get to use the outdoor space, it's also very unique to have a property in town with a large shared pool.
What we loved: The property is unique because of its history but also because you are directly in the village, and have an outer view of the valley below. It's the best of both worlds! The apartments are beautifully decorated and have everything you need. Colleen and Tom are close by if you should need anything and are happy to make reservations for dinners/ outings etc.
The tiny village of Piegaro is adorable and gives you a nice feel for quiet village life. There is a good restaurant just steps from the apartments, and a bar to get your morning espresso. Several towns with grocery stores and more restaurant choices are just minutes away. Great for families or large groups traveling together.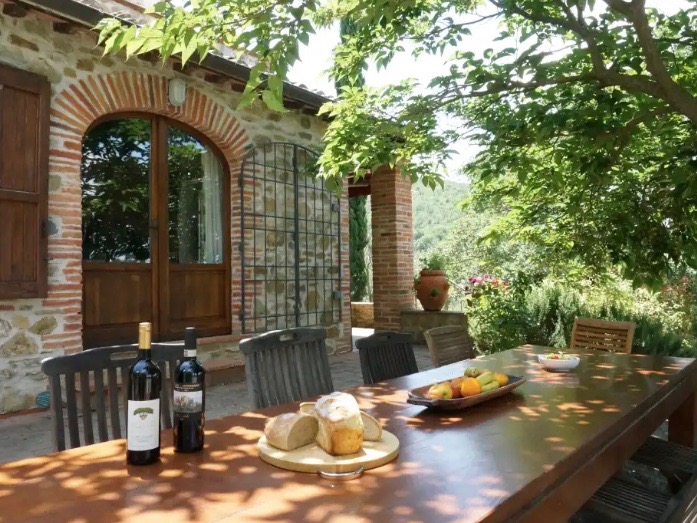 via Villa Tartagli Bassi
I've saved my favorite for last. I love this place so much I almost don't want to tell you about it. This beautiful countryside home that has it all. Pool, pizza oven, big enough for groups and best of all, within walking distance to the small jewel box village of Paciano. We didn't want to leave!
While I truly love all of the places in this list, this one is dear to my heart and the place we saved for our last hurrah trip before we moved back to the US. Sadly, Ben and I had the flu the entire week, so we couldn't enjoy the house as much as I had hoped but we still loved it and long to return.
Things we love: I kid you not- this is my best find ever in the history of trip planning! It is very hard to find a place that is private & roomy with a nice kitchen, plenty of bedrooms and bathrooms, a gorgeous outdoor area with pool, pizza oven, multiple outdoor sitting areas, a garden with herbs & flowers that is within walking distance to a village!!
Paciano is adorable and has everything you need- groceries, bancomat, several restaurants & bars, a playground, views, tiny cobblestone lanes.
I swear, it was like Umbrian Nirvana for us. I want to go back!
So there you have it- my short list of Where to Stay in Umbria. Do you have a favorite place I should know about? Tell me about it below & I'll add it to my list!
p.s. Don't forget to download our free Mini-Umbria guide below, and of course, come with us to Umbria!

Pin it for Later!