Visiting the Duomo of Milan.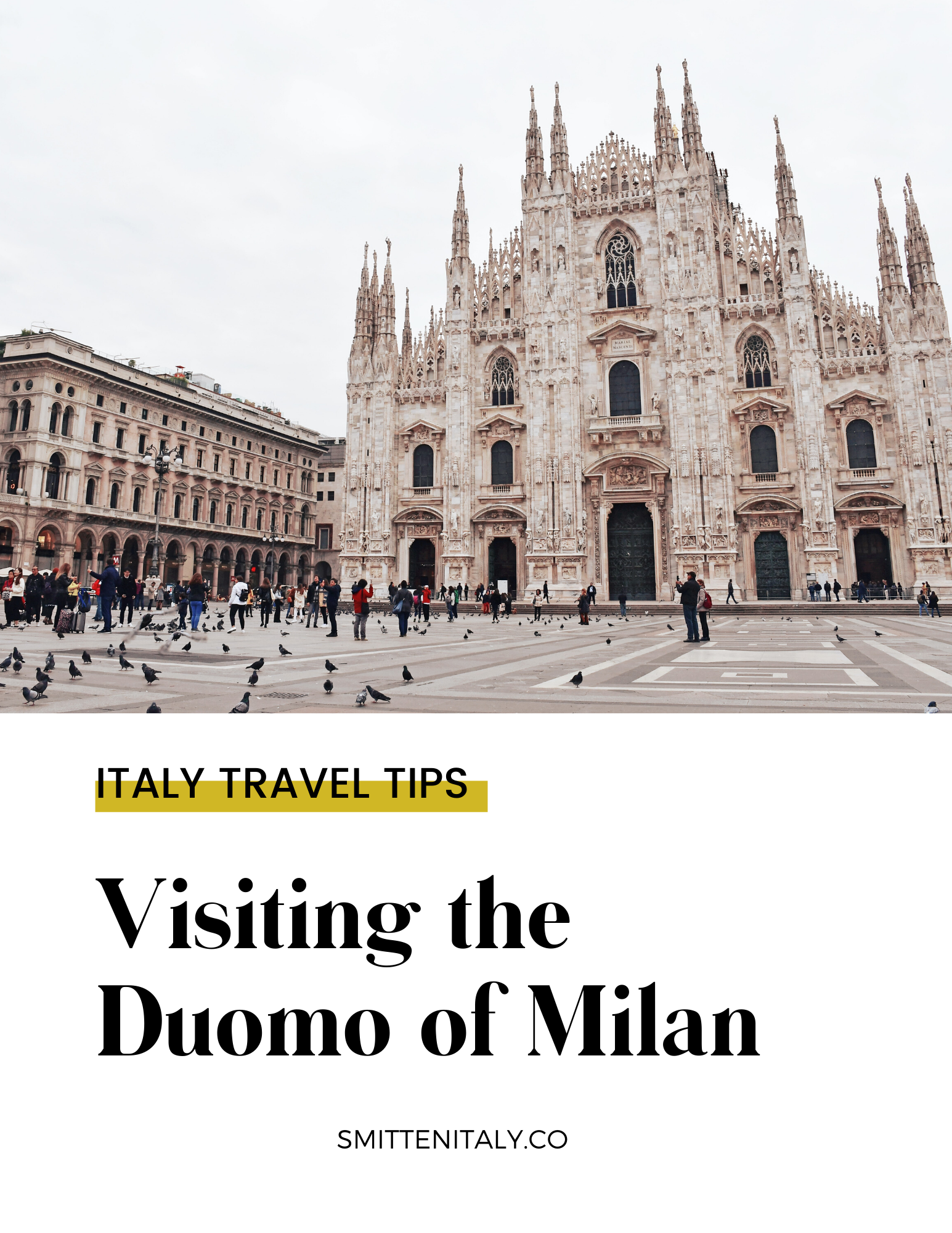 (Updated o1.20) This post may contain affiliate links for your convenience. Read our disclosure policy here.
Visiting the Duomo of Milan.
The first time I saw the Duomo of Milan, it was a cold, drizzly January night. Chris and I had just flown into Milan for our job scouting trip, knowing virtually nothing about Milan.
That evening we made a beeline to the center of the city to scope out the Duomo- our #1 stop virtually everywhere we travel. We came out of the metro station into Piazza del Duomo, directly facing this glorious Cathedral.
It took my breath away.
We walked in and were instantaneously overwhelmed (in the best way.)
Enveloped by the heavy scent of incense, hushed tones of the priest, and surrounded by flickering candles- we were in awe and didn't know whether to laugh or cry.
And just like that, I was in love with Milan and there was no turning back.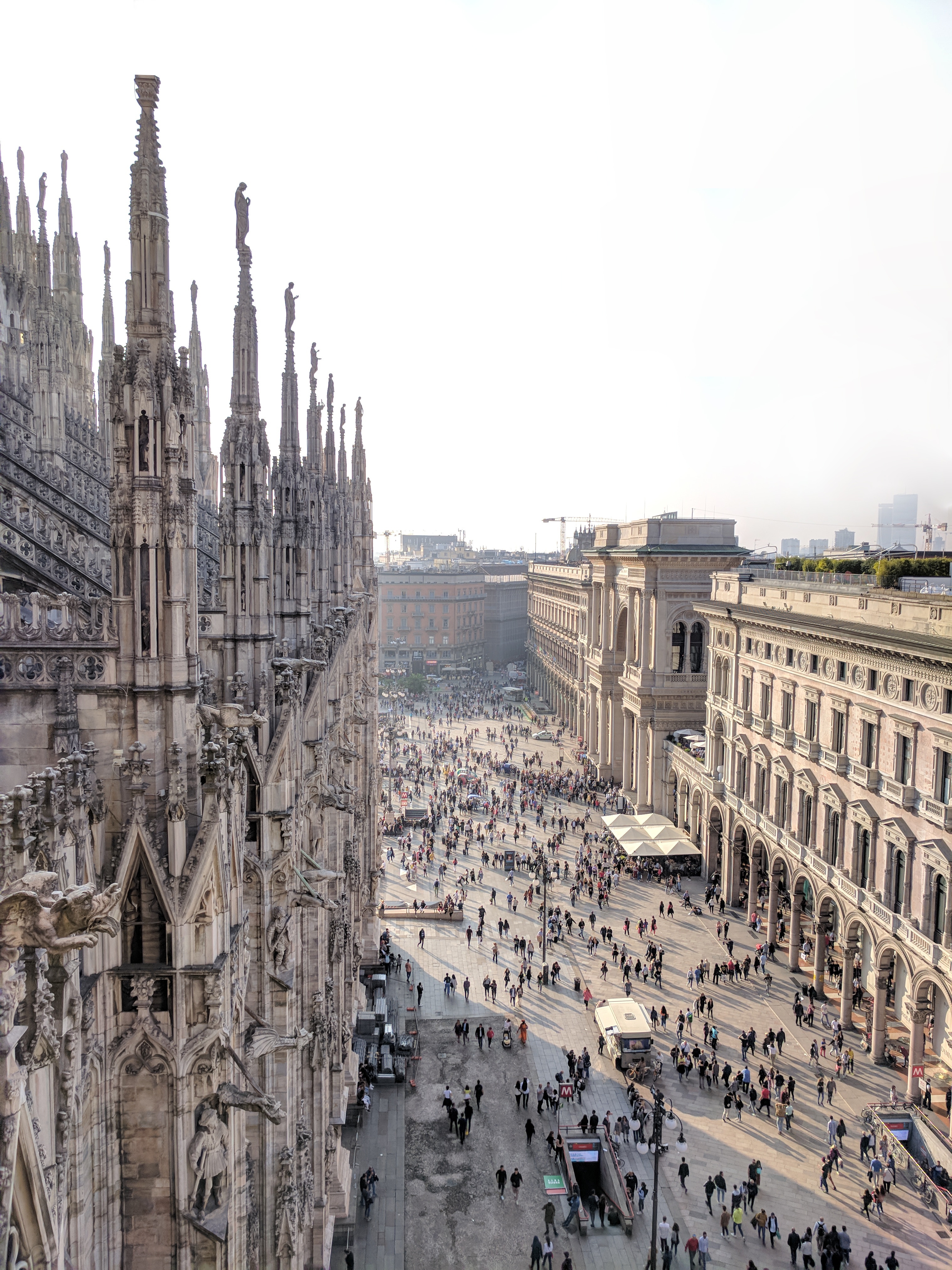 Visiting the Duomo of Milan (a gothic masterpiece)
The Duomo of Milan is a stunning Gothic masterpiece and the 5th largest cathedral in the world. The Cathedral, dedicated to St. Mary of the Nativity (Santa Maria Nascente) took nearly 6 centuries to complete, some say it's still not completed since the restoration is an ongoing project.
The details here are amazing- it has 3400 statues & 135 gargoyles! I'm pretty sure if you tried to start counting you'd never get there…
I dare say this is the most photographed place in all of Milan. Despite the crowds, I still never get tired of walking past it or taking a moment inside. And I cannot ever walk by without snapping more photos, even though we have hundreds at this point!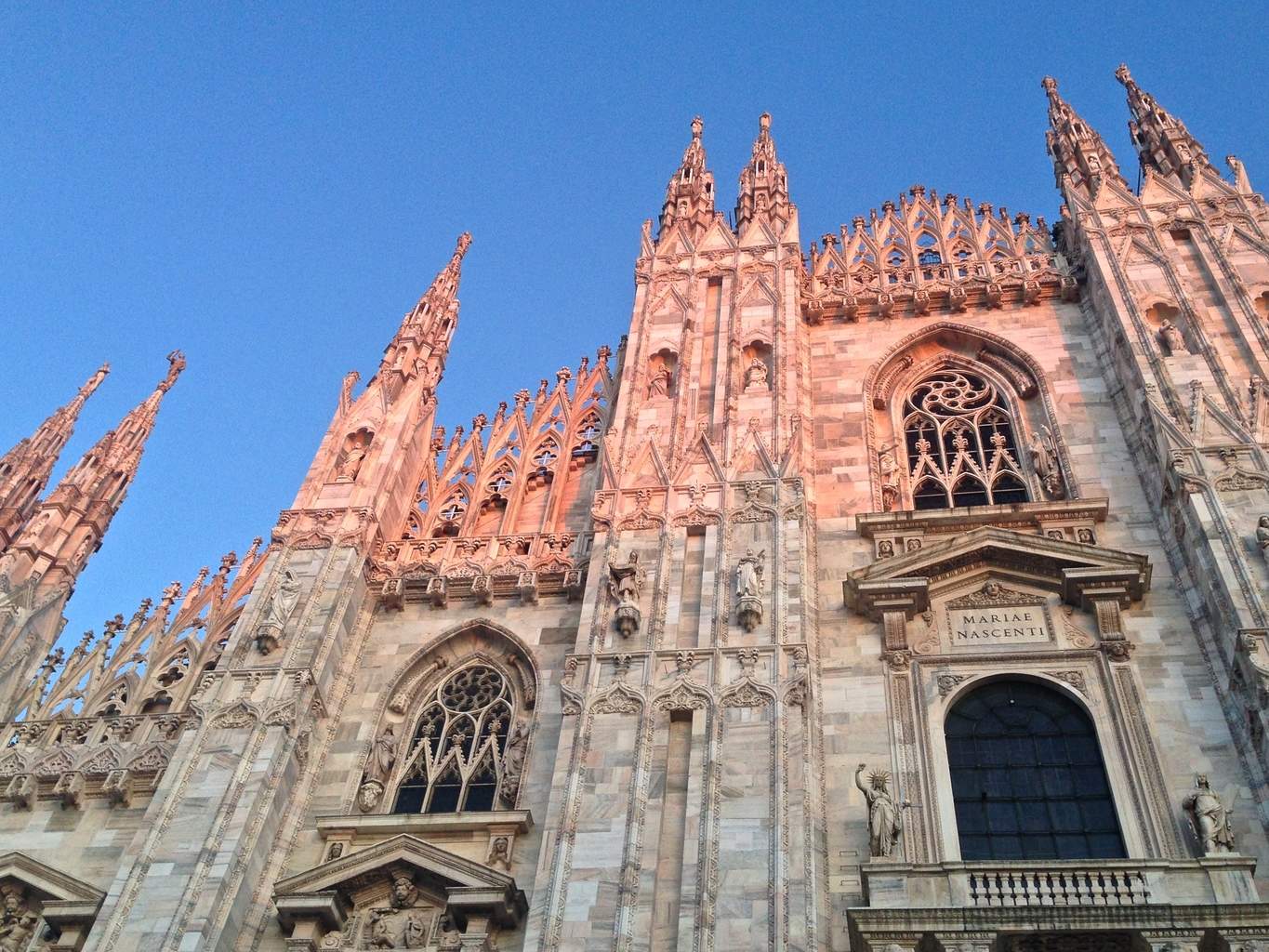 The outside of the church might have taken my breath away (and still does) but stepping inside is when I fell in love with this place.
While the outside is light and ornate- once you step inside, you'll want to take off your sunglasses because it is dark and moody in the loveliest of ways.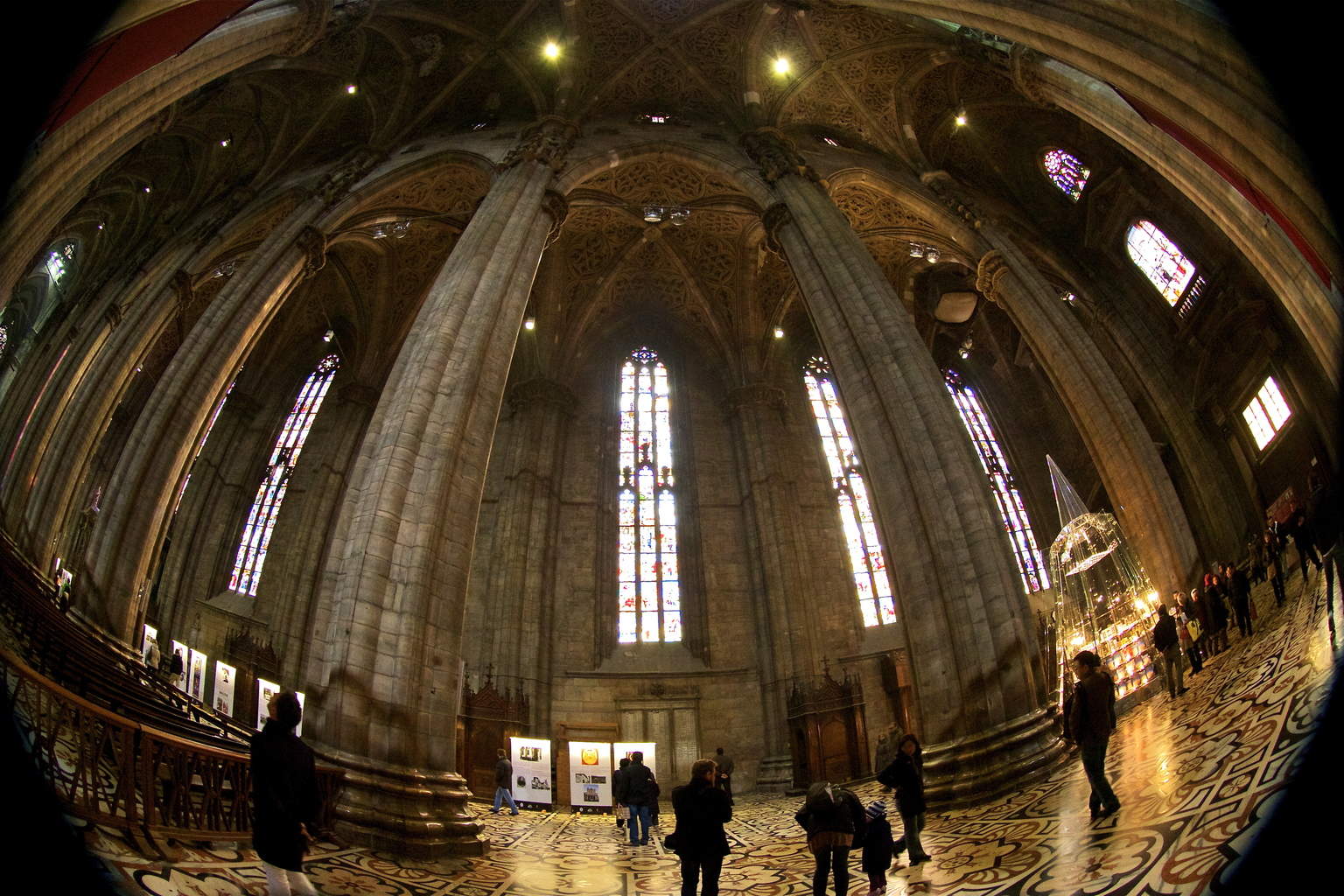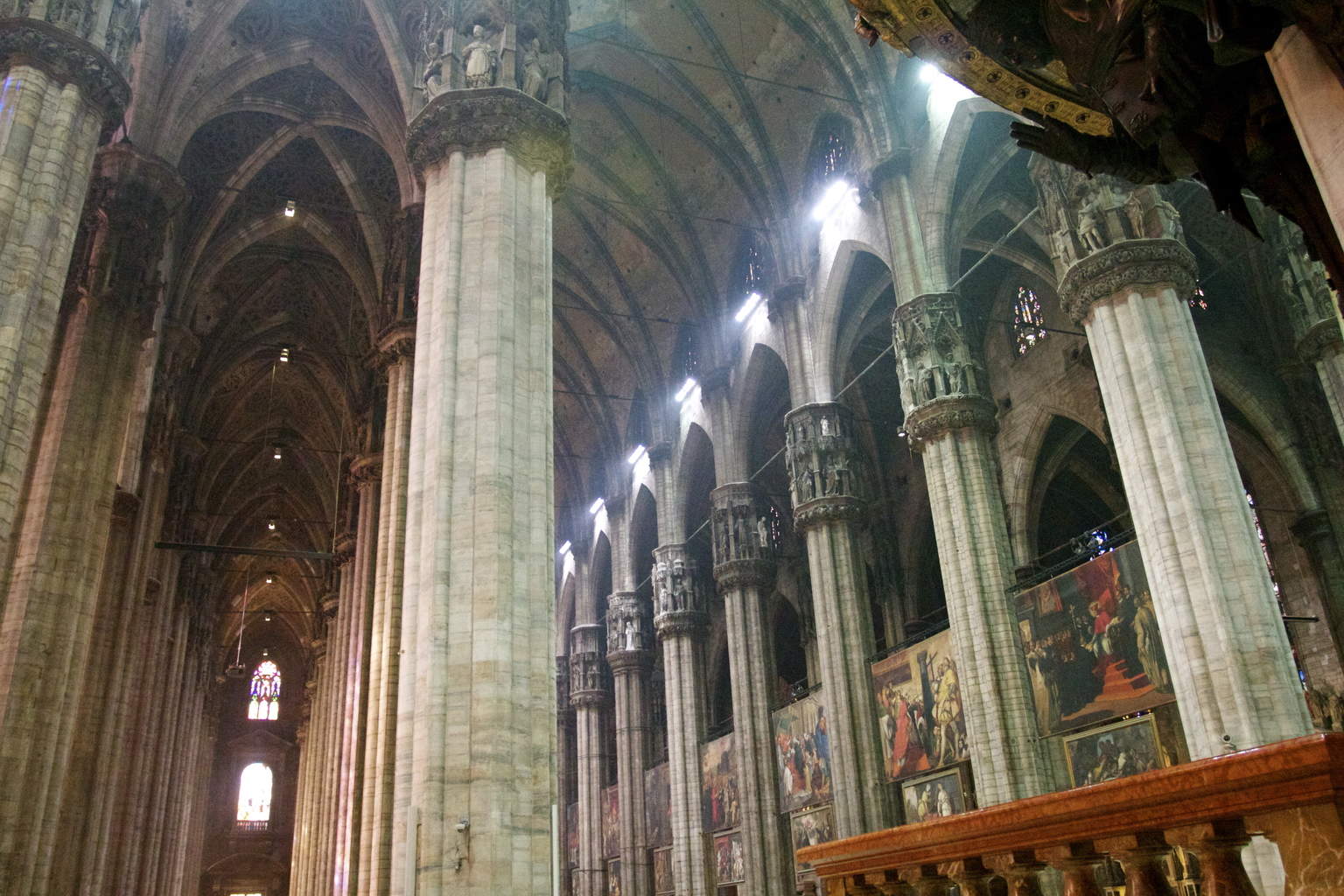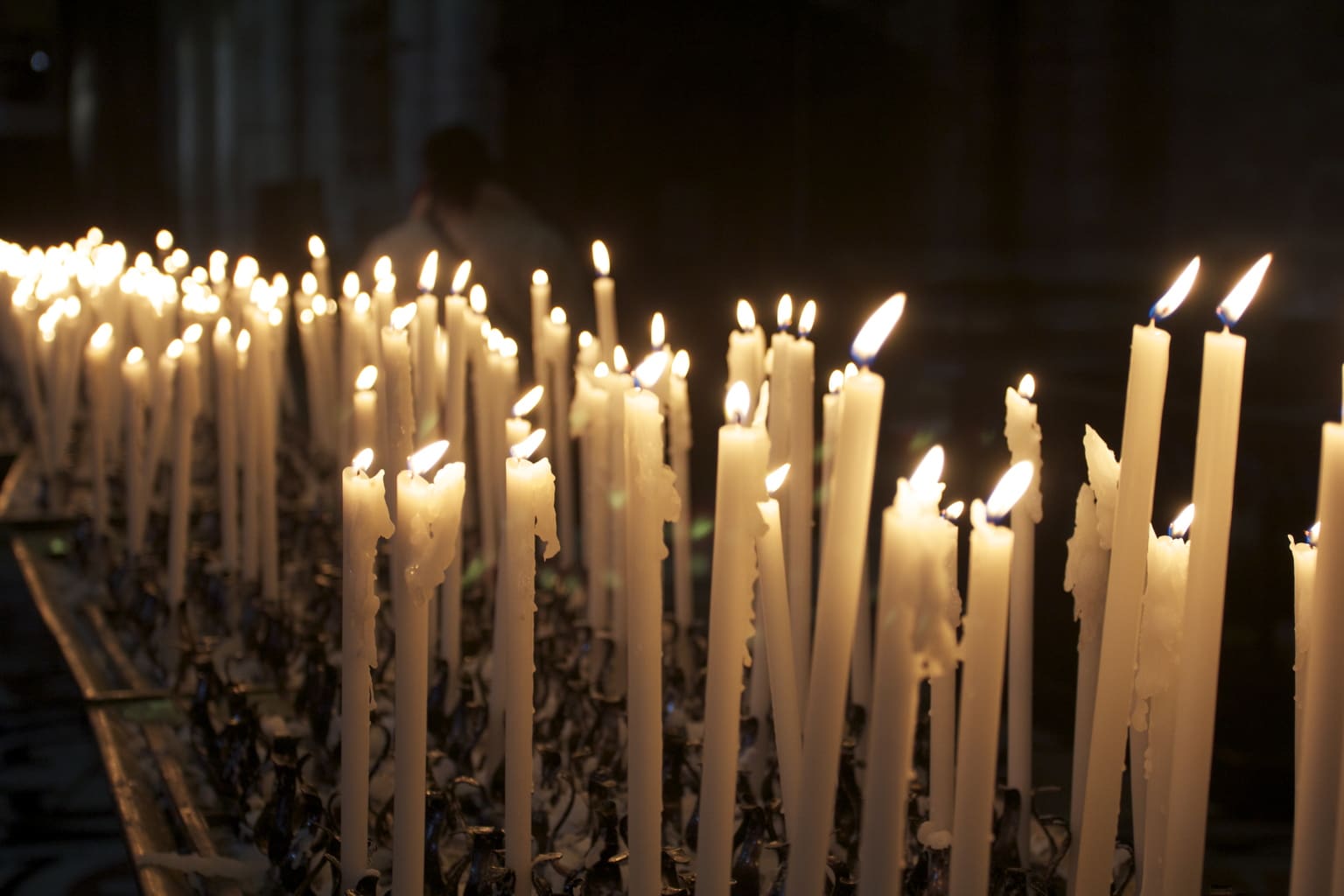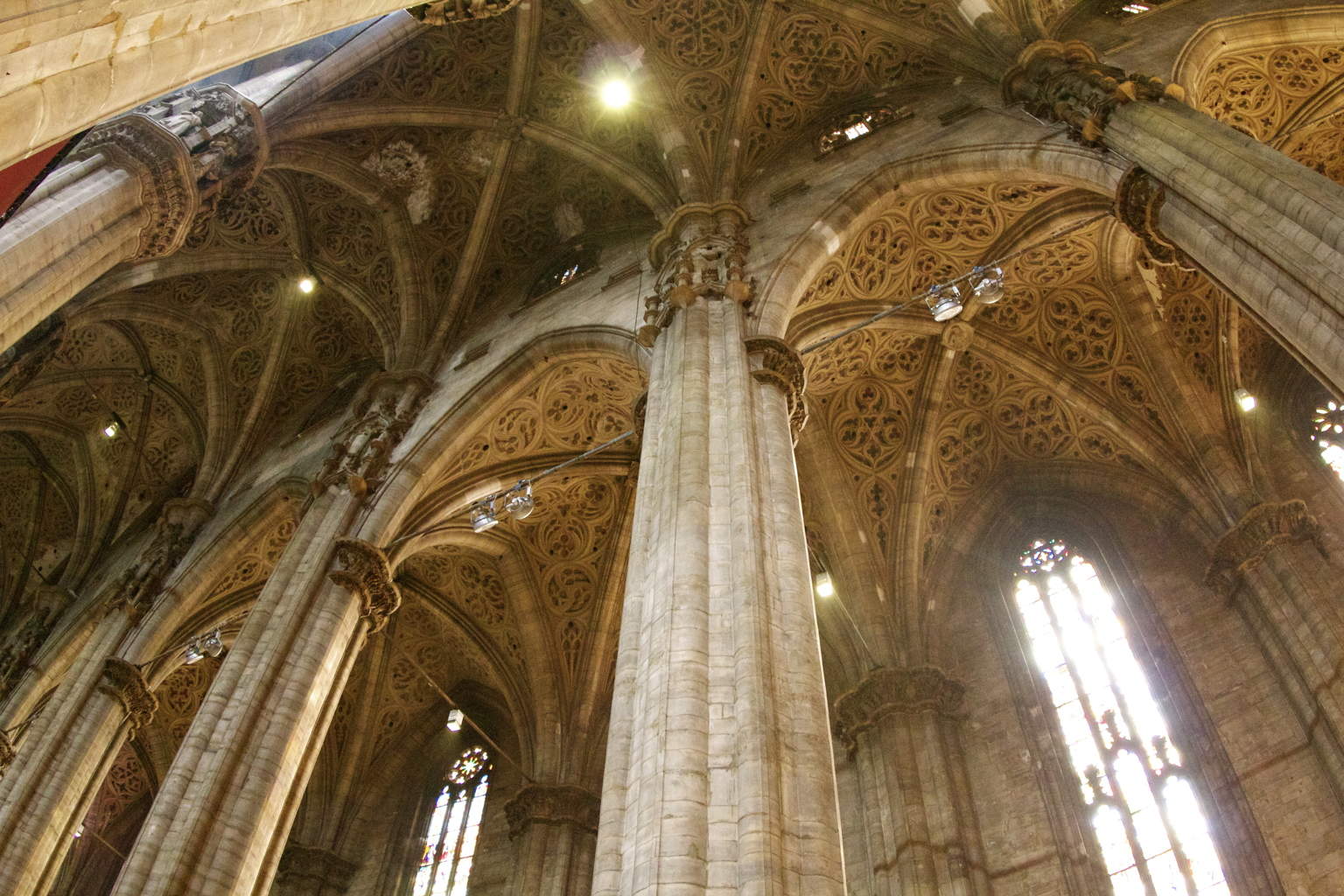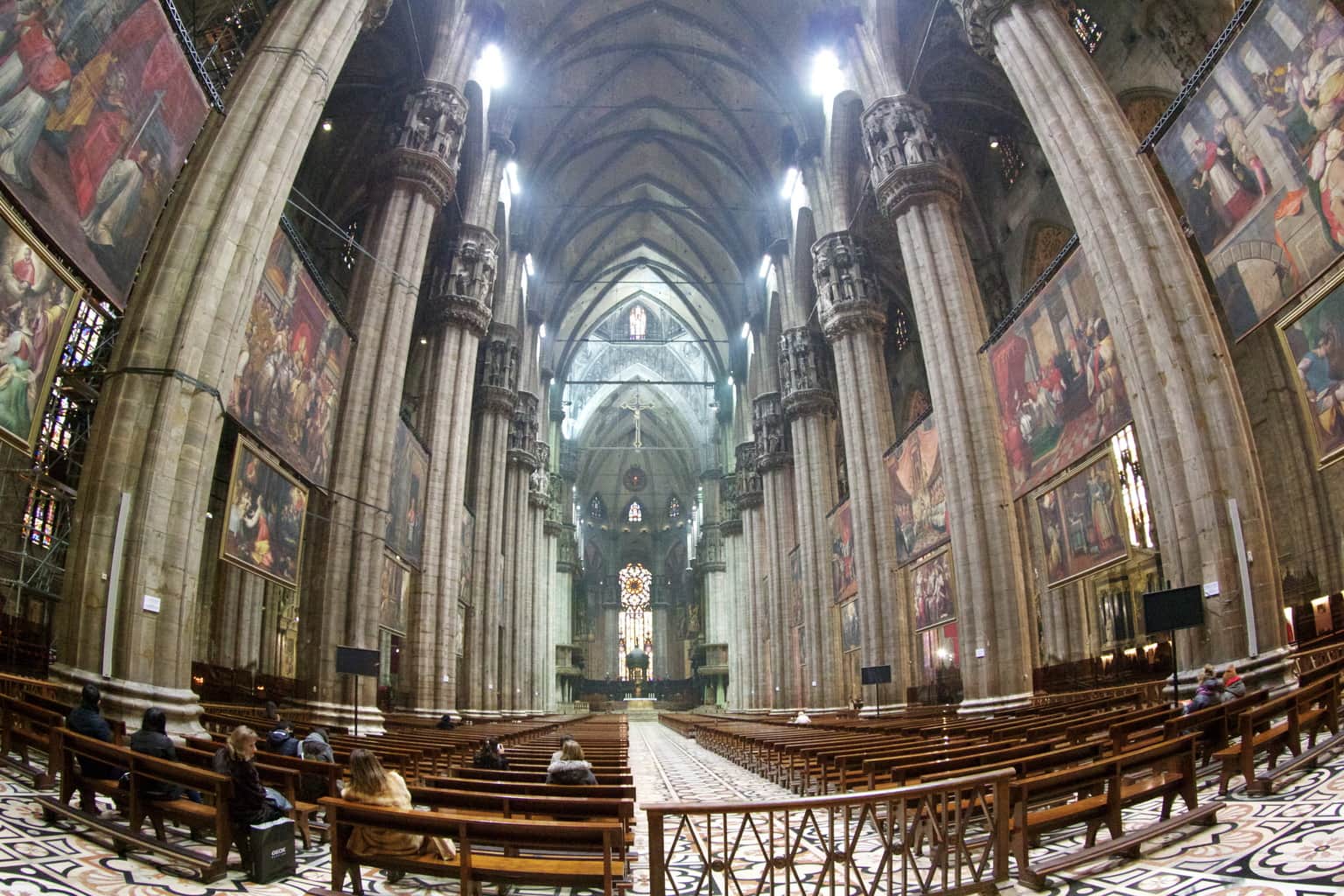 INSIDER TIP | Look high above the apse (in the far front of this photo) and look for the little red light. The light marks the location of a small shrine which holds a holy relic, a nail from the crucifixion. This relic was given to the Emperor Constantine by his mother, and preserved by Saint Ambrose, the archbishop of Milan and moved to the Duomo when it was built.
Every September 14, an ornately painted lift called a "Nivola" is hoisted up in the air to retrieve the relic for a special ceremony called the "Rito della Nivola" in the Cathedral. The relic is kept down by the alter for approximately 2 weeks.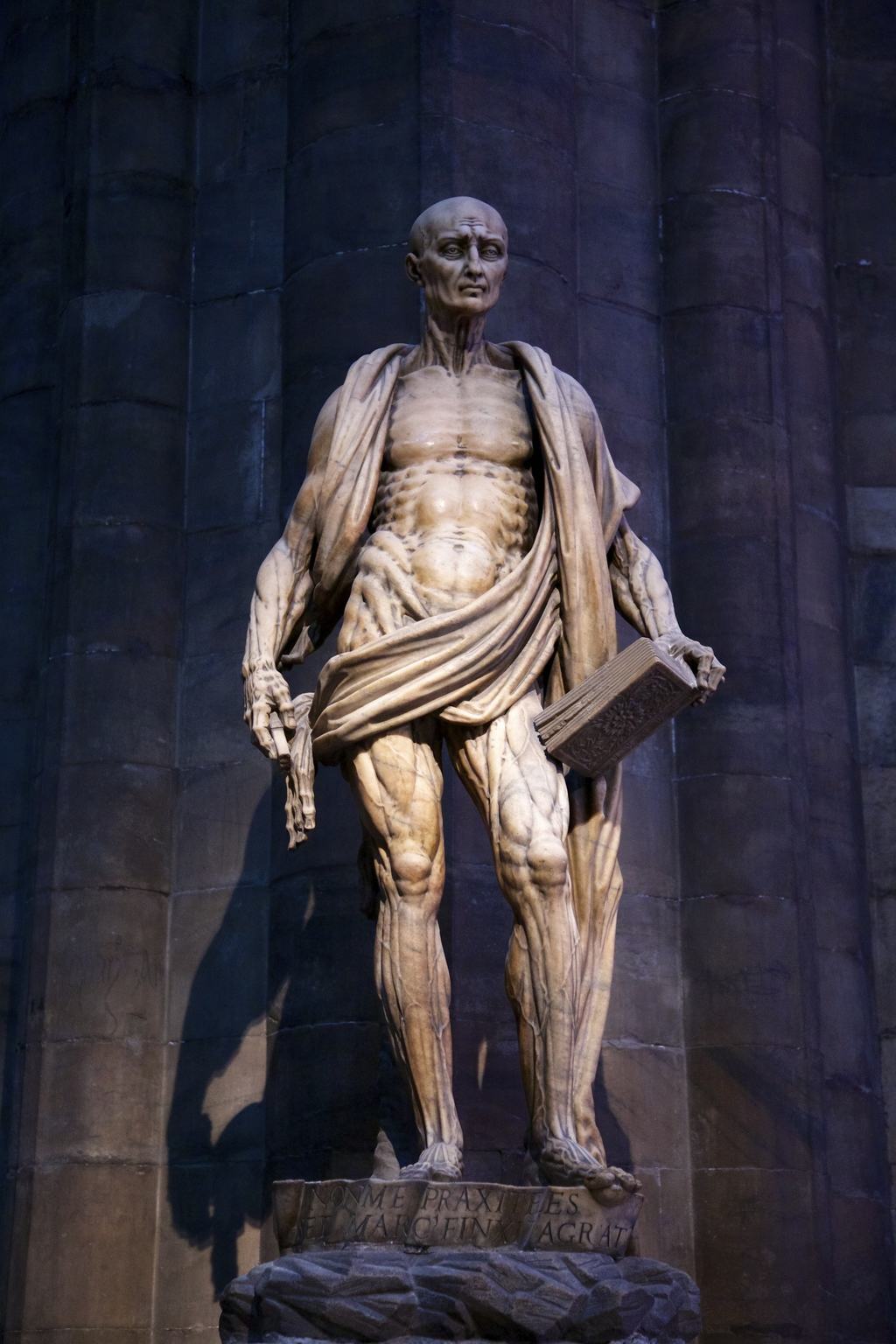 INSIDER TIP | Don't miss the sculpture of Saint Bartholomew in the south transept of the Cathedral. Sculpted by Marco d'Agrate in 1562, it shows the martyred saint with his own skin draped over his shoulders. Many believe he was skinned alive.
The sculpture is fascinating, showing every muscle and tendon- quite the masterpiece in its own right.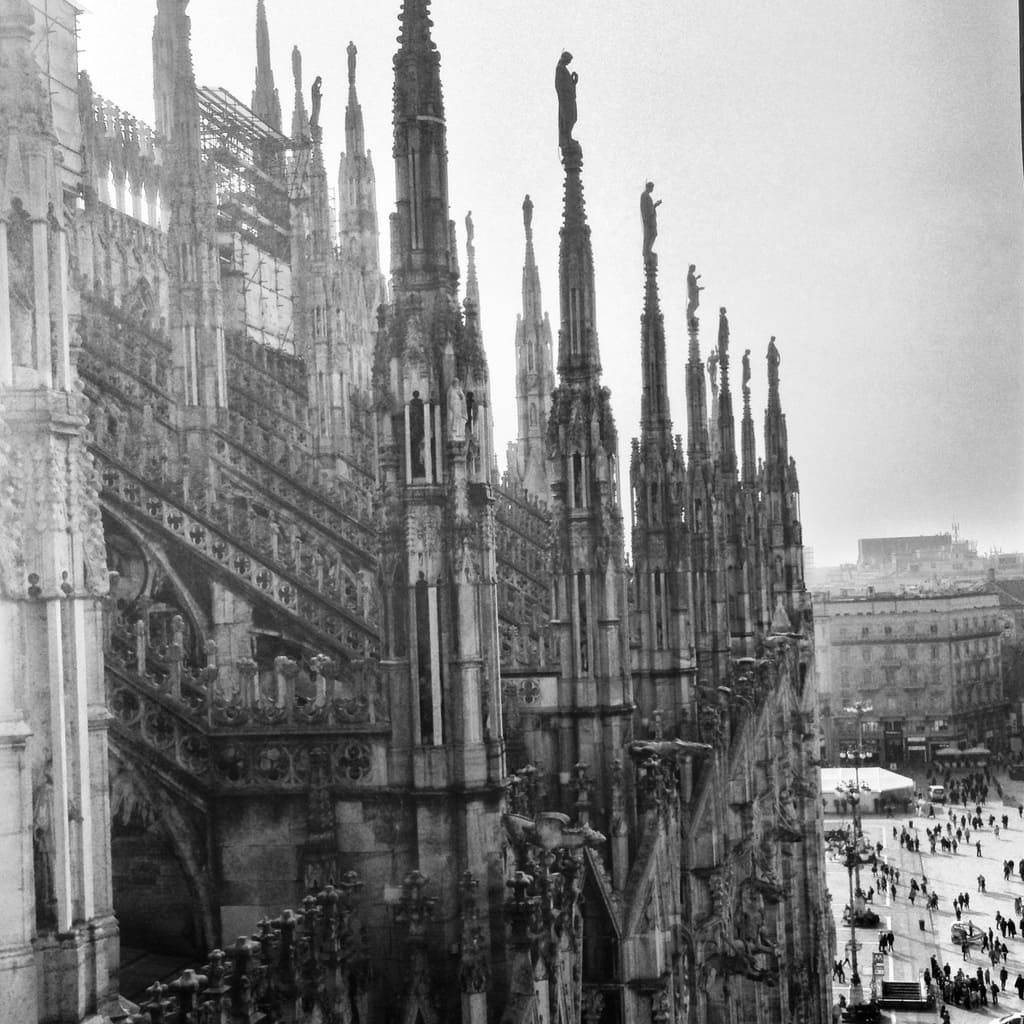 INSIDER TIP | For an incredible close up look at the architecture of the cathedral, and surrounding views of Milan- take the steps (or the elevator) to the top. It's an amazing view, and someplace we love to take guests when they are visiting. (tickets required for both options)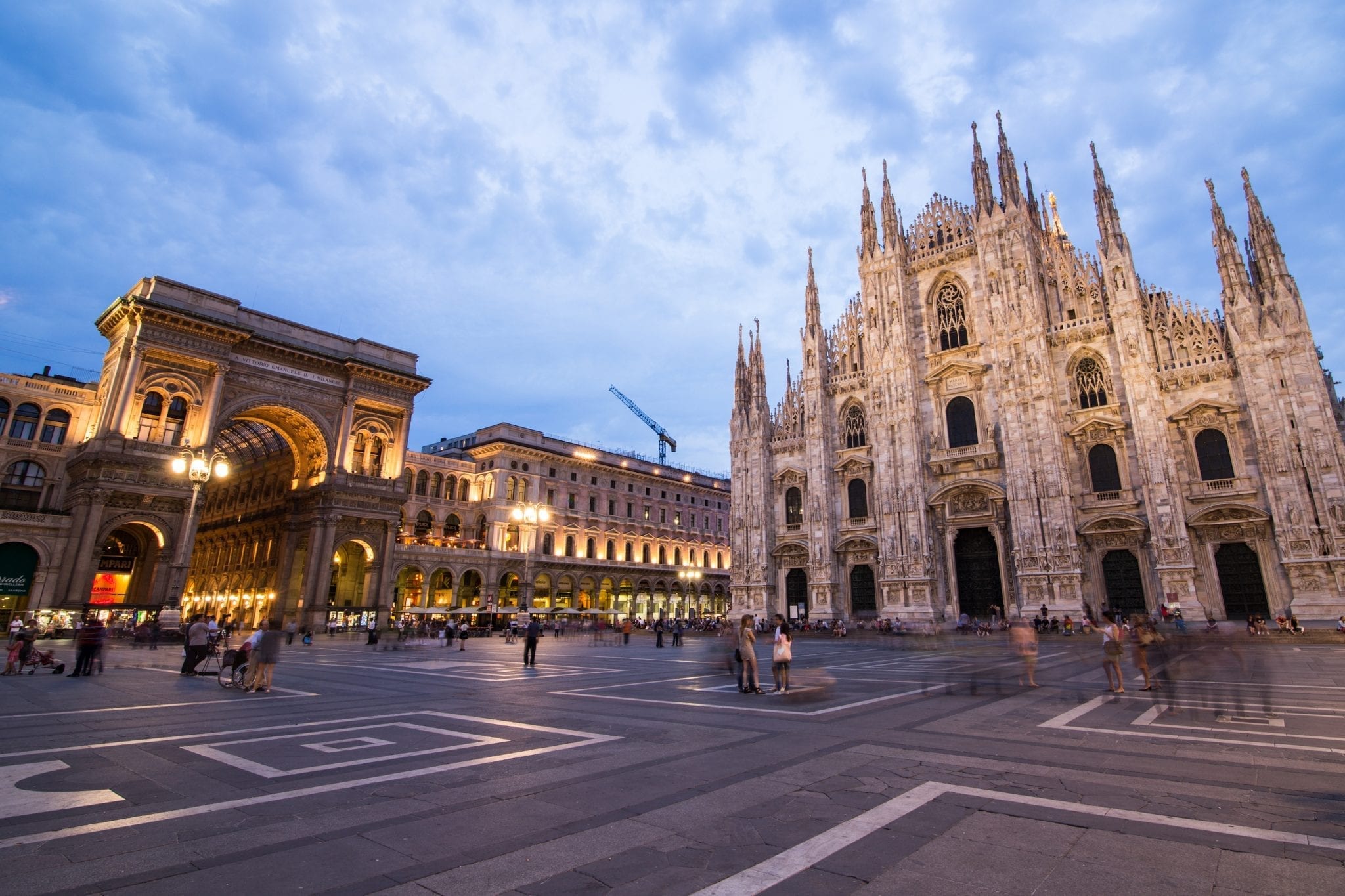 Location | Piazza del Duomo, Milano
Getting there:
By Metro: Red Line (M1) or Yellow Line (M3) to the Duomo Stop
By Tram:
Piazza Fontana stop, trams 15 + 23
Via Mazzini stop, trams 16, 24, 12 + 27
Via Torino stop, trams 2 + 3
Daily 8.00 to 19.00 (last admission 18.00)
Terraces
Daily 9.00 -19.00 (last admission 18.10)
Duomo Museum (included in Cathedral admission)
Tuesday – Sunday 10.00 – 18.00
Last ticket: at 17.00 (5pm)
Cathedral – € 3,50 Ticket includes admission to the Cathedral only
Cathedral + Museum + Baptistry – € 8,50
Roof Terraces:Tickets must be purchased to go onto the roof terraces
Duomo pass with roof terrace by foot – € 13,50
Duomo pass with roof terrace by lift – € 17,50
You can also buy tickets here: Get Your Guide
Get Your Guide Combo ticket (Duomo + Terraces)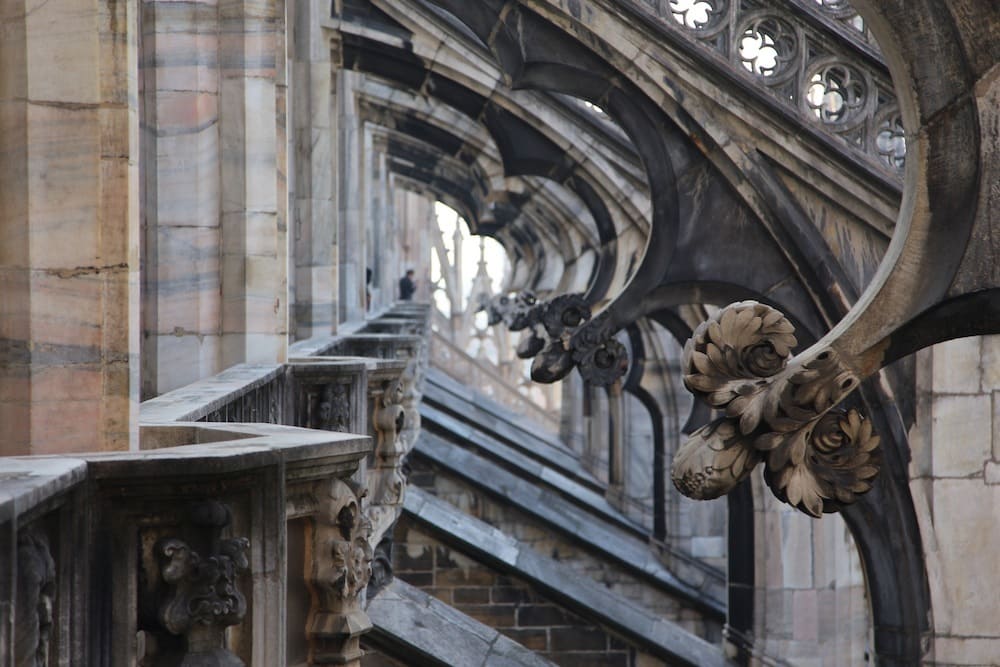 Can't Visit right now?
More Tips:
As with any church in Italy, be prepared with proper clothing. Bare shoulders and short skirts or shorts are not allowed.
Rooftop times are noted on the website and are different than Cathedral hours.
You will most likely be stopped at the entrance by men in uniform to have your handbag screened. Don't worry, this is part of the normal process.
You can now download the Duomo di Milano app for your phone or tablet which includes details art & history information.
Buy tickets ahead of time here, or at the kiosk between the Duomo & Palazzo Reale.
Don't forget to grab your pocket guide to Milan below with our favorite places to eat, stay & explore. 

Pin it for later!