Visiting Bergamo (Favorite Day Trips from Milan)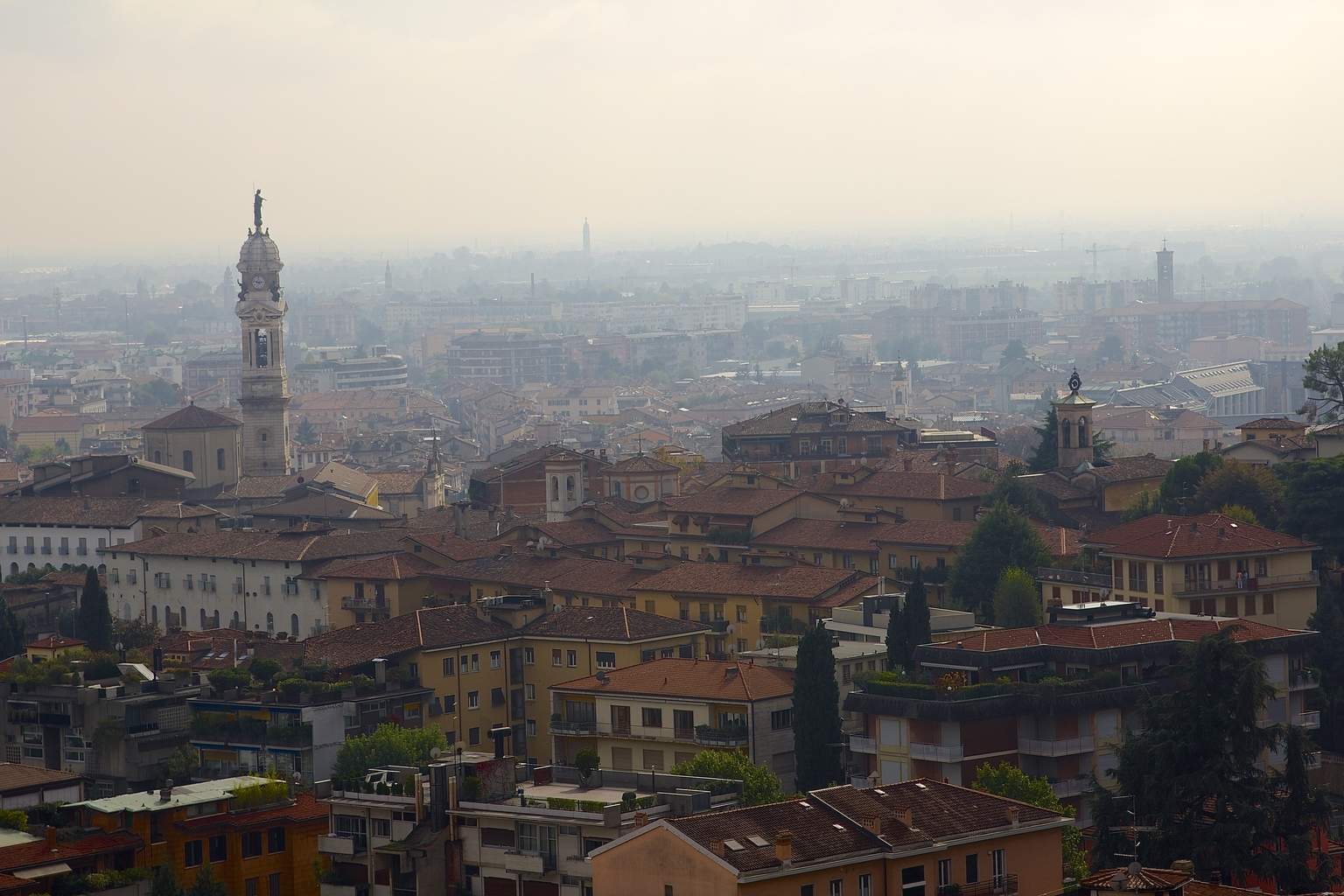 Visiting Bergamo: an easy day trip from Milan.
Bergamo is a bit addictive. Once you visit, you'll want to return again and again. Luckily for us, it is a short drive or train ride from Milan. I love taking our visiting friends and family there, and never get tired learning more about Bergamo and its history.
There are 2 parts of Bergamo. Città Bassa (lower town), the new more modern city and Città Alta (upper town), the beautiful medieval walled city sitting on the hilltop.
When you step off the funicular at the top into Piazza Mercato delle Scarpe  (the old shoe market) you can feel how special this place is. It's almost like you have been transported to a different world.
Bergamo Alta feels like a small cozy village and has the perfect combination of narrow ancient cobbled streets, beautiful architecture and gorgeous food shops and restaurants.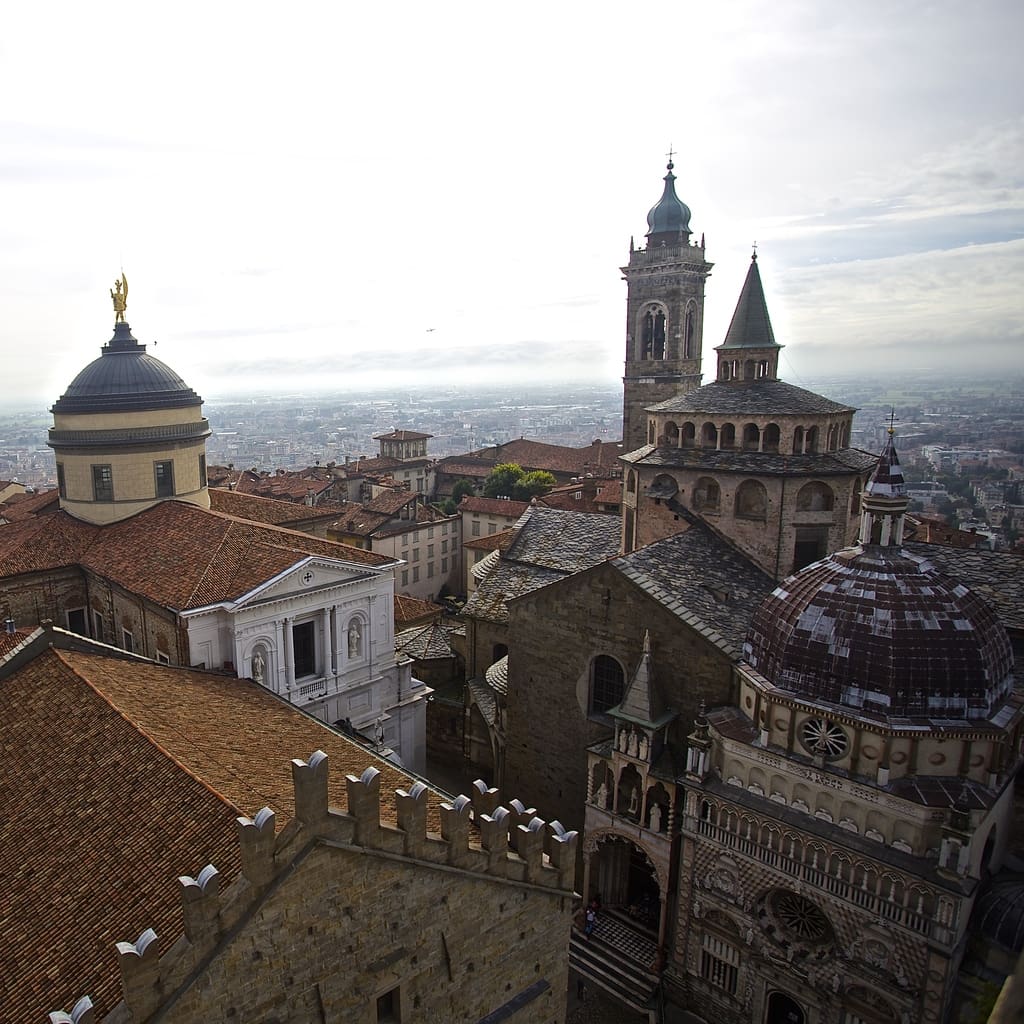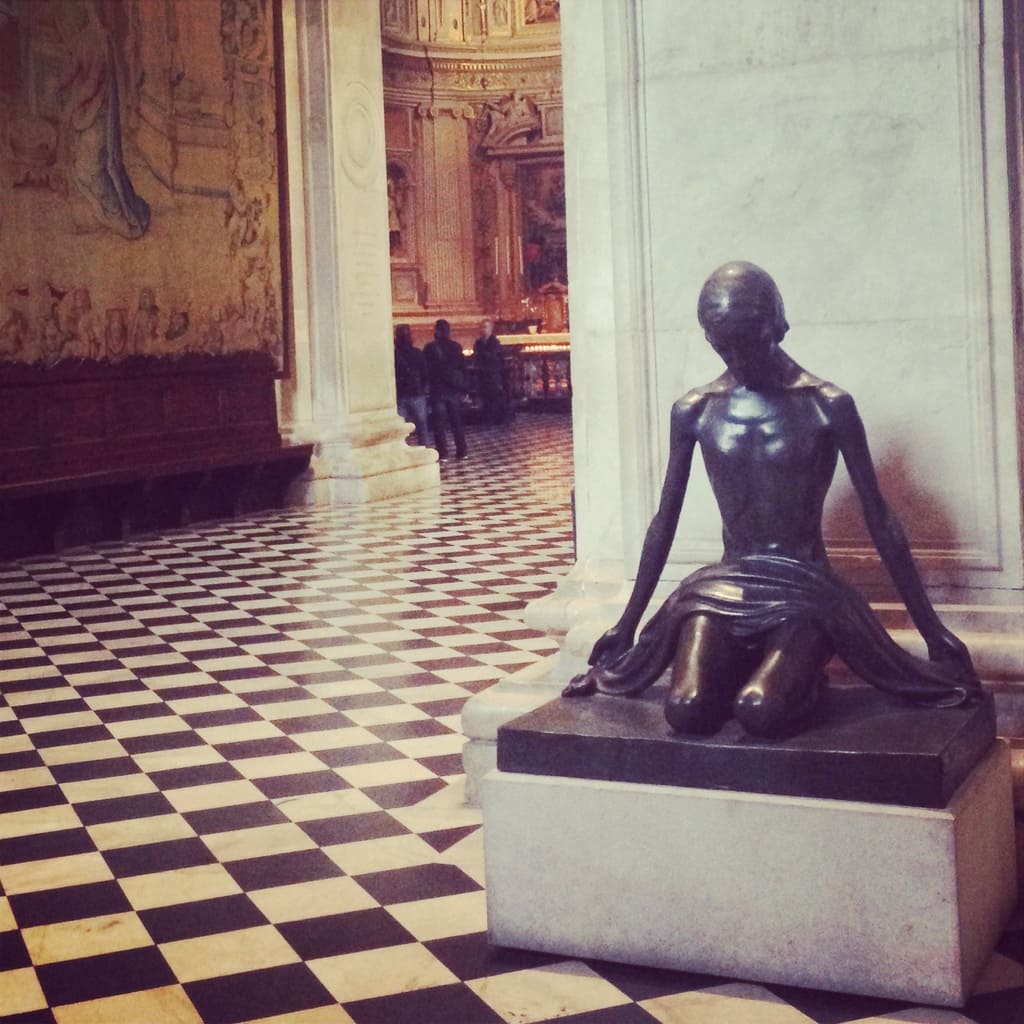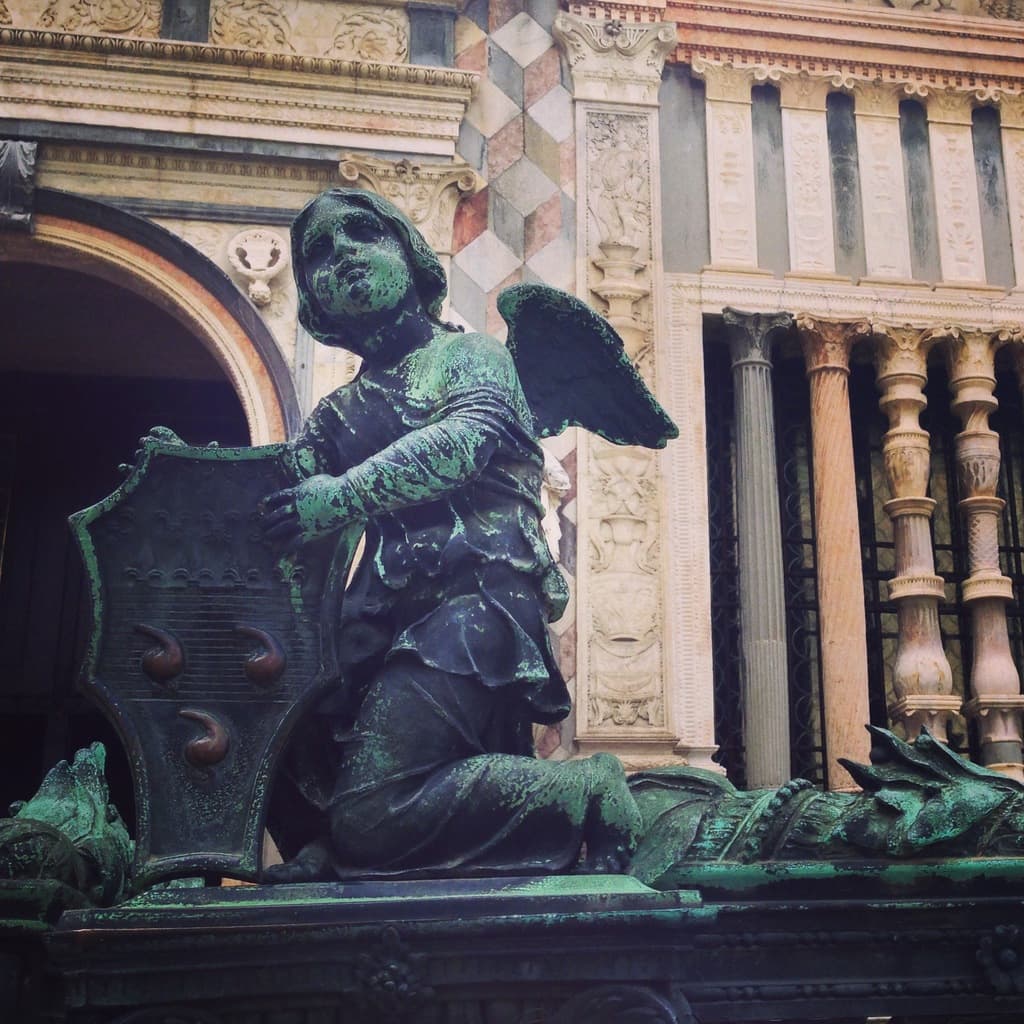 Piazza Vecchia, the main town square- is a masterpiece and has been called the most beautiful piazza in Italy.  It really is one of the most beautiful I've seen, and it invites you in with a picture perfect fountain in the center and cafes and ancient buildings lining the sides of the square.
The city walls, built by the Republic of Venice in the early 1600's are a great place to walk and take photos. Since Città Alta is perched up on the edge of the Bergamo Alps foothills, it also has a stunning view over the rooftops and town below. Throughout Bergamo you will glimpse Venetian touches like the lions on the fountain in Piazza Vecchia.
What I didn't realize until just recently, is that Bergamo has an antique market every third Sunday of the month. We went recently to check it out, and it added a fun element to an already wonderful day trip destination.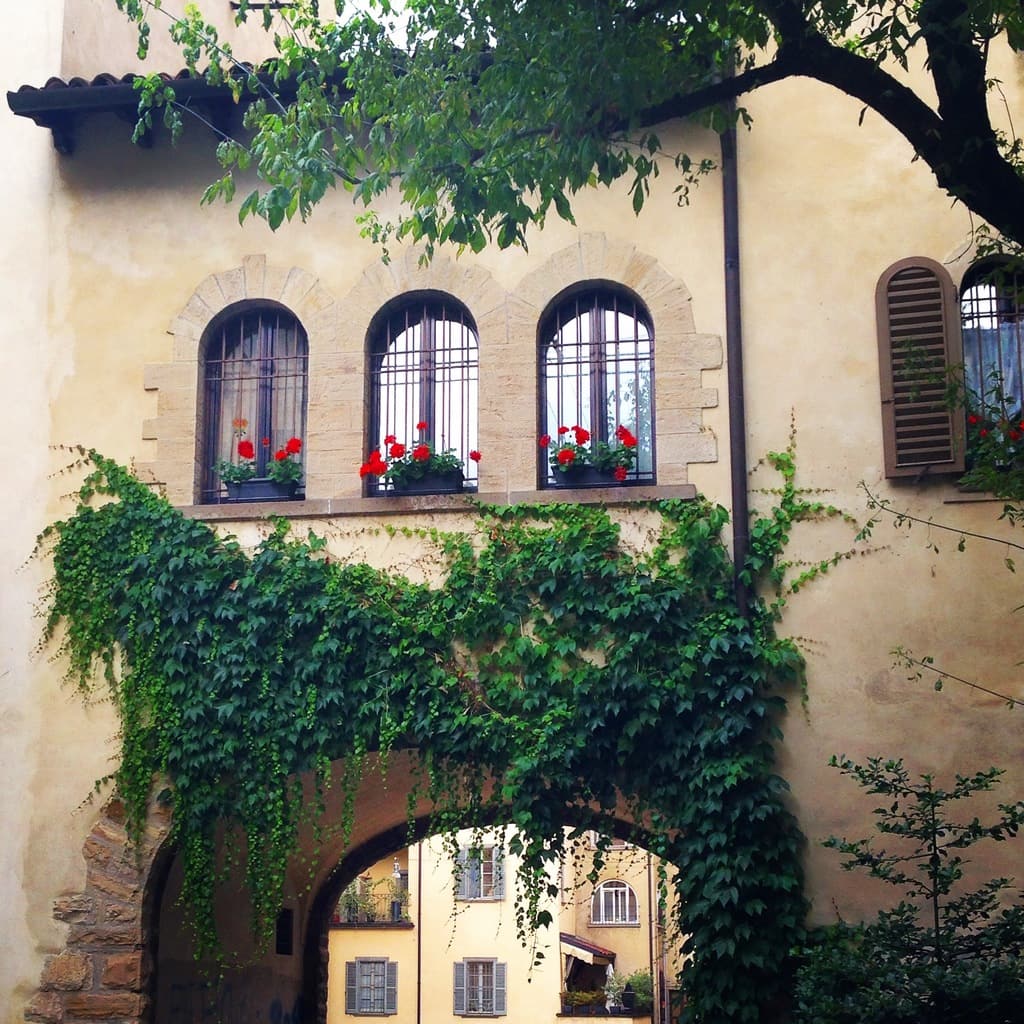 Don't Miss:
Mercato Antiquario- Piazza Vecchia, 3rd Sunday of each month (excluding August) The white marble Biblioteca Civica is the actual location of the antique market.
You will find sellers with their treasures on the steps and under the porticos. We found more booths around the ancient public wash tub in Piazzetta Luigi Angelini.
Visit the Baroque Basilica di Santa Maria Maggiore where composer Donizetti is buried. (my favorite church in Bergamo) I love the fresco of the last supper, as well as the tapestries that line the walls.
Climb the Civic tower for fantastic views of the rooftops and the city.
Wander the streets and visit the many lovely gourmet food shops and boutiques.
Have coffee or a cocktail in Piazza Vecchia, a gorgeous  place to people watch and soak up some sunshine and history.
Local Specialties:
Like just about every town in Italy, Bergamo has its own cuisine.
Don't leave town without sampling some of the specialties like polenta with sausage or braised beef, taleggio cheese, or casoncelli- a small stuffed pasta filled with breadcrumbs, parmesan, ground meat and sometimes herbs and nutmeg.
Eat + Drink:
Il Fornaio– (Via Bartolomeo Colleoni 3, Bergamo)
Great for a quick lunch. Il Fornaio will draw you in with their beautiful pizza in the window, sold by the slice.
Drinks and other food items for sale, and there is a dining room upstairs, or take your pizza to go and eat it on the steps of the Biblioteca Civica in Piazza Vecchia like the local university students.
Al Donizetti– (
Via Gombito 17

, 

 Bergamo)

I love Donizetti for a long leisurely lunch. If the weather is good, sitting under the arcaded loggia of an old market and eating local cheeses and honey, or a bowl of polenta is a fantastic way to spend the afternoon.

I have had some wonderful salads and vegetarian dishes here too, love their carpaccio di zucca, served with burrata and toasted bread.
Da Mimmo–  (Via Bartolomeo Colleoni 17, Bergamo)
A long time favorite of the locals, Da Mimmo is a cozy and bustling ristorante serving family recipes and traditional Bergamese food since 1956.
They are a Slow Food partner, cooking seasonally and using the best local products. I love their antipasto di Mimmo, a sampler of some of their specialties. Their pizza is definitely not to be missed!
A beautiful place to have a drink and literally drink in the atmosphere of this gorgeous square. 
Nessi Bergamo Alta– (Via Gombito 34, Bergamo)
Bakery near the Piazza Mercato delle Scarpe with beautiful desserts and traditional items like polenta sweets.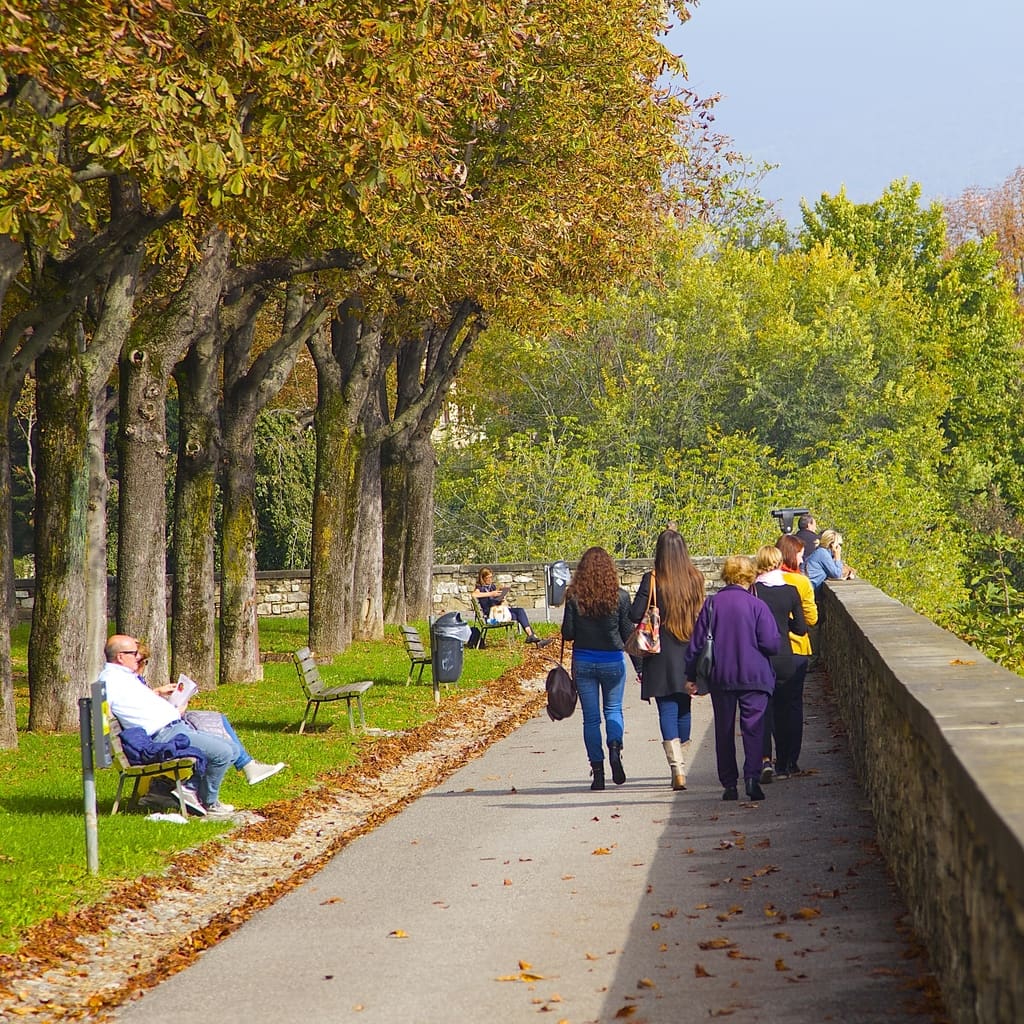 Transportation + Resources:
Parking: Lower city, Garage San Marco on via Zelasco Giovanni e Rodolfo. (Google maps doesn't show this garage, but we park here every time. From Viale Vittorio Emmanuele II turn right onto Via Zelasco Giovanni e Rodolfo. The garage entrance is immediately on your left and goes underground)
Funicular: Get to the upper city by taking the funicular on Viale Vittorio Emanuele. Buy a round trip ticket (3 euro last visit) at the ticket office right next to the entrance. It is a short ride and once you are at the top, you are immediately in the magical world of Old Bergamo.
Pin this for later