One Perfect Day | Venice with Monica Cesarato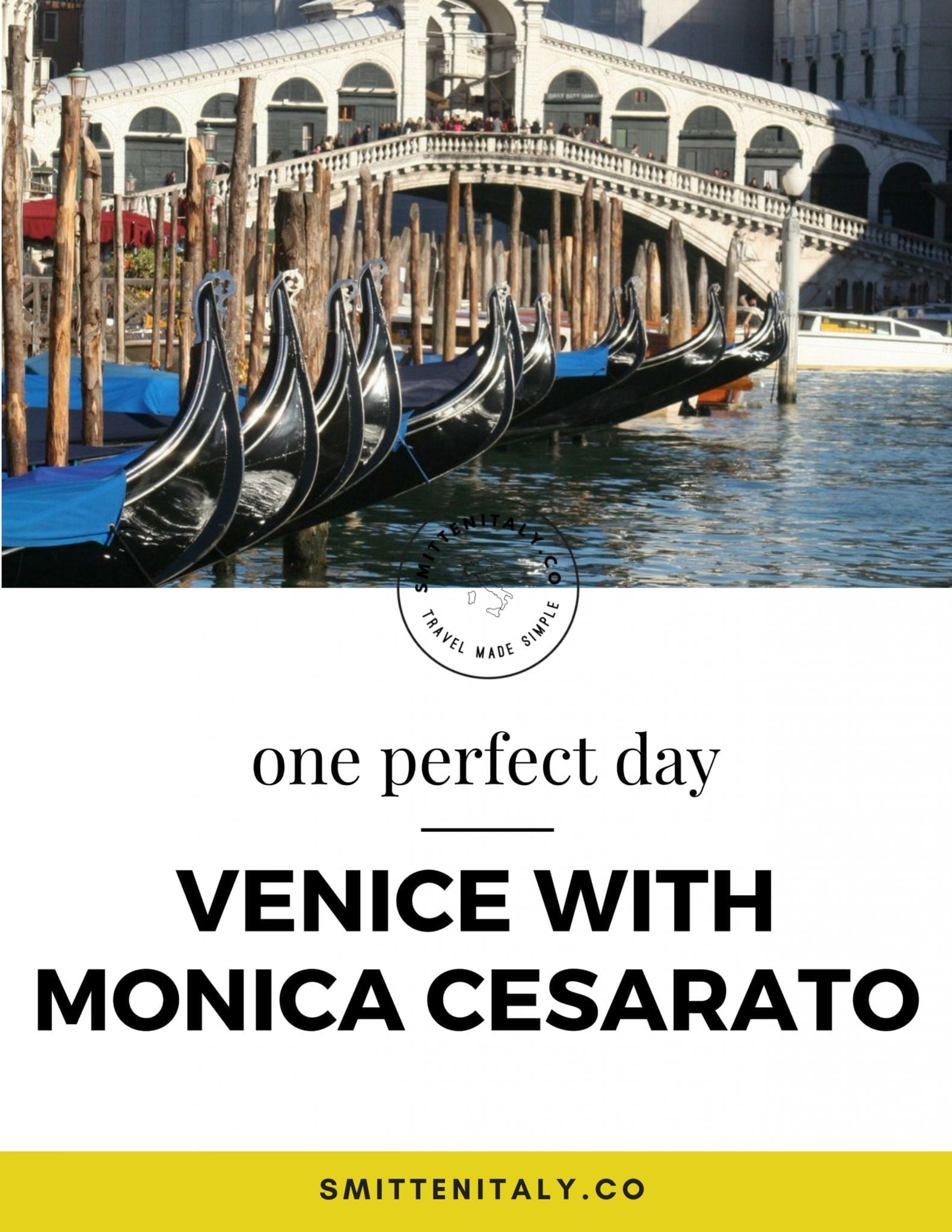 Welcome to One Perfect Day where I'll be chatting with my favorite writers & friends from cities all over the world. They'll share a glimpse of what a perfect day in their city would look like- including their favorite places to see, shop, wander and most importantly- where we should eat! Such great information to feed your wanderlust, or tuck away for future travels.  
This month, I'm thrilled to introduce you to Monica Cesarato, a food & travel writer who has called Venice home nearly her entire life. She's sharing all her insider secrets today for the tastiest places to visit in the city.
One Perfect Day | Venice with Monica Cesarato
Hi, I am Monica Cesarato, an Italian food and travel blogger based in Venice. I was born near Venice and I pretty much always lived here, apart for a break of 11 years spent in the UK.
As well as writing about Venetian and Italian food and about Venice and Italy in general, I also offer culinary tours of the city and I am a cooking instructor for Cook In Venice, a company which offers cooking classes.
I love to talk about food, wine and all things Italian, I like to offer my tips and my experience so people can enjoy Italy at its best! At this moment in time, I am running three different blogs and businesses.
The first one is Cook in Venice, where we offer any kind of culinary experiences in Venice- like tours, dinners and classes as well as writing up recipes and advice on cooking.
My third baby is A Taste of Venice, a blog magazine site which was born after a blog project and which offers the visitors an insight on what Venice offers in terms of artisans, accommodation, and food.
EAT & DRINK.
Breakfast
Breakfast in Venice is a must with croissant and cappuccino at Pasticceria Tonolo, the best cake shop in the city. (Pasticceria Tonolo, Calle S. Pantalon, 3764, Venezia)
No matter what time of day you go there, it is always packed with locals, business people and students or simply the old people stopping for a coffee, a pastry, and a chat.
Their best pastries are the cream filled ones, which come in a variety of shapes and sizes.
Best time of the year is Carnival time, where you can sample an amazing choice of Frittelle, the typical Venetian cake for Carnival.
Lunch
I would love to spend my lunch eating Cicchetti in two of my favourite spots.
First at Enoteca da Roberto in Rio Tera Farsetti 1847, Cannaregio. Here I would have their fried selection of Cicchetti (the Venetian snacks, now world famous), like a pumpkin cheese and bacon deep fried ball, an eggplant and cheese deep fried ball, and a bresaola and fig crostino. All washed down with an Ombra of Raboso red wine, a local wine sold on tap on small glasses.
Second I would walk along the back streets of Cannaregio, and go to El Sbarlefo in Salizada del Pistor, 4558 near Campo SS, Apostoli. Here I would be firstly welcomed by all the local old gentlemen who are regulars there, then I would order a cold glass of Lugana white wine from Verona and pick some fish Cicchetti, like baccala' mantecato, the sarde in saor, the sweet peppers stuffed with tuna, the marinated fresh anchovies.
Dinner
I would have to pick a nice and relax dinner at Vineria All'Amarone, surrounded by hundreds of bottles of wine and the sweetest and friendliest staff ever. (Vineria All'Amarone, Calle dei Sbianchesini, San Polo 1131 www.allamarone.com)
I would indulge in a large glass of Amarone wine from the Valpolicella area and have a large plate of local cold cuts, sliced wafer thin, and a selection of Veneto cheeses served with truffle oil and honey.
And I would top the meal with their homemade Tiramisu, (the best in Venice) with a glass of sweet Recioto wine!
WANDER.
My favourite area in Venice is for sure the old Jewish Ghetto. It is only a few meters away from the crowds and it seems to step in another world. 
It also brings a shiver down my spin to think how old it is (500 years old this year) and the amount of history which is held behind those walls. No matter what time of the day or of the year you go, it is always quiet, with local children playing football and with their bikes or little scooters.
I love the little Jewish Museum and the visit to the synagogues, so much history and drama! I also love to stop in the only kosher bakery- Panificio Volpe and grab some of the local specialties, like Bisse or Empade.
SHOP.
My perfect afternoon would be going to see all my Venetian artisans friends and talk about Venice. If an afternoon lasted 24h it would be perfect!
I would start by visiting the young Arianna at Plum Plum Creations, who is only one of 4 artisans in Venice still working with etching. Her little workshop in Cannaregio is fascinating! Her works are very good and she is a little gem! (www.plumplumcreations.com Fondamenta dei Ormesini , 2681)
I would then walk along the back streets of Cannaregio and go and see my crazy friend Piero Dri, of Il Forcolaio Matto, who is one of 4 oarlock makers left in Venice. Here I would chat with him about life in Venice and just watch him carving away at the wood, bringing to life amazing work while laughing away. (www.ilforcolaiomatto.it Calle Dell'Oca 4231)
From there I would take another short walk and stop on top of the Rialto Bridge and say hello to my dear friend Marco Jovon of Eredi Jovon, the only shop in Venice who produced hand carved (not laser made) cameos. He and his family have been there for 3 generations and always have so many stories about Venice and its people to tell!! (www.eredijovon.com)
I would finish my day at my dear friend Marisa Convento of Venetian Dreams. This is not a shop, but a social boudoir! I always know when I enter but never when I leave! Marisa is an impiraressa, that is a bead stringer, she makes fantastic jewelry with vintage Murano glass beads and pearls, all unique pieces. And every time I walk in there I always get to meet someone interesting and I get to hear all the gossip of the city! www.marisaconvento.it/ Calle della Mandola 3805
STAY.
Ahh, for sure if I could afford it, I would love to stay in one of the many 5 star hotels on the Gran Canal, probably Hotel Centurion. "Sina Centurion Palace" is housed in the former convent of Palazzo Genovese, and is a member of the Small Luxury Hotels of the World.
Hotel Centurion Venezia Dorsoduro Dorsoduro 173, 30123 Venezia , Italy 
TIPS. 
Apart from all the artisan shops of my friends, there are also some other very interesting shops.
Venetian handmade leather belts by Quorami (Calle della Mandola 3730)
Hand made paper diaries, books etc. Fabricharte (Castello 6477/A, Barbaria dele Tole)
FOLLOW ALONG WITH MONICA OVER HERE: 
---
Many thanks to Monica for sharing all your favorite places with us, I am dying to come on a Cicchetti crawl with you!
-Heather
P.S. Catch up with more One Perfect Day interviews here.
(photos courtesy of Monica Cesarato)
Pin it for later!