Summer Reading List for Food and Travel Lovers.
My Summer Reading List for Food and Travel Lovers.
Food + Travel… Travel + Food.
These are 2 passions of mine, and I'm guessing if you are reading this, they may be yours as well. This summer I am determined to read more. Always at  top of my list are travel + food memoirs, like many of those pictured above.
The past few years went by in a whirlwind with tons of travel + food as we explored Italy & Europe. It was wonderful, but while going in to travel planner mode, I didn't take time to read like I usually love to do.
This summer we are staying put, (in comparison) and it feels really good so far. Lots of time for reading and cooking and for planning future adventures.
Here are 3 new to me books I am reading now, and 3 I am reading again because I love them so…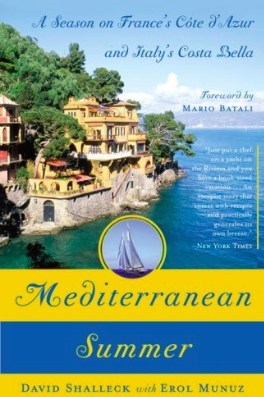 Mediterranean Summer: A Season on France's Cote d'Azure and Italy's Costa Bella.
I never get tired of reading this book! To me it's the perfect summer read, set on a yacht in the Mediterranean sailing along the French & Italian Riviera. Chef David does an excellent job describing his role as chef on the yacht of a wealthy Italian family as they sail and party their way through the social events of the summer.
I love the descriptions of the tiny galley kitchen and how David lands in each new village with menu in hand and shops for the ordinary & decadent ingredients he needs to meet his employers requests. A fascinating peek into a world I knew nothing about.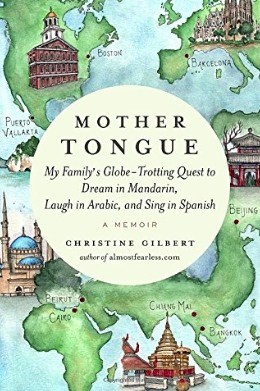 Mother Tongue: My family's Globe trotting quest to dream in Mandarin, laugh in arabic and sing in Spanish.
Christine Gilbert is a writer, film maker and expat living around the world with her husband and kids in tow. A modern day wonder-woman in my eyes. I have enjoyed reading her blog (almostfearless.com) for a few years now, and was super excited to get my hands on her gorgeous new book "Mother Tongue" when it came out a few weeks ago. I have brought it on our trip this week and will talk more soon about it after I read. (ps- the cover alone is a piece of art!)
Her adventures around the world make our move to Italy seem downright dull in comparison with exotic locations like Cyprus, Chang Mai, Beirut & Beijing! I am so looking forward to delving into her story and learning about the challenges and triumphs of living a nomadic lifestyle as a family. Tackling the languages is a huge challenge in itself, I can't even imagine all the rest that goes along with raising babies, finding housing and learning how to pay your utilities in each new country.
Brava, Christine- I can't wait to read more!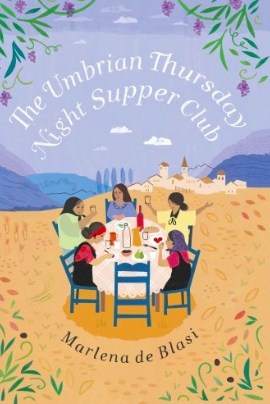 The Umbrian Thursday Night Supper Club
You might be aware that I am enamored with Marlena de Blasi and all of her books. The first one I read is still my favorite ([easyazon_link identifier="0345481097″ locale="US" tag="amerryfeast-20″]1000 days in Tuscany[/easyazon_link]) but they are all gorgeous + delicious escapes.
I have just finished reading this, her latest- and it is an utter delight. If you love Food, if you love Italy, if you love gathering around the table with stories and people you love- you must read this book!
Marlena shares in great decadent detail the sights, sounds, smells and day to day life in Umbria where she lives with her Venetian husband Fernando. (Read about their love story in [easyazon_link identifier="1616202815″ locale="US" tag="amerryfeast-20″]1000 days in Venice[/easyazon_link]) Even though always a "stranieri" (foreigner) in Orvieto, she is accepted into the tight-knit group of friends who hold a Thursday night dinner party. Around the table they share their stories, their families and the recipes that bind them together.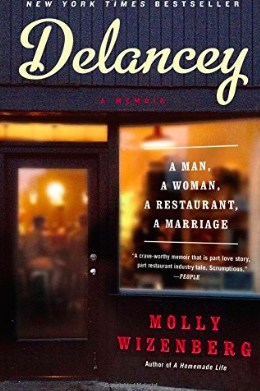 Delancey: A Man. A Woman. A Restaurant. A Marriage.
Molly is one of those rare writers who immediately draw you in and make you feel like a friend. I adore her writing style and how she weaves stories in with the food she makes so naturally that it reads like beautiful poetry.
Delancey, (part love story + part foodie heaven) is Molly's 2nd book, and the story of she and her husband Brandon dreaming and creating their restaurant Delancey, in Seattle. Her first book ([easyazon_link identifier="1416551069″ locale="US" tag="amerryfeast-20″]A Homemade Life[/easyazon_link]) is one I have read again and again and highly recommend.
I am re-reading this book this week, because one of my favorite things to do on vacation is take 1 cookbook, or in this case book with recipes, devour & cook from it during our vacation. I'm not sure what recipe I'll be making of Molly's this week, but I look forward to the "research" that will lead me to that decision!
The first time I read Delancey, I was living in Italy and at that moment, hungry for any taste of home I could get my hands on. My friends from the US came to visit and brought me this book as a present. What a treat to have a new book to read in English from my favorite food writer! I reveled in that "behind the scenes" feel that you get when someone shares an intimate glimpse inside their life & kitchen. This time around I am paying closer attention to the recipes and looking forward to feeling those "behind the scenes" feels all over again.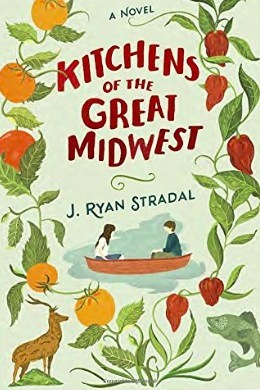 Kitchens of the Great Midwest is the only novel on this list, but a rich & worthy read for sure. Although I love memoirs, I'm always game for a good novel, especially when it includes the thought of kitchens as one of the main characters, and quirky mid-west references which I loved since I grew up there.
The story begins when Ava (the main character) is a baby, and weaves us through her life & losses through the eyes of those who know her best.  She is born a food prodigy into a family of passionate foodies, and heads down her own culinary path as she becomes a teenager and adult.  Kitchens of the Great Midwest is a quirky & delightful read, with details and depth to please food lovers, and recipes along the way.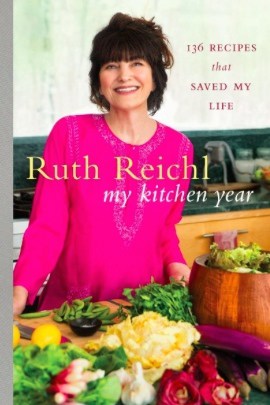 My Kitchen Year: 136 Recipes that saved my life.
This intimate book by noted Gourmet Magazine editor-in-chief, cook, restaurant critic & author Ruth Reichl is cozy & bittersweet. A lovely mix of cookbook & memoir, it shares the story of the months after her beloved Gourmet Magazine was suddenly shut down and how she coped with this loss with the help of her family, friends and perhaps most importantly, her beloved kitchen.
Ruth takes us through the seasons of her year of healing with intimate thoughts, stories and delicious recipes. Each chapter starts with a twitter length Haiku of sorts, beautiful "word pictures" as she calls them that beg to be read aloud.
I think it's time to read it again and indulge in some more of her beautiful thoughts and recipes.
So that's my current Summer Reading List for Food and Travel Lovers. I'd love to hear what you are reading and loving right now! Spill the beans in the comments below.
-Heather
ps. If you purchase through the  affiliate links in this post, you are helping support this blog in a tiny way at no additional cost to you. Grazie!
Read next:
12 Books Perfect for Summer Reading
6 Italy Themed Kindle books on a budget