A Roman Feast with Ristomama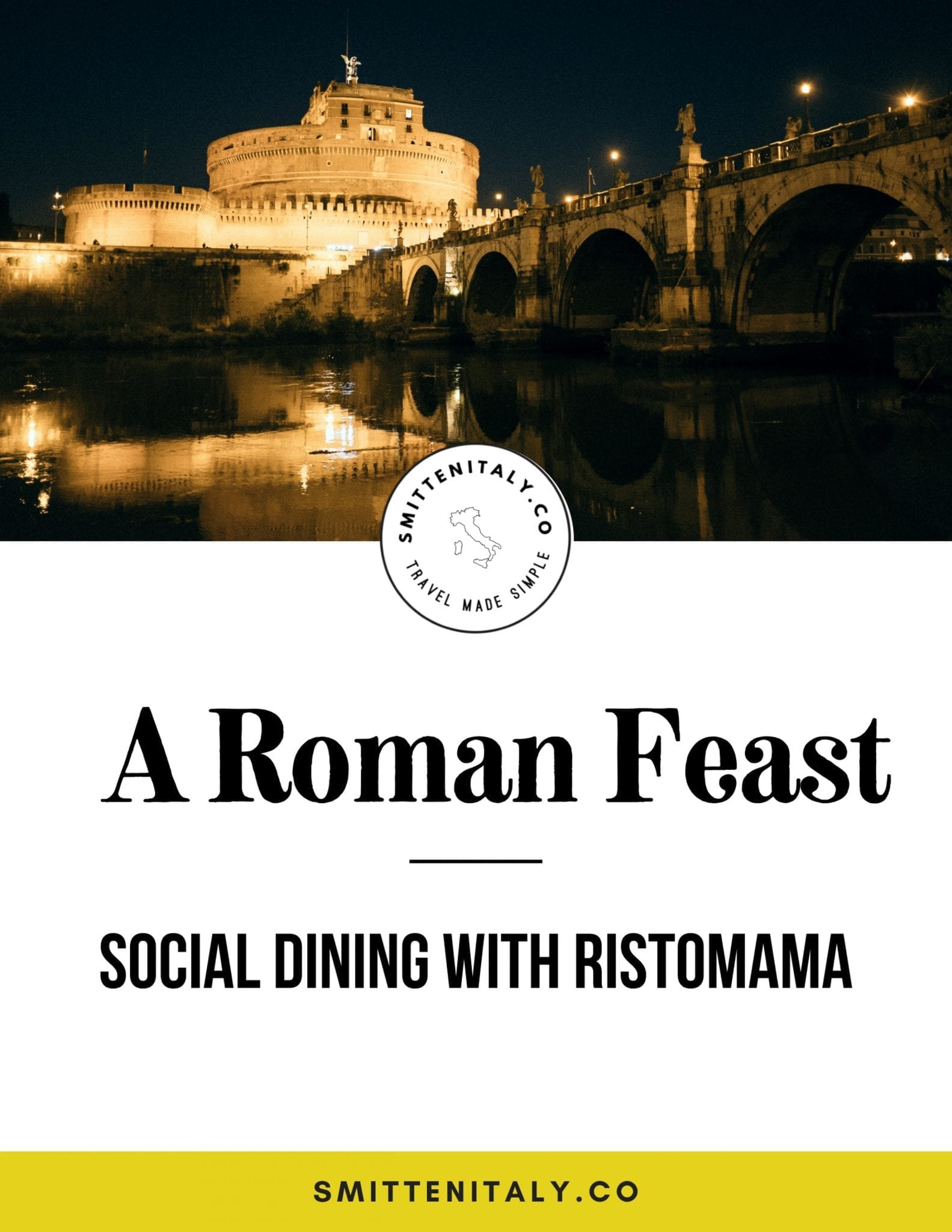 Eating in Rome is one of the best things in this world, in my opinion. I adore Roman food and love to return to old favorites and try new places whenever I visit.
What could be better than eating in Rome? Eating traditional Roman food with a local family.
Since my motto is always #willtraveltoeat, I was thrilled when Ristomama invited me to experience what it is like to cook and dine with a local family on my recent trip to Rome.
I adore this concept because I believe the best way to learn about the culture of a place is through its food & traditions. Each cooking teacher that works with Ristomama has several menus to choose from, often based on their location as well as their own family history.
My wonderful teacher, Marina has lived in Rome for years and is married to a Roman, but she grew up in Liguria. So she offers a Ligurian menu as well as a Roman menu. I of course, had to choose the traditional Roman menu- "When in Rome" and all….
Marina & her husband Andrea were absolutely lovely. They welcomed me into their beautiful home near Monti, and I enjoyed an entire evening of cooking, chatting, laughing and of course eating with these charming Romans.
We started out in the kitchen, going over our menu and prepping some of the ingredients. I loved how Marina shared tips on picking the best quality ingredients for each dish, and in what order to cook things, so that every dish could be enjoyed at exactly the right time.
The first thing we made was the Amatriciana sauce, so that it could be cooking while we worked on the other dishes. Then we started making the antipasti, preparing the mushroom topping for the crostini, and assembling the Saltimbocca.
Every detail had been thought of, I realized- as Andrea lit the candles, and told me about the wine and why it had been chosen. (A Syrah from Lazio) They wanted to give me a completely authentic experience and so the wine had been chosen to compliment the menu. It made me realize how unless we are entertaining (at our house)- we often choose wine based on what we like, versus what might best compliment the food we eat with the wine.
Marina is such a pro- everything was carefully prepared and thought out. We had a drink while the crostini were warming in the oven, then ate our antipasti while the pasta cooked. After the delicious and beautiful bowl of Spaghetti alla Amatriciana- we quickly cooked the saltimbocca, which is a traditional Roman dish served as a secondi (second course).
Over dinner we talked about our jobs and families, and I learned that Marina is an architect and Andrea, a high school teacher. They recently joined the Ristomama family because of their love of cooking, and sharing great food & wine with others. Their passion for design, music and art shines throughout their house, and I loved learning about their life in Rome.
Here are the things I loved about the Ristomama Experience:
Choices. You can choose the chef and menu that is interesting to you. (each chef is featured with a short bio on the website)
Exclusive. This is a private exclusive experience- with you, your traveling companions and your hosts. (no need to share your class with 12 strangers)
Inside Scoop. SO great for travelers who want to get a more intimate feel of what local life is like, and get tips directly from your hosts.
Dinner Date. It is a nice experience for solo travelers (like me) to not only learn, but to enjoy a meal with others. Eating alone is not my favorite– so I really enjoyed the conversation and sharing of a great meal with my new friends.
Price. It is such a great value!  Private cooking classes can be very expensive, and Ristomama offers a tremendous experience of a cooking lesson and dinner at a great price.
It was such a great night. I left with some great cooking knowledge, recipes & some leftovers to enjoy later. Not to mention the feeling of having been a cooking student & honored guest at a private dinner party in Rome! Grazie Mille to Marina & Andrea for sharing their home and evening with me.
If you enjoy learning, cooking & great food, I highly recommend cooking & dining with Ristomama next time you are in Rome (or Florence or Naples.)
I can't wait to go back. Next time, I really want to try out Marina's menu from Liguria!
* Many thanks to Ristomama, for the invitation to cook and eat in Marina's kitchen. I was the guest of Ristomama, but as always, all opinions and content are my own.
Pin it for later!