Spring has sprung (Risotto Primavera)
Risotto Primavera: a perfect welcome to spring.
I can't recall the first time I ate risotto.
I do however remember the first risotto I ever made at home. It was a Barefoot Contessa recipe called Spring Green Risotto, and we fell in love with dish, bursting with spring vegetables, cheese and rice.
Thanks to the lovely Ina Garten I fell in love with making risotto, and that has deepened over the years, especially after living in Milan- where we lived surrounded by fields of rice and it is a staple on every menu in the city.
As I gained confidence in making risotto and realized how easy it really is, (really! I promise) I started making different variations.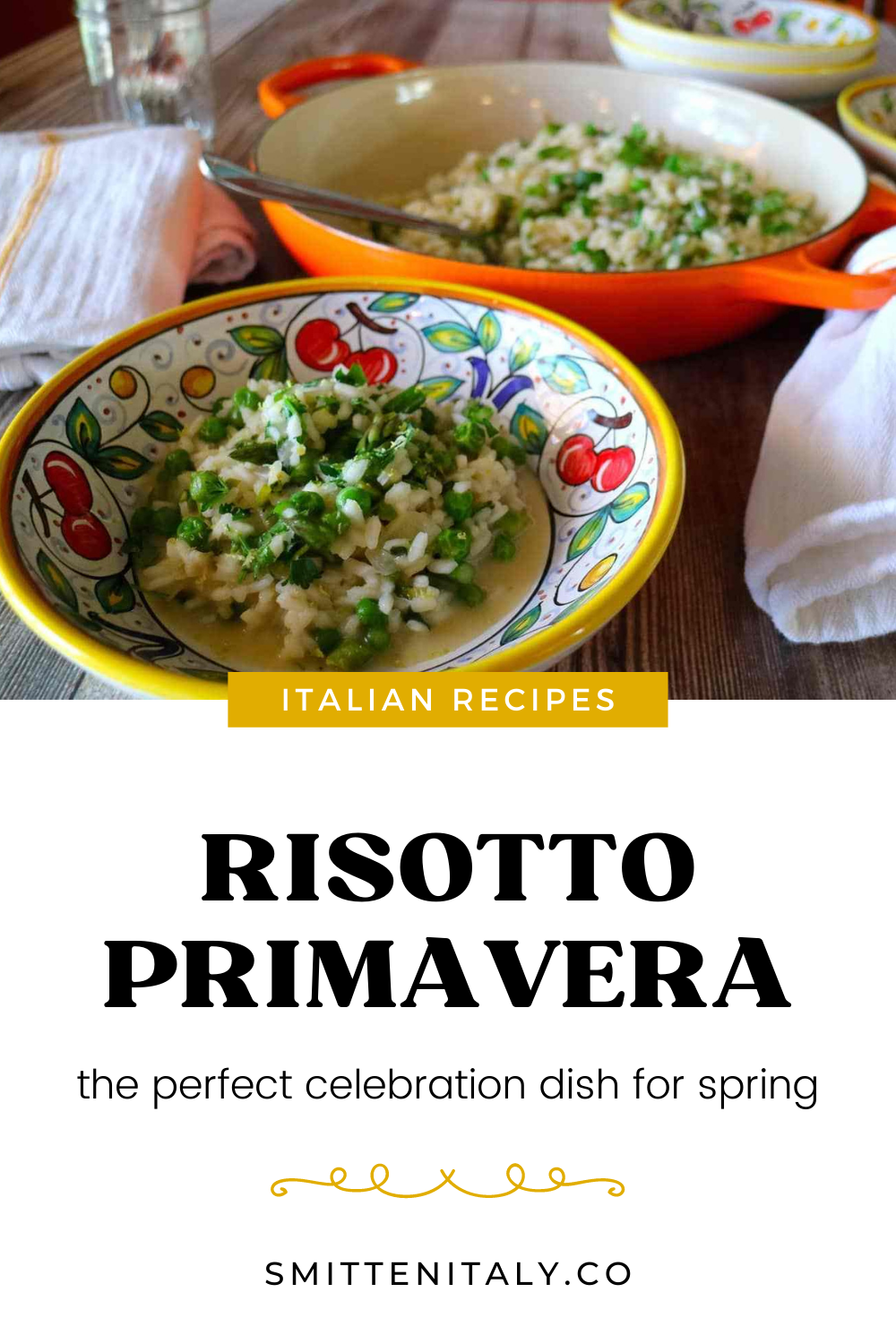 In Milan you will find the classic Risotto alla Milanese, decadent and scented with saffron. You will also find hundreds of variations based on the seasons and what is at the peak of harvest.
You can find risotto with seafood, roasted zucca (pumpkin), sausage or believe it or not, strawberries. (don't knock it until you've tried it!)
Most traditional risotto recipes have just a few ingredients, like one cheese, meat or vegetable- in order to let the flavors shine through.
This Risotto Primavera recipe is not like that! It has quite a few vegetables in it, but it works really well with the creamy cheese, bitter greens and the acid of lemon juice.
Several of my personal favorites are the leek & Castelmagno cheese risotto (Risotto con porri e Castelmagno) at The Garage Trattoria near our house in Basiglio, and the bresaola & fig risotto (Risotto con bresaola e fichi) at Ristorante Borgo Vione.
We make risotto at home most often with roasted squash in the winter,  fig & braesaola in the autumn, and with asparagus and peas in the spring.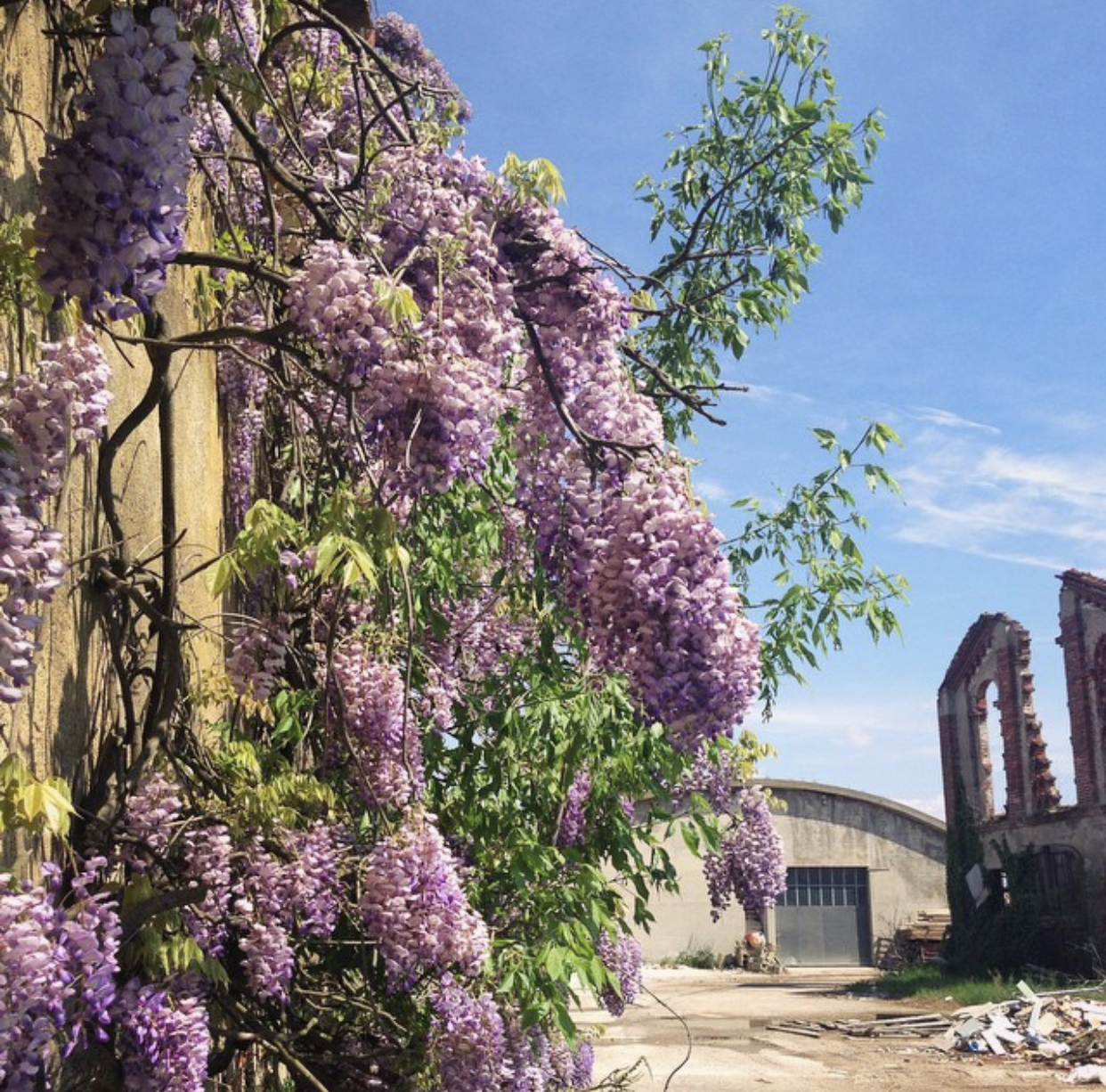 Spring is FINALLY here- woo-hoo! I made my first risotto primavera of the year this week to celebrate. My version morphs each year, depending on what I want to try and what is in season.
This week I went a little crazy and put asparagus & peas and substituted leeks for the onion I usually use in risotto. For a change, I finished it off with a handful of bitter greens. I'm digging the addition of the greens, not traditional but so delicious. 
A risotto bursting with the flavors of PRIMAVERA!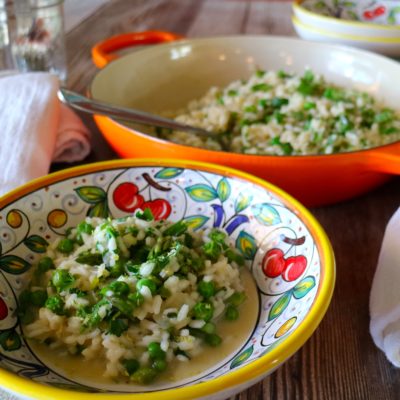 Risotto Primavera
Once you have the basic risotto method down, feel free to play around with the additional ingredients and quantities of each. Simple is always better.
Equipment
Knife

Cutting Board

Microplane for zesting

Le Creuset Dutch Oven

Measuring cup
Ingredients
3

T

Unsalted butter

2

Leeks (or 1 large onion)

chopped

1.5

cups

Arborio or Carnaroli rice

1 cup

Dry white wine

5

cups

Low sodium vegetable stock

(heated)

1

Bunch Thin asparagus

trimmed and cut into small pieces

1

cup

Fresh shelled peas

(or frozen)

2

lemons

zested (save the juice!)

2

T

Freshly squeezed lemon juice

.5

cup

Freshly grated parmigiano-reggiano

Salt and coarsely ground pepper

2

T

Fresh Italian flat leaf parsley

finely chopped

*optional greens such as arugula or baby kale 1-2 large handfuls

chopped
Instructions
Heat the olive oil and butter in a wide shallow pan or dutch oven over medium heat. Add the chopped leek and onion and saute until tender. (do not brown!)

Add the rice, stirring for a minute or two to toast the rice and coat with the oil and butter.

Add the white wine and simmer over low heat, stirring constantly, until most of the wine has been absorbed.

Add the hot stock, 1 cup at a time, stirring frequently and adding more as the broth gets absorbed by the rice. ( I use a ladle and add a few ladlefuls at a time, repeating when the broth is absorbed)

Blanch the asparagus in boiling salted water for 4 to 5 minutes. Add the peas for the last few minutes. *see tip below

Continue cooking the rice and adding stock, stirring almost constantly, until the rice is tender but still firm. (about 15-18 minutes)

Stir in the asparagus, peas, lemon zest, and add salt and pepper to taste.

Turn off the heat and add the lemon juice, parmigiano, greens and parsley. Add a dab of butter, cover and let rest for 5 minutes.
Notes
This recipe can easily be doubled to make a large batch for a dinner party.
Shortcut for asparagus & peas- add to the stock and cook a few minutes, remove to a bowl with slotted spoon.
If you'd like to make an equally delicious stripped down version, pick just one of the spring veggies for your Risotto Primavera.
---
What's your favorite risotto recipe? Let me know in the comments below!
Buon Appetito & Happy Spring!
-Heather xx
Pin this recipe for later!