Pasta with Kale Pesto + Pan-Roasted Tomatoes

When I think pesto, I think summer.
Of pots bursting with spicy green basil,  juicy tomatoes layered with basil leaves and gooey fresh mozzarella. I often make pesto pasta salad in the summer, small curly pasta dotted with peas, grape tomatoes and pesto. I adore it stirred into soups, in our favorite quick pasta dish, or swirled into greek yogurt for a light and summer-y dip for raw veggies.
But what if you crave pesto in the winter?
I've been playing around with putting kale in pesto, and after several variations found that I loved this one best. Kale is abundant in the winter months where I live, and although basil is not currently in season on my back patio, I can find it fresh at my local grocery store year around.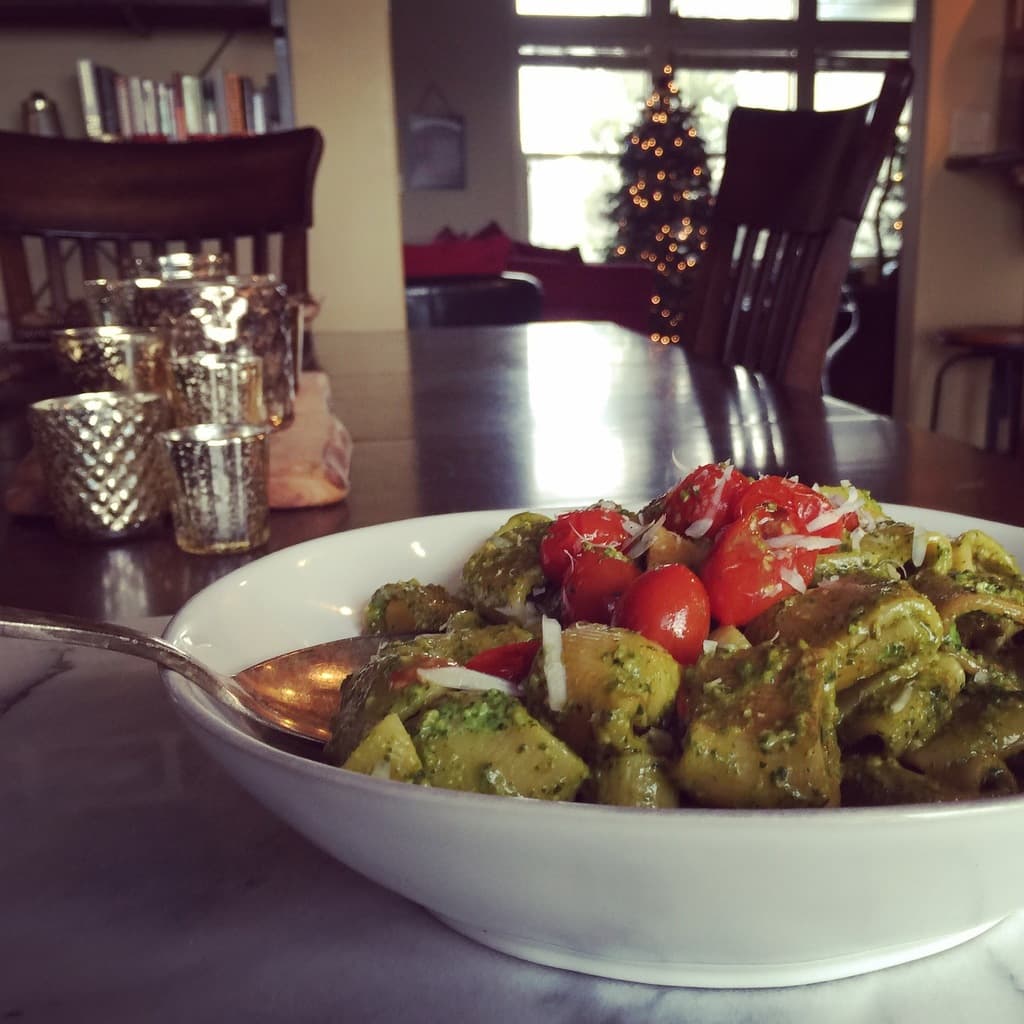 It's something that would make Italians shake their heads… eating pesto in the winter! And I can only imagine their reaction to idea of Kale Pesto. BUT I think it is great for the winter months when we are dreaming of summer.
After reading my January issue of Bon Appétit, I'm aiming for healthy-ish in this new year. This dish is fairly light (for pasta), and a great way to use up grape tomatoes, as I have done here. Roasting them in the pan (or in the oven if you have more time) brings out their flavor and the mixture of slightly charred syrupy tomatoes with the bright kale pesto is a good compromise when leaving the holiday indulgence behind.
Pasta with Kale Pesto + Pan-Roasted Tomatoes
Author:
Prep time:
Cook time:
Total time:
A quick and easy weeknight meal. Pesto made with kale, lemon and basil, mixed with roasted tomatoes and pasta.
Ingredients
Kale Pesto:[br]
2 cups Kale: washed, stems removed and roughly chopped
1 cup Fresh Basil
1/4 c. Good quality Olive oil
1 t. Sea Salt
2 Garlic cloves
1/4 c Slivered Almonds
1 T. Lemon zest
2 T. Lemon juice[br]
Other Ingredients: [br]
Grape tomatoes
Anelli Giganti pasta (or other similar shaped pasta)
Parmigiano- Reggiano cheese (for grating)
Instructions
In a large food processor fitted with a steel blade, place washed chopped kale, basil, garlic and salt. Pulse about 15 times, until the kale is finely chopped.
Add almonds, lemon zest, lemon juice and process, drizzling in 1/4 c. olive oil. Process for 20 seconds, adding more olive oil to achieve constistency you'd like. Taste and adjust flavors as needed. Set pesto aside.
Heat large shallow pan and drizzle with 1 t. olive oil. Add 2 cups grape tomatoes over high heat, cook for 3 minutes,stir- then turn down heat to medium low, stirring occasionally and smashing with the back of a large spoon to release the juices. Let the juice cook down and get syrupy.
While tomatoes are cooking, bring a large pot of water to a boil. When boiling toss in a generous amount of salt and add dry pasta.
Cook pasta until al dente and add directly into pan with tomatoes. (Save the pasta water)
Stir gently, letting the tomato juice mix with the pasta. Add 1-2 ladlefuls of pasta water to the pasta and tomato mixure. This should make a nice light sauce.
Turn heat off, stir in the pesto 2 T. at a time until you reach the color and flavor combination you like. I usually add about 1/2 cup of pesto per 1 lb. of pasta.
Place in a serving dish and pass the parmigiano-reggiano cheese to be grated on top of each serving.
Notes
•The pesto is vegan, and the dish can easily be made vegan by leaving the grated parmesan off. [br][br]•You can substitute Italian flat leaf parsley for the basil, if you do not have access to basil. It will have a greener more herby flavor- but is still delicious.
Buon Appetito!
xx- Heather
p.s. Happy New Year Friends! What are you cooking up this winter?