Day trip from Milan: Parma Food Tour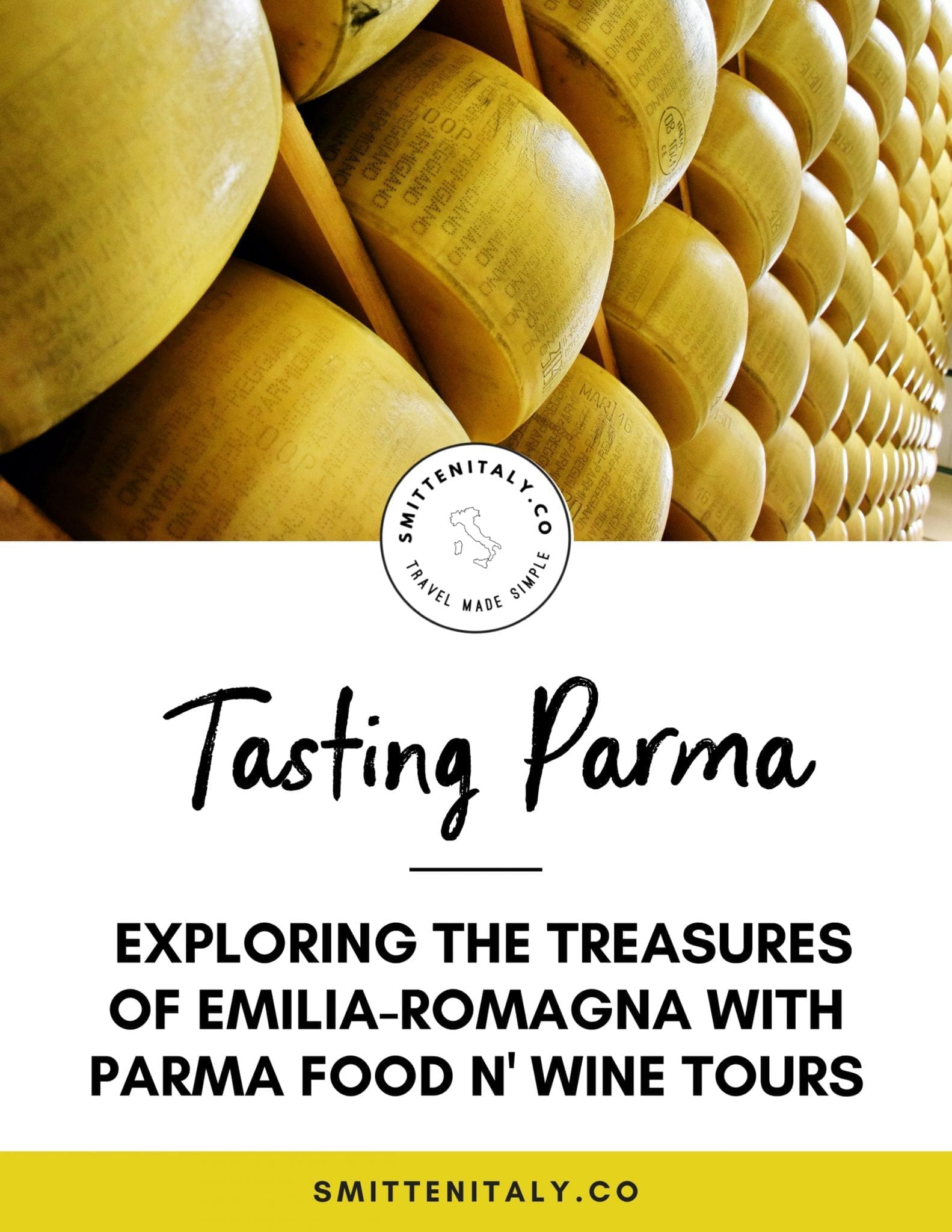 Our Parma Food Tour with Parma food n' wine tours. 
We're up early, which is definitely not usual for us.
The kids load into the car, they are unusually quiet and soon are snoozing away as we speed down the autostrada toward Parma. This is new territory for us, we've just arrived in Milan a few weeks ago and it's my birthday.
How does one spend their first birthday living in Italy? For me, it was a no-brainer. Cheese is my love language, and I had heard about some food tours in Parma, about an hour and a half away from our house in Milan.
So I'm dragging my family to snack our way through the countryside of Emilia-Romagna, although they don't seem to mind.
Unexpectedly, I'm raising a family of foodies. Kids who pause before eating so their crazy mother can snap photos, they love to eat sushi, aged cheeses, and like their father they are not afraid of strange meats.  They're loving exploring the foods of Italy so far and we've only just arrived.
It won't be hard to tempt them to try the things on our agenda today. The tour I have arranged is called "The Three Kings"
The Three Kings are: Parmigiano-Reggiano, Prosciutto di Parma, and Aceto Balsamico Tradizionale
I've booked our day with Nick of Food n Walk Tours in Parma and after some email confirmation and directions, we are on our way. I'm excited at the possibility of what an epic day this will be.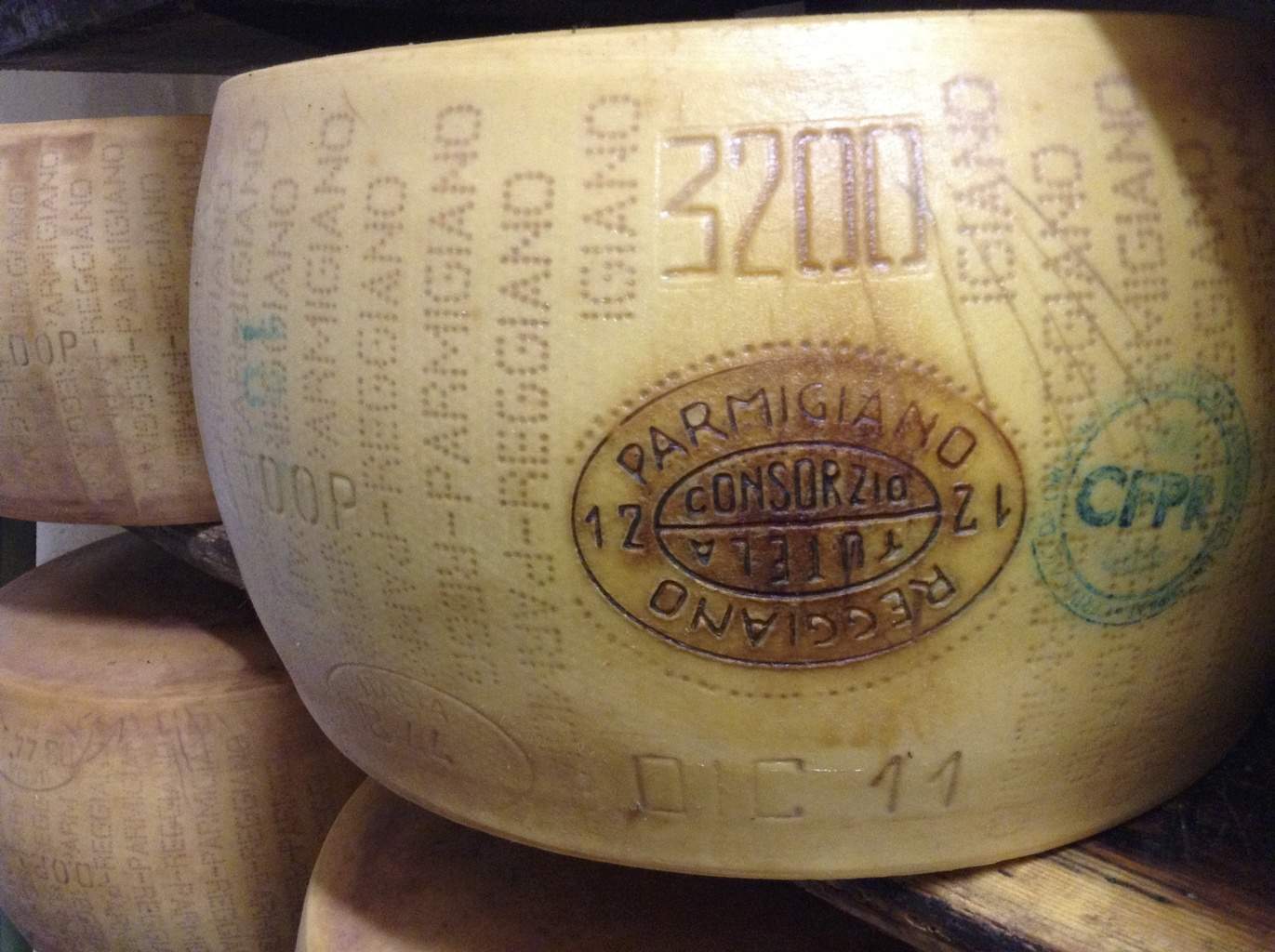 We meet our friendly guide Angelo at the charming Bar Gianni just off the autostrada coming into Parma. We order a caffé macchiato and talk of music & opera (the bar has quite the collection, and Angelo is a fellow musician). Soon it's time to hit the road, and we follow Angelo's VW Bug over the hills and into the countryside surrounding Parma.
The drive is part of the fun for us, we love being able to see the beautiful landscape of Emilia-Romagna. It is gorgeous! After being in Milan just a few weeks, it feels so nice to see hills and countryside.
By 9.00 am we are pulling into our first stop- The Araldi Dairy & Farm. This family farm is bustling with activity and we are the only visitors. The men are hard at work making the first batch of of the day, and we meet Marco, one of the owners who is kind enough to stop and explain the farm and business to us with the help of Angelo translating.
Even though they have been expecting us, it feels like a sacred process that we've interrupted. I am struggling with the feeling that we shouldn't be there, but at the same time want to soak every last minute and piece of knowledge in.
We watch them for a while as they heat the milk in giant copper cauldrons, stirring the cooking milk with a huge whisk like item called a "spino", later using a large wooden paddle to lift the curds that have come together into a huge ball and straining them in large pieces of muslin. It's hard work and it takes 2 men to work together to lift the ball and get the muslin around it and tie it to the wooden paddle to drain.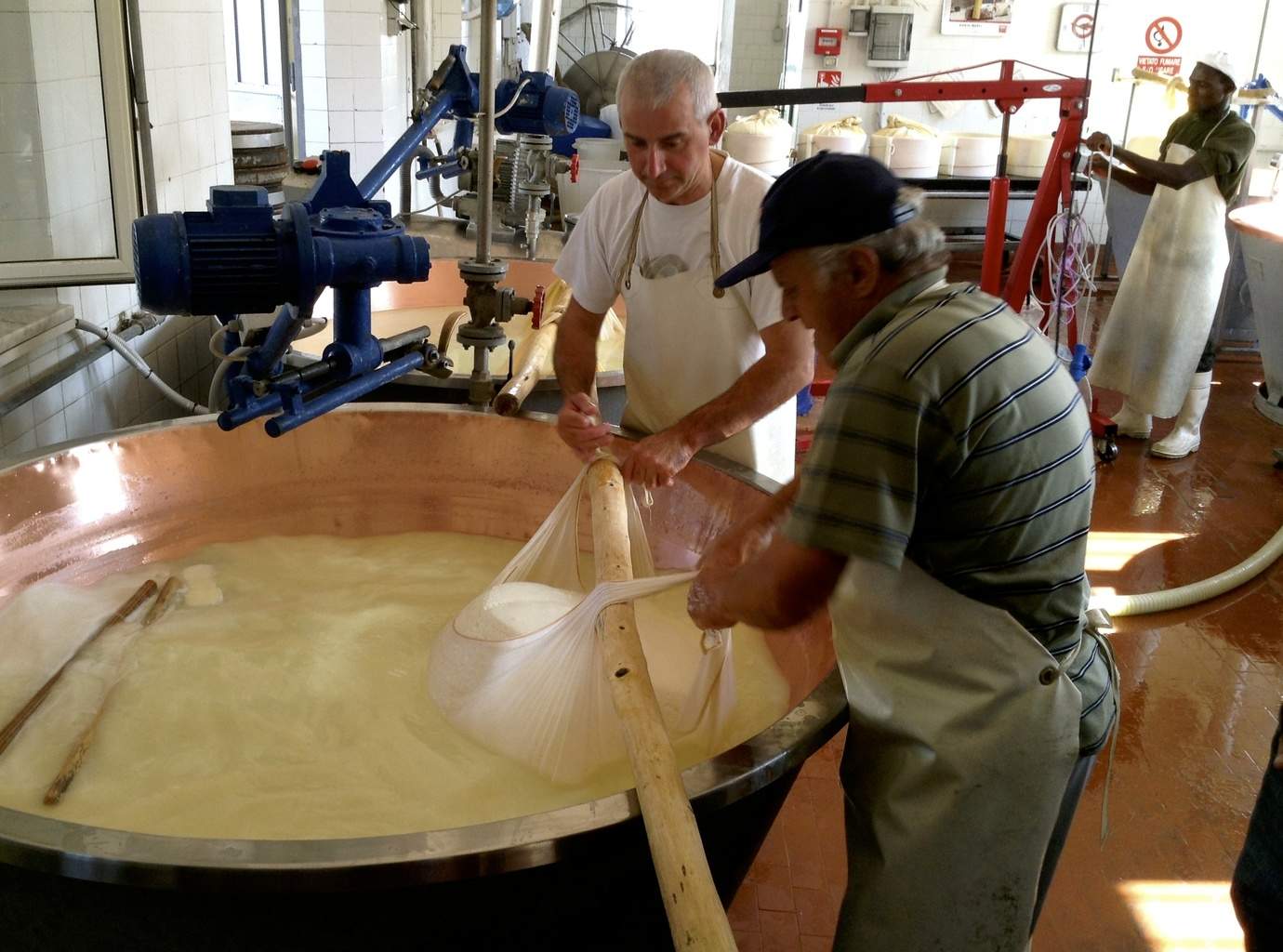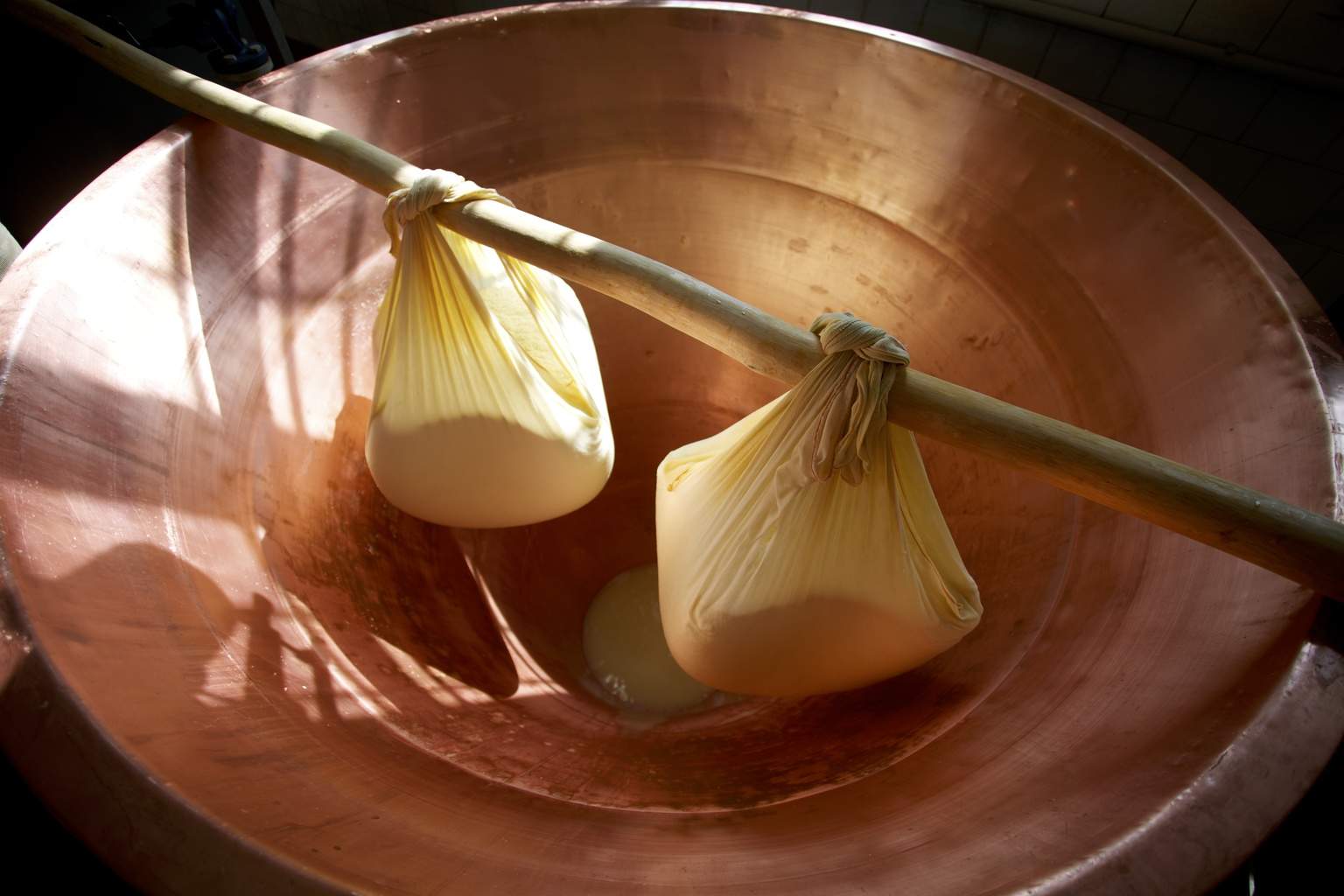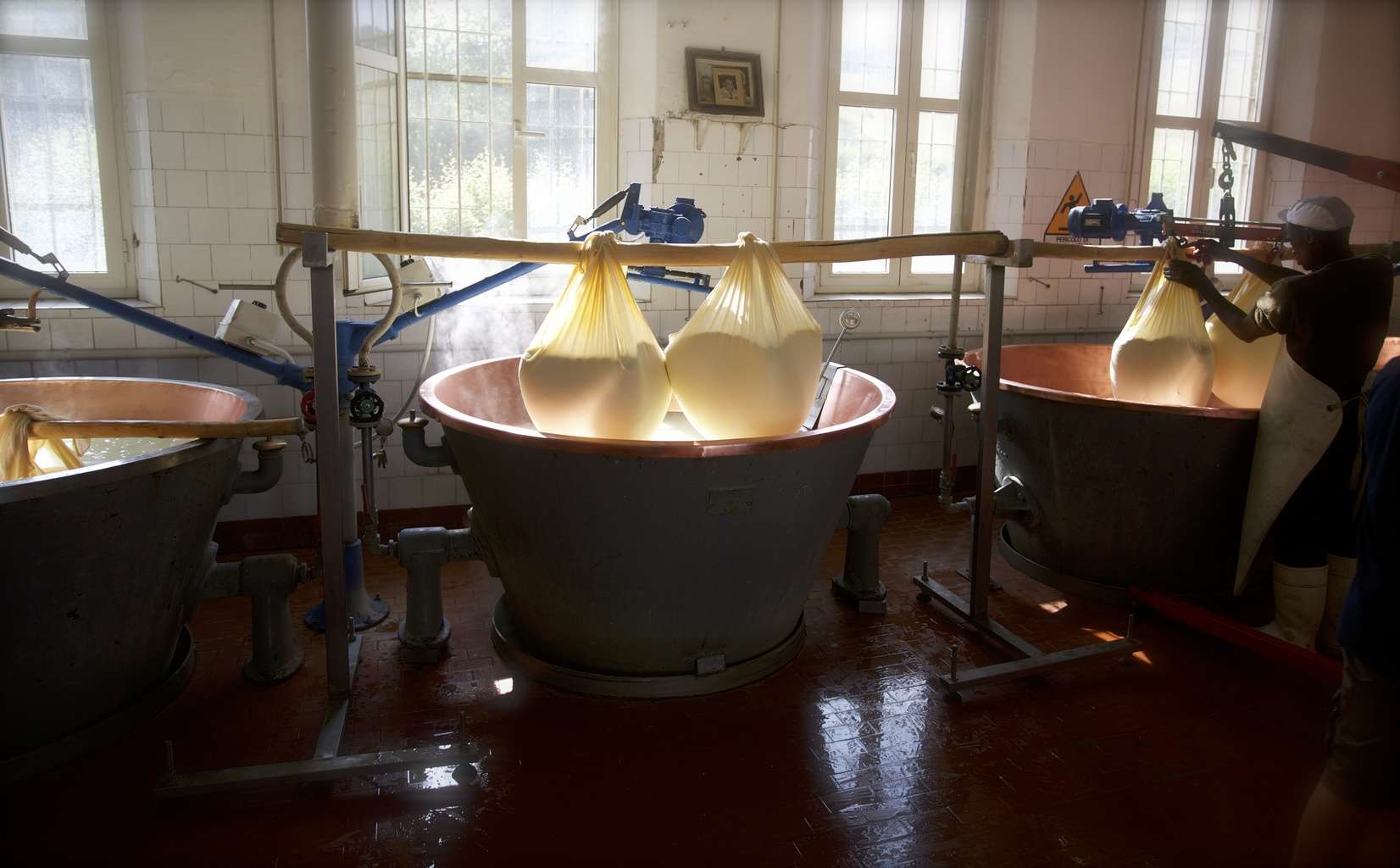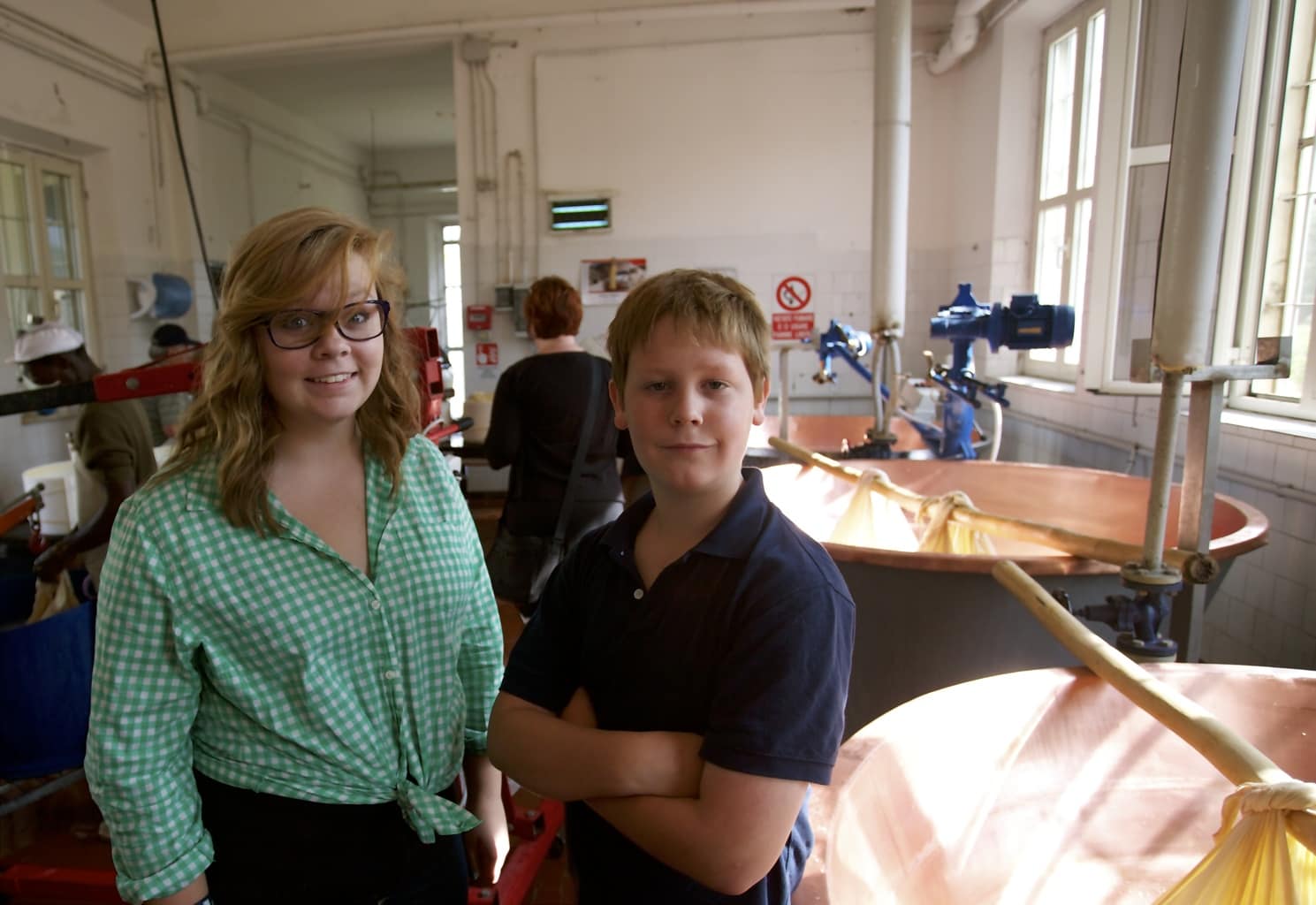 After awhile we peel ourselves away and Angelo takes us through the other building and rooms showing the process of forming the cheese, brining and aging the cheese, and finally putting it on the shelves that span from floor to ceiling  to age. It's truly the most beautiful thing, a sight to behold!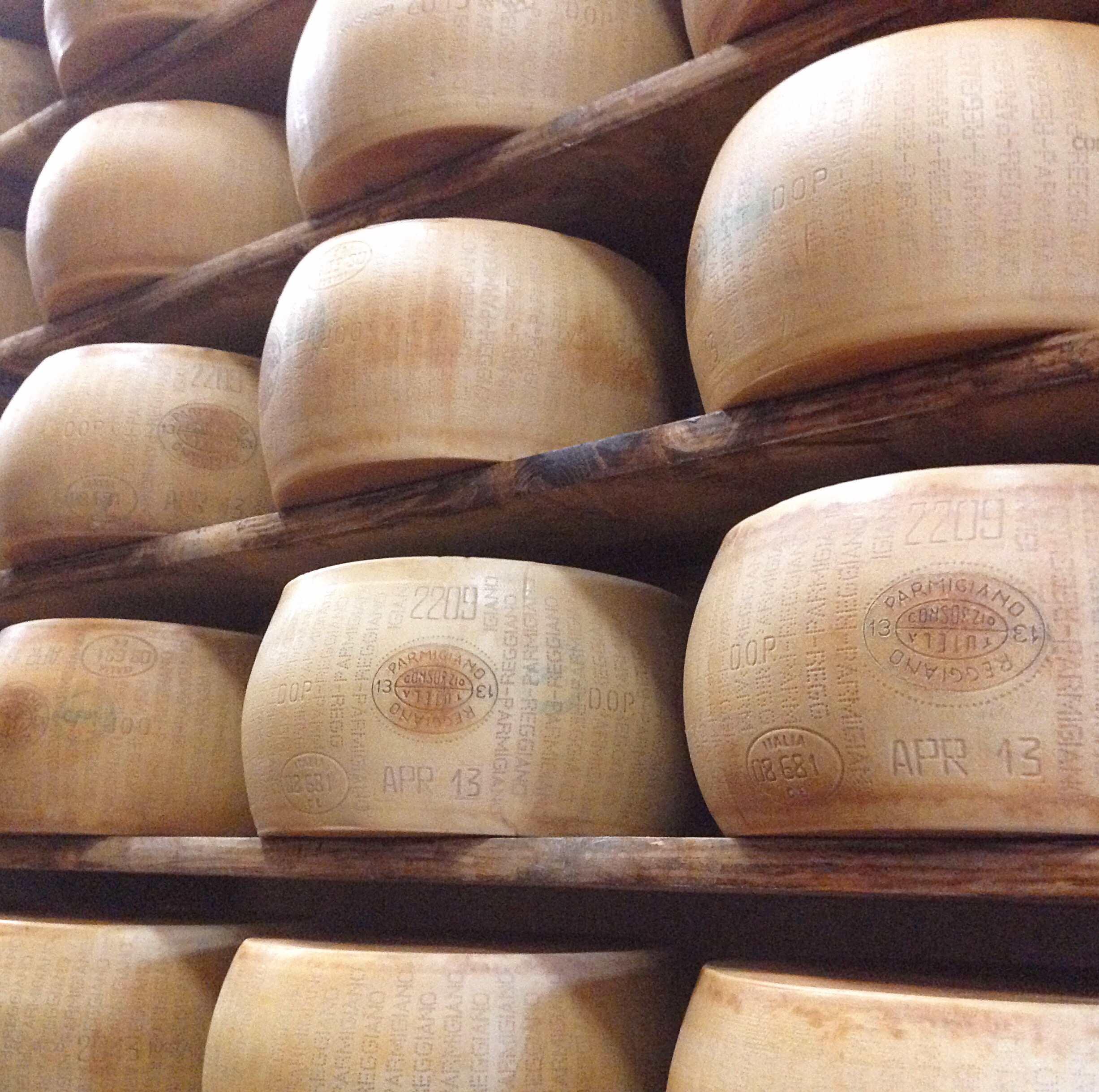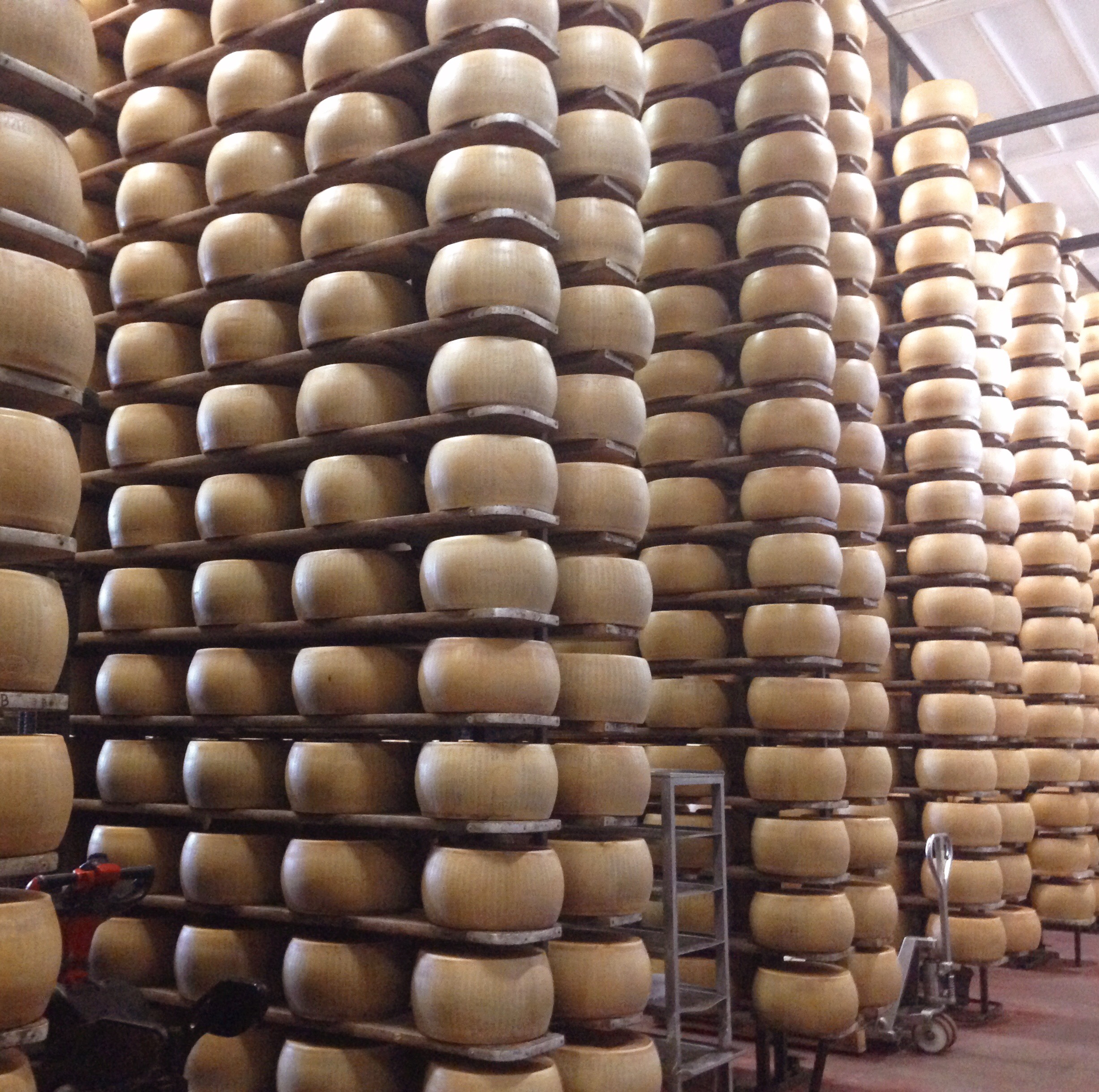 We enter the farm's small shop to do a tasting of 12 mo. 24 mo & 36 mo. Parmigiano-Reggiano. They are all phenomenal- unlike anything I've ever tasted in the USA. Marco lets us try any and all of the varieties he has and then carefully wraps up the hunk of 36 mo. that we will take home with us.
It's time to move on, and my mind frantically tries to place where exactly we are on the map, and I make notes so that I can return and buy more of Marco's magical formaggio. I know I'm in Italy and can buy good parmigiano-reggiano at many places, but in my mind, Marco is now my cheese guy and of course I should come back down and support the  family farm.
I think these are the moments that people in the US envision when they think of us living in Italy- and it cracks me up. Although I would totally live in this cheese shop if I could get away with it.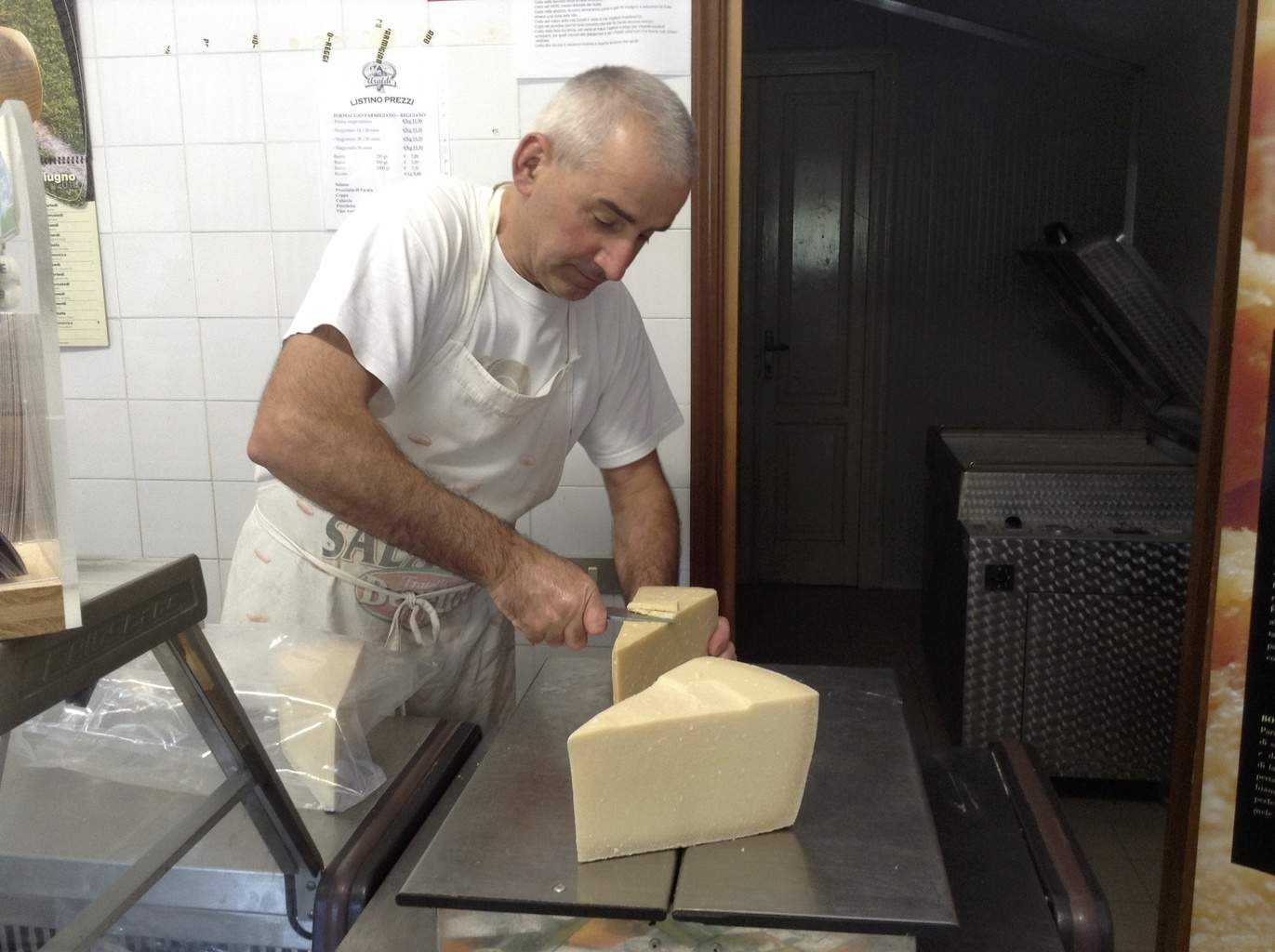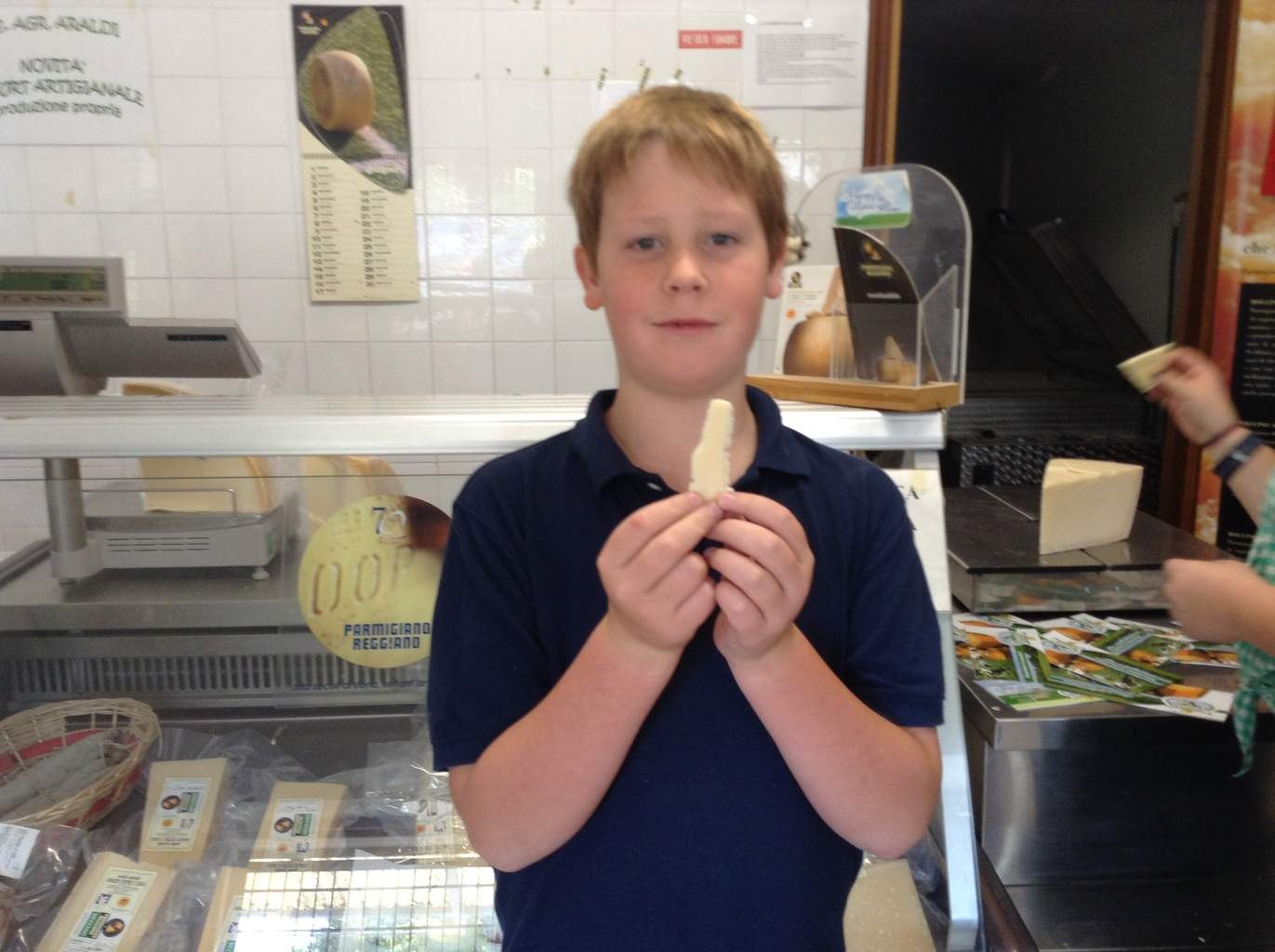 After our tasting and buying this amazing cheese, we headed out. The 2nd stop of our Parma food tour was to learn about the infamous Parma Ham.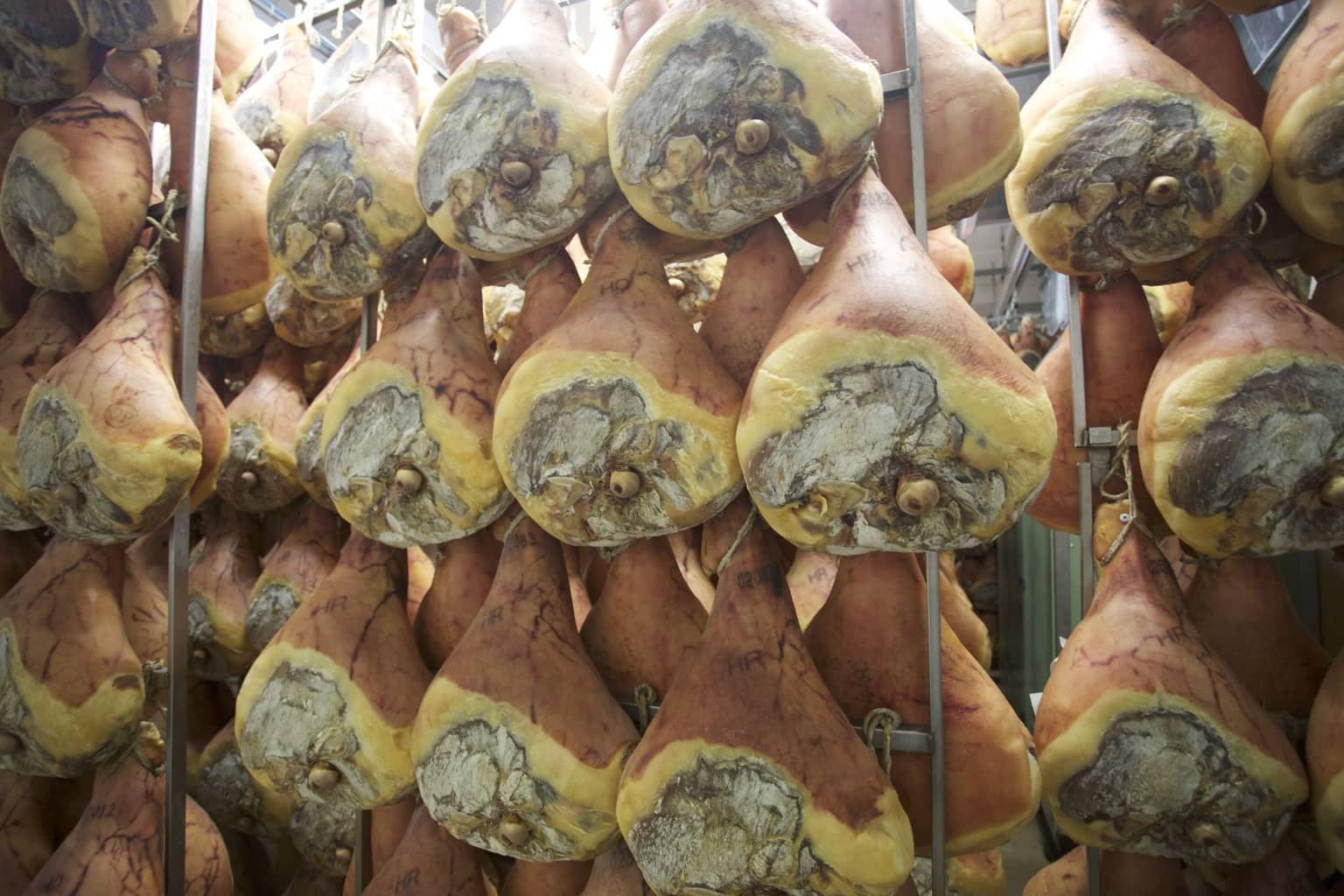 Since I'm not a big meat eater this was my least favorite from a tasting point of view, but very interesting to learn about how they cure and care for these hams that turn into Prosciutto di Parma that you can find in every nook and cranny of Italy. My carnivorous family however, loved it!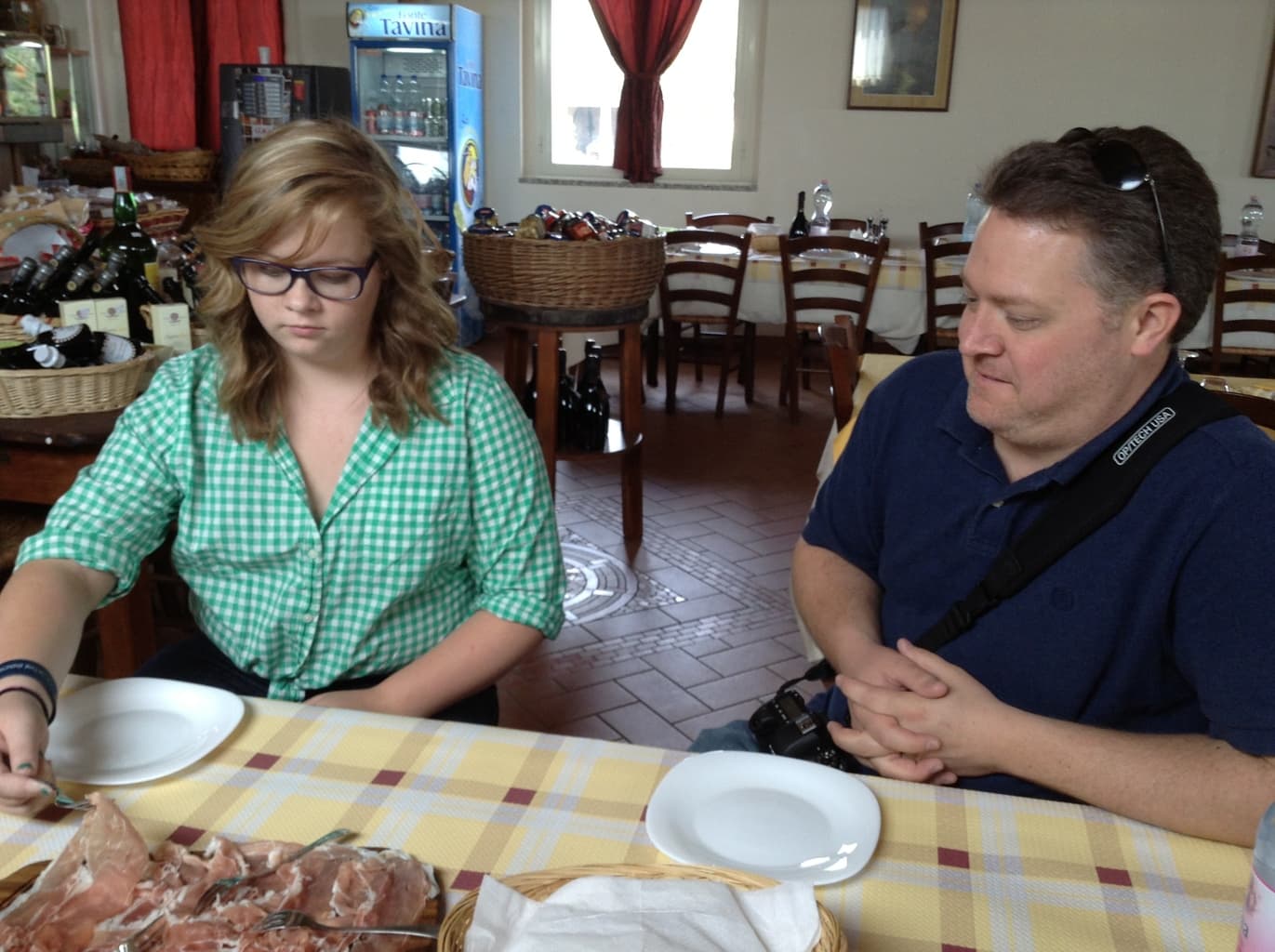 And then it was lunch time- the highlight of our Parma food tour.
One of the things we particularly loved about this whole Parma food tour experience was the lunch we had with Angelo.
He asked us what type of lunch we would like,  giving us several options including lunch at a castle (beautiful view & setting, but can be a bit touristy.) lunch at a bar (simple panini and a coke) or one of his favorite places.
His eyes lit up as he started telling us about it, describing a small family owned restaurant off the beaten path that the locals go to.
That sounded right up our alley. Since we were in the infamous food lovers region of Emilia-Romagna, we were hoping for a great meal– not just a sandwich. We wanted the real deal- the place people dream about going to when they think of the authentic delicious Italy.
We chose the "off the beaten path" ristorante he recommended- and off we went, following Angelo's little VW bug until we entered a small village and found the restaurant.
And the rest is history… We all still talk about this lunch we had at Ristorante Campanini, eaten family style with Angelo and served to us by the elderly owner who still works everyday with his wife in the kitchen making handmade pasta.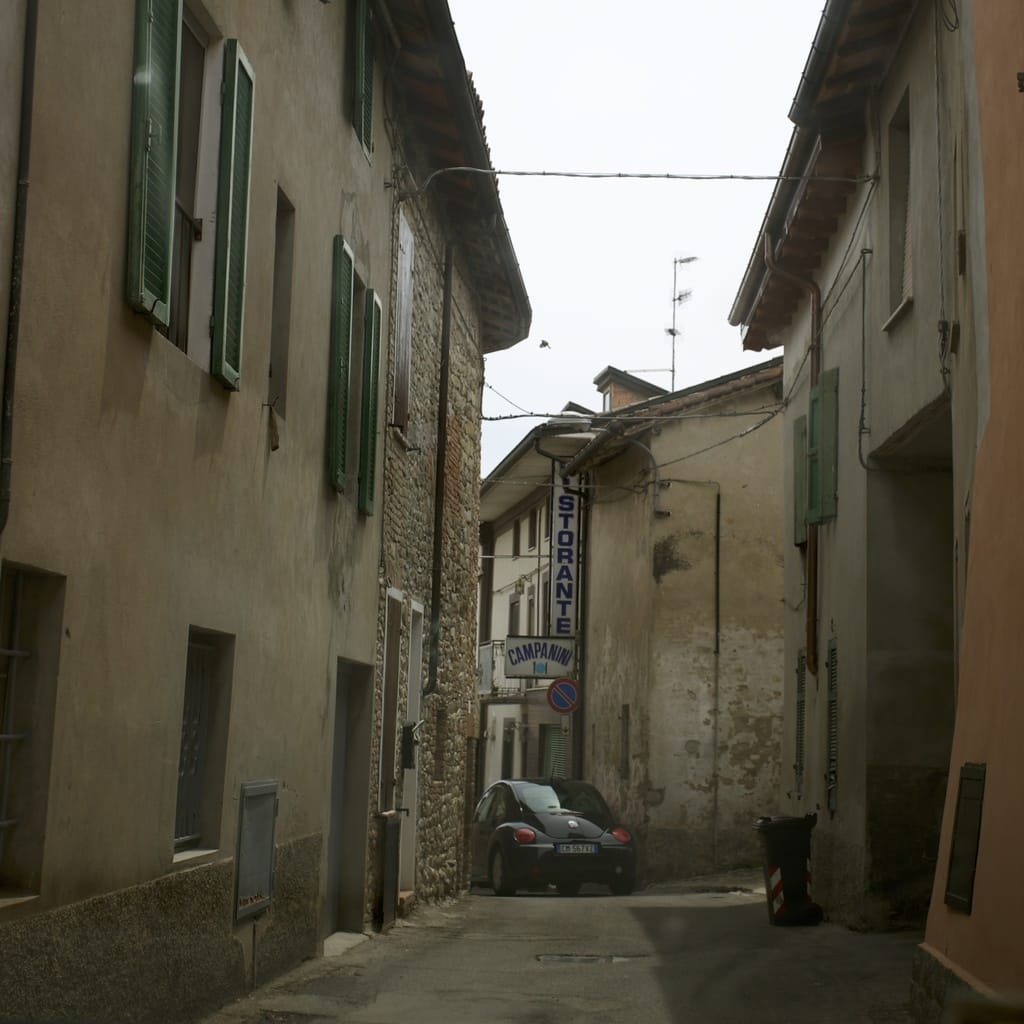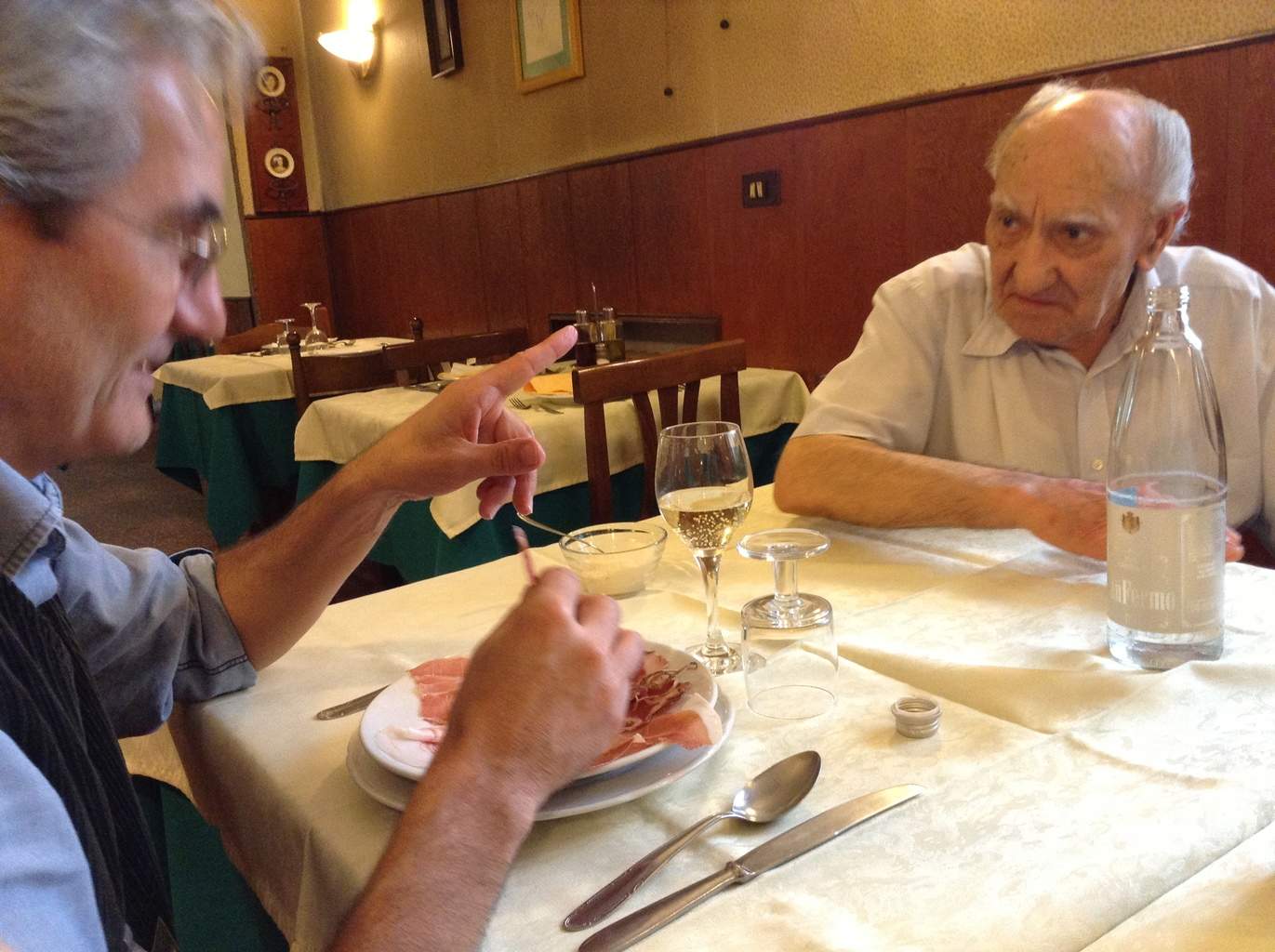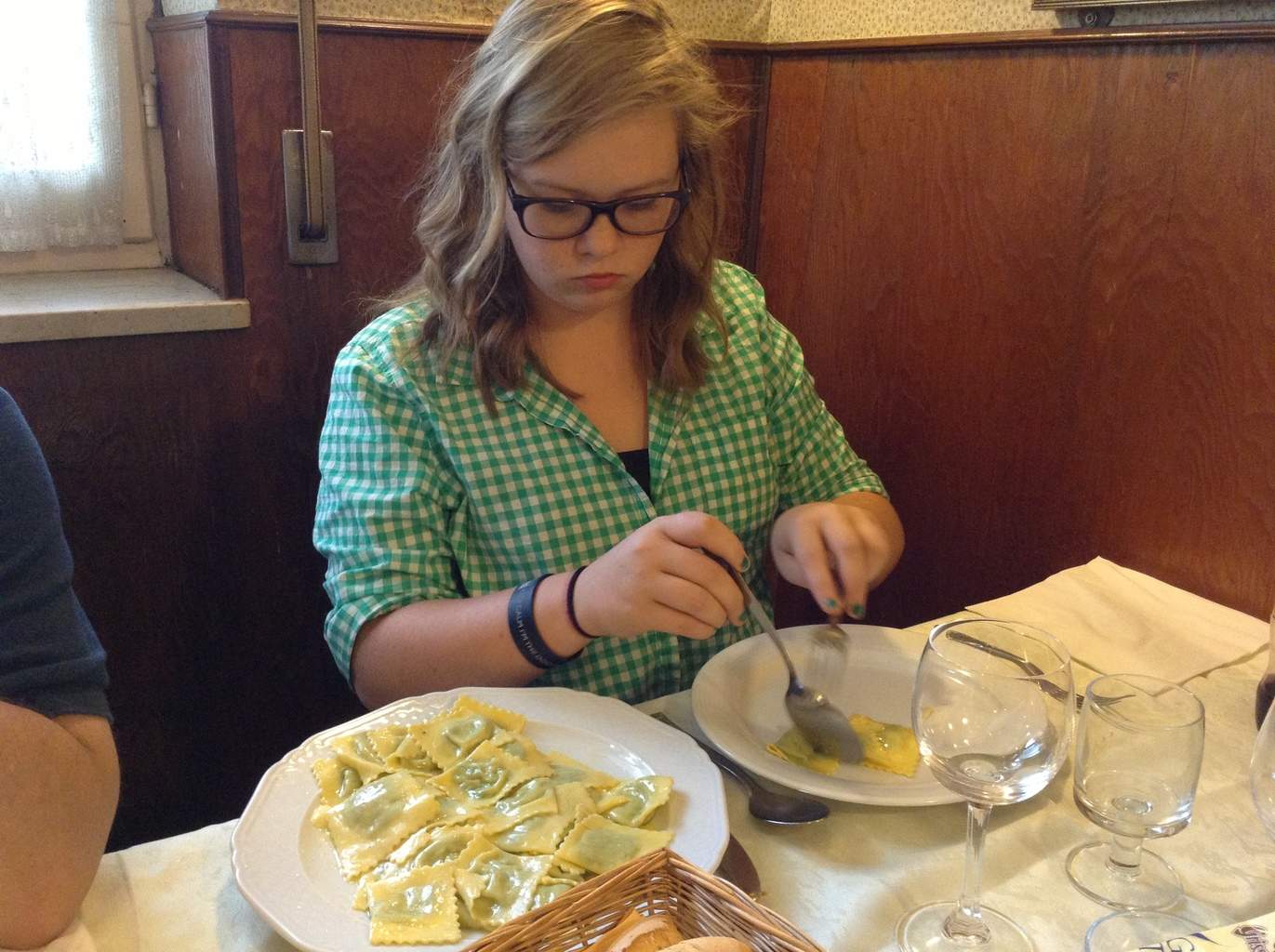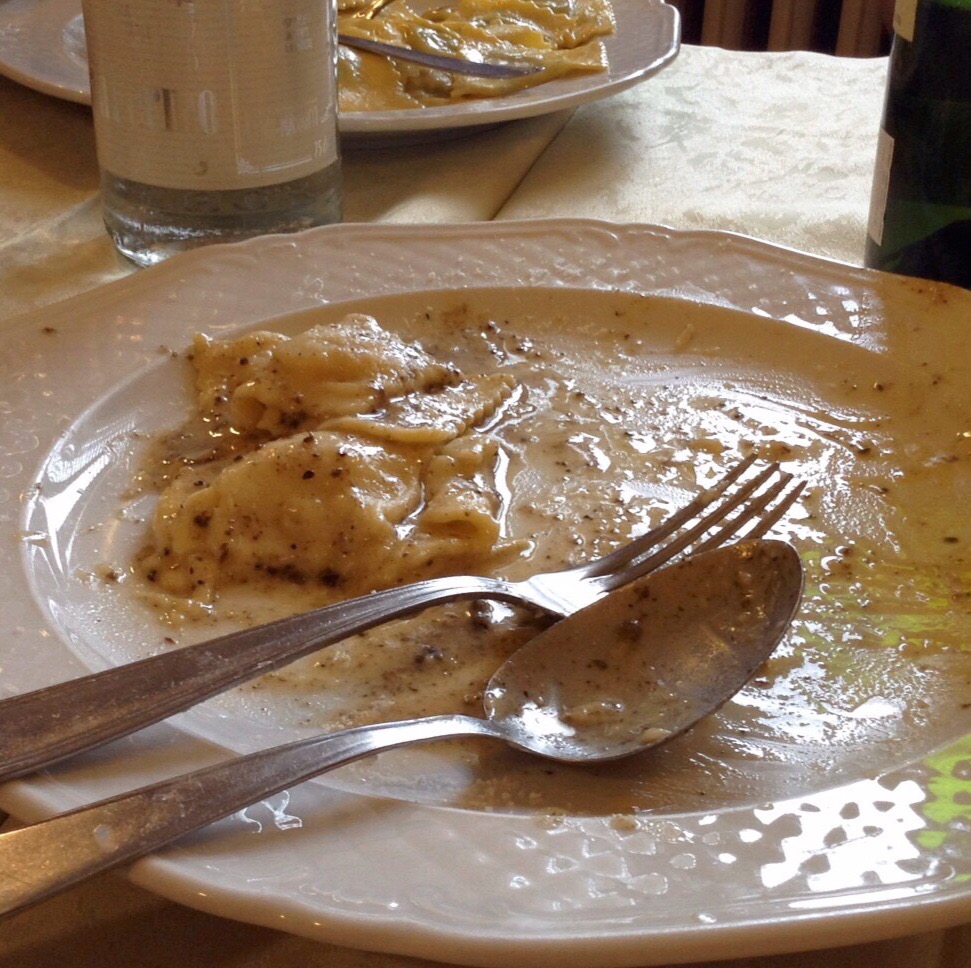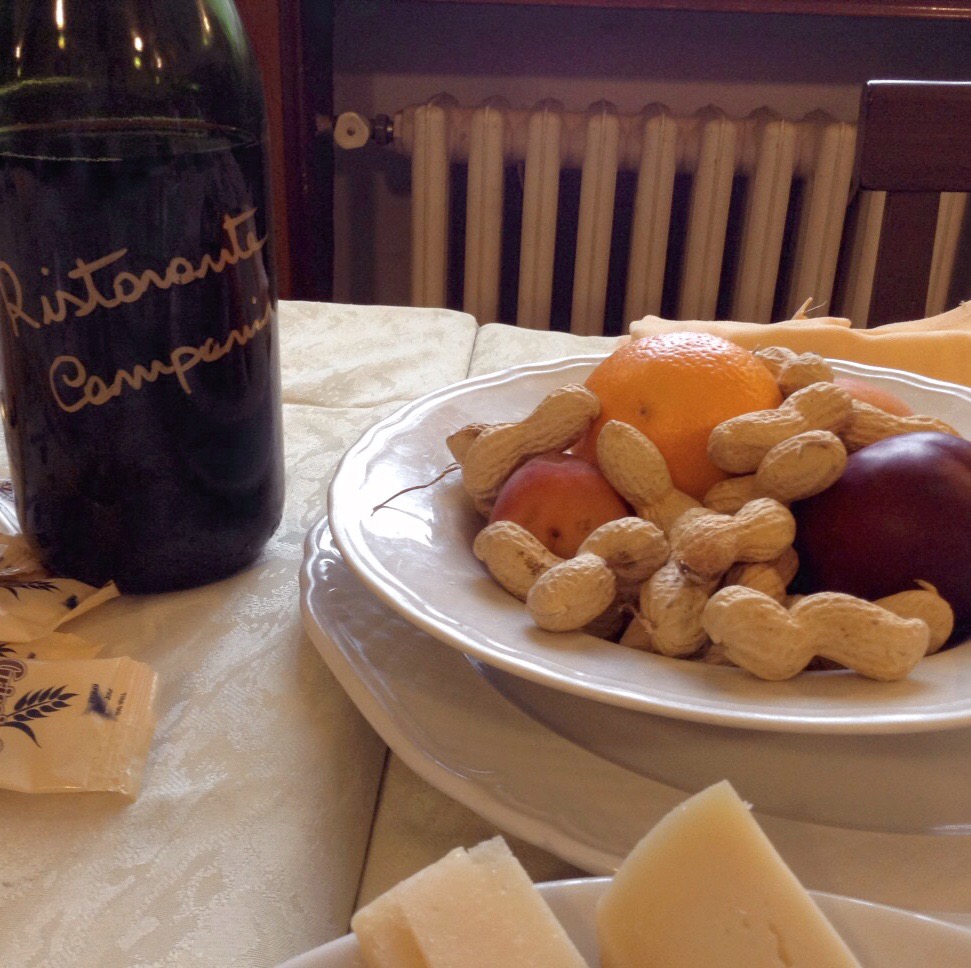 After our amazing lunch we headed off to Quattro Castella, to learn about Aceto Balsamico Tradizionale.
We visited the Baldini Family Vineyard– where we were blown away by the beauty of the estate, winding our way up in the hills to the family "summer villa" and nearby buildings where the balsamico is aged, including the 16th century loft  we got to climb up into!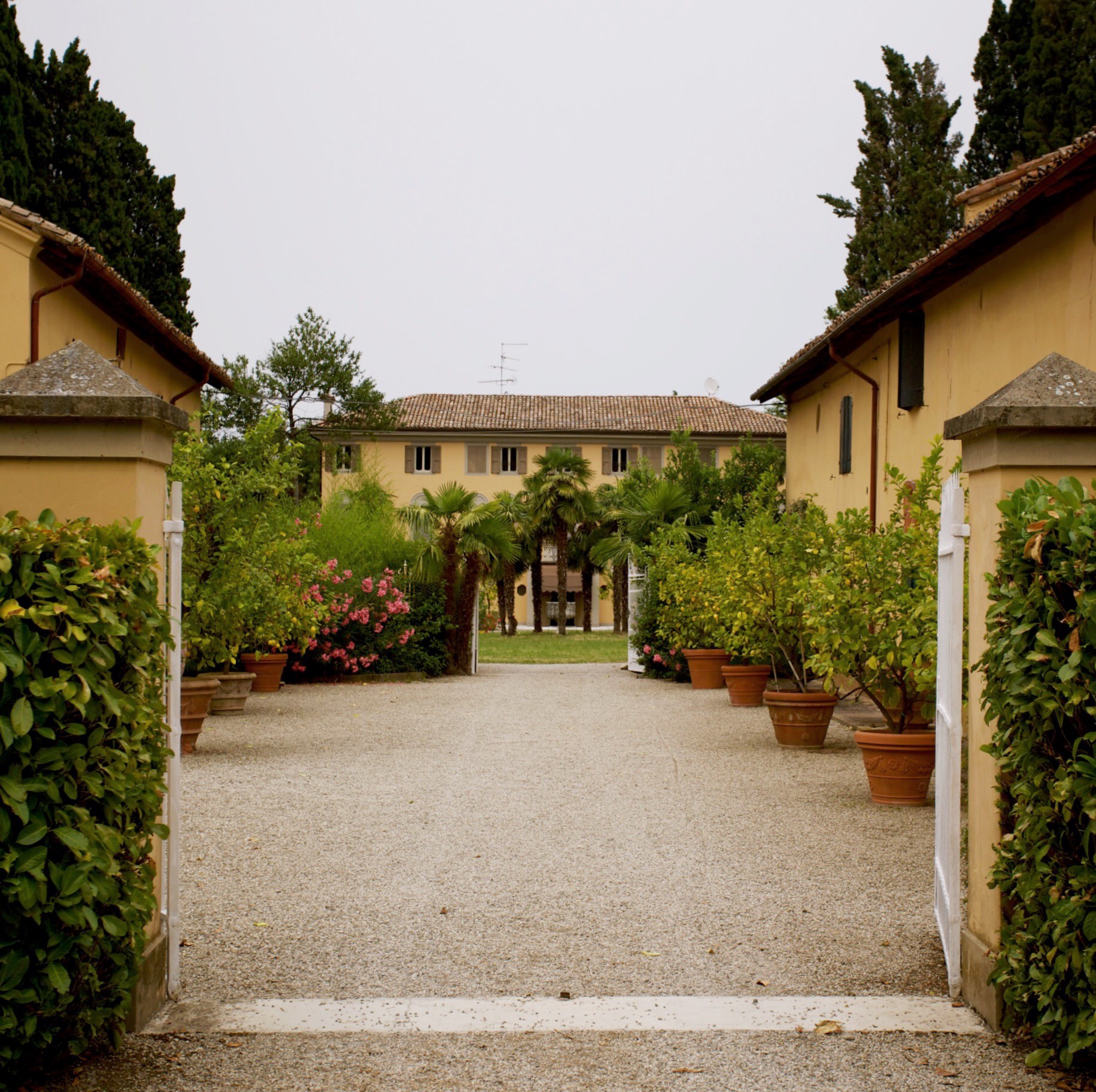 After learning how the grape must is cooked and aged in barrels, we were able to taste the 12 year, 18 year, and 25 year old Balsamico. We've had Balsamico many times, but this is the first time we are learning about the process, and stepping into the room we are blown away by the smell. It's the best sweet, savory, tangy, grapey smell. I know that is a crazy description- but you have to visit and decide yourself how to explain it!
Ben and I both loved the 25 year old balsamico, but we ended up taking a bottle of the 18 year old home with us, as it was a bit less costly but still amazing.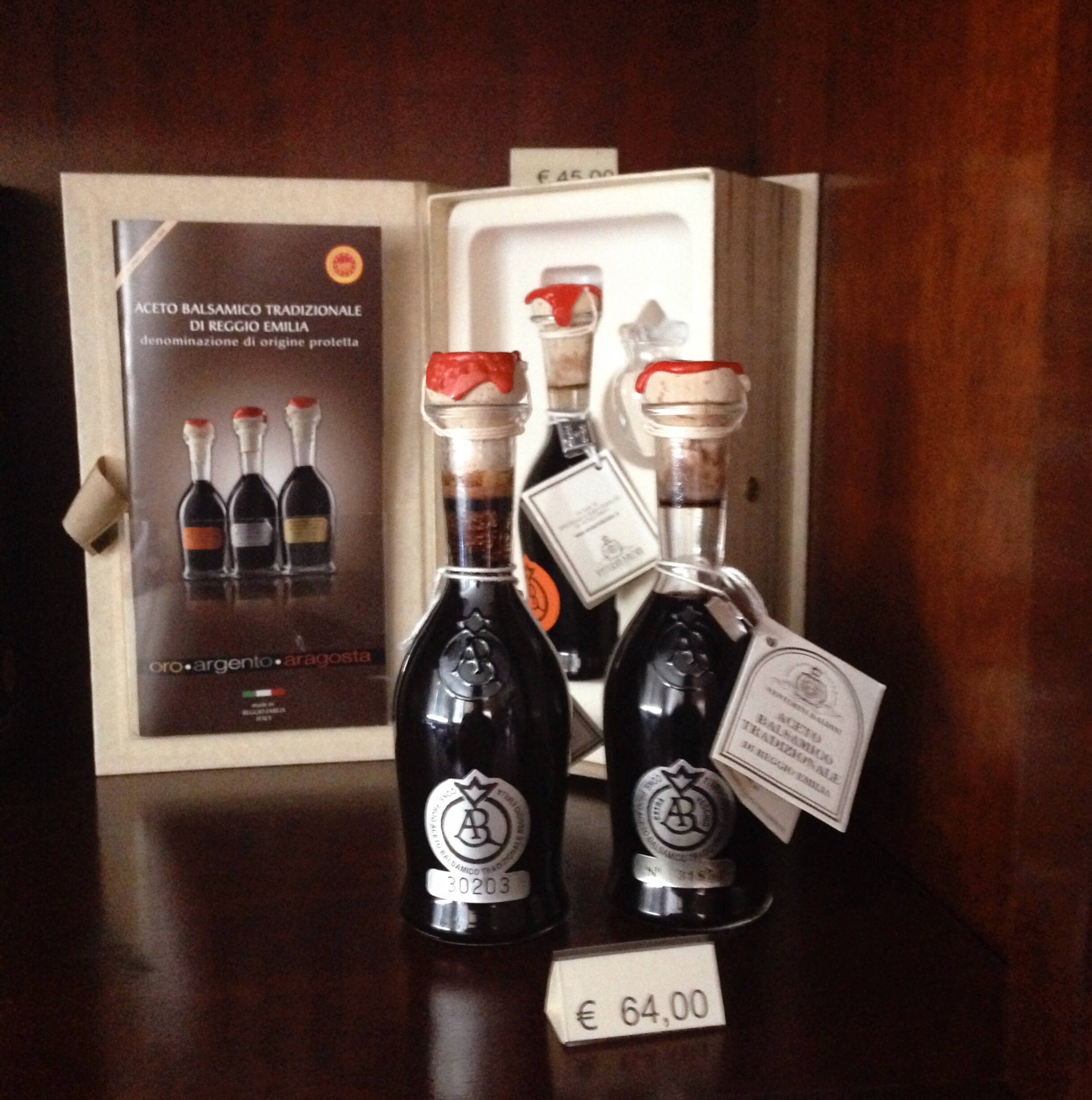 Angelo is so passionate & knowledgeable about this area, the artisans and the foods they create. We enjoyed his company so much and feel we had made a friend after just a few minutes together. 
We loved learning about the valley he grew up in, just a few miles away but the way he described it you'd think it was hours away. It gave me such an interesting glimpse into how these villages & valleys really are like their own little country of sorts. 
Angelo made it such a fun and memorable day, teaching and sharing the history and the craftsmanship that becomes "The 3 Kings". 
He was great at engaging the kids- teasing them and including them in the stories and tastings as we went through our day. I think they really enjoyed it- but they'll will probably never admit it…
I highly recommend Parma Food n Walk Tours–  What a delicious day! I'm feeling spoiled and happy and thrilled to be exploring in Italy. We've not even been here a month, and already I'm overwhelmed in the best possible way with all the great foodie field trips that lie ahead… I will keep sharing- thanks for joining us on this adventure!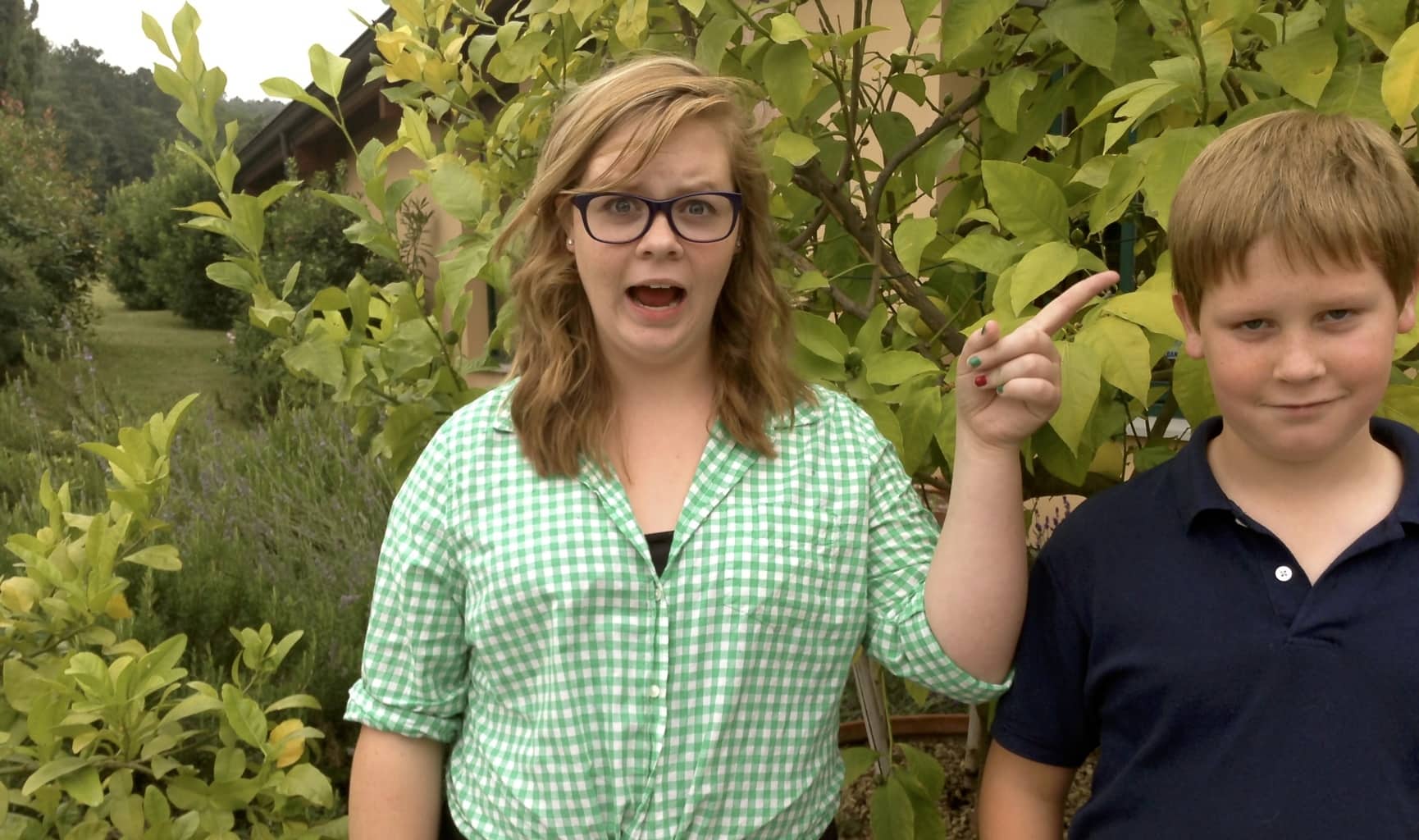 Our Parma Food Tour Guide: Food N Wine Tours, Parma Three Kings Tour (Ask if Angelo can be your guide!)
Ristorante Campanini: (no website) Borgo Costa, 27, 43022 Montechiarugolo PR, Italy +39 0521 686413
Venturini Baldini : Vineyard & Balsamico, tasting room, items for purchase. 

PIN IT FOR LATER!