One Perfect Day | Rome with Gillian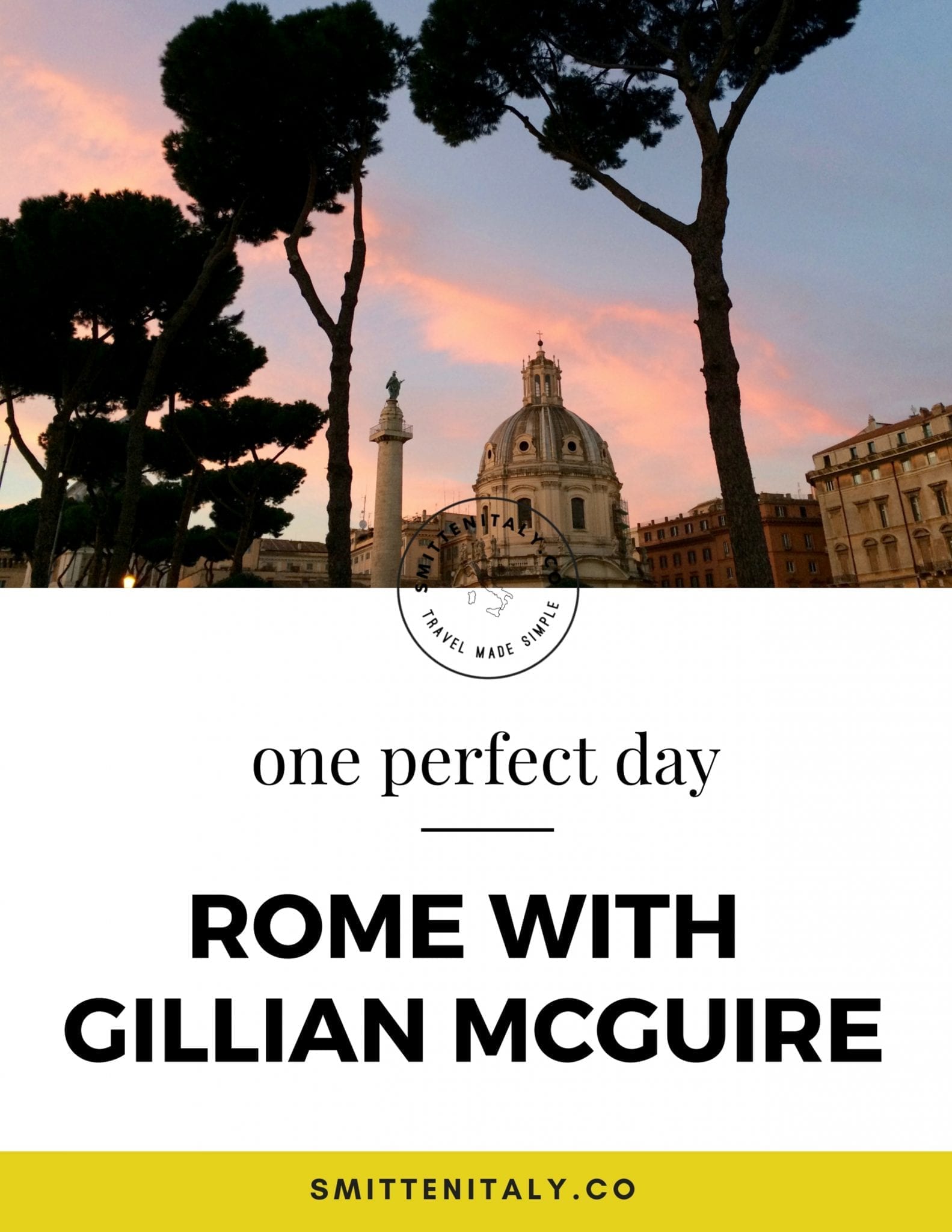 Welcome to One Perfect Day where I'll be chatting with my favorite writers & friends from cities all over the world. They'll share a glimpse of what a perfect day in their city would look like- including their favorite places to see, shop, wander and most importantly- where we should eat! Such great information to feed your wanderlust, or tuck away for future travels. 
This month, I'm chatting with Gillian McGuire, from the fab blog Gillian's Lists who lives in my favorite city in the world- ROME! 
ONE PERFECT DAY | ROME, ITALY
Gillian McGuire, the lovely & knowledgable author of the blog Gillian's Lists , and author of 2 guidebooks, (Amalfi Coast Essentials and Ponza Travel Essentials) is our guest today.
Gillian's Rome.
I am a Rome based blogger, ebook writer, information curator, traveler, coffee and cocktail drinker. My friends call me "the Source" and I am your go-to girl for the best information on just about anything in the eternal city, the Amalfi Coast, Capri and the island of Ponza.
I have lived in some very interesting places in the past 20 years since leaving my home state of Tennessee.  Washington, DC; Niamey, Niger; Harare, Zimbabwe and now I live in Rome.
My blog, Gillian's Lists, is all about my favorite things to eat and do in Rome, European city breaks and the best information on Italian beaches and islands. Everything I love on the Amalfi Coast and Capri is in my ebook Amalfi Coast Travel Essentials.
I live in Monti, a neighborhood at the edge of the Roman Forum and near the Colosseum. It is both a real Roman neighborhood with an old fashioned housewife shop where I can buy candles, bleach and firewood, a ramshackle upholstery workshop and family run trattorias, but it also is full of buzzy wine bars, Brazilian sushi and Indian restaurants and hipster beard barbers. I love the mix.
EAT & DRINK.
I start almost every morning with a cappuccino at Bar Licata. This spot with a view of the Colosseum takes good care of both neighborhood regulars and visitors. The pastries are excellent and they also serve full cooked breakfasts. Later in the day the lunch specials are aways fresh and healthy.
A short walk from my neighborhood up the Esquiline hill is a pastry shop I find hard to resist. Everything at Regoli is delicious, but my favorites are the sweet cream filled maritozzi or bavarese.
Just two blocks from Termini train station is one of Rome's best plates of pasta at the family run    Da Nazzereno. This is where we come when we are craving Roman classics like Amatriciana and Carbonara.
Bar Licata
via dei Serpenti 165
Pasticceria Regoli
via dello Statuto, 60
Closed Tuesdays
Da Nazzareno
via Magenta, 35
Closed Wednesdays
WANDER.
I love to take long walks. A neighborhood that I still get lost in and love to explore is Trastevere. I always stop by my favorite perfume shop on the pretty via Lungaretta to see the always different, always creative window display.
Bar Calisto is one of Rome's last old school bars. Nothing fancy here, but in late afternoon I order a negroni at the bar, sit at one of the small round tables and watch Trastevere life go by.
My son is a musician so whenever I am in the neighborhood I make a visit to the church dedicated Santa Cecelia who is the patron saint of music. The early Christian church and crypt below are especially beautiful.
Pizza at Ai Marmi is open early and is always busy. The pizza is the thin and crispy Roman style and the beans cooked with spicy sausage and tomatoes is a family favorite.
Romastore 63
Via della Lungaretta, 63
Santa Cecilia in Trastevere
Piazza Santa Cecilia in Trastevere 22
Basilica and underground, Mon.–Sat. 9:30–12:30 and 4–6:30, Sun. 4–6:30
Bar San Calisto
Piazza San Calisto 3
Closed Sundays
Pizzaria Ai Marmi
Viale Trastevere 53
06 5810919
Closed Wednesdays
18:00-ish – 01:00
SHOP.
Shopping for food is a social affair in Rome. A trip to the butcher often includes a long conversation about favorite summer vacation spots and maybe even a song or two before I ever get to asking for a chicken or pork chops. This elegant shop carries obscure brands of chocolate, dried pasta and vinegar, all of which make great gifts.
On the weekends I get up early and take a walk over to the farmers market near the Circo Massimo. Everything is grown in the nearby Lazio countryside. I buy a weeks worth of fresh seasonal produce that usually costs less than lunch at a restaurant. It is not all fruits and veggies though, you can have a picnic style lunch here, buy some of the worlds best chocolate hazelnut spread and try a local craft beer.
De Angelis
Via Flavia, 74/78
Mercato Campagna Amica
via di San Teodoro, 70
Saturday and Sundays
09:00-15:00
Thank you Thank you Gillian for sharing your neighborhood and beautiful city with us! Rome is such an amazing place that I never get tired of exploring, and it's so special to see a glimpse of what it's like to be a local. Now that I've read about your favorites, I have a hankering to visit the market near Circo Massimo and to stop for a drink at Bar Calisto and watch the world go by….
You can follow Gillian and read more of her work here:
Snapchat: gmcguireinrome
---
Happy Traveling Friends- keep this close if you or someone you know is going to Rome soon!
Heather xx
p.s. More One Perfect Day interviews here. More on my love affair with Rome here.
(all photos courtesy of Gillian McGuire)
Pin it for Later!