One Perfect Day | Montefalco with Gusto Wine Tours
Welcome to One Perfect Day where we chat with our favorite writers & friends from cities all over the world. They'll share a glimpse of what a perfect day in their city would look like- including their favorite places to see, shop, wander and most importantly- where we should eat! Such great information to feed your wanderlust, or tuck away for future travels.
This month, We are chatting with Giselle & Mark Stafford, of Gusto Wine Tours in Montefalco, Umbria. They have created a beautiful business sharing the fabulous wines of Umbria with visitors & educating them in a fun & relaxed way. I'm thrilled that they are spilling the beans about their favorite places in Montefalco, a jewel-box hill town known as "the balcony of Umbria." (and one of our absolute faves!)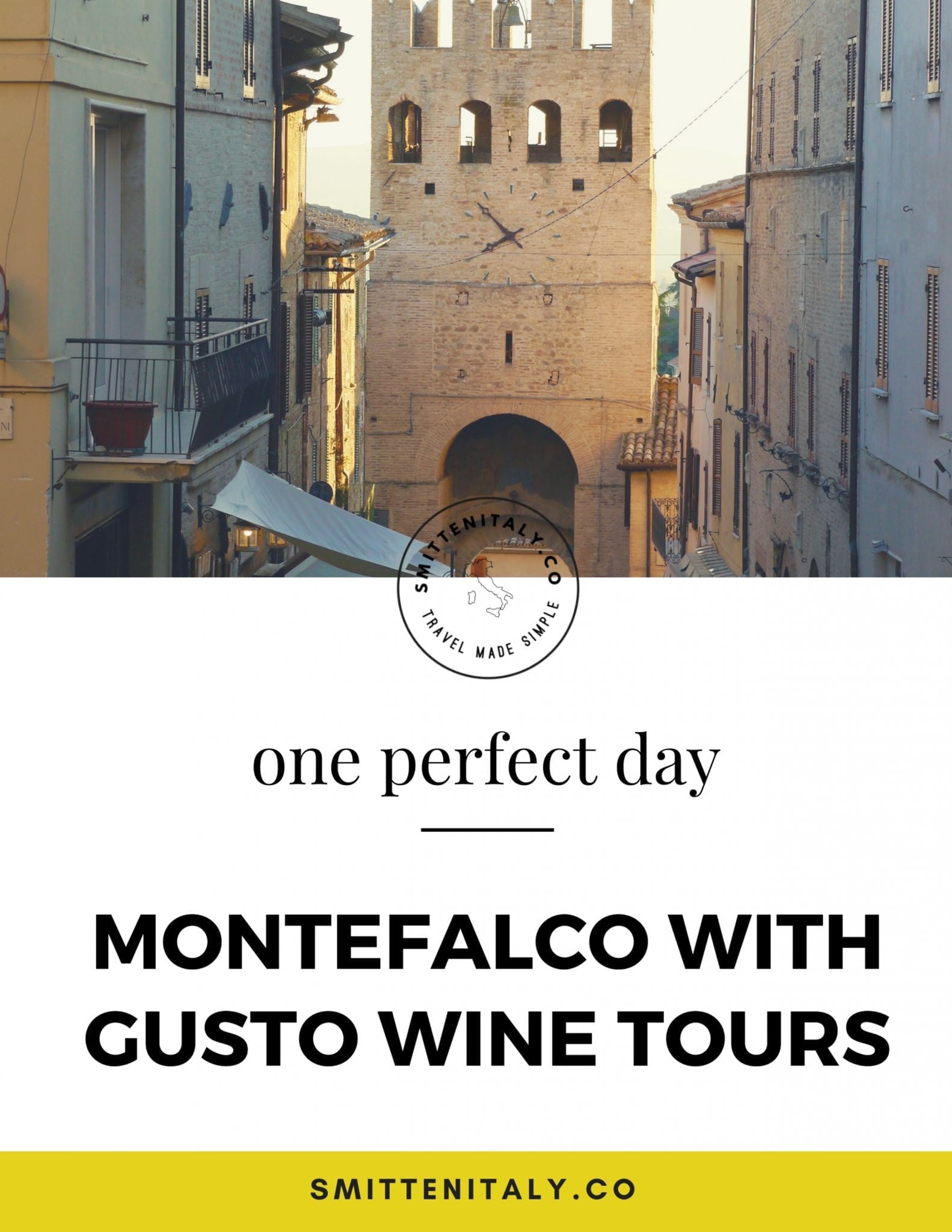 One Perfect Day | Montefalco with Gusto Wine Tours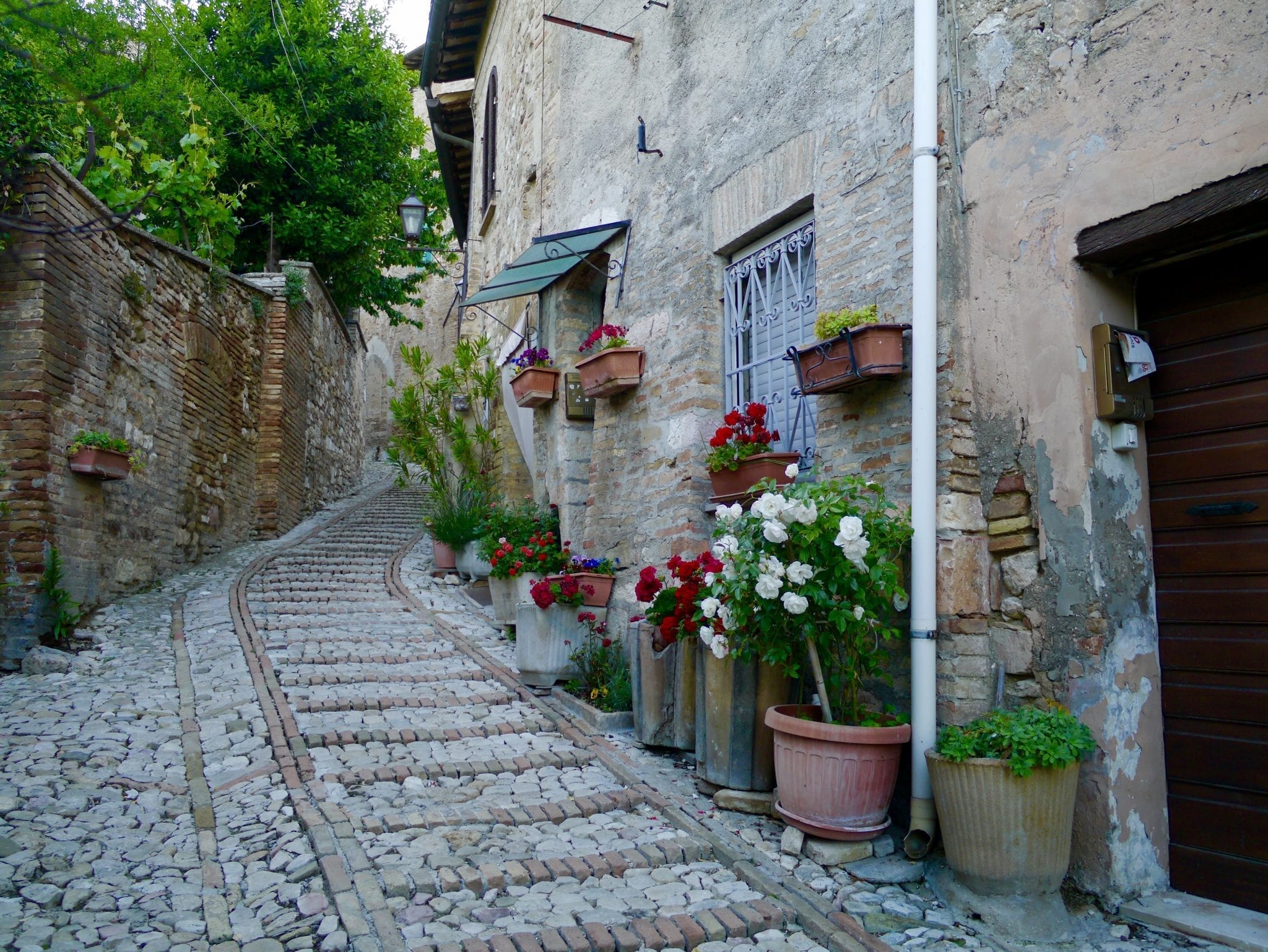 We are Giselle & Mark Stafford. We started Gusto Wine Tours at the beginning of 2010 and LOVE what we do! We live in the countryside near the lovely little town of Montefalco with our 2 fur babies Stella & DJ.
We have been here for just over 5 years now and love being out in the countryside, surrounded by fields and vineyards yet close to Montefalco and all it has to offer. Moving to be near Montefalco was a conscious decision, we wanted to be near the Montefalco wine. We moved here from a little town called Cannara, about 20 minutes drive north of where we are now.
We decided that as we had started a business involving wine, we would move to where the local wine was made. Sagrantino is only grown commercially in a very small area of Umbria and we now live in the very heart of this zone.
We take visitors around for a day of wine tasting in the Umbrian countryside where they experience a taste of the real Umbria, meeting the wine-maker, their families and tasting the fabulous wines of the area as well as the local produce – like the salumi and sheep cheeses.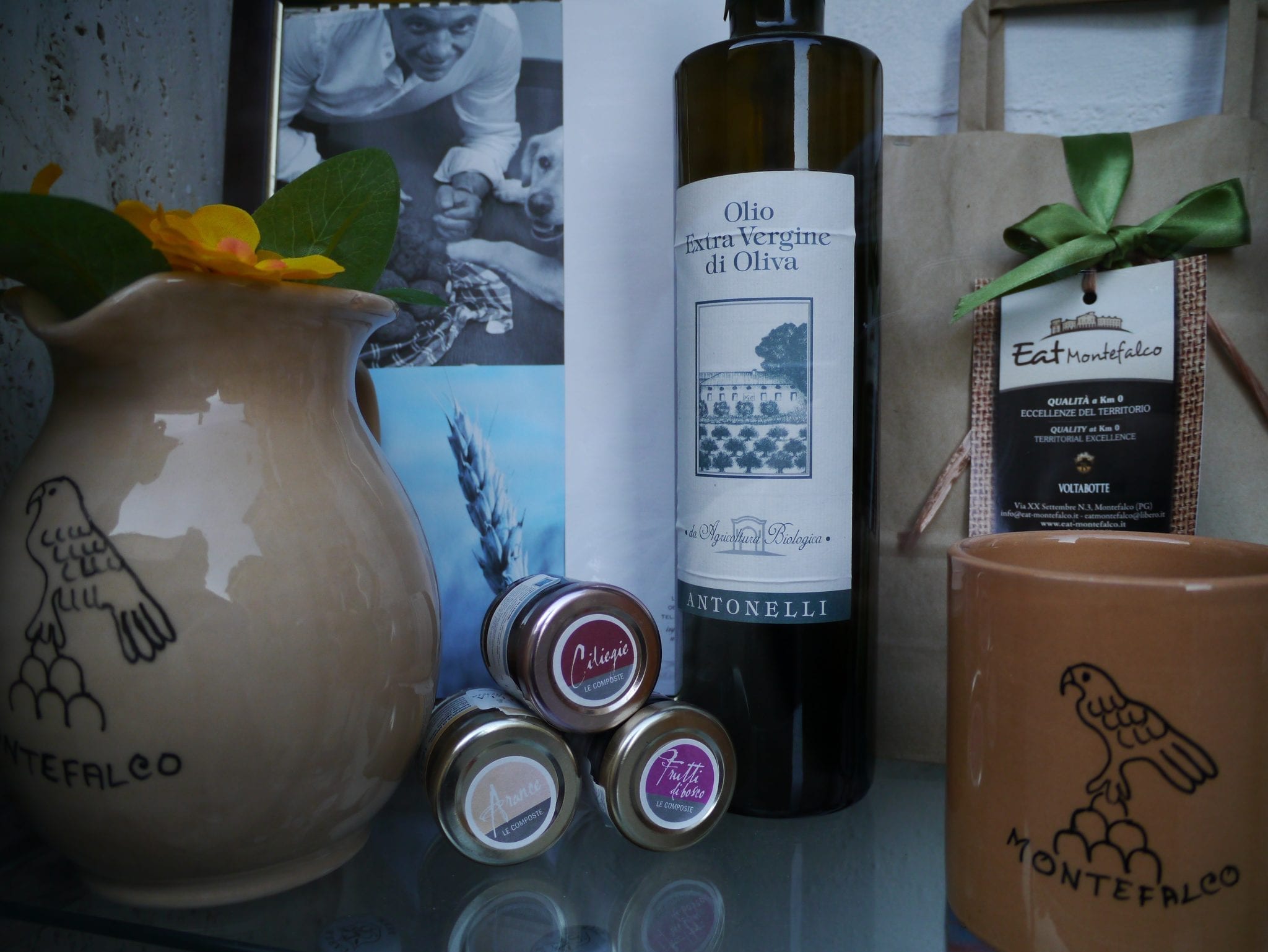 EAT & DRINK.
Montefalco has a plethora of great places to eat and sit and watch the world go by with a calice of Montefalco Rosso and some excellent nibbles!
It surprises some folk, but Italy isn't always warm and sunny. We get our share of freezing temperatures and occasional snow. However, this has an upside – going out for a thick and delicious hot chocolate.
We also love going out on a cold winters night to somewhere like L'Alchimista where you can scamper downstairs into their warm and cosy restaurant. The food & ambience is always superb, all due to the lovely family who own and run it.
The menu changes with the seasons and what is fresh – so there will be times that the fresh wild asparagus or white truffle or perhaps the artichoke will be featured with beautiful dishes like risotto, velvety soups, fillet steaks with shavings of fresh truffle … When the zucchini flowers are in season, they stuff them with local ricotta and bake them instead of deep frying them. Utterly delicious.
When the weather is warmer, L'Alchimista spreads itself outside with tables outside in the piazza, so not only do you get fabulous food, you get to people watch too.
The first time we ever went into L'Alchimista, many years ago, it was more of an enoteca that did snacks with the wines you could try there. The wines are still there and still fantastic – an amazing selection that we spend perhaps too many hours perusing.
Across the piazza from L'Alchimista is another great place to sit and people watch, Federico II – again great food, a little different than the usual fare. I had the most memorable hummus there, with fresh pita bread. (Actually, it was probably torta al testo – a local flat bread, but tastes very similar.)
Montefalco is filled with great places to eat and drink – it's almost impossible to choose!
One that we found not too long ago was so small we hadn't even noticed it and we'd passed it countless times! Just outside the walls, on the right as you look at the town is Il Postaccio run by two charming brothers with a few tables outside in the summer and a few all year round – their Fish Friday menu is worth traveling for.
Il Verziere is a fun pizzeria-restaurant run by the slightly mad but delightful Pietro – great food and wine at reasonable prices.
Olevm further up the main street was another great find for us – tiny place but wonderful! We did an olive oil tasting there one time, that was really great fun.
Our favourite place for 'apericena' is a tiny bar near the cottage hospital called Scacciapensieri – great local wines, young and vibrant atmosphere with tables spilling out over the courtyard opposite in the warm months. The boards of meats and cheeses are well worth trying out.
GUSTO FAVORITES.

WANDER.
Montefalco's nickname is the balcony of Umbria as it sits on top of a hill in the middle of the valley. This medieval walled hill town is easy to walk all the way around and has beautiful views everywhere you look.
One of our favourite places to hang out is the lookout point looking out towards the north (and east and a little to the west too) We lean on the railings and gaze over the vale of Spoleto looking out towards Perugia, Assisi, Spello and can see Bevagna and Cannara on the plains.
The main piazza at the top of the town is another favourite place for us. We enjoy people watching, sitting watching the world go by with a glass of local rosso in hand!
Montefalco is a very small town, so it is one neighborhood. That's the way we look at it, however, the local Montefalchesi have different ideas and there are actually 4 quarters and once a year they all compete against each other during the "Fuga del Bove", a month long festival in August which culminates in a race and relay competition.
The "Fuga del Bove" is a run through the streets of the town in relay. The run used to be with the bulls, but that got too dangerous, so now the run is with only people. The race with the bulls still takes place around the athletics track at the bottom of Montefalco. Pop-up tavernas open all around the town serving irresistible grub and buckets of wine.
Montefalco has little alleyways that are just begging to be explored, especially in the spring and summer when they are filled by the locals with flowers and plants. If you look carefully, you will find a plaque next to a garden which has the oldest Sagrantino vine inside – it takes up the whole garden.

SHOP.
Montefalco has some lovely craft shops, but my favourite shopping is in the local delicatessen spots and the wine shops. There are 2 or 3 local wineries who have opened their own shops in town. You can go and visit them and have a wine tasting in the shop.
The little deli places are chock full of goodies like truffle butter, local handmade cheeses, handmade fresh pasta, local olive oil, prosciutto from the local farms. It's all here!
There are also beautiful linen shops. Pardi is the local producer and seems to have taken up a lot of the town. You see the name everywhere. Olive wood objects make gorgeous tactile gifts and if you fancy a new handbag or scarf, there are a couple of great shops in the main street that are surprisingly good value.
What to shop for:
Wine
Specialty Food Items
Linens
Olive Wood items

STAY.
We would love to stay at Hotel Bontadosi in the main piazza – a boutique 'Mr & Mrs Smith' hotel with an ever changing art gallery in the reception and a fabulous restaurant alongside – Locanda del Teatro. There is a small spa at the hotel with various treatments I would love to sample!
TIPS.
Montefalco is renowned for the local wines, Sagrantino and Montefalco Rosso.
There are various festivals during the year, our favourite is the harvest festival. This festival is held on the Sunday of the Montefalco Enologica – a weekend of wine tasting and promotional shows. Everyone lets their hair down and parties in the main piazza.
You never know just what you might come across when you wander up into the piazza – there might be a flower show going on or a vintage car parade – there might be a band playing.
Last year (2015) the Consorzio Tutela Vini Montefalco had a great initiative… Every Saturday afternoon between April and October they held a little Sagrantino wine tasting for just €5 per person. I love that the comune are doing their best to open the eyes of folk that haven't heard of Sagrantino and promoting this very special wine!
---
FOLLOW ALONG WITH Gusto Wine Tours HERE:
---
Thank you Mark & Giselle for sharing all your favorite places with us. Chris and I LOVED our day with you a few years ago.
Friends, I highly recommend spending some time with Gusto Wine Tours next time you're in the area!
-Heather
P.S. Catch up with more One Perfect Day interviews here.
(all photos courtesy of Gusto Wine Tours)
Pin it for later!