One Perfect Day: Ficulle, Umbria with Casa Le Crete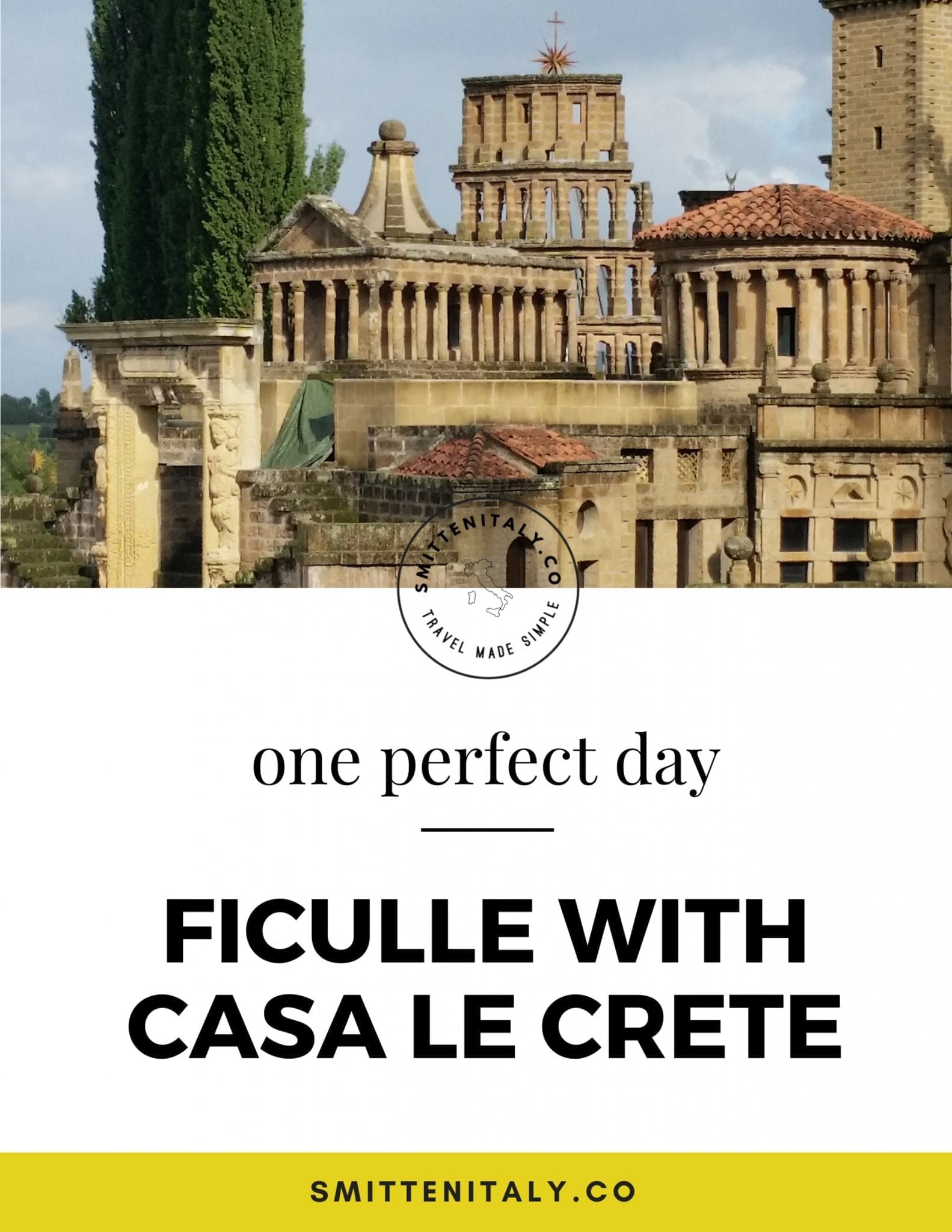 Welcome to One Perfect Day where I'll be chatting with my favorite writers & friends from cities all over the world. They'll share a glimpse of what a perfect day in their city would look like- including their favorite places to see, shop, wander and most importantly- where we should eat! Such great information to feed your wanderlust, or tuck away for future travels.  
This month, I'm so thrilled to introduce you to Lisa DeNunzio, an Italian-American who lives part time in Ficulle, Umbria. I've invited her to share her insider secrets and what makes Ficulle and her beautiful vacation rental "Casa Le Crete" special. 
ONE PERFECT DAY IN FICULLE, UMBRIA WITH LISA OF CASA LE CRETE
Ciao tutti e Benvenuti. My name is Lisa Nanna DeNunzio. I am a second generation Italian American originally from New York who became fascinated with my Italian roots and history. Now that our children are grown and have families of their own, my husband, Arturo, and I were ready for a new adventure.
So after years of traveling to Italy and renting various places, we decided to purchase a farmhouse in Ficulle, Umbria.
Courageous or crazy?
In Peter Mayle's evocative memoir, 'A Year in Provence', Mr. Mayle writes
"We saw the house in the afternoon and had mentally moved in by dinner".
And that was exactly what happened. We were charmed and immediately fell in love with Casa Le Crete, the land and the hills of Umbria.
N.B. As quickly as cupids arrow struck, it took us more than one year to complete the process of purchasing the house.
My husband and I reside in Coral Gables, Florida, a Mediterranean inspired city that was founded by George Merrick in the 1920's. For many years I volunteered and was President of the Historic Preservation Association. It is perhaps this interest in historic homes and Mediterranean style architecture that inspired and emboldened me to 'jump the pond', and purchase and renovate a home in Ficulle, Italy.
Ficulle, Umbria
Ficulle's origins date back to the Pre-Roman Period when the rural population used the caves of this area as simple burial-grounds on the roads around Cassia.
Particularly interesting is Castel Maggiore, the most impressive place in Ficulle, reachable by a maze of stairs and lanes, which widens to form a picturesque view capturing all the mystery and charm of the verdant valley.
Also noteworthy are the two medieval rocks that form 'the Gate of the Sun' which overlooks the valley, woods, hills, and flowery meadows, stretching to the slopes of the Amiata and forming a natural balcony that stretches over the Chiani Valley.
Places of Interest:
Santa Maria Vecchia
Santa Maria Nuova
Castel Maggiore
Castel of the Sala
Medieval Rocca
WANDER.
La Scarzuola
Frazione Montegiove, Montegabbione, Italy
+39 0763 837463
Quirky would not begin to explain La Scarzuola, the Franciscan monastery and architectural wonder that was purchased by the Milanese architect Tomaso Buzzi in 1956.
His plan was to create an ideal city within the sacred monastery. It is difficult to tell where reality leaves off and Buzzi's fantasy kicks in. He has created a dreamlike vision that incorporates classical, medieval and Renaissance architecture.
La Scarzuola can feel surreal, bizarre and otherworldly as you walk through the lush grounds, multiple grottoes and reflecting pools. Equally bizarre are the two tour guides (be sure to specify English or Italian) who offer tours on what seems to be a very specific and particular schedule governed by their whims.
But do not be put off by this or the difficulty in finding La Scarzuola. You will assume you could not possibly be on the right road. But take heart! You drive for what seems an interminable length of time on a very uneven white road until you find yourself in a small clearing and view the gates that will take you into the magical fairyland world of La Scarzuola.
Fabio Fattorini
Via Roma, 26, 05016 Ficulle, Umbria, Italy
Phone : +39 0763 86511
Not exactly a tourist attraction but more of an artistic treasure and keeper of tradition is Fabio Fattorini. Like his father before him, Fabio carries on the tradition of transforming everyday objects into works of art through his mastery of the potter's wheel.
In fact, the name Ficulle derives from figulus (pottery). Hence the processing of pottery has a very profound origin in the area.
Fabio's workshop is located on a steep incline just off SS71 in Ficulle. If you are moving too quickly you will simply fly by. Outside his workshop are the many forms of terra cotta waiting to be fired and glazed. Fabio delights in sharing his artistry with travelers that happen upon his workshop and if you are lucky you may be treated to an impromptu demonstration.
EAT & DRINK.
Tenuta Vitalonga
Strada Montiano | Località Montiano, 05016 Ficulle, Umbria Italy
www.tenutavitalonga.it   +39 0763 836722
This wonderful vineyard, restaurant, and inn is located in the hills of Ficulle a short drive from the house.
Even though we did not have an appointment we drove to Ficulle to investigate Tenuta Vitalonga. At first, we were convinced that our efforts would not be rewarded as we drove the windy roads. Could this really be the way to the winery?
Occasionally we caught sight of the small wooden signs that dotted the gravel road and encouraged us to continue driving. When we arrived we were welcomed into the tasting room by non-other than the owners Gian Luigi Maravalle (who also happens to be the Mayor of Ficulle) and his brother Pier Francesco Maravalle.
The wines were representative of the area (Orvieto DOC), white, robust reds and rosé. After tasting several wines we made a plan to come back the following week for a full tasting and lunch. On the day of the lunch, we confidently drove back to Vitalonga.
The lunch and tasting were informal and relaxed as we sat on the patio admiring the Umbrian landscape. As truffles were in season we began (after the obligatory bruschetta) with what I would describe as a 'truffle souffle'. Light and luscious.
Next came the pasta followed by a Chiana beef roulade. The dessert was a chocolate lovers delight served warm with the chocolate oozing out from the pudding/cake and whipped cream mounded on top.
Mondo Pizza
Di Cosimi Franco
Contrada della Stazione, 56/B
Loc. Colonetta di Fabro TR
0763 831754  (Closed Monday)
In America, we have our delis, take-outs and many places and options to purchase prepared foods. You can 'take out' entire dinners from most restaurants.  Nearly all have a dedicated drive up window where you do not even have to get out of your vehicle to retrieve your order.
Grazie Dio, in Italy, this form of dining has not yet caught on.
However, we were told about a little establishment in the Ficulle/Fabro area where you could place your order in the morning (please note some meals need to be ordered a day in advance) and then pick up your dinner later that day.
Mondo Pizza, in addition to providing the small community of Fabro with pizza al taglio (pizza by the slice), offers a full array of home made professionally prepared foods to satisfy even the most sophisticated and discriminating Italian palate.
While we were placing our order we noticed the locals dining on what looked like arancini, but were in fact, suppli, the Roman version of arancini found throughout Umbria.
We were delighted to return home with a meal of Tartufo lasagna, roast chicken, and the crispiest roast potatoes I have ever had the pleasure of eating.
SHOP.
The type of shopping I delight in is related to furnishing our home, and the curiosity and joy in finding old objects and retrofitting or refurbishing them. As they say, 'it is the thrill of the hunt'…
Sebastiani Monica
restauro, cose vecchie mobili e curiosita'
Loc. Ponticelli
http://www.monicasebastiani.it/
I have only begun to scratch the surface and will dig deeper next visit, but this is my favorite!!
However, this shop is not for the faint of heart. Be prepared to work hard to ferret out the bargains as well as to brush aside all the chickens and barnyard animals that follow you around (I'm not kidding).
I had to hesitate on visiting one portion of the store as my entrance was blocked by a very large wild turkey. Happy to say I persevered and was rewarded with a large antique demijohn for 10 euro, hand made farm house broom and other items.
Happy to say I persevered and was rewarded with a large antique demi-john for 10 euro, handmade farmhouse broom, and other items.
Amazingly and surprisingly, the store is well run by the Sebastiani family, who in addition to selling vintage items, are great hands at furniture restoration.
Voglie di Bosco
Moretti Woods Via delle Orchidee, 2 – 05015 Fabro TR
+39 0763 617335
info@vogliedibosco.co
If you would like a taste of traditional local products stop by Voglie di Bosco. This family run business specializes in truffles and other regional food deliciously prepared. Doriana prides herself on using only natural ingredients and is always happy to speak about her beloved Umbria and to offer up a taste of her food.
Doriana prides herself on using only natural ingredients and is always happy to speak about her beloved Umbria and to offer up a taste of her food. 
STAY.
Casa Le Crete (A special vacation rental in Umbria)
Located in Umbria, Casa Le Crete is a nicely positioned country house in the middle of the Orvieto Classico wine country just outside the hills of Ficulle, an ancient city whose roots date back to the Etruscan civilization.
Its privileged location at the top of a slope affords the villa 360-degree panoramic undisturbed views and is reached by a private access road.  Nearest neighbors are at approximately 500 m distance.
Casa Le Crete Features:
This gorgeous vacation home is perfect for a peaceful getaway with family or friends.
(Get all the details over at www.casalecrete.com)
Sleeps up to 6 guests
Accommodations (3 Bedrooms)
1 Master bedroom – Queen bed
1 Guest bedroom – Queen bed
1 Guest bedroom – Twin beds
2 Bathrooms (one ensuite ground floor)
Wood burning stove
Swimming Pool
Bocce Ball Court
Modern Updated Kitchen
Wifi
Surrounded by vineyards, olive groves and views to die for!
What makes this area so special to me?
What makes the town of Ficulle, Umbria so special is that it is off the beaten track and appeals to independent travelers and explorers who want to learn more about the authentic Italy, its people, and customs. Its small town charm comes complete with the proverbial butcher, baker and in this case 'truffle maker'…..
Contributing to the charm and deepening your authentic experience, is the fact that so few people speak English.
Your journey is enriched and deepened as you come into contact with locals who have lived their entire life in the region and are eager to share their thoughts and experiences. It is unlike being in the more multi-national cities of Venice, Florence or Rome where your attempts to speak Italian will more than likely be responded to in English.
Where is Ficulle located?
Ficulle is in southwest Umbria is near Tuscany and equidistant between Italy's great cities of Rome and Florence making it an ideal jumping off point, to visit the hill towns of Umbria.
From the small town of Fabro (located just down the hill from Ficulle) one can take the train and be in Rome or Florence within 1 1/2 hours.
Orvieto, Chiusi, Montalcino, Assisi, Perugia, and Deruta are short hops as well. This makes it an ideal location for day trips to nearby cities as well as to explore the historic hill towns of both Umbria and Tuscany.
By car, it is easy to fare un giro (take a ride) and move seamlessly from Umbria to Tuscany not even realizing where one ends and the other begins.
Grazie, Lisa for sharing Casa Le Crete and beautiful Ficulle with us! I'm so intrigued by this area and your home (it sounds so perfect + dreamy) and hope to visit sometime! 
FOLLOW ALONG WITH LISA + CASA LE CRETE OVER HERE:
Read More about Umbria:
P.S. Want more insider tips for Italy? Catch up with more One Perfect Day interviews here.
Like this post? I'd love if you shared it!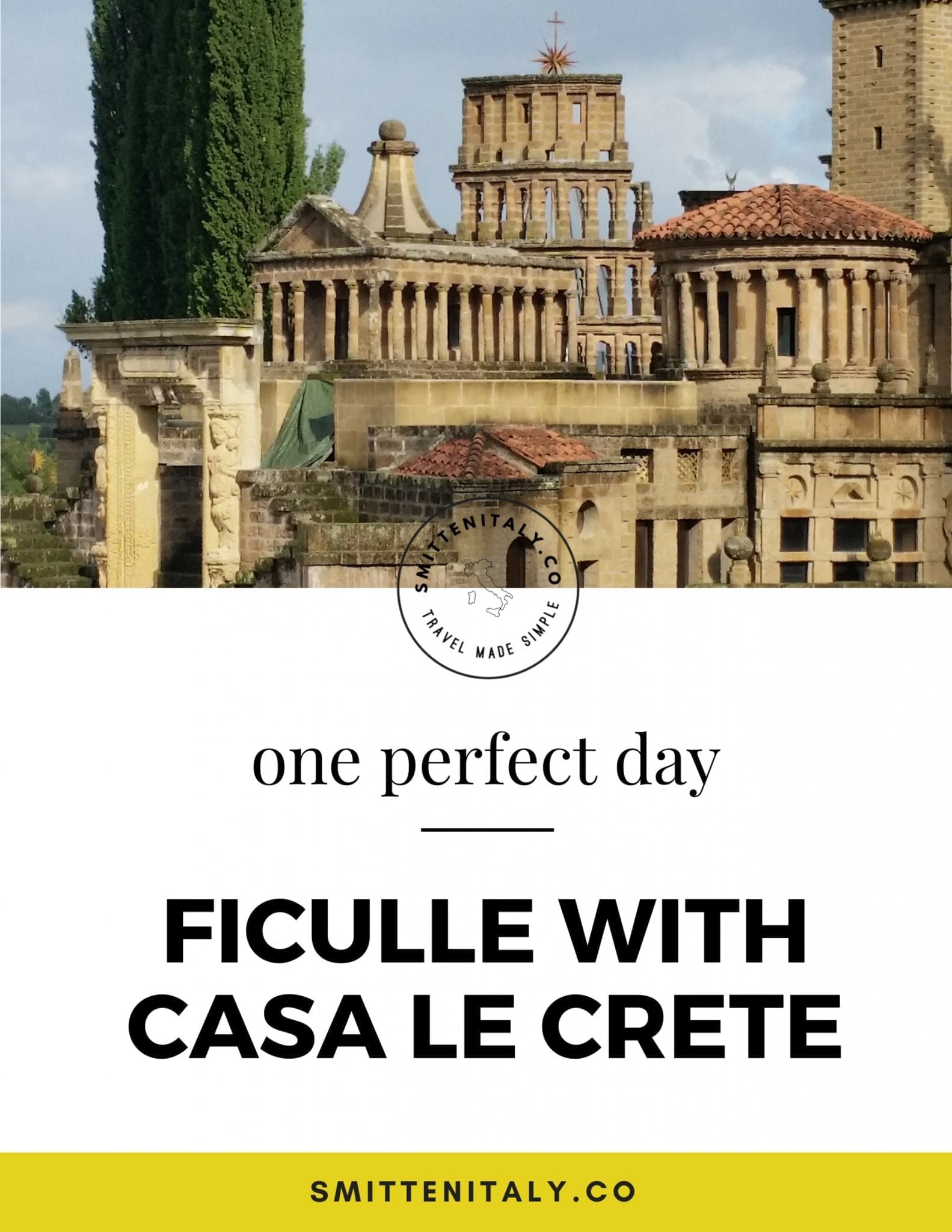 (All photos courtesy of Lisa Denunzio)
SaveSave