One Perfect Day | Cortina with Sophie
Welcome to One Perfect Day where I'll be chatting with my favorite writers & friends from cities all over the world. They'll share a glimpse of what a perfect day in their city would look like- including their favorite places to see, shop, wander and most importantly- where we should eat! Such great information to feed your wanderlust, or tuck away for future travels. 
This month, I'm so excited to welcome Sophie Dingle, from Here We Go Again. I met Sophie through her blog and love reading about her life in Northern Italy. She and her husband recently moved to Scotland, but today she is sharing all her favorite spots in Cortina!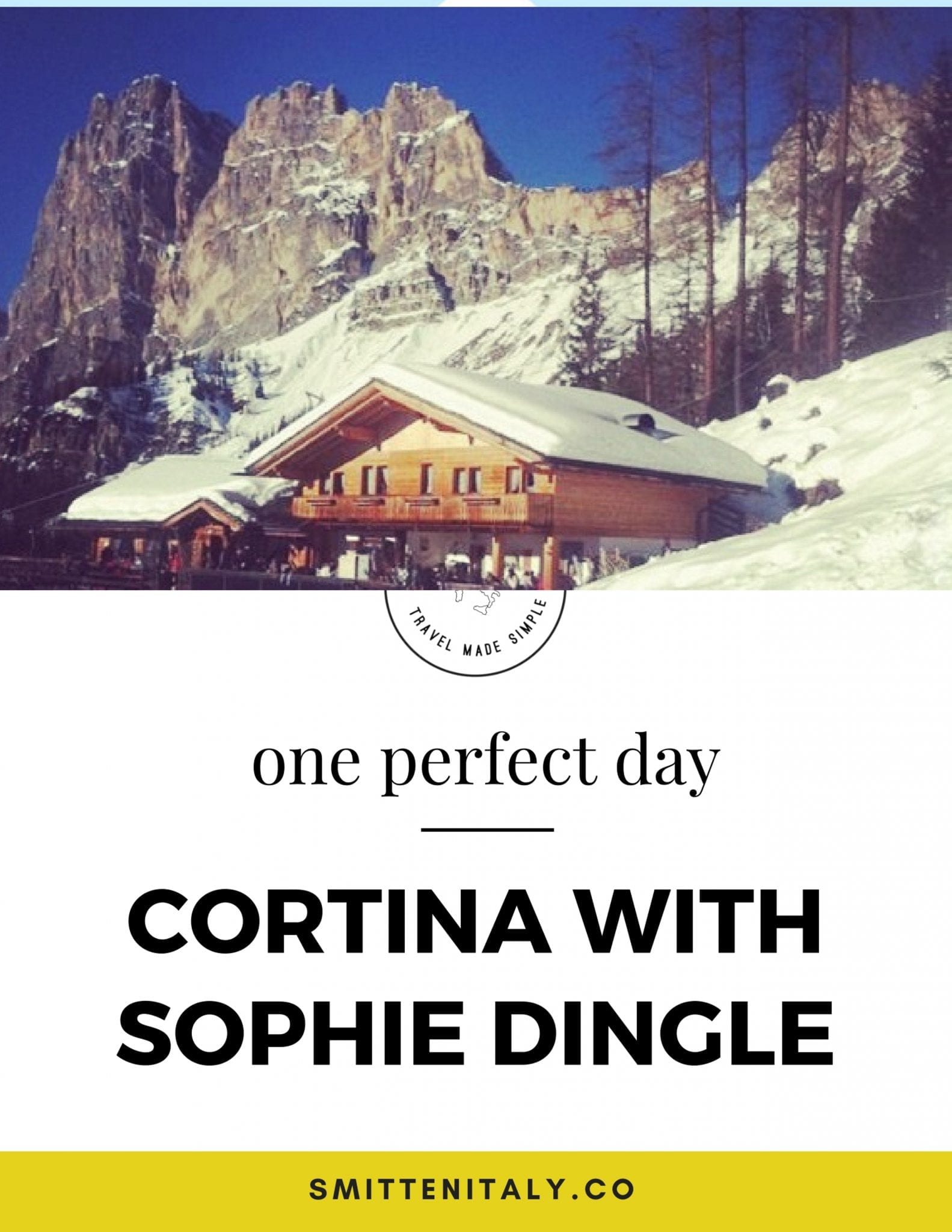 One Perfect Day | Cortina, Italy
Hi! I'm Sophie, a freelance writer and creator of the blog Here We Go Again. My husband Ryan is a professional ice hockey player and five years ago, he made the switch from playing in North America to playing in Europe, which has been a great adventure.
We lived in Cortina, Italy for four years which is a tiny ski town up in the Dolomites and this season we made a drastic change and moved to Scotland! While we definitely miss the Italian lifestyle (and food), we've loved exploring a new country and learning about a new culture.
I started my blog, Here We Go Again, five years ago when we first moved to Cortina as a way to stay in touch with family and friends back home in the US without having to write 10 emails a day….and then it turned into much more! It's been a great way to document our adventures, travels, favorite new recipes, etc. – and I've loved connecting with other expats through it.
EAT & DRINK.
My favorite place to start the day in Cortina is at a little cafe in the center of town called Bar Sport. They make the best cappuccinos and my perfect morning would start with one of those with a warm croissant. While we occasionally miss big American breakfasts, I love having a coffee and pastry for breakfast so that by lunch time, you're starving and the pasta tastes even better!
Bar Sport is a tiny little cafe and we would always run into someone there that we knew which made it feel even cozier. It's also a great place for a mid-afternoon snack – try the mortadella on olive bread – and for aperitivo as well – that's when things get really hopping there! I think when we lived in Cortina, we would stop by Bar Sport at least once a day.
There are so many great restaurants in Cortina, so eating is always a very enjoyable experience! My two favorite lunch spots are Al Passetto – (try the vegetable soup, it's amazing) – and Cinque Torri, where we discovered carbonara con zucchini for the first time! Both places have great pizzas too, which always makes for an easy lunch, especially with a glass of house wine which is so good everywhere in Italy!
And, just like the rest of Italy, there's a big aperitivo scene in Cortina. We're close enough to Venice that the Spritz Aperol (the famous orange Venetian drink) is always a popular choice…although personally, I prefer a Spritz Bianco which is Prosecco and sparking water with lemon – and obviously, you can never go wrong with red wine!
Cortina is way up north, so you see a lot of wines from the Alto Adige, which quickly became my favorite wine region. I love Lagrein which I discovered our second year there….and have since smuggled many bottles home to Colorado where we live in the summers!
My favorite wine bars are Villa Sandi, where you can sit outside on fur throws next to giant heat lamps and people watch, and Enoteca, which feels like a secret, hidden away under the church in the center of town. Enoteca also has these fantastic sandwiches that sound weird but are so good…it's a small roll, cut in half and spread with salted butter and then a layer of anchovies – they might be an acquired taste but they're so, so good with a glass of wine.
For dinner, my favorite spot hands down is Beppe Sello. Everything on the menu is absolutely delicious and they do the best homemade cheese ravioli in a simple tomato sauce….I dream about it now that we live in Scotland!
Almost all of the restaurants in Cortina have a very alpine feel and are super cozy. Since the town is so far north, there's a lot of Austrian influence in the food. Traditional dishes include casunziei which are paper-thin raviolis filled with beet and canederli which are bread dumplings usually served in a clear broth. There's also a lot of spaghetti carbonara and game-y meats like deer. If you can't tell, I definitely miss the food culture there!
WANDER.
Cortina is small so there's really only one neighborhood, which is the center of town. It's filled with shops (some are really expensive but fun for window shopping and others are more reasonable), bars, cafes and restaurants.
As a ski resort, the town is busiest at Christmas and New Years when it completely fills up with tourists, skiers and Romans. It can be a pain to navigate through the sudden surge of people, but I have to say, the people watching during this time is phenomenal.
One of my favorite things to do is to go downtown for aperitivo and find a spot outside (under heat lamps, of course!) and have a glass of red wine while people watching.
In my ideal day, I would spend the morning skiing, which I often did when we lived there.
There are several different ski mountains, all right in the town, and they open at 8:30 am. If you go right when they open, on a weekday, you'll be the only person on the slopes and it's amazing. I liked to ski at Faloria for two or three hours in the morning, stopping for cappuccinos along the way.
And, even if you're not a big skier, it's still fun to go up the mountain and sit outside at one of the rifugios – if it's a sunny day, everyone is out on the deck sunning themselves and it's the perfect place to have a cappuccino or a beer.
I loved to ski for a few hours and then sit in the sun for another hour enjoying the view – we called it Italian Heaven!
Cortina definitely has an outdoorsy vibe to it – in addition to skiing, there's a lot of snow shoeing and skinning which I tried for the first time last year and which was so hard, but a great workout!
There's also a wonderful walking and biking path that runs through town for miles and miles and there are tons of hiking trails on the mountain when there's no snow. I always found it so refreshing to be doing things outside, especially with the amazing scenery which is like nothing I had ever seen before.
In Cortina, everything (except restaurants) closes from 12:30 to 3:30 pm – and I mean everything, the grocery store, the shops, the bank, all businesses, etc. This time is called riposo and it's the perfect time to eat a big Italian lunch and take a nap!
At first, it was hard to get used to because a) you really have to plan errands carefully which is actually harder than it seems if you're not used to thinking about it and b) it felt very indulgent to have three hours of down time a day….but of course we adjusted quickly and became great nappers!
In the late afternoon, when riposo was over, we would usually walk into town for a macchiato or a glass of wine. Since Cortina is so small, there are only a few bars and cafes where everyone congregates, so inevitably we would run into someone we knew and would chat for a while – it was such a nice way to spend the afternoon.
But, while Cortina does have a very local vibe, it IS a ski resort and they're completely used to having tourists around and are very friendly towards them. Most people speak at least a little English and usually some German as well. I've heard people say that Italians can be cool and stand off-ish to tourists and/or strangers but I always found everyone to be very helpful and welcoming.
SHOP.
While some of the stores in Cortina are ridiculously expensive, there are also some great, affordable ones too. The Cooperativa is like a big department store and has everything from gifts to linens to kitchen supplies to clothes….and one floor of it is even a small grocery store! It's Cortina's version of one stop shopping.
My favorite store though, is Fiori & Casa  where you can find great things for your home, all in the Ampezzan style which is very rustic-chic. Almost all of my Christmas and birthday presents have come from this store and it's pretty reasonably priced too.
Sotto Sopra  is another favorite. They have a lot of household items like picture frames, lamps, trays, dishes, etc. but they also have amazing cashmere socks – whenever my dad came to visit us, he would stock up here.
For specialty food items, La Piazzetta is the best! They have delicious prepared foods like gnocchi, lasagna and casunziei and a great selection of antipasti like olives, marinated artichokes and grilled vegetables…plus, they have an amazing cheese counter! Many a dinner in our household has been assembled from La Piazzetta. They also sell things like jams, dried pasta, wine and chocolate, all of which make great food gifts.
STAY.
Being a ski resort, there are tons of hotels in Cortina, but our guests have always stayed at Hotel Menardi  which is owned and run by our great friends. Everyone is so nice there and the hotel is really cozy, plus they have a great restaurant as well, which serves lunch and dinner.
If you are there over the holidays, they do a really fun New Years Eve dinner in their dining room, complete with the traditional sausage and lentil dish at midnight – we had New Years Eve dinner there three years in a row when we lived there and it became a wonderful tradition.
---
Grazie Mille Sophie for sharing the incredible beauty and charm of Cortina with us! (I'm definitely feeling the pull of the mountains…) Sophie & her husband have a brand new baby boy and we are over the moon happy for them. What a life of adventure her little one will have!
YOU CAN FOLLOW SOPHIE AND READ MORE OF HER WORK HERE:
---
Buon Viaggio!
-Heather
P.S. More One Perfect Day interviews here.  If you loved this post, I invite your suggestions for a city you'd love to know more about. (comment below or send me an email)
(all photos courtesy of Sophie Dingle)
Pin It For Later!