One Perfect Day | Bologna with Sarah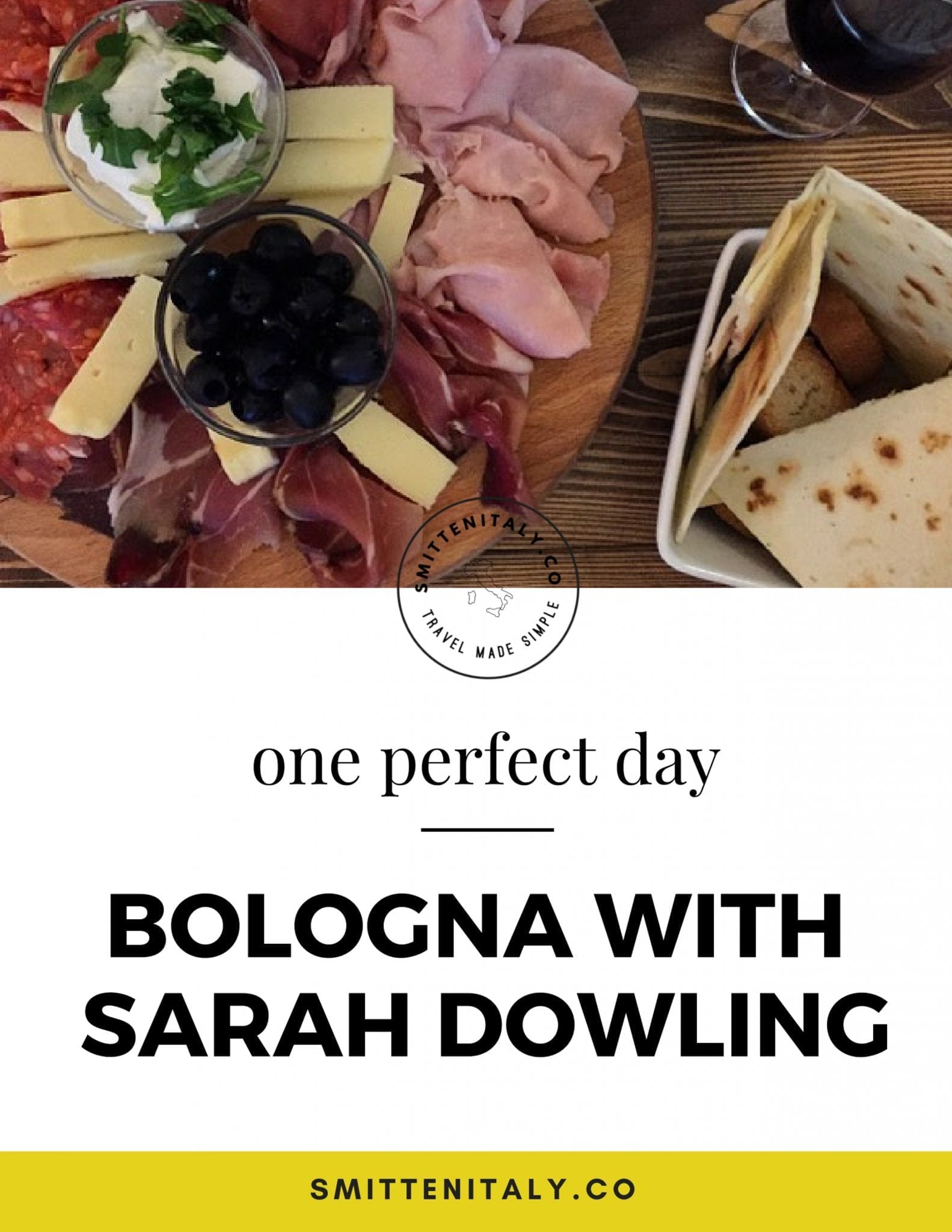 Welcome to One Perfect Day where I'll be chatting with my favorite writers & friends from cities all over the world. They'll share a glimpse of what a perfect day in their city would look like- including their favorite places to see, shop, wander and most importantly- where we should eat! Such great information to feed your wanderlust, or tuck away for future travels. 
This month, I'm very excited to chat with Sarah Dowling from italyproject365.com, a gorgeous love letter to Italy and a favorite blog of mine. Come along as she shares her Bologna with us.
One Perfect Day | Bologna, Italy
Sarah's Bologna.
I recently moved to Genoa, Italy where I live and work as a teacher and manager at My English School. I moved here only a few months ago. Before that, I had been living in Bologna, Italy where I lived and worked there for more than three years. I'm still discovering the city of Genoa, so today I'm going to tell you about Bologna, a city I know very well and love very much.
My blog is called Italy Project 365 (www.italyproject365.com); it was originally inspired by my desire to continue learning about Italian culture after I had finished studying Italian at university. My goal at the time was to write about Italy and share topics about Italian culture that I found interesting for 365 days. It was a pretty sad blog with mediocre content at best, but I loved it! After 365 days of keeping up with my little pet project, I decided to move to Italy. Since then, Italy Project 365 has been about sharing advice on moving to Italy, recipes, travel tips and my personal adventures.
Bologna is full of secrets! I've written about them here. For more details on my experiences and recommendations, please refer to the Bologna page on my blog.
EAT & DRINK.
Bologna's nickname is the 'la grassa', meaning "The Fat" so you can be guaranteed great food while visiting. Some of my favorite Bolognese foods include Tortellini in Brodo (meat stuffed pasta served in a hot broth), Lasagne Bolognese (nothing like the Lasagna we have in America) and Tagliere (sliced cold cuts such as prosciutto di parma and mortadella).
There are a few places that really stick out in my mind as being exceptional:
For Bolognese style pasta | All very traditional and family owned
For Tagliere and aperitif:
Tamburini: An old-fashioned Italian deli with prosciutto hanging from the ceiling. You can sit in the back, admire the locals and enjoy a big glass of Sangiovese with your tagliere.
For contemporary non-Bolognese food:
E' Cucina:Funky atmosphere, 0 km food, fixed menu that changes daily.
Casa Monica: Off the beaten path, dishes often served by chef and owner Monica, small menu but the quality is superb.
WANDER.
While there are many areas in Bologna that I love, I feel that the 'quadrilatero' zone is particularly special as an area that really expresses what it means to be 'Bolognese'. The Quadrilatero zone is located near Piazza Maggiore (the main piazza) within the boundaries of four streets: via Rizzoli, via Castiglione, via Farini, and via dell'Archiginnasio.
This area, although small, is full of life (and life for the Bolognese is centered around food!). During the day you'll find small open air markets and deli shops where you can buy fresh food, often coming from local farmers and producers. It's the kind of place where you go not only to buy your groceries, but to make small talk. The aromas are overwhelming – the raw smell of fish, salty cured hams wafting in the window, and the sweet scent of seasonal fruits and vegetables. It's a one of a kind experience.
In recent years, they have opened up new bars and enotecas where you can continue to enjoy the quaint medieval streets of the quadrilatero during the evening. It's a great area for an aperitif.
I really love visiting San Luca church. It's not so much the church that I love, but the road you have to take to get there. Bologna is famous for its 40+ km of archways that cover the city's walkways. The more famous archways are the ones that lead to San Luca church – 666 archways, mostly uphill, curving around one of the many green Bolognese hills. The views from up there are amazing and you get a little fresh air and break from the city life.
SHOP.
Forget fashion, the best things you can buy in Bologna are specialty food products: mortadella (make sure it's DOP certified), tortellini (you can get them vacuum packed), and Pignoletto wine (again make sure it's DOCG, from Colli Bolognesi).
You'll also find lots of Emilia-Romagnan products that are made nearby, such as Balsamic Vinegar from Modena (again make sure its certified) as well as Prosciutto di Parma and Parmigiano Reggiano, both from the Parma area.
You can find all of these products at Simoni Salumeria, Tamburini, and Enoteca Italiana.
If you have more of a sweet tooth, I highly recommend the chocolates from Majani,  which is famous for its invention of the "FIAT Cremino" chocolate (a cube of chocolate with layers milk and hazelnut chocolate, wrapped up in FIAT designed paper). They also make the most amazing chocolate "tortellini"!
STAY.
I've always wanted to sleep in the Prendiparte Tower – a medieval "prison" tower that has been transformed into a private hotel. Each floor (which is only a few meters wide) has a designated room – the kitchen is on one floor, the living room on another, then the bedroom etc. There are about 12 floors all in all and if you climb all the way to the top you have an amazing view of the city from the terrace. I think it would be both awesome and eerie to stay there, considering it was a medieval prison at one point and you can still see the prisoner's etchings on some of the walls.
Of course renting an entire tower isn't exactly for everyone so more realistically I would recommend Hotel Touring , a family owned hotel not too far from the city center. I've stayed there before and love its vintage charm, rooftop terrace, and friendly staff.
Grazie Mille Sarah for sharing beautiful Bologna with us! My mouth is watering from the sight of these photos, and I can't wait to return and try some of your recommendations next time I'm in Bologna!
YOU CAN FOLLOW SARAH AND READ MORE OF HER WORK HERE:
Bologna info on Italy Project 365
P.S. More One Perfect Day interviews here.  If you loved this post, I invite your suggestions for a city you'd love to know more about. (comment below or send me a message)  Also, I'd be thrilled if you shared this with your travel loving friends!
(all photos courtesy of Sarah Dowling)
Pin it for Later!