My Umbrian Panzanella Recipe (& story)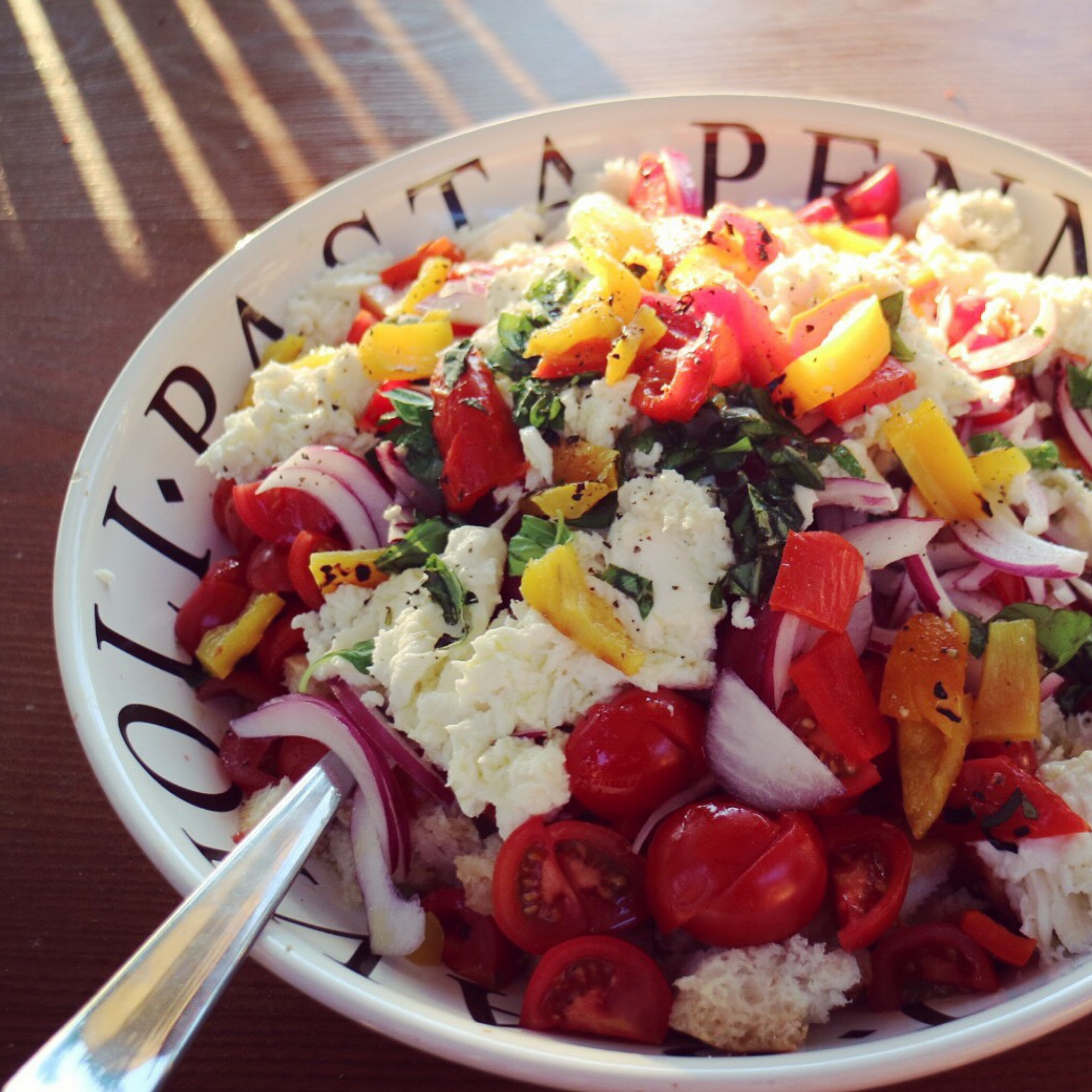 My Umbrian Panzanella recipe (and story)
We had looked forward to returning to Umbria for months, as part of our final hurrah before moving back to America. I had carefully researched and handpicked the house we would rent near a little village we had previously visited and loved.
I had grand dreams in my head of mornings spent exploring nearby villages, and afternoons by the pool with a book. In my dream, I would cook supper in my Italian kitchen every night and we would sip our wine and eat our dinner on the terrace watching the sun set, letting the stress of the move slip away.
The vacation rental house was exactly what I had hoped– large and rambling but comfortable and cozy with a great country kitchen, many great gathering spots inside and out to enjoy with others or be alone with a book and a glass of vino, heavy shutters to keep the heat out and ceiling fans to move the hot sticky July air. The pool was beautiful and had a view looking out over the valley and olive groves below. It was perfect.
What wasn't in my daydream was getting sick that week. If I hadn't been so ill, I probably would have wept about my misfortune. But sadly, Ben and I both were completely miserable and the best we could do was lay on the bed under that ceiling fan sipping Gatorade for much of the week. Ugh.
By the end of the week, I was starting to rally and managed to make one meal before heading back to Milan.
And that turned out to be my Umbrian Panzanella Recipe.
Panzanella is a Tuscan peasant dish using up stale bread and highlighting the produce of summer. To me, it's the perfect summer meal. There are a million different ways of making Panzanella, each person (rightfully) loving their way best.
I've had Panzanella all over Italy and the Pacific Northwest. All of them have been completely different, and delicious in their own way.  I've been making it in my own kitchen for awhile now, and continue to change up my method + ingredients and try new things.
This one was spectacular. Maybe because I hadn't eaten all week and was starving, or maybe because for the first time I purposefully mixed up the bread method and really loved the outcome.
Using stale country bread, I cut part into cubes and toasted them- the other part I used the more traditional method of wetting the bread and tearing into small pieces.
Most bread in Tuscany + Umbria gets rock hard after a few days, which is why the original method calls for soaking your bread in water to soften it- squeezing out the water and then adding it to the tomatoes and their juices for more flavor.
It may not be traditional- but I love the heft and crunch of the toasted bread combined with all the other ingredients. One of my favorite panzanella type salads is at Dahlia Lounge in Seattle where they grill their bread over the fire.  YUM.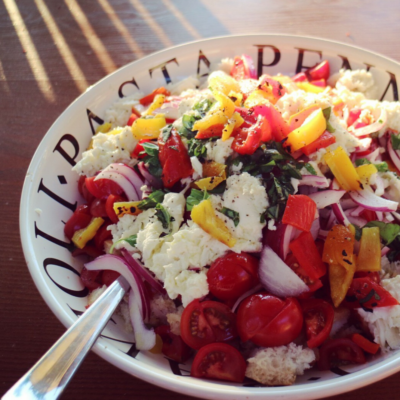 My Umbrian Kitchen Sink Panzanella.
Traditionally- tomatoes, bread, olive oil and basil are the foundation of this salad. For my salad I usually include cucumbers and red onion because I love them and I like my salad to feel like a garden. This time I was trying to use up ingredients we had in the house, so I roasted some peppers on the stove top and threw them in- along with some fresh mozzarella that was in the fridge. It was delicious and a great way to have a one dish meal.
Ingredients
3

Tomatoes

chopped (or 2 cups cherry tomatoes, halved)

1

loaf of day old Ciabatta or hearty country bread

1/2

Red Onion

thinly sliced

1

English Cucumber

halved lengthwise and sliced

1

Red or Orange Bell Pepper

chopped (raw or roasted)

1

ball fresh Mozzarella

torn into bits (optional)

Lots of Fresh basil

whole leaves or torn

For the Vinaigrette:

1/2

c.

Olive oil

3

T.

Red or White Wine Vinegar

1

shallot

minced

2

t.

Lemon zest

Salt + Pepper to taste

Mix all ingredients in a jar with lid and shake.
Instructions
Cut 3/4 of the loaf of bread into cubes, drizzle with olive oil and toast in the oven or on the stovetop until lightly browned and crunchy. Place in a large mixing bowl.

For the other 1/4 of the loaf of bread, slice and dunk in a bowl of lukewarm water for as long as you dare- squeeze the water out of the bread with your hands and tear pieces off, adding it to the bowl of crunchy bread cubes.

Drizzle all the bread with the vinaigrette and let it soak up the flavors as you add the other veggies.

Add tomatoes, cucumbers, onion, and peppers and toss with the bread.

Add torn basil and mozzarella last- tossing gently.

Let sit 15-30 minutes to mingle the flavors.

Taste and add additional olive oil, salt or pepper as needed.

Place in your favorite serving bowl or platter + Serve at room temperature.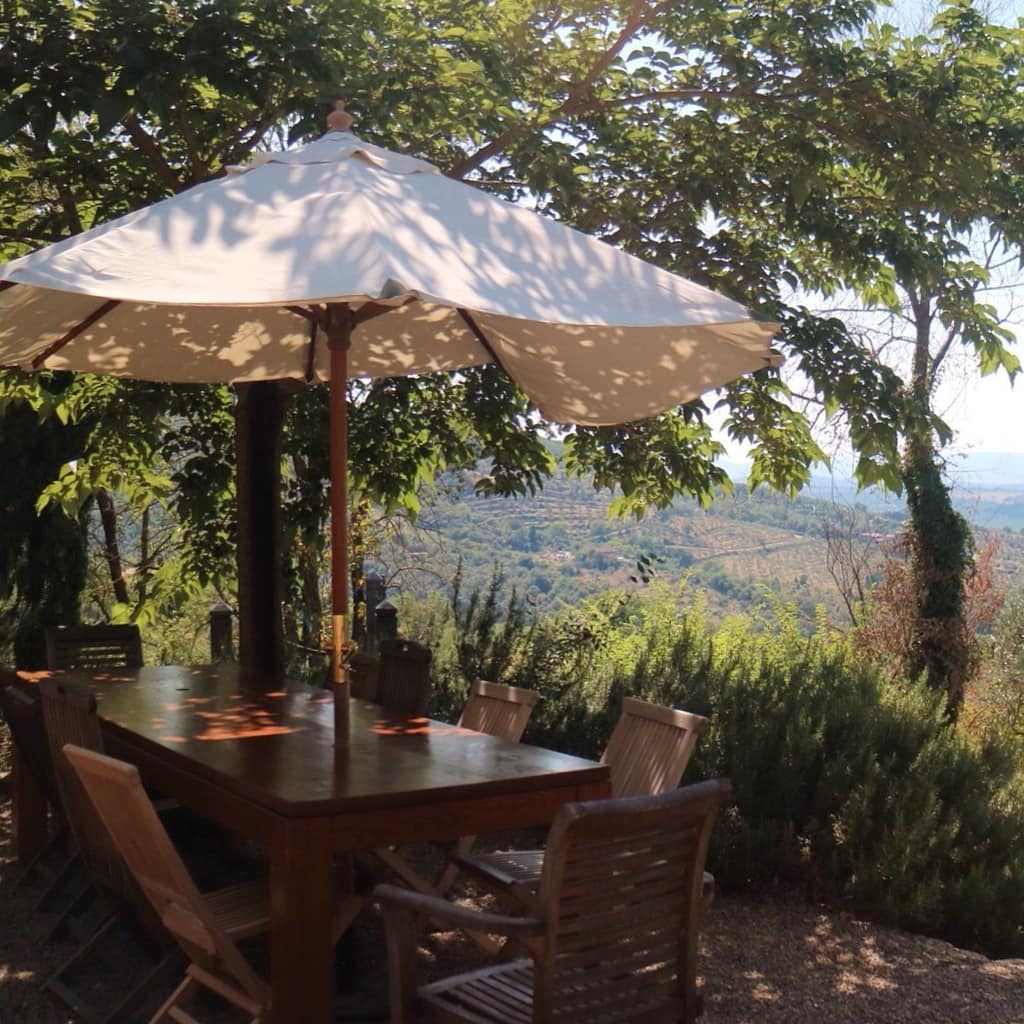 And that is the story of my Umbrian Panzanella recipe….
We did manage to have dinner on the terrace that last night in Umbria, watching the sun set over the hills and olive groves. It was magical.
I didn't want it to end- and since I was feeling better, I told Chris I would happily return to this house in a heartbeat. And then I tried to convince him that I totally needed a re-do trip to make up for these lost days.
Read more about our love affair with Umbria here, here, and here.
Buon Appetito friends! Let me know if you make this Umbrian Panzanella recipe, and what variations you like best.
Pin it for later!