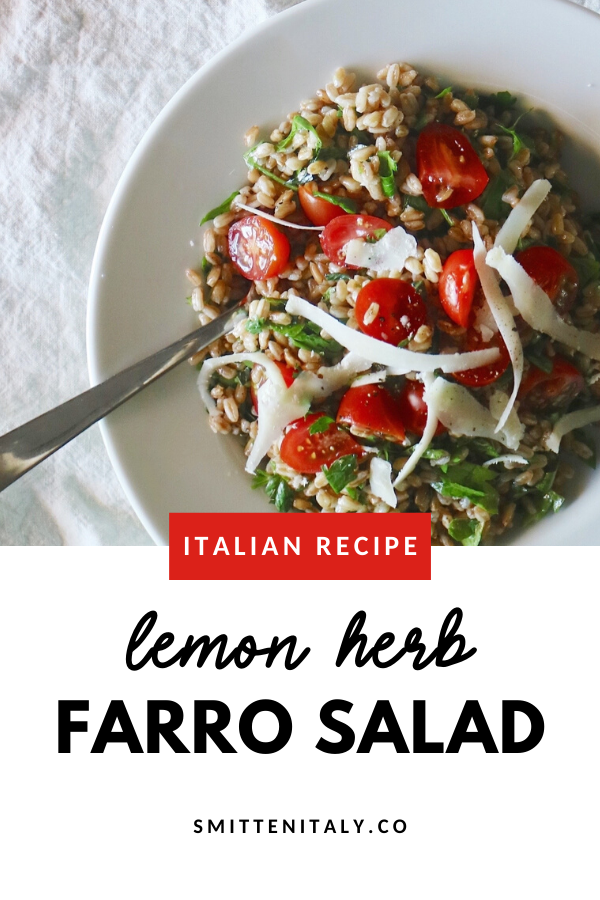 Lemon Herb Farro Salad
Even though the official first day of summer is still a few weeks away, it definitely feels like summer here in Milan. The thermometer has been climbing all week, and we are sticky and cranky and fighting over who gets to sit in front of the fan.
Today in my car the thermometer read 42! (107+ fahrenheit) It wasn't actually that hot outside, but sitting in the sun my car sure felt like an oven. I've actually seen at least a dozen Italians wearing shorts in the city-(very unusual in Milan) whoa- what is happening?!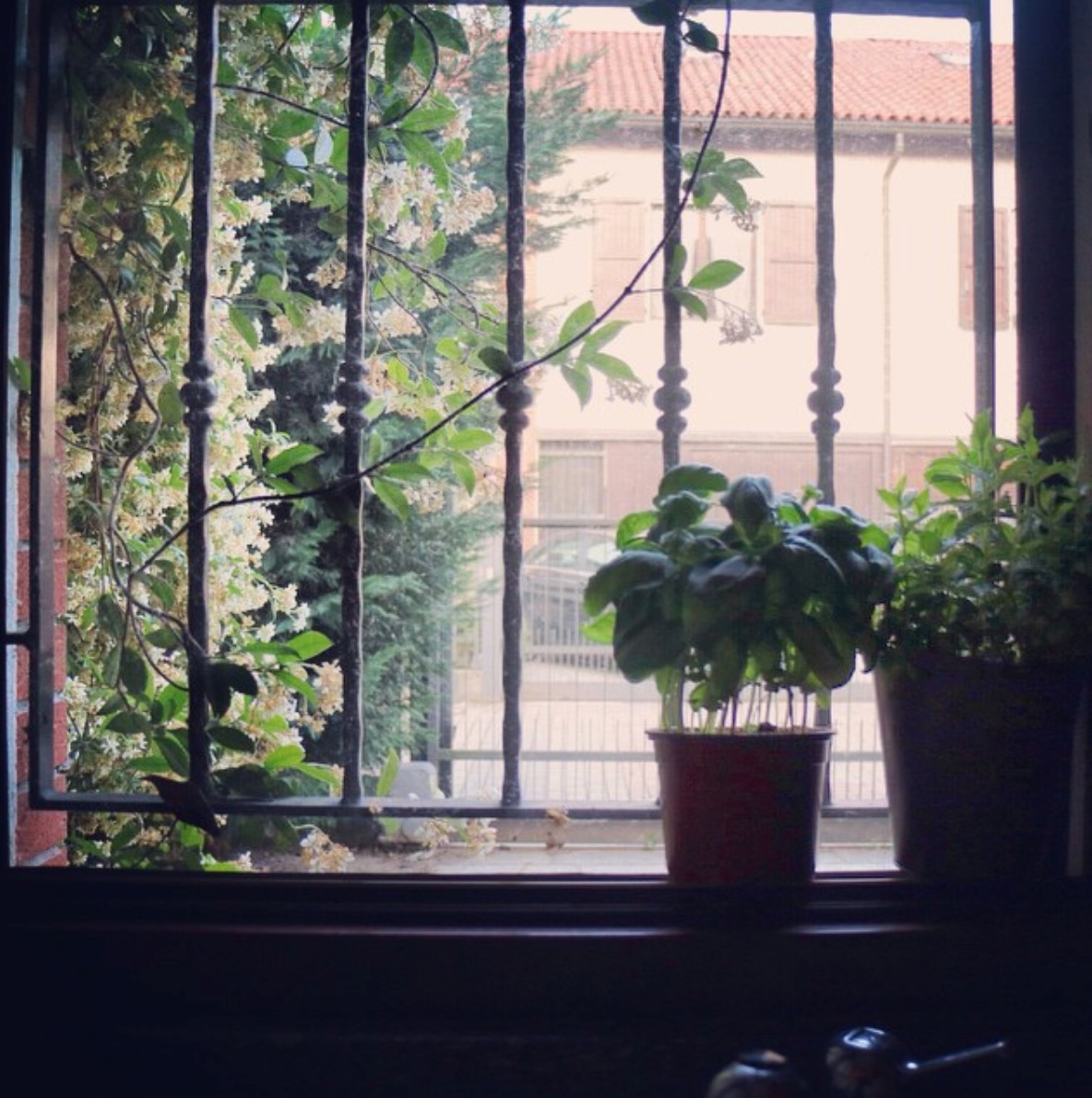 I guess what I'm trying to say is- it is stinkin' hot here and it's not even the middle of June yet. And so this week I have officially switched over to cold dinners, or what we call the salad days– because with no air conditioning in the house, it's just too hot to cook.
I could seriously eat bruschetta for dinner every night, but sometimes we like to mix it up with some salads.
I fall back on my favorite grain, farro again and again. It is perfect for salad days! Cook a pot in the morning, while its still cool outside, and make a few meals out of it.
My latest variation of the beloved Farro Salad has a bright citrusy lemon vinaigrette, fresh herbs and long curls of parmigiano reggiano. If you can't find Farro where you live, you can substitute wheat berries or spelt.
By the way, everything is better with lemon, basil and mint. Each bite feels like summer.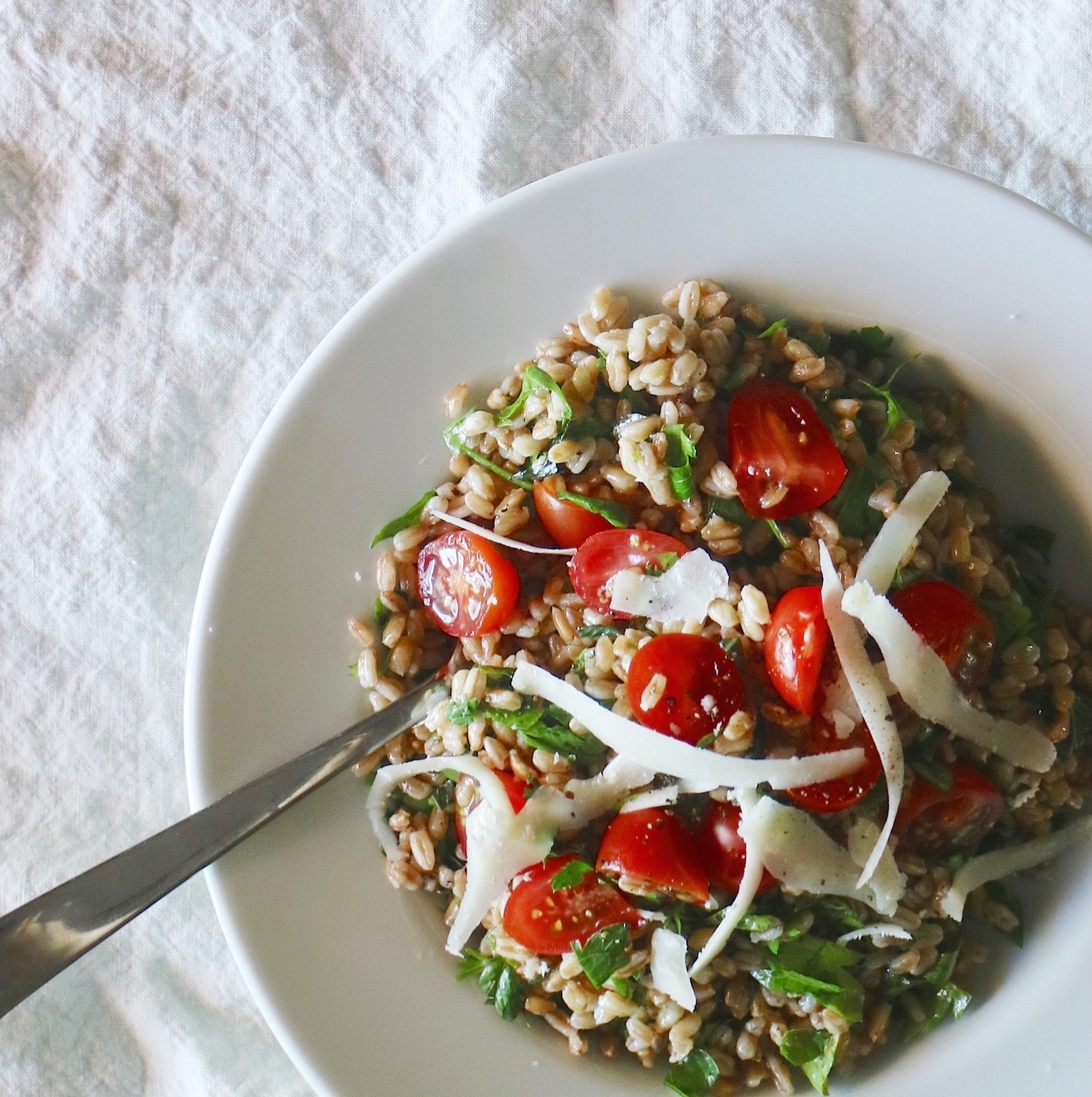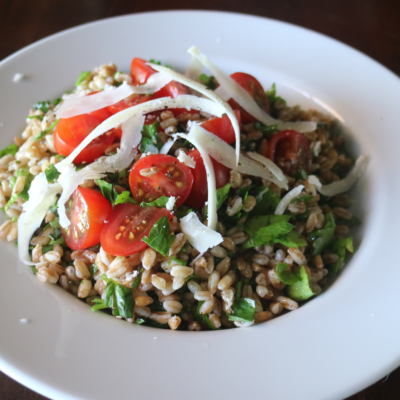 Lemon + Herb Farro Salad
This farro salad with lemon vinaigrette & herbs is perfect for hot summer nights. Make a pot of farro in the cool of the morning, and turn it into salads you can eat all week long! Although very versatile, your best olive oil, fresh herbs & fresh lemon juice are essential for the success of this dish.
Ingredients
Salad Ingredients:
500

g

farro

cooked and cooled

1-2

c.

chopped grape tomatoes

2

c.

chopped fresh herbs

basil, mint, parsley

Parmigiano-Reggiano cheese

(shaved into curls with a vegetable peeler)
Lemon Vinaigrette Ingredients
1/2

c.

Extra Virgin olive oil

1

Garlic clove or Shallot

finely chopped

2

Lemons

zested & juiced

1

t.

Dijon Mustard

Maple Syrup or honey

to taste

Sea salt + fresh cracked black pepper

to taste
Instructions
Make the Vinaigrette
Zest + juice 2 lemons (set aside zest for later)

Place lemon juice, garlic or shallots, dijon mustard, splash of maple syrup & a sprinkle of sea salt in a medium bowl or mason jar. Whisk together and add olive oil slowly as you continue whisking until emulsified. (or cover the mason jar and shake)
Assemble the Salad
Place cooked farro and chopped tomato in a large bowl.

Drizzle half of the vinaigrette over the farro and tomatoes, stirring to combine.

Add fresh herbs, lemon zest + curls of parmigiano reggiano- toss lightly.

Taste and add cracked black pepper, more sea salt, more lemon vinaigrette.
Notes
To Make Ahead earlier in the day, or the day before:
Make the lemon vinaigrette
Cook & cool the farro.
Add 1/2 lemon vinaigrette to the farro and refrigerate
When ready to serve, add the fresh herbs, chopped tomato and parmigiano-reggiano shavings. Toss gently and add more vinaigrette as needed, and salt and pepper to taste.
Other notes:
Lemon vinaigrette can easily be doubled and/or made ahead. It keeps nicely for 1 week in the fridge.
Make this salad your own by adding more herbs, grilled fruit, some chopped kale or baby arugula.
I'll be eating my bowl in front of the fan…
Buon Appetito!
-Heather
PIN IT FOR LATER!