Italy Essential Travel Accessories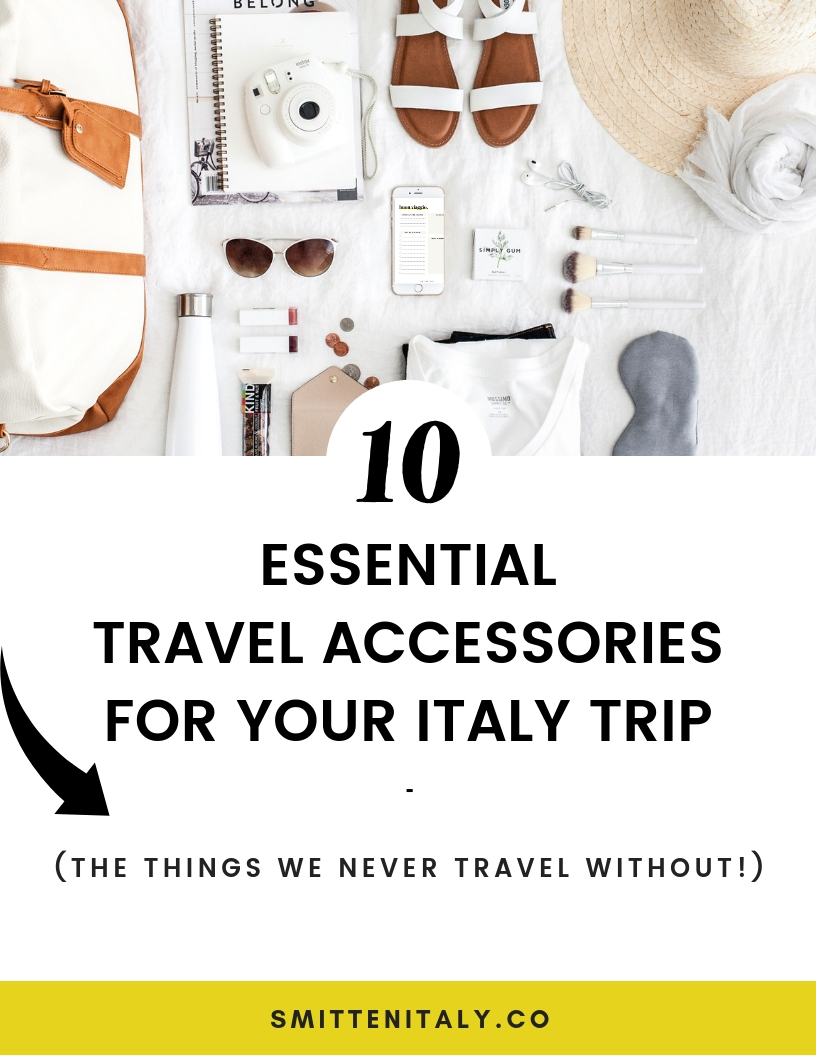 This post may contain affiliate links for your convenience. Read our disclosure policy here.
Essential travel accessories for your Italy trip.
Travel Accessories, Gadgets, Gizmos. Whatever you want to call them, there are a million different ones out there. How do you know what is worth buying and what is actually useful?
I must admit I have a weakness for the travel gadget section at REI. Give me all the tiny first aid kits, travel pouches and carry-on luggage to peruse, and I am a happy camper.
I haven't tried all of the gadgets I've run across, but over the years I've tried PLENTY. Some have been complete duds, and others have saved my sanity while traveling. Today I'm sharing my favorites.
10 essential travel accessories that we can't travel without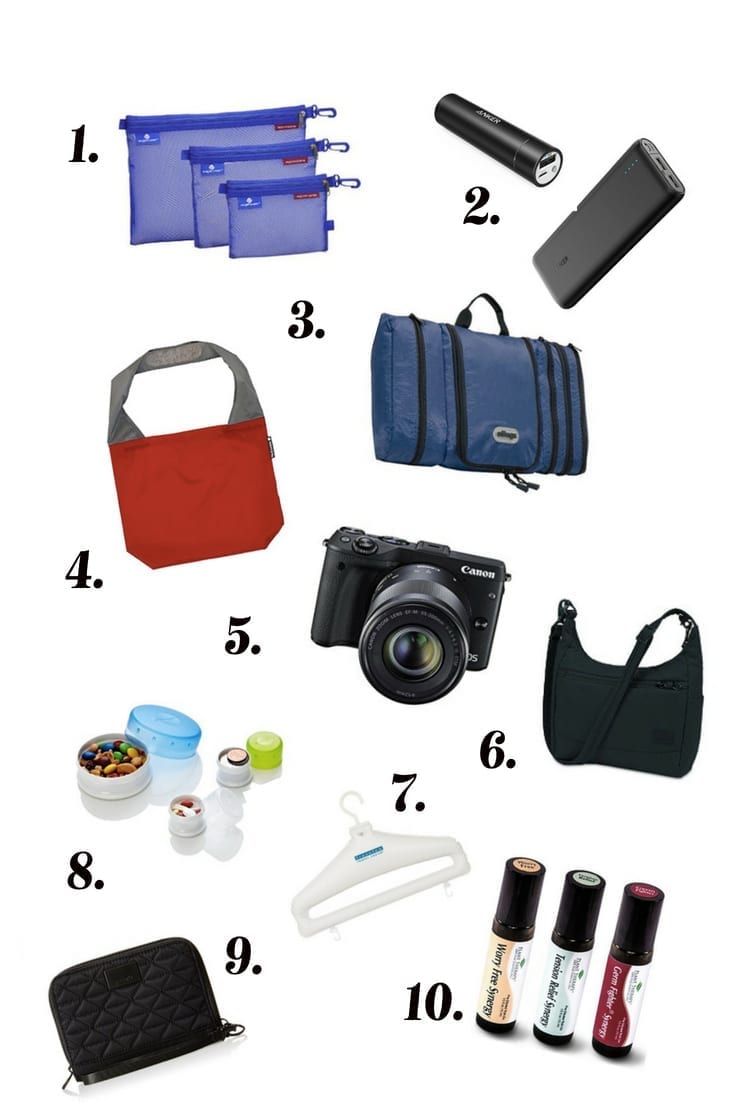 photos courtesy of amazon

1. In-Flight Bag
I've professed my love of these bags many times. Our original set has traveled around the world with us and is still going strong.
The medium or large bags are perfect for your flight survival kit. (to stash all your necessities while flying so you don't have to dig through your carry on or backpack) You can buy them in a set, or individually.  
Another product from Eagle Creek that I love is the Clean/Dirty Cube. It is a great way to separate and organize socks, undies and other small items during your trip.
2. Plugs, Cables & Portable chargers
Can you imagine traveling without an electronic device these days? I know when I travel I get a little panicked if my battery dips below 40%. Anker makes reliable + fast charging devices of all sizes. We also use their USB cords and they've lasted longer than any others we've tried.
This Lipstick Size portable Charger  is tiny + perfect for your daily outings.
The Anker Long Haul Portable Charger is larger, has 2 USB ports and works great for L.O.N.G. travel days or long-haul flights charging multiple devices multiple times.
Anker also makes the best lightning cables I have found. I have tried many different brands and lengths- and these are my top picks for my own Italy travels.
Anker Powerline+ 10 FT. Lightning Cable You may laugh- but trust me, you NEED this cord if you are headed to Italy. Outlets are sometimes few and far between, and it's nice to have the extra length if you want to charge your device and use it simultaneously.
Anker Powerline II 3 ft (or 1 ft) Handy for the airplane and using the portable chargers on the go.
Quality is important when you choose this item. You don't want it to stop working, or worse yet, fry one of your items. I have found the Ceptics and Tessan brand to be very reliable. These are the ones we have used for the past 10 + years.
I recommend you take both the L & the C type plugs with you, because Italy is lovely, but never straightforward. Some places will have the C type plug and some the L. Better safe than sorry!
If you have dual voltage electrical items, you just need plug adapters so that your North American style plug will fit in the holes of the Italian plug.  (different than power adapters which is what you need if you are trying to use a North American curling iron in Italy. (just for example)
Here are my favorite PLUG adapters for Italy:
3. Toiletry bag
eBags Pack it Flat Toiletry bag
I have tried at least 5 different toiletry bags over the years and this one is the clear winner for me. Why?
If you are like me, your toiletry bag is the absolute last thing you throw in your suitcase before a  trip, and there is never any room left for a traditionally shaped bathroom bag. This one is genius, I think.
It's designed to lay flat so that it doesn't take up a chunk of space, and is really well thought out. There are several different sized zippered areas, perfect for organizing instead of throwing them all in 1 main compartment.
I'm kind of in love with it.
4. A Sturdy Reusable Bag
​Flip & Tumble bag  (aka the magical bag)
I call this the magical bag, and it's perfect for souvenir + market shopping.
The "magic" title is because it is strong and holds a ton yet folds up into a tiny ball inside its own pocket. (Unlike many things which tout being "pocket-sized" this one actually is and is easy enough you can practically pack it back up with your eyes closed.)
The price has changed over the years, I think I bought my original one for about $7. (check all the colors because they seem to vary widely in price) When you consider the fact that you have to pay for bags at the grocery and many other places in Italy- it pays to have a strong magical bag with you at all times!

5. A Compact Camera
Canon EOS M3 Mirrorless Camera
Chris and I both love photography and between us we have spent more money that I would like to admit on cameras, lenses and other equipment. But I found when I was living in Italy and traveling frequently, I didn't want to lug around a lot of big equipment.
I was using my phone camera more and more, and while that was ok, I wanted a better option. So I decided to try out a small mirrorless camera and my world was changed!
This camera fits easily in a purse or day bag, takes amazing photos and is wifi enabled, making it super easy for you to transfer photos from the camera to your phone for sharing and social media. It was a game changer for me and worth its weight in gold.
6. The Perfect Travel Purse
Pacsafe Citysafe CS100 Anti-Theft Travel Handbag
I recommend crossbody purses with zippers (not flaps) to my travel clients because of their design to be close to the body and less easy to get grabbed.
This is the one I've been using for years, and I love it. It has room for all the things I love to have with me on a day out, plus many safety features nice to have when you are traveling in busy crowded cities- like a slash-proof strap, RFID security, a zipper that locks shut (really great for traveling on the crowded metro where pickpockets often hang out.
PacSafe has many designs to choose from, this is just the one I happen to love for what I need. My water bottle, wallet, notebook, pens, camera and more fit easily in this and there is an inner sleeve that fits an iPad mini.
Here are several more ideas- if you don't want something that looks too "travel-y": Fossil Fiona E/W Crossbody or this cute Crossbody Purse with Tassel.
Whichever kind of bag you end up taking, consider using a crossbody bag with a sturdy closure like a zipper, and without a bunch of outside pockets/pouches- for safety and ease while traveling. 
7. Laundry Essentials
Lewis N. Clark Travel Laundry Kit
Never in my life did I think I would pack hangers for a trip. Before you write me off as completely cuckoo- let me tell you why I love these, and why I make sure to have at least one in my suitcase when I go to Italy.
I try to pack light, taking only a carry-on with me. Which means I plan on doing laundry when I'm traveling in Europe. Back when we first started traveling like this, I hung our newly washed clothes to dry on regular wire hangers.
Some of our shirts ended up with weird pointy stretched out areas where they had hung, and not all places that we rent have a drying rack, so we either hung things over the towel rack or on those pointy hangers.
These inflatable hangers fold up to almost nothing- and when inflated help your shirts/sweaters dry without those annoying stretched out pointy bits. There are 2 little hooks on the bottom which are nice for drying socks or undies if you need to.
​This laundry kit makes it simple to do laundry in your hotel room or apartment. (I've found more often than not, there is no sink stopper when we travel, so this is a nice item also for tub drains.)

8. Sturdy Re-usable Containers
Made by the same brand that makes Go Tube (which I am not super fond of), these little containers are heavy duty, nearly indestructible and can be used for many things. I use mine for pills, small earrings, small amounts of body lotion or face cream.
They come in both small and medium sizes. I really wish they had a size in-between the two!
9. Travel Wallet/Passport Holder
I've tried various wallets for travel over the years too, and love this one because it holds change (a must when traveling to the EU) has dividers for receipts or different currencies, and a spot for my passport and a pen. I feel so organized with this and love it so much I use it every day, even when I'm not traveling.
10. Aromatherapy Roll-On
Plant Therapy Synergy Blend Roll-Ons
Travel is amazing but it can be stressful. I'm all for reducing stress in any way possible, especially when traveling and have found a few things that help. For me, music + aromatherapy are my 2 go-to's if I'm feeling a bit anxious or out of sorts.
This set of aromatherapy roll-ons  from Idaho based Plant Therapy is our favorite. The scents aren't overpowering, and they are super easy to travel with.
Ok, those are my top 10 can't travel without them items. I'd love to hear what YOUR favorite travel essentials are. Share with us below!
Cheers to stress-free travel + being organized! Ready to start planning? Grab our free mini-travel planning kit below.

Pin it for later!