Italian Weekend Getaways (15 great ideas)
I imagine you must know this about me by now- I prefer slow travel. Longer stays in one place are more my speed, but while living in Italy we became masters of the long weekend trip.
Whenever the kids had a long weekend off from school (which was often) we jumped on a train or plane or hopped in the car to go exploring in Italy, Switzerland, England, Turkey, Austria and more. I know. It's absolutely nutty.
Today I'm sharing a brief look at some of our favorite long weekends in Italy- arranged in alphabetical order- to be fair 🙂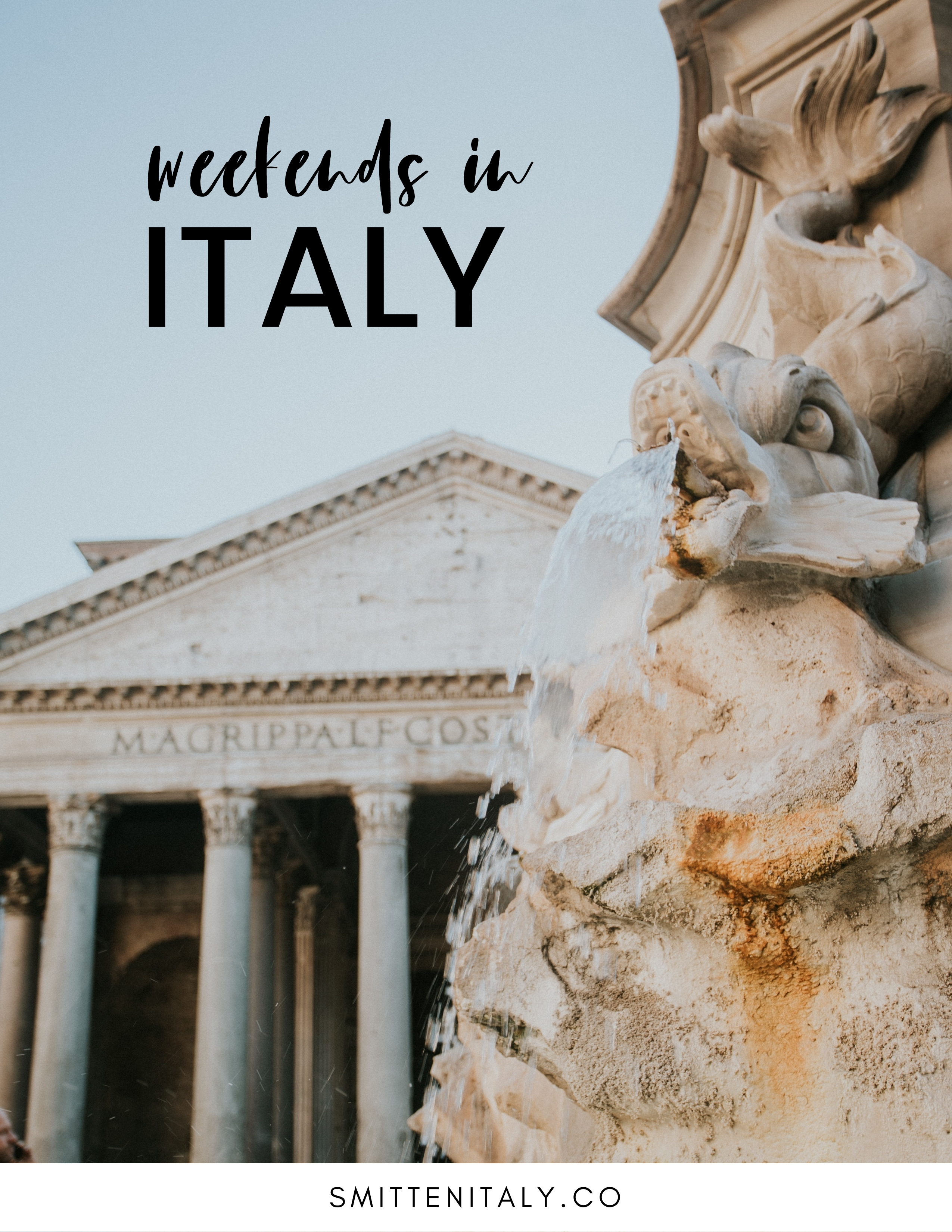 Keep in mind, you could easily spend a whole week or more in each of these destinations! (Of course, there are a zillion more options than this- I've barely scratched the surface of Italy with this list- but these are 15 favorites we would return to again and again.)
My personal favorites? Ortigia. Assisi. Rome. Turin.
Italian Weekend Getaways (15 great ideas)
​
1 | Assisi
Umbria is my first love and a must visit in my humble opinion. Assisi is famous for its hometown Saint, Francis. But there is so much more to explore. You must visit the Basilica di San Francesco, San Rufino, (Assisi's Cathedral) the Carceri Hermitage, the temple of Minerva, Church of Santa Chiara, and the convent of San Damiano just for starters.
My friend Letizia has a lovely B&B and cooking school nearby and this makes a great base to explore more nearby hill towns. (Bevagna, Spello, Bettona & Montefalco are some of our favorites.) But you will have plenty to see and soak in just in Assisi. One weekend will definitely not be enough…
Eat This:
The cuisine of Umbria is simple and rustic. Grilled meats, seasonal vegetables and delicious local pasta are things you will see on the menu. Make sure to try: Cinghiale (wild boar), Strangozzi (the local pasta) and almost everything with truffles (tartufo). Food lovers should make a visit to Terra Umbra, a delightful gourmet shop in Santa Maria degli Angeli, just below Assisi.
Food Adventures:
Lodging Ideas:
Don't Miss:
Carceri Hermitage
Basilica of Saint Francis
Zubboli Bookshop
​
2 | Bolzano
Bolzano is a gorgeous alpine town in Northern Italy- in the Alto-Adige region near the edge of the Dolomite Mountains. Bolzano is famous for their Christmas Market, excellent food and the small and interesting South Tyrol Museum of Archeology– the resting place of Ötzi the Iceman.
The Christmas market usually starts around the first weekend in December, check online to be sure and make your reservations early! Bolzano is small and easy to walk- I highly recommend booking a hotel or apartment in the center so you can walk around morning, noon and night!
The morning market in town is so lively and cute with plenty of things to taste and see and photograph. A super close drive takes you up into the mountains for drop dead gorgeous views.
Eat This:
Spend your weekend tasting the unique Italian dishes with a German influence because of the proximity to Austria & Switzerland.
Try Canederli, (dumplings) Gulasch, Speck, sausages & pretzels sold at street stands and Strudel.
Lodging Ideas:
Don't Miss:
Ötzi the Iceman at the South Tyrol Museum of Archeology
Castel Roncolo
Puez-Geisler Nature Park
​
3 | Camogli
Camogli sits on the Mediterranean between Genova and Cinque Terre. It is an easy day trip from Milan, but an even better weekend getaway. Camogli has stunningly beautiful water, pastel colored buildings and fresh seafood, like many of the villages that dot the coast.
But it has a special place in my heart for several reasons. It was the first town we visited along the Italian riviera, you can hop a ferry and visit a gorgeous secluded Monastery with beach and photo ops galore, and Camogli is famous for its focaccia. That is reason enough for me!
You can spend your days hiking, swimming, boating, shopping or hopping from focacceria to focacceria- my favorite sport. 🙂 Yum. (ps. This place is also cemented in my brain as the first place my 10 year old son came eye to eye with a pierced topless college age gal on the trail at San Fruttuoso) Oye. Culture shock anyone?
Eat This:
Focaccia, (focaccia di Recco, focaccia cipolle e rosmarino are favorites) Seafood, Fritto Misto, everything with pesto- including trofie, the local pasta from Liguria often served with potatoes, green beans & pesto. Yum.
Lodging Ideas:
Don't Miss:
Abbazia di San Fruttuoso
Focaccia (seriously.)
Views from the sea
4 | Florence
You can spend weeks in Florence. Our first trip years ago we spent a week in a tiny romantic apartment in the Oltrarno- church and museum hopping, and walking everywhere we could. As we have returned and returned, we now spend weekends there just revisiting the places we love and still continue to find new treasures.
If it's your first trip- plan carefully and try to stay longer than a long weekend. For sure book your Uffizi and Accademia tickets ahead of time. Most of the other museums are easier to get into without reserving ahead of time.
Whatever you plan to do- make time for wandering. Early morning walk over the Ponte Vecchio without the crowds is always on my agenda, as is walking up the hill to San Miniato al Monte. You can read more of my favorites over here.
Eat This:
Ribollita (winter) Pappa al Pomodoro (summer) Tuscan Beans, Pappardelle with Wild Boar ragu. Any seasonal dishes that are on the menu like Insalata di Carciofi (a salad of shaved raw artichokes- usually with lemon and Parmigiano) or Fritelle Fiori di Zucca (fried zucchini flowers).
Food Adventures:
Lodging Ideas:
Don't Miss:
Views from San Miniato al Monte (try to time your visit with the Monks chanting)
Dinner reservations at Trattoria Cammillo
More ideas here.

6 | Lake Como
I have a confession to make, I've not spent a weekend on Lake Como. Since we lived in Milan we would travel further away if we had a long weekend, and it's such an easy day trip to "The Lakes" from Milan. However, I have been so often I can tell you that Lake Como (or Lake Orta, Maggiore or Garda) would make a great long weekend.
I prefer Varenna or Lecco for a base, and then you can hop around the lake on the local boats and get off at whichever town catches your eye. Bellagio is very popular, and more touristy- but if that is your thing- go for it, it's beautiful!
Near Lenno- visit Villa Balbianello -you must! Take a boat to Bellagio & Menaggio. The views of the Grand Lake Villas are worth the ticket price alone. I especially like the view of Varenna from the water coming back from Bellagio.
In Varenna: Climb the hill in town to the Castello di Vezio in Varenna for an excellent workout and even better views. If you are lucky they will have the birds of prey out in the garden for a demonstration.
Eat This:
Polenta, risotto with fish, (risotto con pesce persico) Grilled lake fish, (Lavarello) Cold cuts & local cheeses. One time in Como I was asking what the name of a particular cheese was- the answer was something like "Paolo's cheese" from the farmer up the hill. Love that.
Food Adventures:
Lodging Ideas:
Don't Miss:
Visit Villa Balbianello
Take the funiculare from Como to Brunate
Castello di Vezio in Varenna
5 | Levanto
Cinque Terre is on everyone's must see list when in Italy. Levanto is just minutes up the coast, the quiet & peaceful neighbor and makes such a great base to enjoy the entire area. (Big thanks to @girlinflorence who tipped me off to this great little sleepy town!)
Levanto has great B&B's, hotels & beach resorts and a train station, so it's super easy to hop the train and be in Monterosso al Mare in literally 5 minutes. Another plus about staying so close, is you could visit the towns of Cinque Terre later in the day and enjoy dinner & the sunset after all the day trippers have left. (HUGE plus)
One of the best ways to experience the 5 towns is to take the ferry that goes between each town- seeing these gorgeous villages perched on the side of the mountain all decked out in their spring colors from the water is a beautiful experience. (Even if you are with grumpy teenagers like we were.)
Eat This:
When in Liguria it's a law that you must sit in a piazza under jewel toned umbrellas drinking the local white wine (simply called Cinque Terre DOC) and eating fresh seafood, gnocchi with pesto or farinata, a local flatbread made of chickpeas. Ok, that's just my law- but it's a good one I think.
Lodging Ideas:
Don't Miss:
Sant Andrea Church
The ease of taking the train or ferry to Cinque Terre
Rent bikes and bike (or walk) to Bonassola
7 | Lucca
Lovely Lucca. You just can't help but say that over and over when you visit. We have gone several times and again, love the feeling of spending the night after the day trippers leave. Lucca is famous for having a wide city wall that can be biked or walked. They also have a long musical history with the famous Italian Opera Composer Giacomo Puccini being a local.
There is plenty to see and do for a weekend in Lucca, and if you should somehow get bored, Pisa is a 30 minute drive away. I prefer Lucca to Pisa though- but if you feel you have to go see the leaning tower- I recommend you base yourself out of Lucca.
Lucca has a wonderful summer music festival every year outdoors under the stars. We had a memorable night there with Diana Krall a few years ago, and my daughter is still bitter that we didn't make the trip back to see the Killers that same summer. If you like music, this would be worthwhile to plan a weekend trip around.
Eat This:
Ok. I know I love food and say this every other meal in Italy- but if you were to ask me what my best meals were while living in Italy this lunch would be in the top 5 for sure. Ristorante Puccini. Old world dining room with beautiful art on the walls and opera playing- I was worried it was too cute to be good- but we all were in love with the food we ate there. My favorite, pici pasta with pecorino and roasted pears. Droooool. Also the bean and farro soup. The homemade pasta with rabbit ragu. The Tuscan beans with tomatoes & rosemary.
Lodging Ideas:
Don't Miss:
Summer Concert Series
Biking the 16th century city walls
The Roman amphitheater
8 | Milan
Most people who visit Milan only stay a day or maybe 2, but there are so many things to see and do here! We have stayed in the city as "guests" and loved being able to get everywhere via walking or hopping on the metro. It's a very easy system to navigate.
Ideas for your visit: (more ideas here, here and here.)
Churches: Duomo, San Maurizio Maggiore, San Lorenzo, Santa Maria della Grazie, Basilica of Sant' Ambrogio, Basilica of Sant Eustorgio, San Bernardino alle Ossa.
Art: Leonardo Da Vinci's Last Supper (reservations required- months in advance usually)Palazzo Reale, Pinacoteca Ambrosiana, Pinacoteca di Brera, Museum of Modern Art, Gallerie d'Italia Piazza Scala, La Scala Opera House Museum, Museo Archeologico, Museo del Novecento and more…
Eat This:
Risotto! Milan is famous for Risotto, and not just the namesake Risotto alla Milanese with saffron. You should try as many varieties as you can although you might want to share with your traveling buddies because Risotto can be heavy and you need to save room for other delicious things like Panzerotti, gelato, Osso Buco, Bresaola, Cotoletta alla Milanese, Polenta and for the brave Carnivore- Cassouela- a winter stew made with cabbage and various pig parts. Don't forget the Classic Milanese Panettone if you are there at the right time of year.
Food Adventures:
Cook In Milano: Join Chef Clara for a cooking class in her kitchen in the center of Milan. She has menus and classes listed on her website, and is such a lovely teacher. After cooking together, eat lunch at the family table and afterwards, ask for a taste her husband's homemade limoncello.
Lodging Ideas:
Don't Miss:

​
9 | Ravenna
Chris and I took a quick weekend getaway from Milan to Ravenna in 2015 and it wasn't nearly enough time. I adored this beautiful small quiet town, famous for the Mosaics, but worth a visit for the non-touristy vibe, food and people.
Ravenna is famous for it's Byzantine Mosaics, which are scattered throughout town at different churches and buildings. They are stunning and the photos really don't do them justice. I love the colors!
Go for the mosaics, but take time to wander and shop and of course eat. You can even try making your own mosaics at various locations in the city.
Eat This:
Piadina is definitely something you have to eat while in Ravenna. It is a flatbread stuffed with various toppings and just like the Focacceria in Camogli- there are Piadine shops almost every block in Ravenna, so you will have plenty of places to choose from. (Look for Piadineria Artigianale)
We had fun doing a little Piadina tasting tour of our own- going to many places and sharing one from each to compare and see which we liked best.
There is more to Ravenna than Piadina and we loved tasting the local specialties at Trattoria al Cerchio.
Lodging Ideas:
Don't Miss:
10 | Rome
A weekend in Rome is really just a tease. There are centuries worth of things to discover here. But I'd definitely take a weekend in Rome, in fact I have many times and I always leave wanting more.
My suggestion would be to stay in the city center so you can properly wander to favorite things and discover new corners by foot. There are many free things to do in Rome, so you don't have to spend a fortune.
Just enjoying the open air museum that is Rome- full of ruins, glorious fountains, and beautiful architecture is such a treat. Read some of my favorites here.
Eat This:
Baccala, Carciofi alla Giudia, Cacio e Pepe, Amatriciana, Pasta alla Gricia, Saltimbocca alla Romana, Involtini alla Romana, Suppli, Pizza Bianca.
Food Adventures:
Rome has many food tours-but until recently I've always tasted & explored Rome on my own. I can't think of anything better than eating your way through Rome with a local expert. I highly recommend Casa Mia and The Roman Guy.
Lodging Ideas:
Don't Miss:
Basilica di San Clemente (tickets required, buy at gift shop)
Eating dinner in the Jewish Ghetto
Taking time to wander
11 | Siena
Siena is a glorious way to spend a weekend. This Tuscan gem is famous for its main Piazza del Campo which slopes in such a way to invite sun seekers and tired travelers to stretch out and relax. The Duomo with its gothic architecture, stripes and mosaic floors is a must see, as is the crypt- my favorite. You can buy a ticket that gets you into the Duomo, baptistry, crypt & neighboring Museo dell'Opera del Duomo- all things that are a joy to discover.
Again, staying in the center of town so you can walk everywhere and enjoy Siena at night after the day tourists are gone is a must. We've been during all seasons, and although summer is blistering hot, it's worth the heat to take in the Infamous Palio, a medieval horse race with 5 days of events.
Eat This:
Pici pasta often served with cinghiale (wild boar) or rabbit ragu, panzanella, crostini topped with various spreads, wild boar (Cinghiale) served as a stew or in a ragu. Grilled meats including the prized Chianina, a prized breed of cattle.
Food Adventures:
Juls' Kitchen: Oh I dream of cooking with Giulia in Juls' Kitchen!
This tour sounds amazing. I'm always in for anything cheesy…
Lodging Ideas:
Don't Miss:
Visit the contrada museums
12 | Siracusa
Base yourself in the delicious seaside island village of Ortigia. The food here is outstanding and the fresh market an experience you won't forget. Make a gourmet weekend of it, there will be plenty of things to taste and see.
You can take a cooking class, explore the market, taste baked ricotta and other delicacies at Fratelli Burgio, go boating, explore the Greek theatre (Teatro Greco) and Greek Temple of Apollo Ruins, Sit in the sun in the piazza in front of the Duomo, try a sampling of Granita or take a passeggiata and get some gelato.
Eat This:
Fennel & orange salad, Pistachios, Pasta alla Norma, Involtini di pesce Spada (Sicilian swordfish rolls), Arancini, Cannoli, Baked ricotta, Pachino tomatoes, Pasta c'anciova e muddica (pasta with anchovies & breadcrumbs), Caponata, Capers. (and so much more!)
Food Adventures:
Sicilian Demo Cooking: Half day market & cooking class in Ortigia. We loved this day! Read about our visit here.
Mercato di Ortigia
Fratelli Burgio for picnic or aperitivo supplies
Lodging Ideas:
Don't Miss:
The daily market
Cooking class at Sicilian Demo Cooking
Caravaggio's "Burial of St. Lucy" at Santa Lucia alla Badia located on the Piazza Duomo
13 | Torino
I love spending a weekend in Torino (Turin). A favorite hotel in the city center is Townhouse 70, just a few blocks from Piazza Castello.
Among my favorite things to do is to take a café tour and soak up the atmosphere and chocolatey goodness of the town's famous drink Bicerin. (Layered espresso, chocolate and cream.)
The Egyptian Museum is always busy but worth braving the crowds, the cinema museum and Royal Palace Museum are both wonderful.
It is worth planning your weekend around the Gran Balon Antique Market, held on the 2nd Sunday of each month. If your timing coincides, I highly recommend attending the bi-annual Slow food festival, Salone del Gusto (to be held in September 2016)
Eat This:
Torino cuisine is unique. Typical starters include Vitello Tonnato (Veal with Tuna mayonnaise, Bagna Cauda (a hot anchovy & garlic dip served with raw vegetables) Primi include agnolotti, a meat stuffed ravioli, Risotto with barolo Wine, Pasta with truffles from Alba. Brave meat lovers will love trying Bollito Misto, (mixed boiled meats) a specialty in the area.
Food Adventures:
Lodging Ideas:
Don't Miss:
Gran Balon Antique Market
Basilica di Superga
Exploring the café culture
14 | Venice
Venice in the winter is really lovely. Avoiding the high season, you'll enjoy fewer crowds (although it's always crowded) and cool temperatures. The early sunset and mist hanging in the air will add to the romance and adventure of exploring the back streets and canals.
Get a beautiful view over Piazza San Marco and beyond by climbing the Campanile (bell tower). Take a food tour or cooking class and have a luxurious lunch with Monica from Cook in Venice.
Visit the Doge's palace- something we neglected to do our first visit and we really loved it when we returned. (side note- they have a fantastic gift shop here with some unique items)
Other places to visit: The Peggy Guggenheim Museum, Palazzo & Art Collection Ca d'Oro and the Scuola Grande di San Marco a gorgeous building and medical museum.
We love to stay at B&B Sandra, in Canareggio.
Eat This:
Go for Cichetti (the traditional small bites of food served with a small glass of wine in bars all over the city), Polenta, risi e bisi (rice and peas), fresh seafood & special dishes such as Baccala' Mantecata, a dried salt cod spread often served with polenta or as an antipasti served with bread, vegetables or crackers.
Food Adventures:
Lodging Ideas:
Don't Miss:
15 | Verona
Verona is a dream for the romantics amongst us, it is the setting of Shakespeare's famous play Romeo & Juliet. People flock here to get married, to see concerts or opera at the Roman Theatre, to sneak a peek of the (fake) balcony of Juliet.
That sight is well worth skipping in my opinion- but Verona overall is simply lovely. We enjoyed several delicious meals, took in an opera at the outdoor ancient Roman Theatre and found several treasures to take home at antique shops, including an old map of Verona I adore.
We loved staying at Palazzo Camozzini which has B&B rooms and darling small apartments in this Palazzo owned & run by a lovely local family. In the ballroom of the B&B are monthly mini-opera concerts, something to definitely put on your Romantic Musical weekend!
Eat This:
Look for polenta with salumi and cheese, or Bigoli- the local pasta. Skip the Cavallo, a local specialty unless you'd like to taste horse meat. Risotto with Radicchio or Risotto all'Amarone (made with local Vialone Nano Rice and Amarone wine) are both delicious choices.
Lodging Ideas:
Don't Miss:
Planning a trip to Italy?
here are our favorite resources
Find your perfect place to stay:
Explore tours & experiences:
Getting around:
Smitten Italy Travel Resources:

Pin it for later!