Instagram Love | 10 Favorites in Italy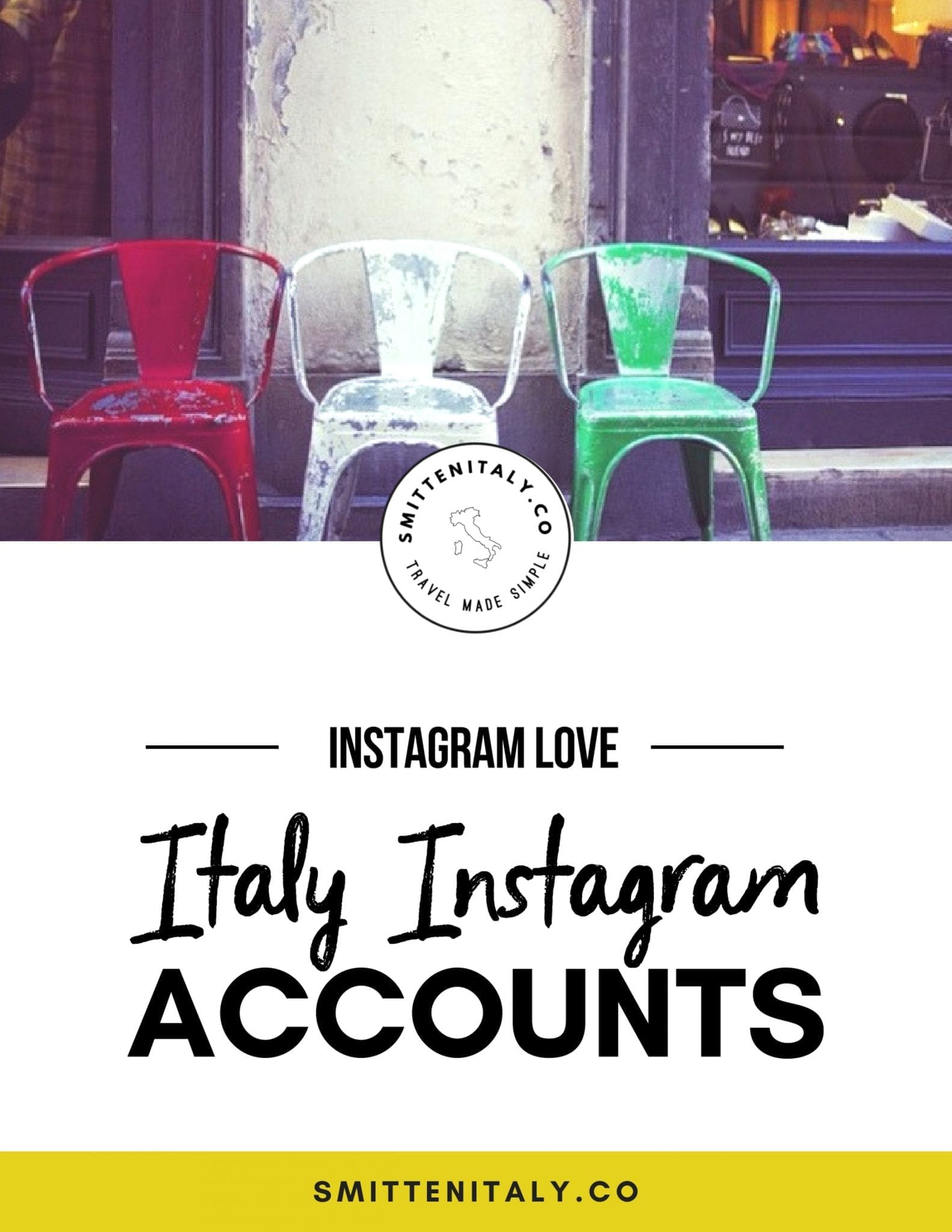 I don't claim to be a social media maven, but I sure do love it. I have accounts on Twitter, Facebook, + Instagram, and my daughter is trying to teach me how to use Snapchat. (UGH- I feel so old!) But the one I know and love the most is Instagram.
I love the ability to feel a little artsy and capture things that are beautiful to me. I also love being able to share our travels + meals on Instagram no matter where we are in the world- (in a micro blogging sort of way.)
Before moving to Italy I followed many Italian Instagrammers just to get a glimpse of the things that make me smile- the food, streets, fountains, Italian signs, and architecture of Italy.
While living in Italy I discovered even more Italian Instagrammers that inspired our travels and meals. Now that we are back home in America, I'm even more hungry for a glimpse of Bella Italia.
It's a little like Italy therapy. Some days it makes me want to cry a tiny bit, most days it is comforting, but it always makes me want to return!
Here are a few of my favorite Instagram accounts based in Italy that feed my Italophile soul…What's better than getting a daily dose of Italy on your phone?
Dario is a Milan based actor, director + photographer. I found Dario when we decided to move to Milan and I wanted to get a feel for what Milan was like. Follow him for spectacular architecture shots and beautiful glimpses of daily life in Milan and elsewhere in Italy. I adore him and love seeing Milan through his eyes.
I first met Sarah when she was living in Bologna and love following her Italian adventures and her fantastic blog, Italy Project 365. This summer she moved to Genoa, on the Ligurian coastline. I can't wait to see more of Genoa and this next chapter of her life- and I'm secretly hoping for lots and lots of photos of Ligurian food. Pesto anyone?
Jillian and her adorable family live on Lago Maggiore, in northern Italy. I can't get enough of Jillian's colorful world on IG + on her blog– and think we'd be great friends if ever we met. 😉 She's super crafty too, making so many colorful things for her home and family. She also uses her crafty skills for good by being involved with a beautiful project called Days for Girls. Love this so much!
Rachel shares her kitchen and her life in Rome with us in a most magical way. Years ago, I fell in love with Rachel's writing + recipes, and now it's even better because she shares her famous sink photos and other glimpses into her kitchen on Instagram as well. I dream of sharing a meal and thoughts on food + life with Rachel someday.
Browsing Italy is like your best friend taking you through Italy, one region at a time. Diana shares her own travel photos and highlights her favorite 25 photos from the IG community using the hashtag #browsingitaly every Sunday. So much fun! I love seeing her weekly roundup, and reading the Browsing Italy blog is a great resource for anyone planning on or dreaming of exploring Italy.
Elizabeth will tempt you with her delicious photos of food in and around Rome, her favorite places + meals all around Italy, as well as glimpses of her Roman food tours. She has several books, a fantastic blog + travel apps too. I don't know how she does it all, but am so glad she lets us come along for the ride!
Gillian is a Rome based blogger who shares all her favorite things from Rome to the Amalfi coast and beyond. I love her vast knowledge of all things Roman + beach related in Italy and share a love of typography with her. Italian signs are simply the best!
Oh, how I love Georgette- she lives in Florence, and seeing Florence through her eyes is always a treat. She travels extensively throughout Italy + Europe and shares her daily views and fabulous finds on her blog, Instagram and even her adorable beagle's point of view (which I love so much!)
Get your daily dose of "Grandmas & grandpas of Italy (and beyond)". Tiana Kai started this photography project based on her love of older Italian people she would see as she lived + traveled around Italy, and in honor of her grandfather. A fun interactive project, check out the #notmynonni hashtag to see how Tiana has inspired so many to share their love of adorable elder Italian folks.
A stunning collection of photos + stories set all over Italy by a "beautiful human collective." I adore the stories that accompany the photos, possibly even more than the photos themselves, which are hard to top! Join in the fun by tagging your Italy photos #whatitalyis.
---
One of the things I miss most about living in Italy, (besides the food) is the wandering and constantly being surprised at what is around the next corner.
Instagram doesn't take the place of that, but it keeps that love of Italy alive for me daily, now that I am so far away. It's like therapy, but much cheaper than a plane ticket. Although I'll take one of those too… 😉
Thank you to each of these kind friends who agreed to let me share a little piece of their world with you today.
What about you- Do you Instagram? Who are your favorites to follow? Leave your IG name below and let's be friends!
PIN THIS FOR LATER!