How to Travel in Italy with Unlimited Wifi | OneMiFi Review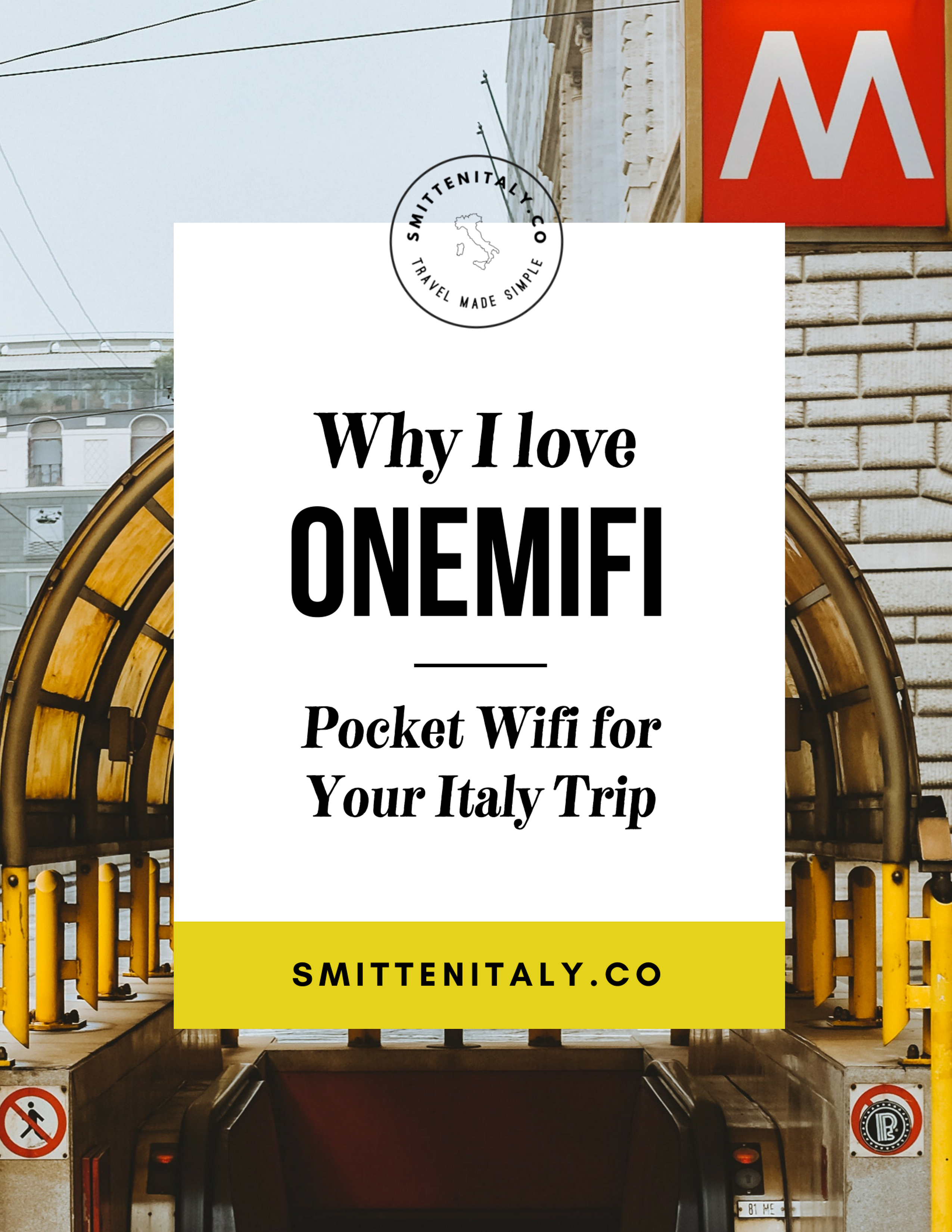 How to Travel in Italy with Unlimited Wifi
I think we all agree that Italy is amazing. But it reliable internet is definitely not a given wherever you go. On my recent trip to Italy, I discovered the incredible gift of staying connected for work and home by traveling with a pocket WiFi device, instead of relying on my hotel or trying to find a café with free internet.
It was a revelation!
My Story:
It sounds dreamy to completely unplug while traveling abroad. But for most people, it's just not feasible. WiFi access is a must these days when traveling, whether you need to connect with family or friends, buy train or museum tickets, check your email for reservations or work, or use your favorite travel apps to navigate your days.
When I first started traveling to Italy, we used international calling cards to stay connected and didn't have the option of WiFi in our hotel or apartment. Things have changed as the years have gone by, WiFi can be found in many Italian hotels & accomodations, but it is not always fast or reliable.
Last year when I spent a few weeks in Italy, I used my cell provider's international plan which was $10 a day. That is not too bad compared to roaming charges, but the cost adds up. This year I decided to try a pocket WiFi device with OneMifi and it was amazing- I can't imagine traveling in Italy now without one. (and I can't believe it took me this long to try one out!)
Interested? Here's what you need to know.
What is OneMiFi?
OneMiFi is a small Italian startup company that offers affordable, fast and reliable pocket wi-fi devices for travelers.
You can book easily online here. (Choose your dates, location to pickup and drop off and pay online.)
They have many options within Italy of where to pick up and drop off your device, even offering courier service to your hotel or vacation lodging.
Please contact them for specific location questions, current pricing and specials.
The Benefits of using Expresso pocket Wi-Fi:
Avoid expensive data roaming charges while traveling abroad

Enjoy Unlimited data

Fast Speed (4G/LTE)

Connect up to 10 devices at once (great for families or groups traveling together)
Things I loved about using OneMiFi in Italy:
The device is small and lightweight- it was so easy to slip it into my bag and take it along for the day.
I was able to use google maps, face time my family from various favorite spots in Italy, (including Castel Sant'Angelo above) post photos on Instagram and look up opening times of restaurants and museums. All on the go- without stressing about finding a WiFi hotspot, or having to plan every minute of my day before I left the apartment.
I traveled throughout Lazio, Umbria, Le Marche, Tuscany, Lombardia & Campania during my trip by train and car and had a great connection. The only place I had trouble connecting was in the mountains of Le Marche where the cell signal was very poor.
Towards the end of my trip, my family came over to spend some time with me, and we had the ability to connect to my 1 little pocket WiFi if we needed to- saving even more money! (You can connect up to 10 devices to the WiFi hotspot.)
Tips for Using:
To avoid roaming charges on your phone- make sure your phone is in airplane mode, but with 

WiFi

turned on. This will help you not accidentally get charged by your cell provider at home when trying to connect.
If you are going to be out for a long day, turn the device off to save the battery when you don't need it. The battery is long lasting, but I found that 4-6 hours out and about really drained it.
If you are renting an apartment, put the wifi device in a different room than the apartment router, to extend your coverage. (I found that some of my lodging spots the 

WiFi

was weak, or would only reach 1 room.)
Things you can do with a Pocket WiFi while traveling:
Request & pay for a taxi (I love the mytaxi app)

Search for restaurants near your exact location

Plan your Google Map walking route

Confirm reservations/connect with lodging host

Share photos + stories on Social Media

Check & send email

Look at Bus Routes

Facetime your family at home

Check opening times of museums or restaurants

Book tickets
Read Next:
*Grazie OneMiFi, for partnering with me on this post. All opinions are my own.
Pin it for later!