How to create the Ultimate Long Haul Flight Survival Kit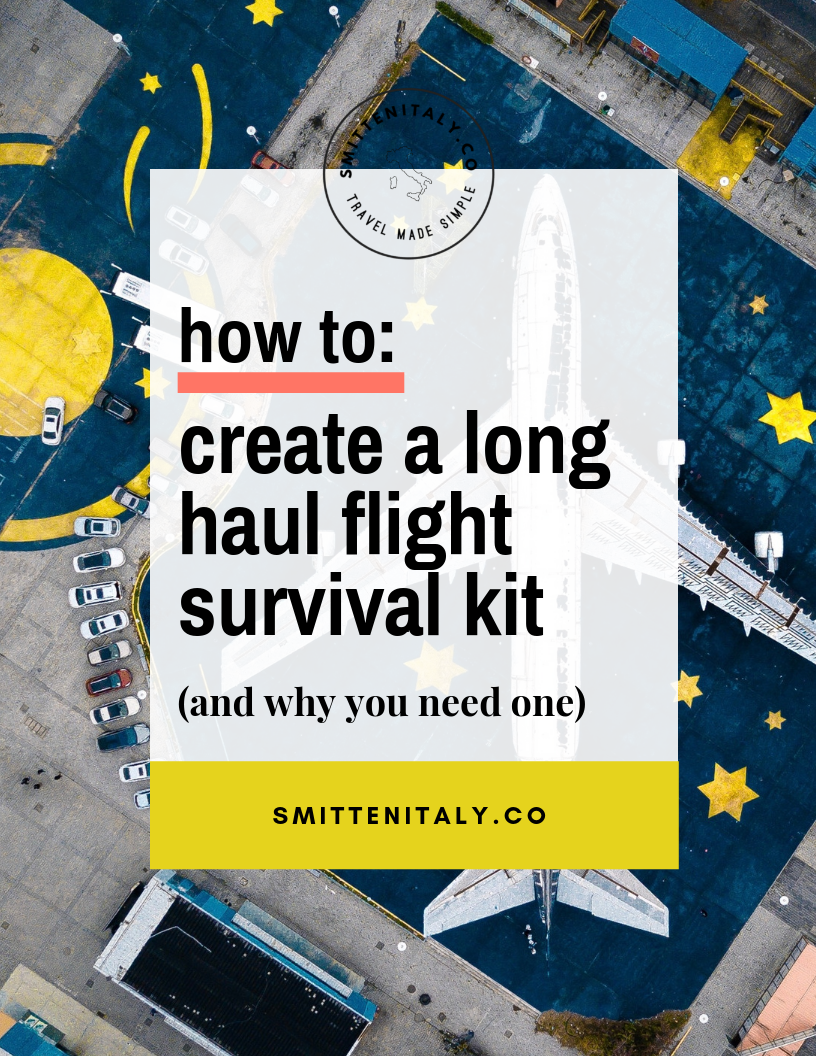 This post may contain affiliate links for your convenience. Read our disclosure policy here.
I don't know about you, friends- but the older I get the more I enjoy having fewer unknowns. I can be flexible and wing it when I need to be, but most days I love to be prepared. And sometimes I can get a little anxious on long travel days- anyone with me?
Over the past few years, I've figured out what I love and can't live without during those long-haul flights to Italy. Since I'm always in coach, I think a little self-pampering is in order.
I make a little "Flight Survival Kit" so that when it comes to flying, I always have a few of my favorite things that make me happy and help my travel day be just a bit better. Somedays, A LOT better!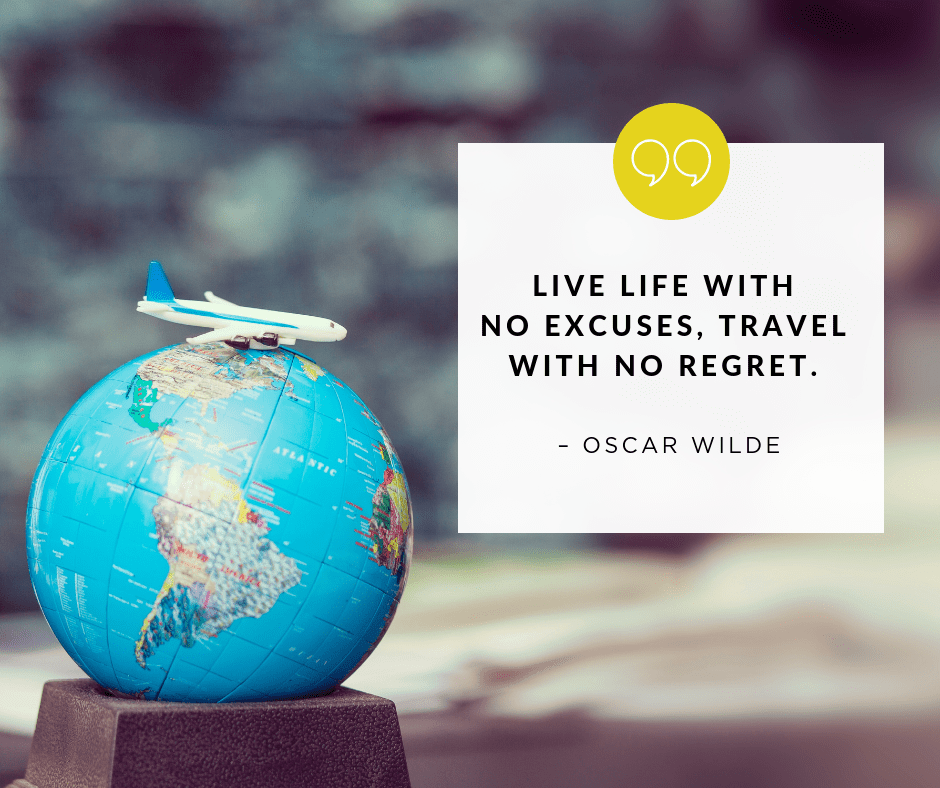 So what's in a Flight Survival Kit?
Pretty much anything that would be great to have at your fingertips on a long haul flight
Things to keep boredom at bay (music/books/movies)
Something to inspire creativity or organization (notebook/craft)
Water bottle and healthy snacks to fuel you through the long hours of travel without binging on frappuccinos + french fries at the airport

How to make your own long-haul flight survival kit:
Get a zippered bag you love (cute & functional or simple & functional) and fill it with all your favorite things- thinking through what might be helpful to have at your fingertips on a flight or during a rushed connection in an airport.
Here are some ideas for your long-haul flight survival kit…
Healthy Snacks
Herbal tea
Slipper Socks
Aromatherapy oil or Lotion
Gum/Mints
Headphones
Portable charger
Notebook & Pens
Crossword puzzles
Digital Magazines
E-books
iPod loaded with podcasts & music
Eye Mask & Ear Plugs
Water bottle
Here's what is in my Flight Survival Kit.
(I'd love to know what you would put in yours! Skip to the bottom of this post to find a handy list with links to my favorites)
The Bag.
First things first. My favorite bag for all of the small items on this list is the Medium Eagle Creek Pac-it-Sac.
I've tried other bags recently and none of them are as good or functional as my trusty Eagle Creek Bags. They come in different sizes, they are super sturdy and reasonably priced.  You can find them at the Eagle Creek website, REI, Amazon & other places camping & travel gear is sold. (The extra small sac is the perfect sized pouch for colored pencils or pens – FYI)
I love them because they have a waterproof lining in case of spills, and a clip on it- so I can get to it easily during the flight because I clip it to the seat pocket. Some airplanes don't have a seat pocket that can hold more than a magazine, so this clip is super handy.
When we were getting ready to move to Italy, I bought one for each of my kids and filled it with gum, earbuds, playing cards, chapstick, a small notebook and pen and other goodies.
It made a great Stocking stuffer for Christmas that year, and it was something really useful that they used on their first international flight and was carted all around Europe during our travels. (by the way, this is not a sponsored ad, I just really love these Eagle Creek bags…)
After my trip, I usually leave my airplane essentials in this bag in a suitcase and then when it's time for my next trip, I just add the last minute things (like fresh snacks) to it and throw it in my backpack.
Check out all of Eagle Creek's great travel accessories & luggage here: www.eaglecreek.com
Herbal Tea.
I LOVE coffee, but sometimes I just want a cup of something hot without the buzz. So I always carry bags of my favorite ginger tea in my carry-on. The flight attendants will gladly give you a cup of hot water to make your own little brew. Ginger is great for anxious or upset tummies. If you don't care for tea, try these yummy ginger hard candies– also great for traveling.
Gum & Mini-Altoids.
There's nothing like peppermint Altoids to freshen up when traveling. I love the mini ones, and also always carry my favorite peppermint gum with me for helping my ears pop.
Lip Balm & Meds.
Another staple of mine at home & on the go is Carmex. I never liked it when I was a teenager- back then it came in little pots you had to stick your finger into. Now they make it in a stick form, like chapstick and I cannot live without it.
I like to travel with a small supply of ibuprofen, melatonin and any other over the counter meds I think I'll need. I fill one of these little tubs with meds and stash it in my trusty bag- just in case I need anything while flying.
Aromatherapy lotion and/or Essential oil.
I love the smell of Bath & Bodyworks lavender vanilla lotion and use it every night at home. They sell it in travel size containers so I always pop one in my carry on as part of my ritual to get ready for long haul flights. If I'm feeling a little stressed or anxious, I dab a bit of my roller-ball essential oil on my temples & wrists.
Something Cozy.
It's hard to get the temperature just right when you are flying and in airports all day. I always lean on the side of having layers and options and love having a cozy scarf or sweater to wrap up in on an overnight flight.
Loving this handmade scarf by Wool and Birch on Etsy.
These Slipper socks  or cute compression socks will keep your feet cozy.
Healthy Snacks.
When my kids were little, we would pack picnics for the airport or the plane ride to avoid missed mealtimes & meltdowns. As they got older I realized even though we didn't have toddlers anymore there was no reason we couldn't prepare and bring some snacks from home. When I make the time & effort, I'm always glad I did. It's a really nice way to take care of yourself on travel days.
My favorite airplane snacks right now are these nut mixes, mini Lara bars, and a clementine orange or 2. The oranges are super refreshing on a long day and smell amazing when you are surrounded by stale air and other travelers…
I don't usually crave sugar- but some days you just need an emergency supply of chocolate. Better make it the good stuff, you deserve it! Share with your seatmates & make friends for life. My current fave is dark chocolate with sea salt & almonds from Chocolove.
Water Bottle.
I adore my 16 oz. Nalgene bottle. It is the perfect size to carry in my purse, and it gives me an extra supply of water in-between flight attendant beverage service. It's also great to have on hand during trips and just refill instead of buying more bottles of water everywhere I go.
Entertainment.
Do you prefer to read, listen or watch while you travel?
Everyone has their own preferences when it comes to entertainment. Some people go old-school and only carry books and print magazines/newspapers. Others load everything they own on a kindle or iPad or smartphone.
I go the middle route usually. I really love the feel of a book in my hand, instead of reading on a device- but during longer trips I've gotten used to using my kindle for reading and it's great to not take up extra space with bulky books & magazines. Most magazines now have digital access if you have a subscription which I think is brilliant because I love catching up on favorite magazines on travel days especially.
I am the kind of traveler that also likes to pass some of the time watching a good movie. I actually have gotten into documentaries the last few years because so many international flights are offering them. If I've made a plan and am prepared, I also like having a few favorite tv shows and movies in case I don't like what is being shown on the plane. Even with 50 channels sometimes it can happen!
Portable Charger.
What did we ever do before smartphones? It seems crazy that a portable charger would make it into my survival kit. But it totally does! When I have a backup power supply with me, it's one less thing to worry about.
Many planes have power outlets now- but trust me you can't count on it. On my recent flight from the US to Italy, I had one, but it was broken during my long haul leg. I was SO glad to have my little backup in my flight survival kit with me. I like this one and this one.
Notebook, Favorite Pens or Coloring Book.
Even if you are not a sketcher, having your own notebook is super handy to have on a trip when you get a burst of inspiration or want to make sure you don't forget something. It can also be used to journal throughout your trip & make a list of groceries you need when you rent your vacation apartment abroad.
My favorite is the Large Plain Softcover Moleskine journal. There are many different Moleskines, and I'm partial to this one, I've been using them for years.  I also like having colored pens- and my favorites are these and these.
Coloring books for adults have sure been a hit the last few years, and I can't think of a better way to unwind during a long layover or if you get bored on the plane than coloring. Here are some of my favorites. I have this travel one, this one is on my Christmas wish list, and this book for grownups  is called Irreverent for a reason- but so funny!
Music & headphones.
Finally, if you are a music lover, you'll agree that there is nothing quite as soothing as your own favorite playlists. I would even go so far to say that I would rather have my music than books/magazines/movies.
Headphones are a must on airplanes, to listen to your tunes, or podcasts, and drown out your noisy neighbors. I LOVE my Beats headphones, and find them very comfy & they sound great! I also travel with my Apple Airpods pro- but I prefer the over-ear style of the Beats, even though they are bulkier to travel with.
This Tripped Travel gear case was a game changer for traveling with my larger headphones- and other small items in my flight survival kit- I highly recommend it!
Here are a few favorite albums I took with me on my recent solo trip to Italy- Miles Davis (Kind of Blue), On a Starry Night, Songs of the Siren. All 3 are happy and comforting to me, depending on my mood.
Ok friends- What are your can't-live-without-them comforting travel items?
What would you put in your Flight Survival kit? Or who would you like to make a Flight Survival Kit for? I'd really love to hear all about it!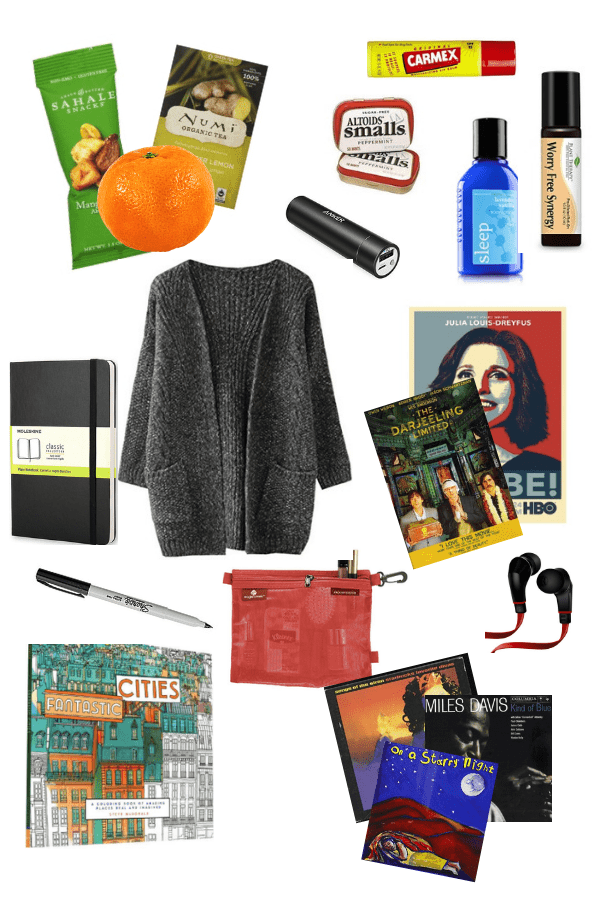 Shop this post:
You can find almost all of these items on Amazon, but your local stores will have many of them as well. I've included links to Amazon, if you'd like to support the blog by making purchases through them. Smitten Italy will get a tiny portion- at no additional charge to you! Thanks for helping keep this blog up and running.
1. Ginger tea  2. Altoids mini peppermints  3. Aromatherapy roll on  4. Lavender lotion 5. Cozy scarf or sweater 6. Sahale Nut Mix  7. Mini Lara Bars  8. Miles Davis (Kind of Blue), 9. Songs of the Siren 10. On a Starry Night 11. Fantastic Cities Coloring Book  12. Sharpie extra fine point markers 13. Moleskin Journal 14. Carmex Lip Balm  15. Anker Portable Charger 16. Nalgene Water Bottle 17. Go Tubb Containers (small)
Don't forget the mini Wet Ones Wipes or Antibacterial Spray to wipe down your laptop after going through security, your tray table on the airplane, or pretty much everything you touch.
I also keep a 2nd Eagle Creek bag in my backpack with red-eye flight essentials like these:
Face Wipes, Mini-deodorant, tinted moisturizer, travel toothbrush + toothpaste, (these Wisps might be the smartest thing ever invented)
Pin this to your travel boards for later!