How to Create an Italian Pantry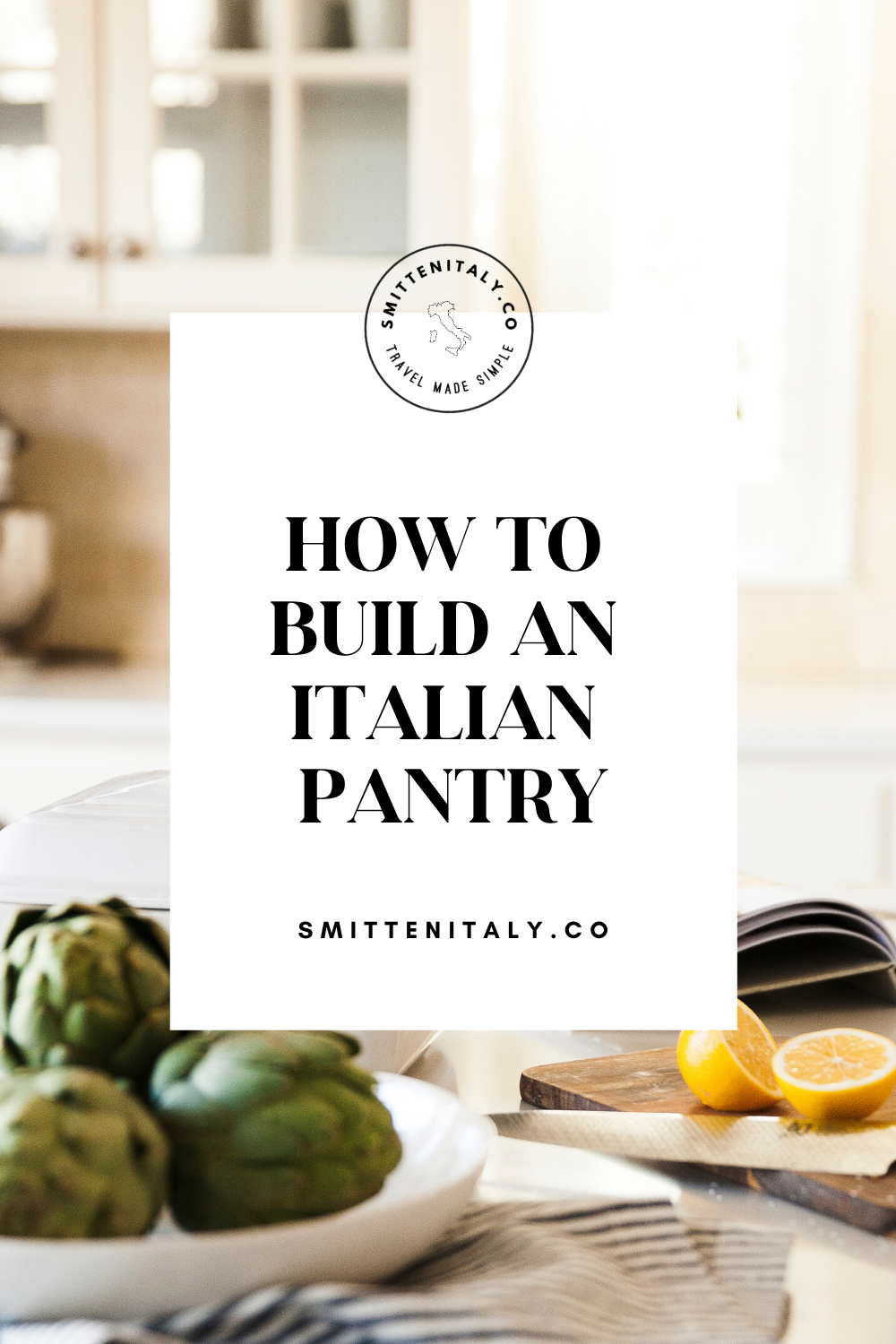 This post may contain affiliate links for your convenience. Read my full disclosure policy here.
How to Create an Italian Pantry
The key to great Italian meals at home lies in having a well-stocked pantry. That doesn't mean it has to be packed with exotic and expensive ingredients. Quite the opposite, actually.
Most Italian cuisine is very simple, using vegetables & fruits that are in season, and letting the main ingredient shine through without over-compensating with too many flavors. This is something I learned and finally understood better when living in Italy.
And now this is my mantra…
Simple is better.
Quality over quantity.
Don't eat it if it's not in season, or has to be flown into your country.
Stocking the pantry with simple but excellent quality ingredients will save you time and money and help you have more authentic Italian meals in your own home.
Today I'm sharing my list of items I always have on hand and buy frequently, based on our family's tastes. Your list might look different- but this is a great jumping off point to help you get organized!
(Grab your resource guide + shopping list below!)

15 Italian Pantry Essentials that I cannot live without. 
1 | Olive Oil (first cold pressed, single origin)
2 | Fresh Garlic & Onions
3 | Canned Tomatoes, crushed or whole (no added ingredients)
4 | Dried Pasta (Short, long & soup varieties)
5 | Farro (excellent in soups and salads)
6 | Polenta (perfect winter staple)
7 | Concentrated Tomato paste (double or triple concentrated, found in a tube)
8 | Flour (Semolina & 00)
9 | Rice (Arborio or Carnaroli)
10 | Legumes (Dried or Canned) Garbanzos, lentils, borlotti, cannellini
11 | Cheese:  (Parmigiano-Reggiano, Pecorino, and gorgonzola are my favorites)
12 | Balsamico (good quality Balsamic can be found at gourmet stores or online)
13 | Herbs & Aromatics (Fresh and dried) Rosemary, Oregano, Basil, Thyme, Bay leaves, Flat leaf parsley, Lemons)
14 | Espresso beans
15 | Wine (Dry Red, White & Sparkling like Prosecco)
Bonus items that will add tons of flavor in small amounts:
Olives, with Pits (oil or brine)
Capers packed in salt
Sundried Tomatoes, packed in Oil
Canned Fish: anchovies, tuna, sardines good quality, in olive oil
Salumi/ Prosciutto
Keep your Italian pantry stocked with these essential ingredients,  and like a true Italian Nonna, you'll always have a delicious and authentic Italian meal on hand!
My Favorite Italian Cookbooks
My Kitchen in Rome Recipes & Notes on Italian Cooking
Essentials of Classic Italian Cooking
A Kitchen with a View: Seasonal recipes from Alla Madonna del Piatto Cooking School in Umbria, Italy.
The Glorious Vegetables of Italy
Tasting Rome: Fresh Flavors and Forgotten Recipes from an Ancient City
Two Kitchens: 120 Family Recipes from Sicily and Rome
You might also like:
p.s. What are the pantry ingredients you can't live without? Let me know in the comments below.
Click the pic below to grab the free grocery list + resource guide.

Pin it for later!