Horn of the Moon Corn Chowder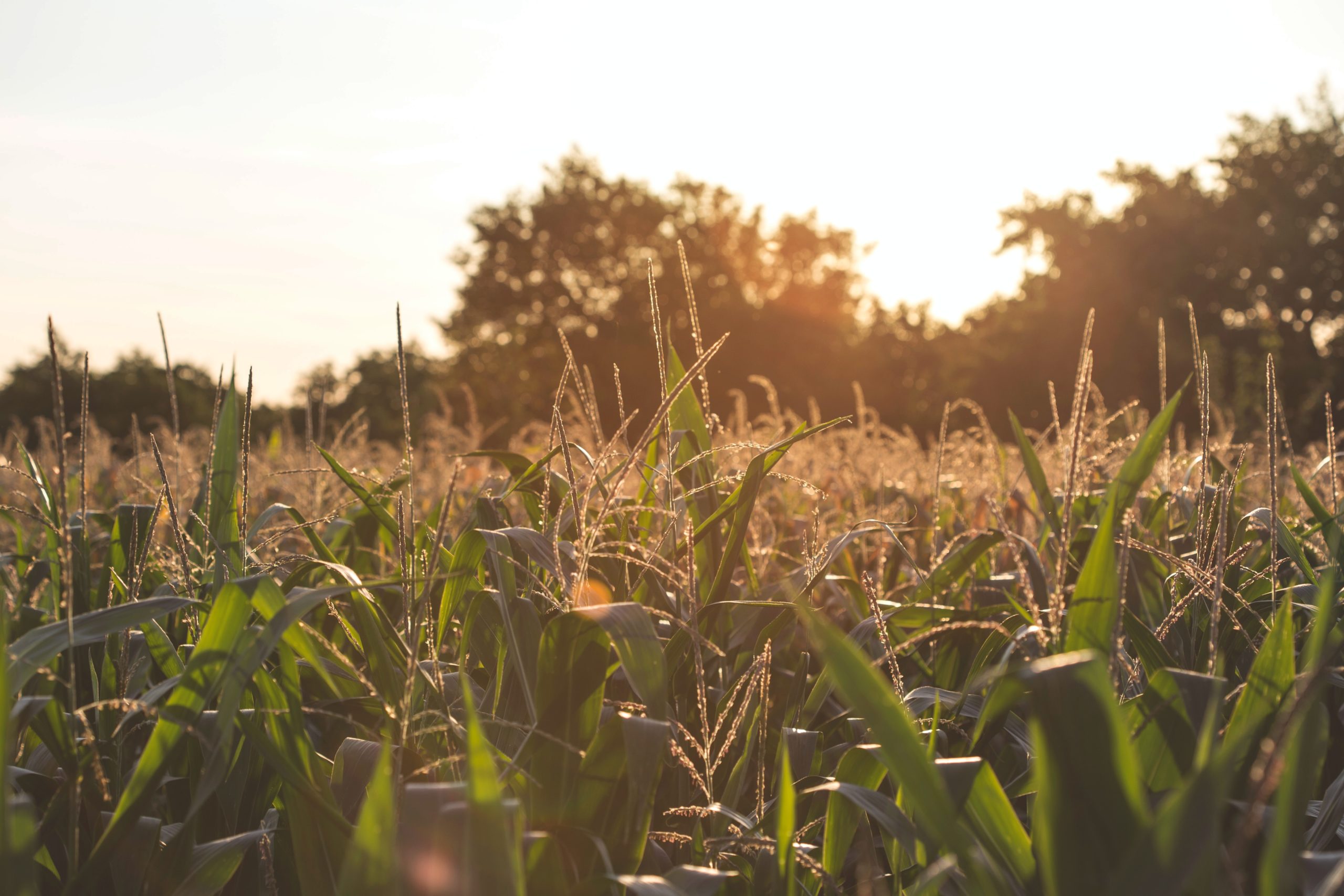 Horn of the Moon Corn Chowder
It is the end of September and it's so strange to say this.
I just saw corn for the first time this year. Seems like the world is coming to an end! I grew up in the midwest, and I'm pretty sure I've not gone a summer without fresh corn on the cob EVER in my whole life. Until this summer.
We've noticed that all around us are fields of corn, but we can't find any fresh anywhere! I finally asked and discovered the corn is grown for polenta in this part of Italy.
I had all but given up on finding fresh corn in Milan and then my friend Kim texted me to tell me she found corn on the cob at Esselunga, a grocery store I had yet to find near me.
Finally, I found an Esselunga about 20 minutes from my house, and went to get my prized sweet corn. I didn't care- I would have driven around the city twice to get my hands on some! Seriously.
It was very pricey- over 2 euros for each package of 2, but I splurged and got 4 packages- so each person could have 2 whole ears to themselves. Desperate times call for desperate measures!
We ate our corn slowly, enjoying every bite. Just a simple roasted ear with a little butter and salt. (This is my favorite way to eat corn. But we decided to be purists since it's rare to find.)
A few days later I decided to go back and see if they had more. They did, so I bought 10 more ears. Decadent!
We each had an ear of corn that night and I asked everyone what I should do with the other ears. We decided on our favorite Corn Chowder. With fresh corn it would be so delicious!
This soup is a staple at our house all year around. Its quick, easy and we can make it with frozen corn if we don't have fresh. But since there is no frozen corn in Italy that I have found (only the gross canned kind,) it seemed the perfect treat to make this chowder with fresh corn.
It was worth every euro.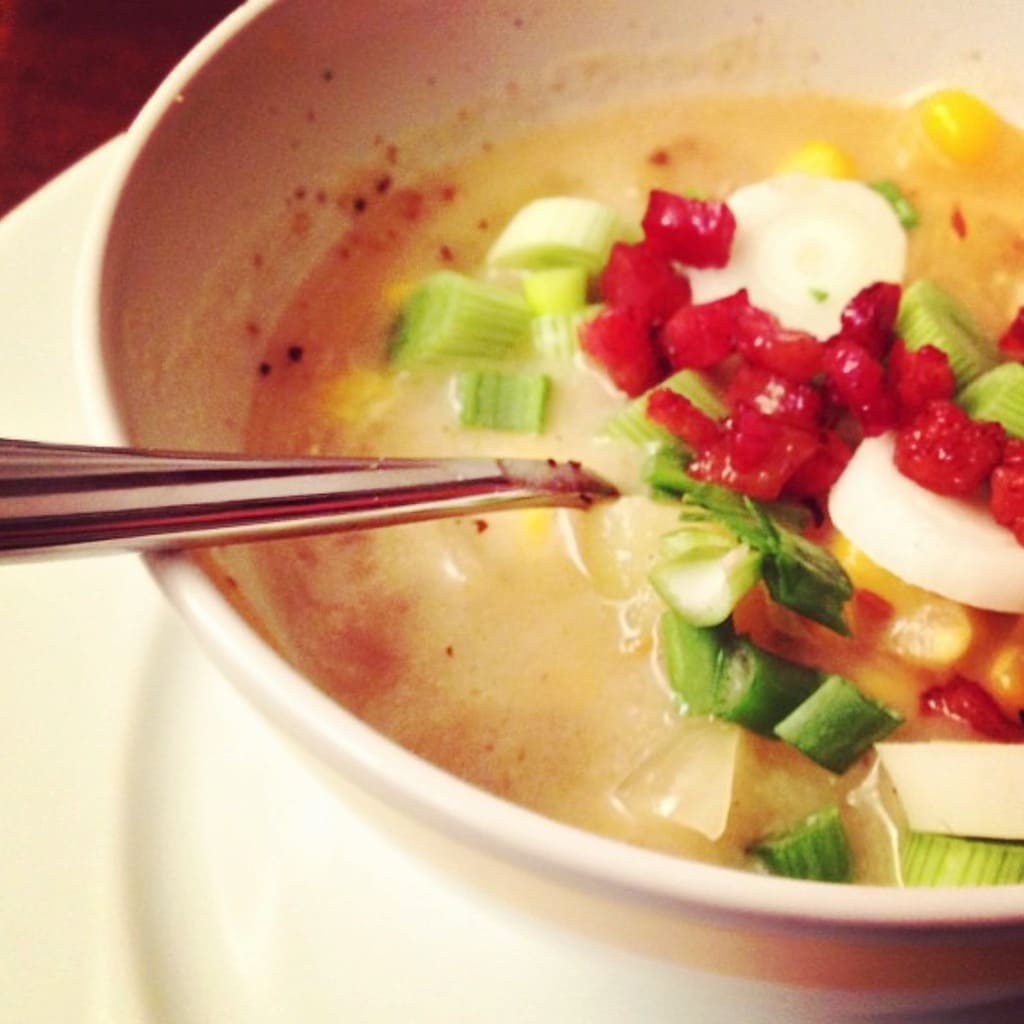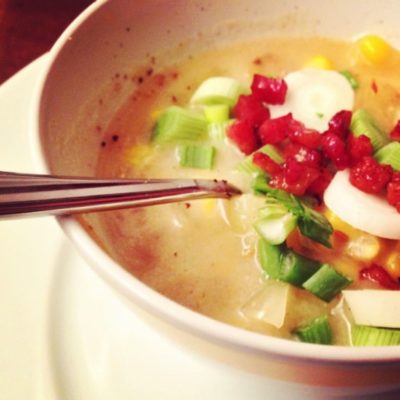 Horn of the Moon Corn Chowder
A family favorite, adapted from Horn of the Moon Cookbook by Ginny Callen.
Ingredients
6

Potatoes

diced

8

cups

Vegetable broth

2

Bay Leaves

2

Onions

diced

4

T

Butter

2

T

Cumin seed

3

cups

Corn

fresh or frozen

2

cups

Milk

or Half and Half

2

T

Flour

Salt and Pepper to taste

Italian flat leaf parsley

chopped
Instructions
Melt butter in a large dutch oven or soup pot. Add onion and cumin seed and saute until fragrant and nicely browned.

Add potatoes, stock and bay leaves- bring to a low boil, then lower heat and simmer for approximately 20 minutes.

Add corn, continue to simmer.

Mix flour with cream or milk, then slowly add to soup, stirring constantly.

Season with salt and pepper to taste, add chopped parsley.

Spoon into bowls and top with your choice of toppings.
Notes
Optional Toppings: Crispy diced pancetta or bacon
Sliced green onions
Shredded sharp cheddar cheese
I just realized I've been making this recipe for 20 years! I found the original recipe in a cookbook called Horn of the Moon– one of my very favorite vegetarian cookbooks that I bought in 1994 when we lived in Colorado.
It is out of print now, I believe but you can still buy used copies. I highly recommend this book for the soup chapter alone- although there are many many great recipes inside.