Holiday Cheer! Spicy Stovetop Simmer
Oh my word you guys, it's that time of year!
My kids are rolling their eyes at me because Halloween has barely passed and I am already itching to listen to Christmas music and just spent over an hour the other day perusing the Christmas aisles at Target.  In my defense, this week we got snow in the mountains, and the foothills out my kitchen window are lightly dusted with white which makes it feel even more festive.
I am holding off on the whole Christmas thing, because I do honestly LOVE Thanksgiving and want to enjoy our first Thanksgiving back in our homeland complete with our traditions of a giant Turkey and sourdough stuffing and a morning snuggled up on the couch watching the Macy's Thanksgiving Parade.
However, just because it's not Christmas yet doesn't mean our kitchens cannot smell delicious, right? I love the house smelling like citrus and cinnamon and made my first batch of the year last week .
Now that the days are turning gray and cold here in Idaho, I'm obsessed with these fruit + spice concoctions. They are the perfect pick me up when you are doing chores around the house or even better, if you're curled up with a book and a cup of tea.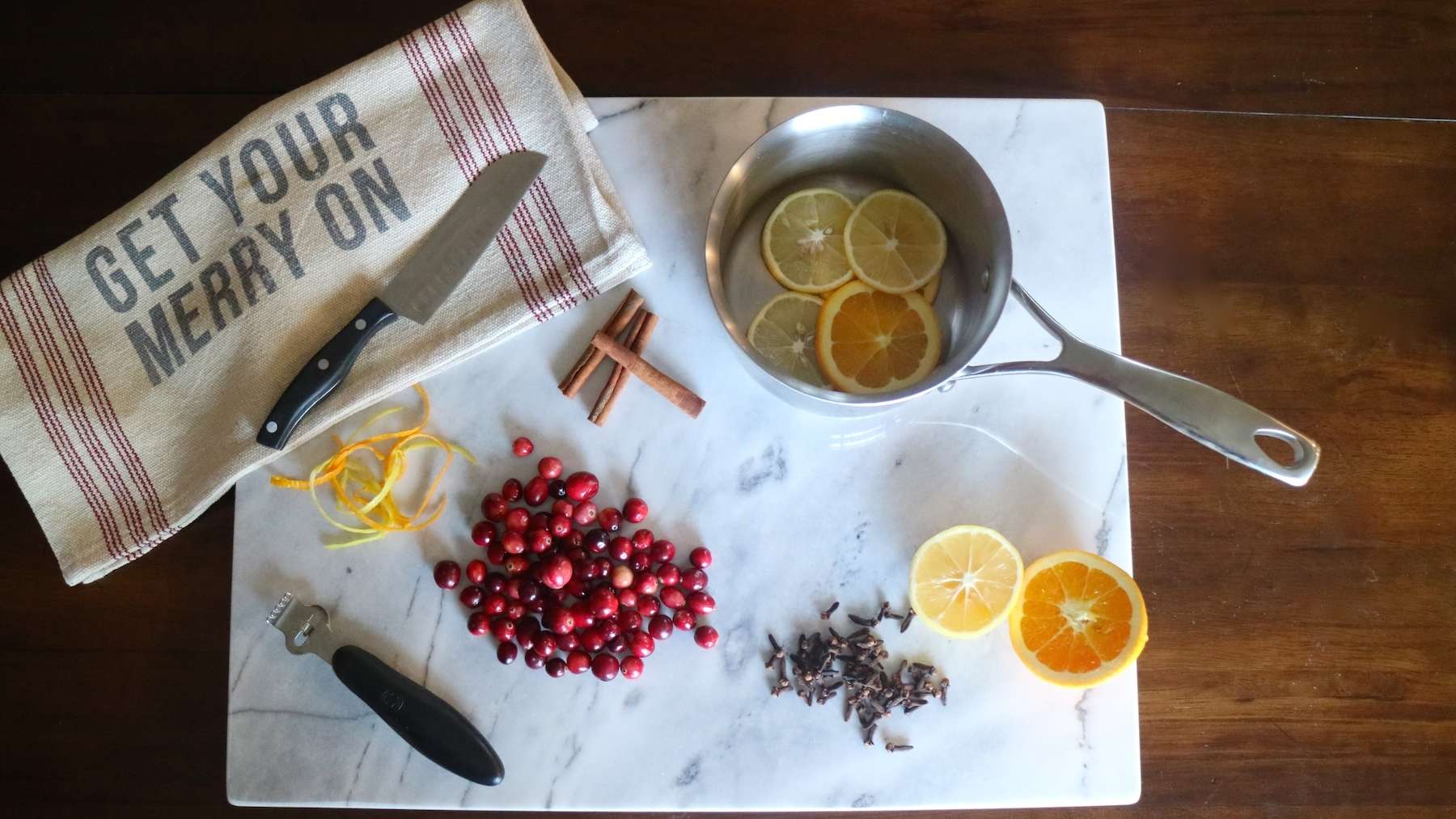 I blame the cranberries.
Every year around this time I see them pop up in the store and they are so beautiful & festive. I can't resist buying a few bags to put in my freezer to use in desserts, drinks and these simmer pots. They are especially tempting after living in Italy, where no cranberries were to be seen except maybe an overpriced can of jellied cranberries at my favorite international market in Milan.
We love mulled cider and mulled wine at our house in the winter and starting in October we often have a pot of that simmering away in a crock pot or pan on the stove for parties, which makes the house smell fab and is also tasty and festive to drink.
However, I also love to use some of those same mulled cider ingredients to just make the house smell good and since it's so cheap and easy, I keep them going all winter long. You can adjust the ingredients based on what you like but here are a few favorites of mine.
Holiday Cheer!  Spicy Stovetop Simmer
Orange + Lemon + Whole Cloves + Cinnamon Sticks + Cranberries
Orange + Apple + Fresh Rosemary + Star Anise + Cinnamon Sticks
Orange + Cranberries + Fresh Rosemary + Lemon
There is not even a need for a recipe- you slice the fruit, zest the peel if you like, and put it in a small sauce pan with enough water to cover, simmering over the lowest heat you can handle. Check often, and add more water as necessary. (You can re-use your concoction for several days, I usually throw mine out and start over after 2-3 days or so.)
Soon your house will smell like a cozy Christmas morning. I highly recommend it, whether your family thinks you're nuts or not!
Have fun experimenting, and let me know if you find some combinations you love!