10 Favorite Italian Souvenirs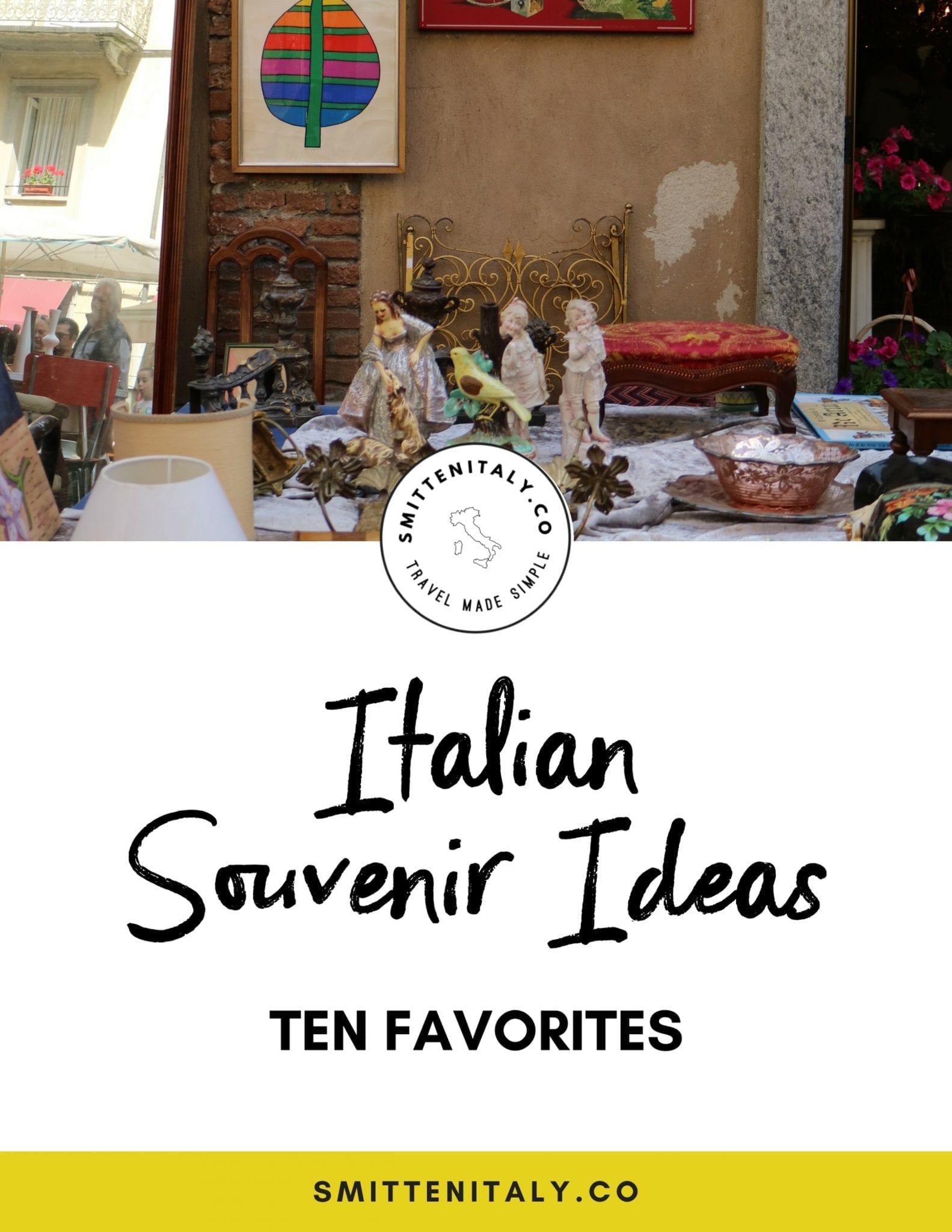 "Leave with only memories" is a popular saying. However, I am a big fan of the souvenir- something tangible to bring back from a trip with me. Not some cheap t-shirt, or a key chain, but something I can see on my bookshelf, or can use in my kitchen. Those are my favorites.
The best souvenirs are wonderful reminders of your travels, and a great conversation piece with your family and friends.
If you're like me, you might dream of hauling a 38 kilo wheel of parmigiano-reggiano home, but that isn't always practical! Today I am here with more practical and hopefully still fun ideas.
10 favorite souvenirs from Italy.
1 | Ceramics
Ceramics vary in price, quality and design from one end of Italy to the other. I always flock toward bright colors and patterns. Just having 1 nice piece to use at home will bring a smile to your face! Look for small family owned shops, and buy what you love!
2 | Wine
When we first started traveling to Italy we were learning so much about Italian wine and would base our purchases on a wine we tried at a restaurant and liked. The restaurants take their wine seriously- not in a snobby way, but in a this is important discussion way. They are happy to answer questions and tell you about the wines and tell you where you can find them for purchase.
You can legally take wine into the US, (in checked luggage) but it can vary depending on which airline you are flying- so check with them. We have a cool piece of luggage specifically made for winewe bought years ago. It holds an entire case, and can be checked in as luggage and has a styrofoam insert that holds it snugly and safely in place. These wine skins are great too- and we've used them in our suitcases with great results.
3 | Cookbooks
Cookbooks are always a good idea, is a recurring theme in my world. I've been collecting cookbooks since I was a teenager, and the more I travel, the more I want more, more, more! For me, this is my favorite souvenir of all time, what is better than a beautiful book + photos + new recipes to try? Perfetto.
4 | Local art
This would be something my husband and I always agree on. We have similar taste, and once we decide we are buying a painting, and agree on our budget, the hardest part is narrowing down the choices. You will find artists in cities all over Italy selling their beautiful creations on the streets and in Piazzas.
Again, go for what you can afford and what you love- I've made the mistake many times of thinking I might find something I love more later, only to regret not buying that very first one! You often cannot trace your steps and find them again.
It's a recurring theme in Italy- if you love it, BUY IT RIGHT THEN, you might not find it later! 
5 | Children's books (in Italian)
Apparently I'm becoming quite the collector. cookbook collector, map collector and now this! I have started a collection of children's books from our travels, and I adore them. They are like having a little quirky art collection in book form. The more colorful the better! You can find great children's books at train stations, in museum gift shops, or local book stores.
6 | Italian playing cards
I first bought Italian playing cards for my husband for a stocking stuffer one year. Then the more we traveled and had more people to buy for I realized how genius this is! We have so many friends who we want to take something home to but don't have a huge budget or a huge suitcase to take all the things in Italy back with us- playing cards are reasonably priced, small and such a fun gift for the game loving friends in your life. You can find them in Tabacchi shops, also grocery stores and bookshops sometimes carry them too.
7 | Jewelry
My first trip to Italy I bought some little lime green glass earrings at a street market and they are still a favorite of mine. I think they only cost 3 euro, and now my daughter steals them… Jewelry is abundant in Italy- both the street market kind, and the more expensive name brand kind. Shop for what you like and can afford and enjoy an easy to pack souvenir to return home with and jazz up your wardrobe.
8| Food (spices, jam, olive oil, pasta)
Food can be tricky to travel with, but if you follow the customs/airline rules you can still return home with some culinary treasures. Look for sturdy dried pasta that you can't find at home, olive oil & jam in leak-proof sturdy bottles, and small bags or containers of spices. I love to shop the grocery store for these items. The candy aisle at the grocery store is great for small souvenirs as well, our first trip to Italy I bought small candies (with Italian labels) for my kids and all their friends. Just a little treat, but one they loved!
9 | Antiques (Old Coins, kitchen items, maps)
Antique & Flea Markets are so much fun! You can find listings online like this one of the regular dates across cities in Italy. Many times, things are overpriced so feel free to brush up on your haggling skills, it doesn't hurt to try! I love looking for old coins (for Ben) jewelry (for Abby) and kitchen items & old maps for myself. You never know what you will find!
10 | Scarves/ Linens
Scarves & Table linens are lightweight and reasonably priced gifts for friends at home. Please note that you need to check the label if you want to make sure you are buying an Italian product. Many of the scarves sold on the streets of Florence & Rome for example, are made in Pakistan or India. Excellent quality Italian made scarves and linens are worth seeking out in small family owned shops.
What do you like to shop for when you travel?
Do you make a list of gifts to buy for friends & family at home? Or do you just wing it and get whatever catches your eye?  Grab the workbook and start making your own shopping plan now!
What's on your list? Spill the beans, friend!
-Heather
PIN IT FOR LATER!