When we moved to Milan in 2013, it was an exciting and overwhelming time.
I don't know what I would have done without some connections & recommendations I received from current expats- and the best way I can think of for paying it forward has been to share things here with you.
Here is a list of things that have worked for us, and places I especially love that have made living life abroad a bit easier.
(Scroll to the bottom for the map that goes with this post)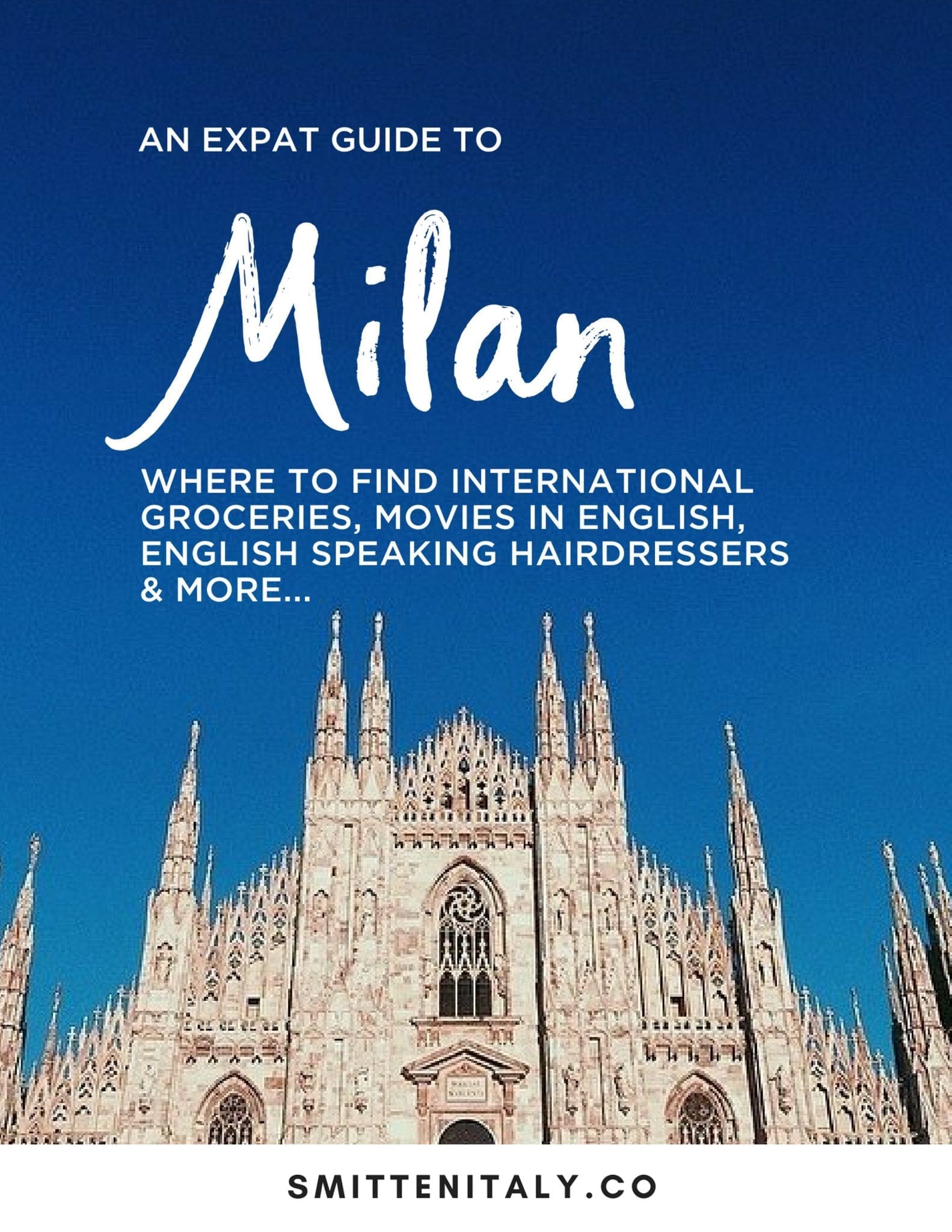 INTERNATIONAL FOOD:
Food is delicious and plentiful in Milan, but it can be tricky to find special ingredients to make international dishes, such as Asian food or Tex-Mex. Here are my favorite spots to find these elusive ingredients.
Kathay is a beautiful store in Chinatown with international foods from all over the globe including hard to find American, British, and Asian products. You will find an excellent selection of spices, tofu, wasabi, and organic foods, as well as wines, whiskey, beer, sake, spirits, and non- alcoholic beverages. They also sell gorgeous gifts, tea sets, dishes, kitchen tools, cookbooks and more.
Address: via Canonica 54, 20154 Milan
Hours: Mon – Sat: 9:30 – 19:30 Sunday: 10:30 – 19:00  (check before visiting as hours can change without notice)
Super Polo is a small chain of stores with several locations in Milan. They specialize in organic and international food. The location at Largo la Foppa is just steps from the Moscova metro stop. The location on Viale Coni Zugna is very near S. Agostino metro stop on the green line, as well as Bluette (my hairdresser)
Many locations throughout the city & surrounding areas. Esselunga has many items that were hard to find at the main grocery stores. They have a better selection than most of tex-mex ingredients, some asian ingredients, some familiar American items and the elusive sour cream!
Chinatown
Chinatown (Via Poalo Sarpi street and area near Moscova / Garibaldi / Sempione) has a ton of Asian grocery stores, many of which carry products from other countries like India, the Philippines, Thailand and USA. Several favorites like Hu Foods in The Oriental Mall have a great selection of spices, fresh items like lemongrass and lime leaves and many packaged noodle options for thai and vietnamese dishes.
Beauty:
If you've been on this crazy journey with me the last few years, you know I struggled with getting my hair done here. It's such a small thing, but really a BIG thing- to be able to get your hair done and communicate with these lovely hair experts! Everything changed when I discovered Bluette.
It is a family owned Aveda hair salon, with a warm and friendly atmosphere. Leonardo, his father and sister run the Bluette Salon and speak English, which immediately put me at ease. Although I can speak some Italian and understand it- I found at other salons that had "English speaking" staff, there was something always lost in translation. Not so at Bluette. I have been thrilled with all that they've done for me each time, and love the atmosphere and familiar Aveda products.
Bluette offers an array of professional hair care services, including coloring, styling, cutting, and treatments. Other services offered by the salon include Aveda waxing, Aveda pedicures and manicures, professional makeup and more.
Address : Viale Coni Zugna, 58, Milano MI, Italy, Milan (S. Agostino Metro Stop)
Phone +39-028358102
Email: info@bluettemilano1966.com
Cinema:
Sometimes you just want to see a movie in English! Original language movies on Mondays at the Anteo location, Thursdays at Cinema Mexico. Pair your movie date at Anteo with a trip across the street to Milano's Grand Eataly store for lunch or shopping after.
Anteo Spazio Cinema is a popular movie theater in the center of Milan. It has four theater rooms, a small library and a bar, where you can enjoy simple appetizers or quick meals before or after a movie.
Tip: original language movie projections on Mondays.
Address: Via Milazzo, 9, 20121 Milano, Italy, Milan (Moscova or Garibaldi Metro Stop)
Cinema Mexico is a movie theater with a diverse program: you can see arthouse films during the week, original language movies on Thursdays, and independent movies on Mondays.
Address: Via Savona, 57, 20144 Milano, Italy, Milan (Porta Genova Metro Stop)
Favorites:
This is the first art gallery I visited in Milan, and a must visit for anyone who wants to learn more about Northern Italian art. The collection includes works by artists including Raphael, Tintoretto, Titian, Rubens, Bellini and Carpaccio.
The gallery is on the first floor of the Palazzo di Brera. The artsy neighborhood is a great place to explore or have a drink or a meal before or after your visit.
Address: Via Brera 28, 20121 Milan
Hours: 8:30 AM to 9:15 PM daily (check before visiting as hours can change without notice)
Taglio is my new favorite place in the Navigli district.
This beautiful space includes a bar, café, restaurant and gourmet grocery. This is a great place to meet friends for coffee, brunch, lunch, or cocktails. The open shelving around the dining room is filled with gourmet goodies for sale, as well as charming kitchen gear. When the weather is nice, they have outdoor seating as well.
Address: Via Vigevano 10, 20144 Milan, Italy, Milan
Lunch with the locals. A new find in the center of Milan, just a stone's throw from the Duomo. Friendly staff and excellent menu, everything I've had here has been delicious.
Paper Moon is a family owned restaurant with locations in Italy,Turkey & Qatar. Enrica Del Rosso and her daughter Stefania still run the original restaurant in Milan today. They serve Italian favorites like gnocchi, pappardelle, risotto, and seafood and have excellent lunch specials.
Address: Via Bagutta, 1, 20121 Milano, Italy, Milan
I LOVE this store. It is surprisingly huge, (2,000 square meters) a maze of floors and rooms full of beautiful things for your home. You can find everything you need here from gifts, art and candles to kitchen utensils and bedding.
Address: P.zza XXV Aprile 12, Milan (right next to Eataly)
My very first time in Milan I stumbled upon the Caffé Letterario inside Piccolo Teatro, an oasis of calm in the center of the city.
It is a cozy café in the courtyard of Palazzo Carmangnola, just off the busy via Dante. Stop for a coffee or a cocktail and make sure to take a browse through the adjacent bookshop while you are there.
I keep coming back again and again to relax with a coffee or enjoy their fantastic evening Aperitivo. 14 euro gets you a cocktail or mocktail and access to their delicious (and huge) buffet from 18:00-21:00.