Eating Italy: 37 Insider Travel Tips for Food Lovers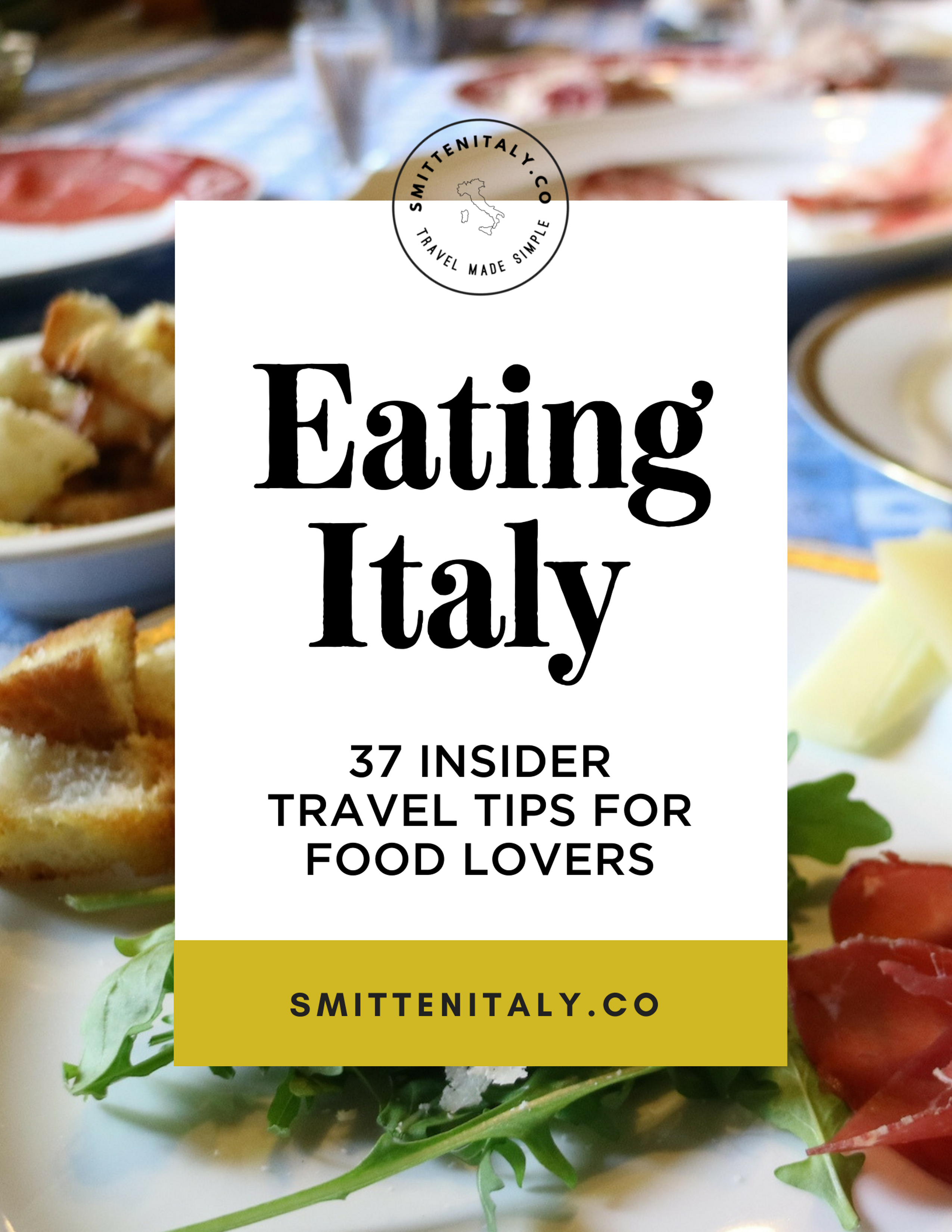 There's nothing like the food & wine of Italy, but prep work is essential for an excellent culinary adventure! Here are my best eating Italy travel tips for fitting in & enjoying every bite during your travels.
(don't miss the free guide to download and use on your trip)
To Begin….
With 20 diverse regions and thousands of towns & villages- you realize quickly there's no such thing as "Italian food", Find out what the regional specialties are where you are visiting & order them.
Many foods are only in season a short time- make sure to try the seasonal dishes wherever you are. (example: one of my favorite things- this freshly shaved artichoke salad with Parmigiano-Reggiano.)
Take a food tour for great local tips & an overview of the city and food culture. (great to do on your first day as you are acclimating- you'll use those tips during your entire stay)
Read local food blogs: Food writers have the inside scoop & great recommendations. (Here are 5 favorites)
Take a cooking class, learning hands on about the cuisine from a local.
Carry a reusable bottle with you when you are out and about- fountains are everywhere and water is free and excellent quality.
The (Coffee) Bar…
In Italy "The Bar" is the hub of life. Coffee, pastries, snacks, & drinks can be found here.
Become a regular by visiting the same coffee bar every morning.
Order & drink your caffé at the bar like the locals. (It's cheaper- you'll pay extra for table service)
When ordering at a bar (or gelateria,) often you pay before you order. Know what you want before you get up to the counter! Give them your order and pay. They will give you a small receipt.
After paying, take the small receipt and present it to the person behind the bar. It might be crowded, but don't wait for the crowd to die down. If you can find an opening, place your arm and ticket up on the bar and hold it there until someone behind the bar takes it. (If you are not sure, watch what others do)
Food Shopping…
Shop for edible souvenirs at the neighborhood grocery or market.
Visit a neighborhood market & buy picnic supplies. Picnic in a park or on your terrace!
Aperitivo…
Allow time in your schedule for Aperitivo Hour, usually from around 7pm-9pm, before dinner. For the price of a glass of wine or cocktail, (non-alcoholic drinks also available nearly everywhere) you will be served a plate of finger foods.  (Sometimes even a buffet is available depending on where you are.)
Aperitivo is a great solution for jet-lagged travelers, or families with small children who don't want to eat at 10pm.
Pizza…
Don't panic-Everyone orders their own, and it's ok!  They are thin and simple and have the best fresh ingredients. They usually come uncut and you eat it with a fork and knife.
Often Wood fired pizza is usually only made at night, especially in smaller towns.
Pizza al taglio: a great way to try several different kinds. Cut to order and weighed before you pay.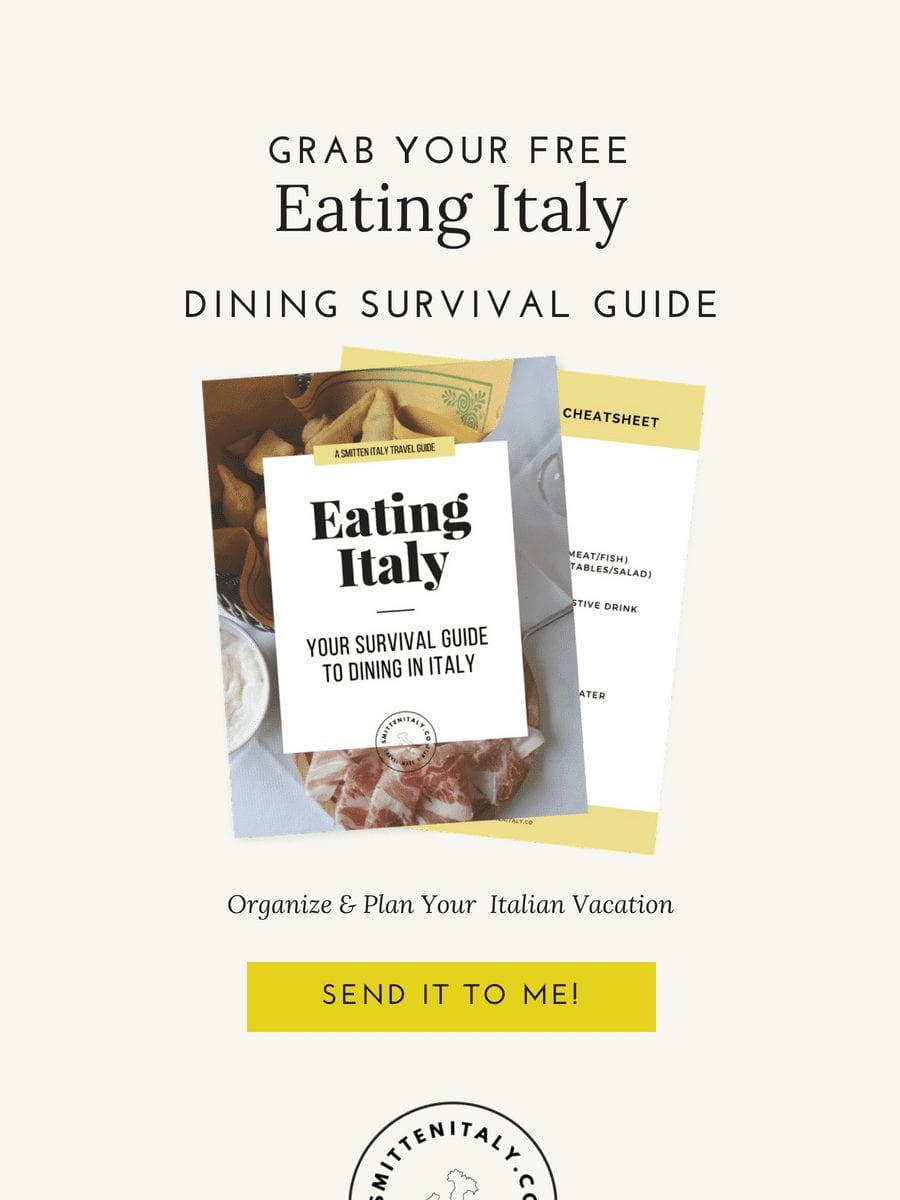 Restaurant Tips…
Reservations are always a good idea. (lunch & dinner)
Eat when the locals eat. (it's more fun when the place is lively & crowded and restaurants close in the middle of the day. Plan accordingly)
The best restaurants don't use ploys to get you in the door.
Avoid restaurants near popular tourist sites, those with giant laminated menu boards, many languages or photos of their food.
Many of the best restaurants look plain outside-don't judge!
The house wine (vino della casa) is always good & inexpensive.
In Italy, you pay for water at restaurants. Two words to know when ordering- naturale (still) or frizzante (sparkling)
Many restaurants offer a Piatto del Giorno (plate of the day) or small set menu offered at lunch time for a very good price. (example: choice of primo or secondo with a glass of wine, water and espresso for 10 euro)
Eat slowly and enjoy! Usually, you have the table for the entire night and you are encouraged to enjoy your food & dinner companions.
After Dinner…
Drink espresso after your meal. (not with your dessert)
After dinner drinks such as limoncello are to be sipped – they are strong and served in a small shot looking glass, but not meant to be done as a shot. (Americans I'm talking to you!)
Ask for the check when you are finished. Your waiter will give you your space and not bring to you until you ask.
A "Coperto" is similar to a cover charge. It is non-negotiable. Expect to pay this when you sit in a bar instead of stand, or at any sit-down restaurant. Prices vary depending on location. (another reason to avoid restaurants near tourist attractions.)
Tips are not expected but must be paid in cash if you wish to leave one. Leave only a little, I usually round the bill up.
My Favorites…
Sunday lunch. Don't miss it! You'll enjoy a centuries-old tradition, most likely surrounded by Italian families.
Pick a dish & try it everywhere you go, comparing every cook's variation.
Ask your waiter what his favorite dish is and order it.
And Finally, make your first-night dinner plans before you arrive. You (and your raging jet lag) will be so glad you did!
Pin it for later