Cremona | Favorite Day Trips from Milan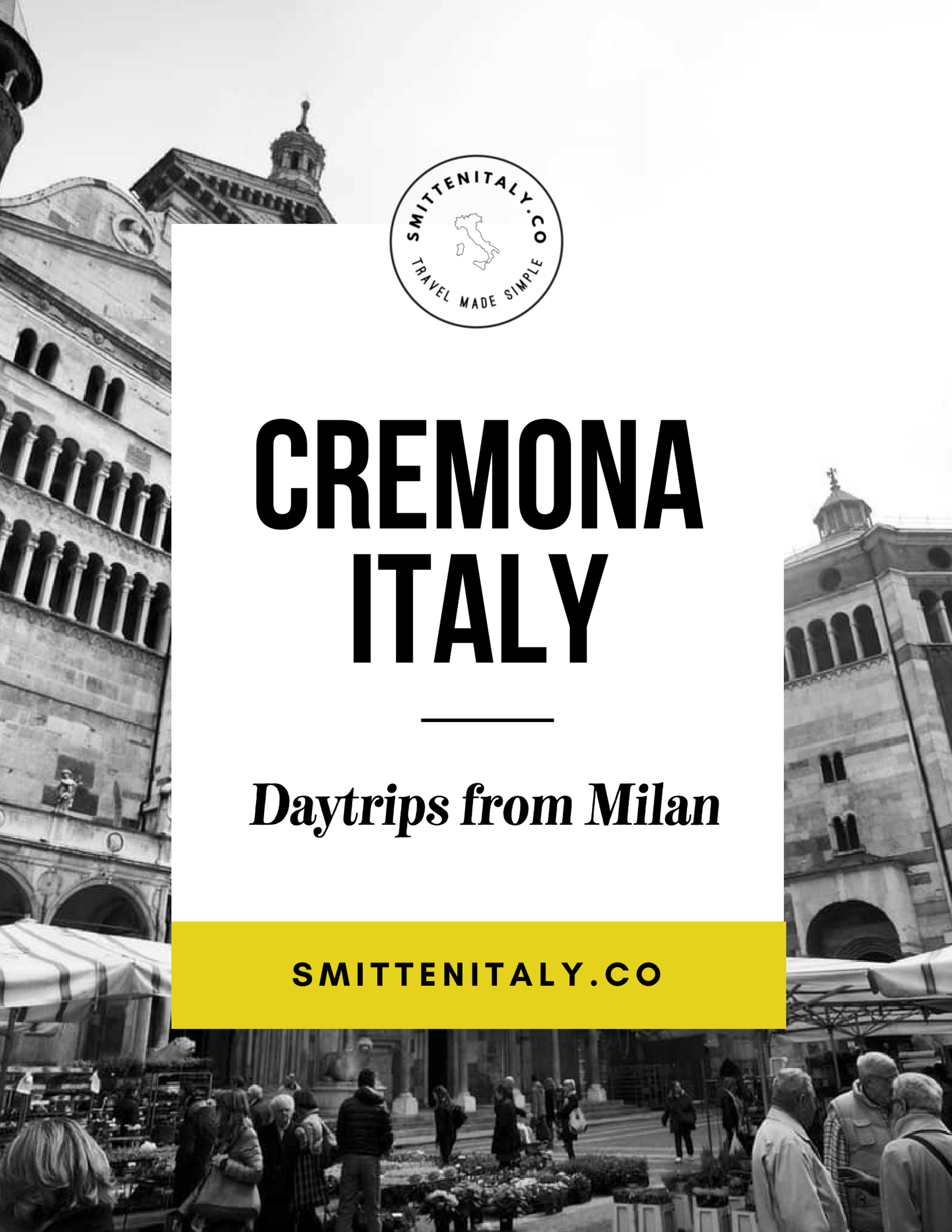 Cremona.
Have you heard of it? It is a lovely town near the Po river in southern Lombardy on the border of Emilia-Romagna. It is a must visit place for anyone interested in the violin or other stringed instruments. Cremona's fame is connected to the Stradivari family, namely Antonio Stradivari for whom the Stradivarius stringed instruments are named.
Known as "the city of violins"- Cremona's rich history of stringed instrument making started in the mid 1500's when Andrea Amati made the prototype of what would become the modern violin. Antonio Stradivari and Giuseppe Guarneri were the pupils of Amati's grandson years later, becoming 2 of the most famous and skilled luthiers. (stringed instrument makers)
As a family of musicians, we are drawn to anything and everything musical. And since we have had a violinist in the family for over 10 years now, (our daughter Abigail) we immediately were drawn and enamored to the idea of visiting Cremona and seeing these prized violins firsthand and learning more about the history of the Stradivari family.
We visited Cremona twice during our time in Italy- once with friends who were visiting us America and the second time with Abigail and my college roommate visiting from Texas. We loved the Museo del Violino (Stringed Instrument Museum) so much that we didn't even mind going the second time.
Abby has been playing the violin since she was 5, and was pretty hopeful we would buy her a new instrument or even a new bow while in Cremona, but this type of craftsmanship and history comes with a steep price tag. Maybe someday…
She loved the experience, even though she only went home with a violin poster for her wall. 😉
Museo del Violino, Cremona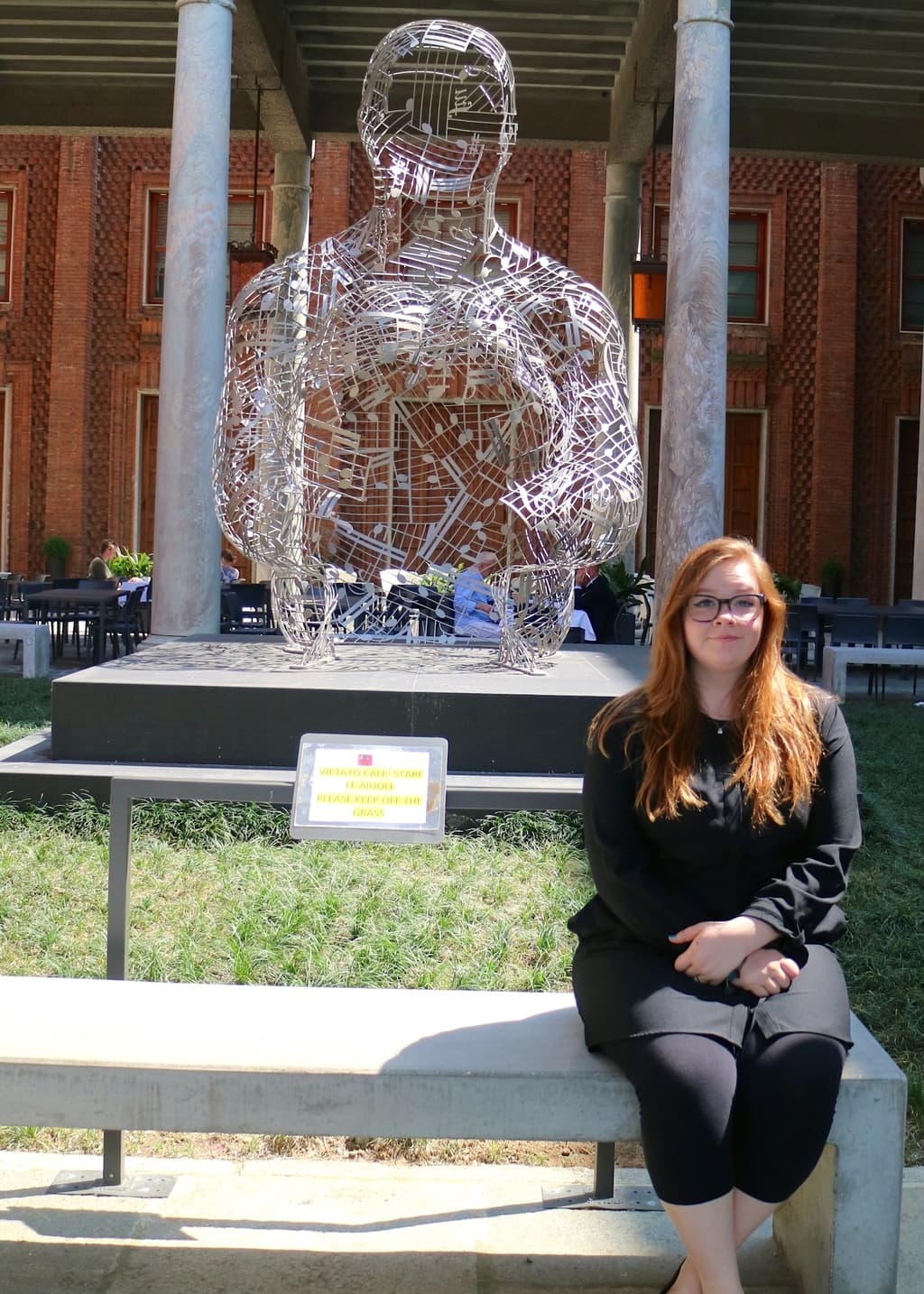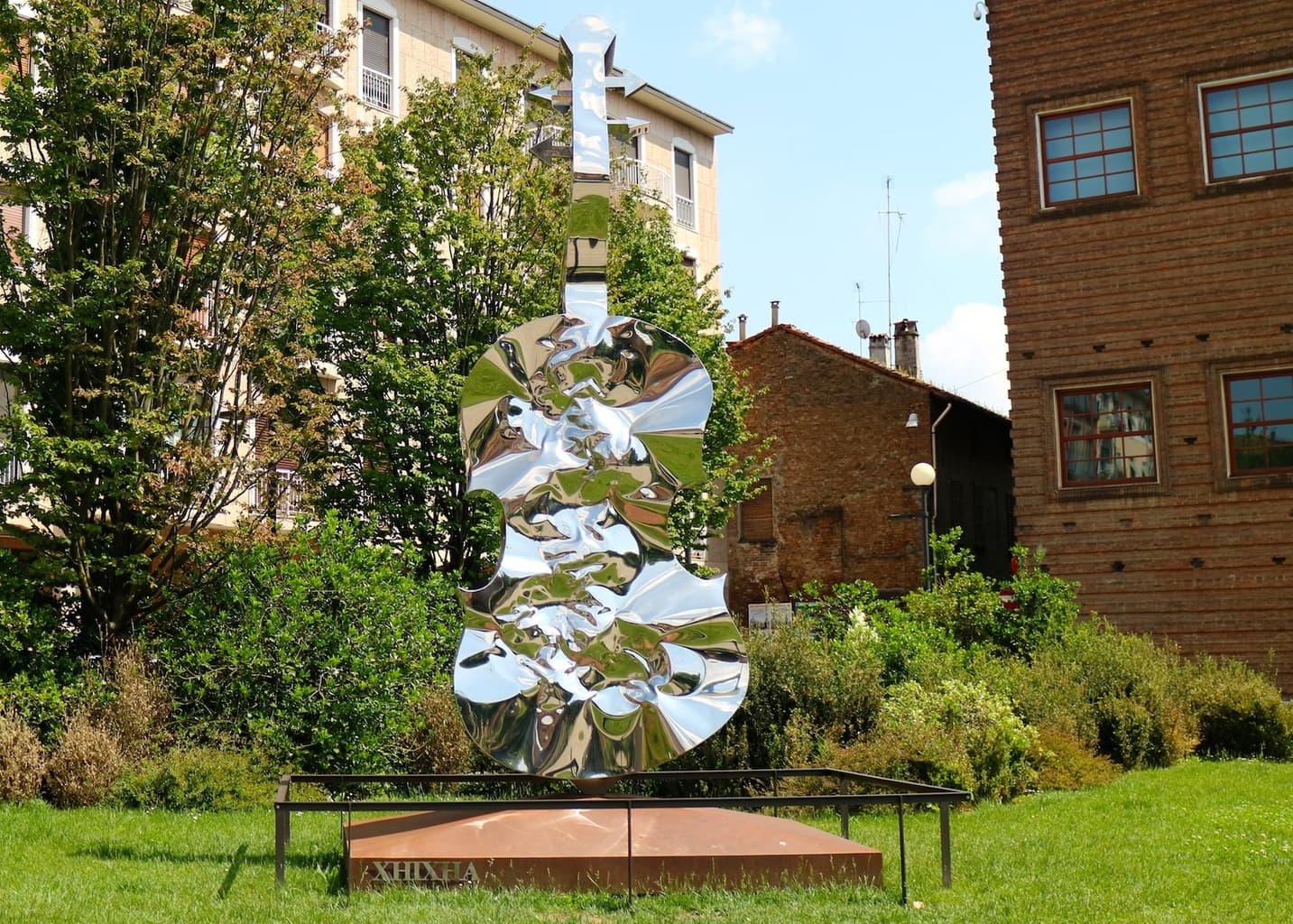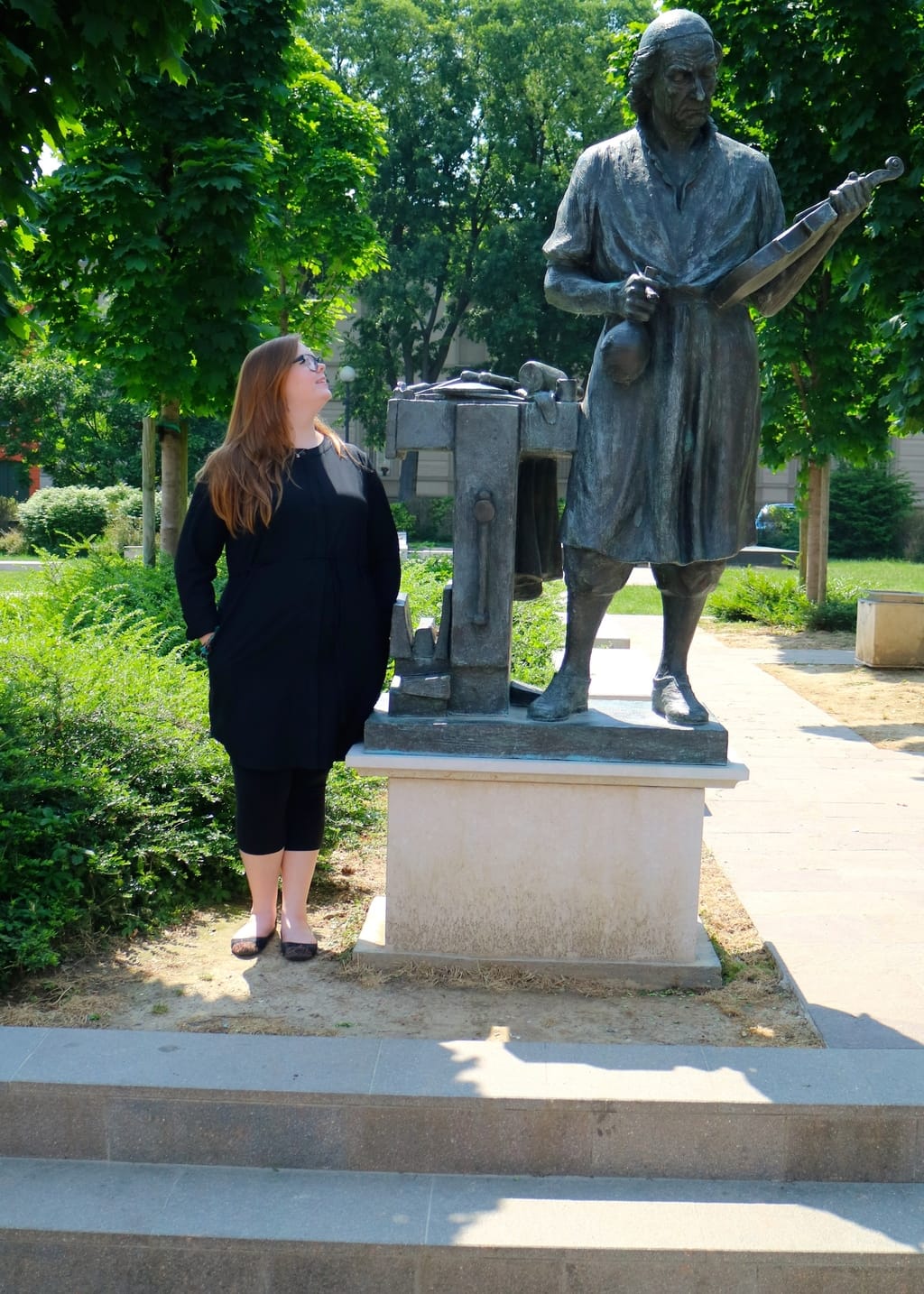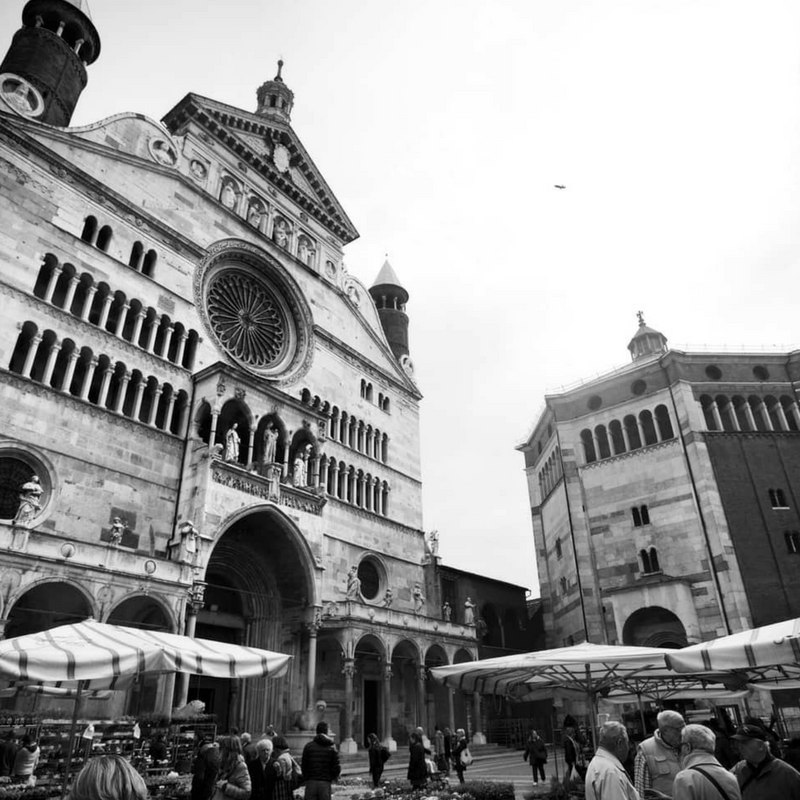 Things I loved about Cremona…
Like many Italian towns, life in Cremona centers around the main Piazza, Piazza Comune.  Here you will find the Cathedral, baptistry, monthly markets in the square and plenty of café seating to watch the people, soak up some sunshine and the world go by.
Just a few blocks away from Piazza Comune, sits Negozio Sperlari. It has been here since 1836, selling tasty and unique typical products of Cremona. Try the torrone, (a typical sweet) or mostarda, (a relish made of fruit and mustard, usually served with boiled meats) both specialties of this town.
This is a great place to practice your Italian and try to learn about the food of this area, or pick up something to take home for a gift.
As you walk the streets of Cremona, you will find charming violin shops, tiny winding streets, and many families out walking or riding their bikes. We loved visiting one weekend during the weekly food market where there were cheeses, meats, plants, flowers and all kinds of daily necessities for sale.
We returned another month for the monthly antique market and found that to be another great day of exploring.
Cremona Logistics:
Travel time (from Milan):
Driving: Approximately 1.20 hr. if leaving from the center of Milan
Trains leave from Milano Centrale many times a day and take 1.06 hr. if you pick a direct train, cost approximately 7 eu each way.
Parking:
Easy underground parking garage next to the Museo del Violino at Parcheggio Piazza Marconi (see map below) Be careful that you  don't enter the ZTL when parking (limited traffic zone) or you will be fined. It's always smart to plan and plot out your route to parking in Italy so you don't get a surprise fine in the mail later. (It's happened to us early on in our time living in Italy- no fun at all!)
Eating:
We have not had a great meal yet in Cremona. I believe in my heart of hearts it is possible, but the places that had been recommended to me were closed both times we visited, and the places we tried were average at best. Sadly, I don't have great info at the moment on where to eat well.
The Museum does have a lovely café with indoor and outdoor seating for salads, sandwiches, coffee and snacks and is a great option if you are not looking for a local specialty trattoria type of meal.
Don't Miss:
Museo del Violino: A new state of the art museum dedicated to stringed instruments, in the heart of Cremona. Full priced tickets are currently 10 euros, and include an audio guide that you can use from room to room throughout the museum, which we loved. The Museum has a nice gift shop with books, posters and other small violin related items for sale. There are nice bathrooms and a great café with a dining room and outdoor patio. The museum also boasts a beautiful recital hall, and you can find the list of concerts and ticket prices on their website.
The monthly antiques market is held on the third Sunday of each month. (see details below) It has a flea market feel with some treasures to be found for sure! We found a small framed photo of the Milano Duomo from the 1800's that came home with us. I really wanted that beautiful map of Italy (see photo above) but it was quite pricey and I decided to leave it be- but it was hard! Such beautiful colors.
Visiting the Cathedral and baptistery
Take time to have a caffé under the loggia along Piazza Comune and people watch, especially great on market days.
Wandering the streets off the Piazza Comune and noticing the details of violin shops, quiet alleyways and sweet violin details everywhere you look.
Stradivari Festival:  Held every fall for several weeks in September and October, it's organized by the Museo del Violino. Details & dates can be found on their website.
Markets in Cremona:
Wednesday + Saturday:
Piazza Stradivari, Via Baldesio and Piazza Pace0 twice weekly food market for fresh fruit and vegetables and local produced cheese and oil, all morning. One of the oldest markets in Lombardy, dating back to the early 14th century.
Sunday:
Piazza Stradivari – European gourmet food market, 1st Sunday of each month. (excluding January, July and August)
Piazza Cavour and Piazza delle Erbe – Antiques market, 3rd Sunday of the month. (excluding July and August)
Piazza Stradivari – Organic food market, 4th Sunday of the month.
More Resources:
Video by the Museo del Violino, showing you all the things I couldn't share because photography is not allowed inside the museum!
Have you been to Cremona? What did I miss? Would love to hear all about it if you go…
Explore more of our favorite day trips from Milan here.