Bringing Italy Home. (simple ideas to live "la dolce vita" at home)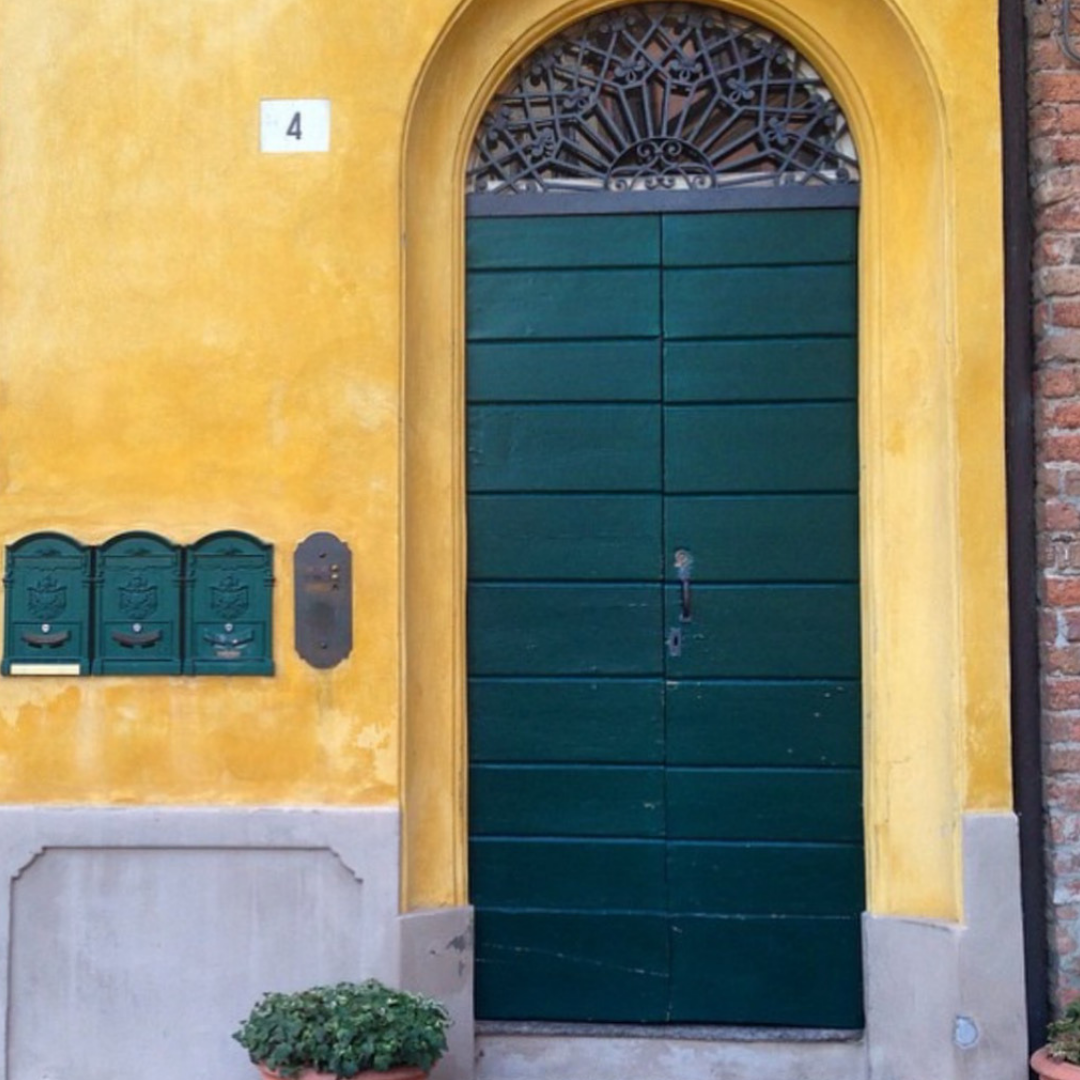 This post may contain affiliate links for your convenience. Read our disclosure policy here.
Bringing Italy Home. (simple ideas to try right now)
Imagine this:
You've just returned from Bella Italia and had THE. BEST. TIME.
Your days were filled with cafés, museums, art and people watching. You can't forget all the delicious food- the pizza, focaccia, risotto, cacio-e-pepe. You name it, and you tasted it.
As you unpack your suitcase, you can still imagine the scent of the pizzeria lingering in the air, and the cobblestones under your feet.
You can't believe your long awaited trip is over. You want to pretend to be Italian for just a few minutes longer. Or at least bring some Italy into your home and daily life.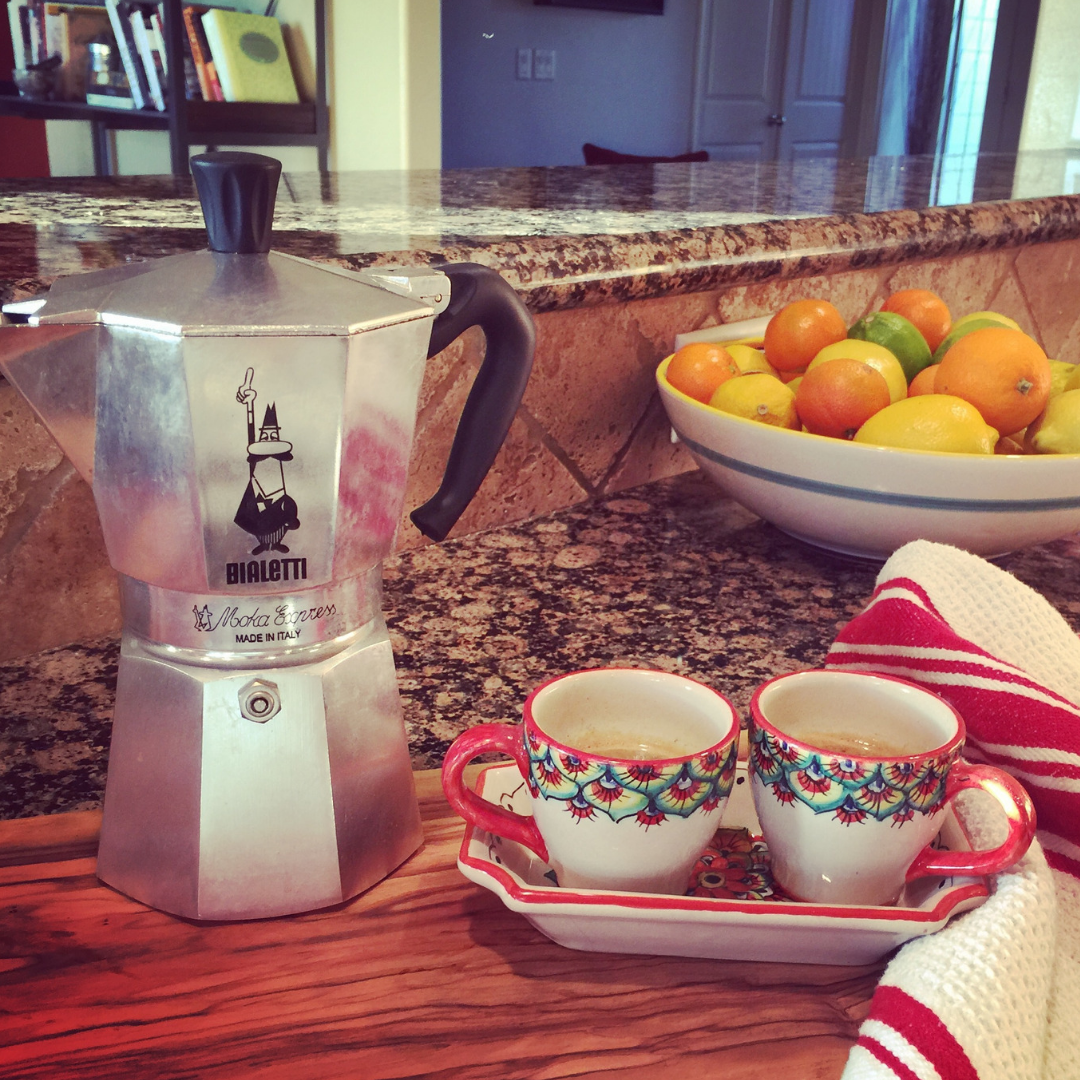 How to do that when you are thousands of miles from Italy?
Here are some simple ideas- little ways to bring that taste of Italy into your daily life once you are home. I won't lie, it's not the same (how could it be?) but I know how much doing all of these things keeps our passion for Italy alive- I hope it does yours too!

Bringing Italy Home.
(Simple ways to recover from your post-vacation blues)
1 | Stock your pantry with Italian goodies.
Having great ingredients to make an authentic Italian meal when the mood hits you is always a good idea. Whether you bring back an epic bottle of wine or olive oil, or you stock up at your favorite local shop or online store- get some good quality ingredients that you love and USE THEM! I have been known to stockpile delicious ingredients thinking they are too special for every day. Well, I've decided every day is special enough- so break out the good olive oil, balsamic vinegar, or that special bottle of wine. Now is the perfect time.
-> Read this post for my tips on creating your Italian pantry at home.
View this post on Instagram
2 | Start an aperitivo tradition at home.
This might be my favorite way of all to bring Italy home, and something we have done religiously since our very first trip to Italy. Don't stress! Make it simple, it's more about the time with others and pausing at the end of the day with a little snack and drink than stressing out over an elaborate spread.
In Italy, I've had aperitivo where you get a bowl of potato chips (or corn nuts- yes, really!) with your drink to a full blown apericena buffet so full of food you'll need to skip dinner and everything in between.
My favorite aperitivo is simple- a glass of prosecco or an Aperol spritz and something salty + crunchy, a few bites of a sharp cheese and olives.
Need ideas for how to start your own Aperitivo tradition?

-> Check out this book full of ideas
3 | Buy a new Italian cookbook. (or 5…)
Start a collection, or add to your current collection. (Better yet, bring a cookbook back with you from your trip) Find an author or food blogger you love and make their recipes. Drool over the photos, make a grocery list and get cooking! Create new memories by gathering all the people you love around the table with a taste of Italy.
-> This post has a few of my cookbook favorites

-> Find a complete list of my favorite Italian cookbooks here
4 | Relive memories through media.
If you love Italy you probably have a collection of favorite books + movies, or you can borrow from friends or your local library. Now is the time to re-watch and read your favorites again.
View this post on Instagram
5 | Use + enjoy your souvenirs.
Use your souvenir purchases to sprinkle some Italy magic throughout your home. I love to do this by hanging artwork, printing out photos from our trips, actually using the dishes and linens that I purchased in Italy. Again, having to remind myself that if I loved it enough to buy it, I should use it!
 -> Read our favorite tips + tricks for picking out delicious + memorable Italian souvenirs.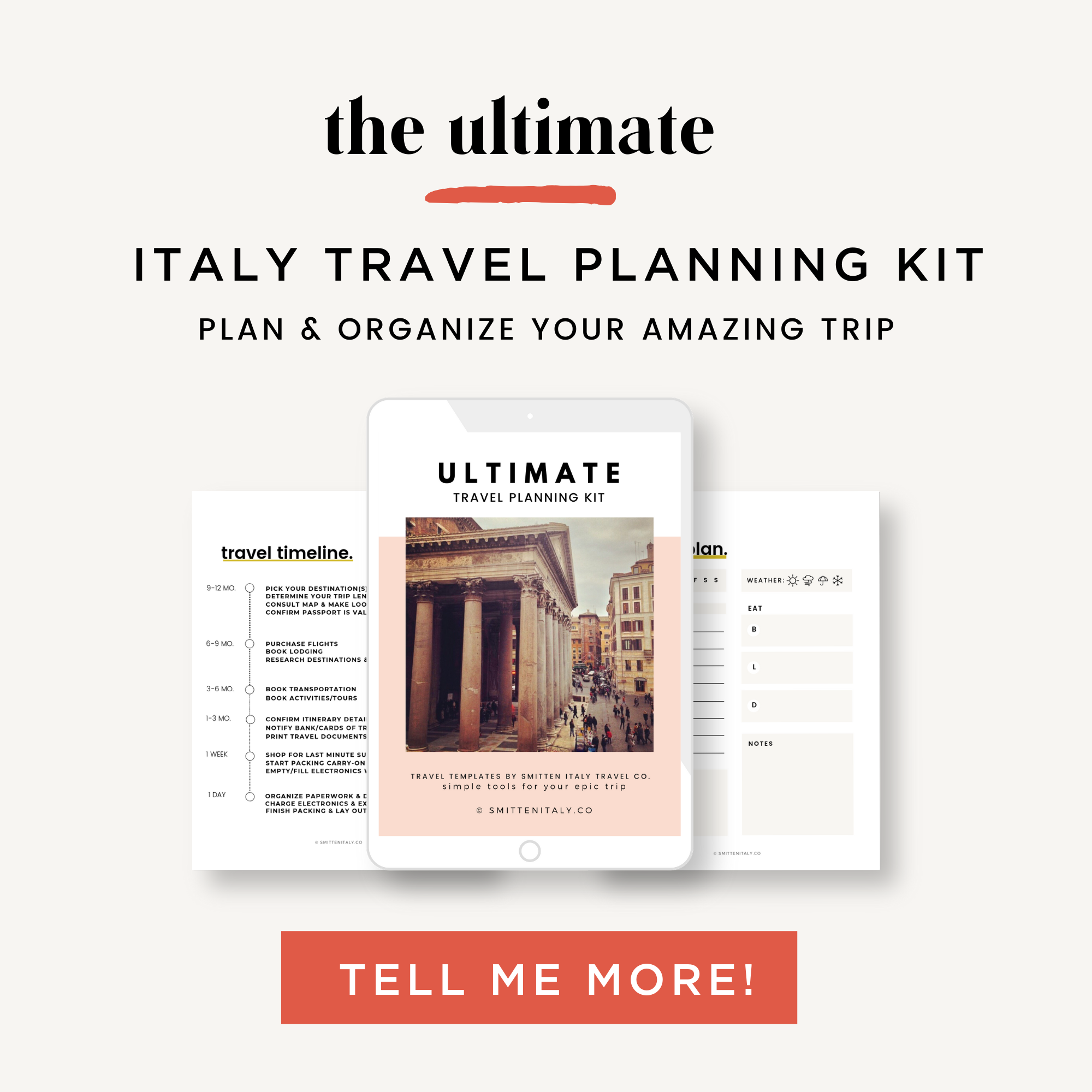 6 | Plan your next trip.
A definite side effect to traveling to Italy and then having to leave Italy, is dreaming of your next trip- often before you've even flown home. Think about what extras you could give up at home (expensive coffee, meals out etc) and start a little "I'm going back to Italy" vacation fund. Spend some time dreaming and planning what you'd like to return to see + do + eat.
Here are some ways I can help you plan your trip:

-> Grab our free One Perfect Day mad-libs to dream about your perfect day in Italy

-> Start planning with our Ultimate Italy Travel Planning Kit.
7 | Throw a Dinner Party.
Have a dinner party with friends and share all your favorite food + travel stories. (download our spring dinner party menu here) Make it as simple or decadent as you have time and energy for- I always adopt the Italian mindset of simple, rustic + seasonal. Keyword being rustic since you can call anything you mess up rustic and get away with it. 😉
-> To get you started, I've created a Pinterest board with Italian recipes organized by season.
8 | Print your photos!
In the age of digital media, it's so easy to keep everything on our phones or computers. I recommend making a book, or printing off some of your photos and framing them, for an instant dose of Italy in your home. Here are some of my favorite resources for making books & prints.
-> Artifact Uprising (beautiful books & prints)

-> Mixbook (make your own travel books)

9 | Smitten Italy Gifts & Goods
This little shop started from our passion for bringing bits of Italy into our daily lives when we can't actually be there, and I hope it does the same for you.
When I moved home from Italy I longed for something cute to wear or a mug to sip my coffee out of that proclaimed my fondness for all things Italian. I had a hard time finding what I liked, so I created some designs and started an online shop! Take a peek and see if something catches your eye.
-> Explore the shop:    Mugs  / Apparel / Tote Bags / Art Prints

-> Sign up to get coupons, get notified of new shop items, and get sales alerts.
What's your favorite way of bringing Italy home?

Comment below and use the hashtag #bringingitalyhome on social media so we can swap ideas! 
Pin it for later