Best Italy Gift Ideas for Kids

A gift guide to use all year around. Whether you have kids who love Italy, love to travel, you are planning a big trip or even a big move- here are some of our favorite things help you educate, entertain & dream…
These are the favorites our family has enjoyed and come back to again and again. We were Italophiles long before we moved there, so our collection has grown from the days of having young kids to now having teenagers. Many items on this list are things we own and have tested out over the past 10 years.
This page contains affiliate links.  However,  I would never recommend a product unless I absolutely love it. Thank you for supporting Smitten Italy- Grazie!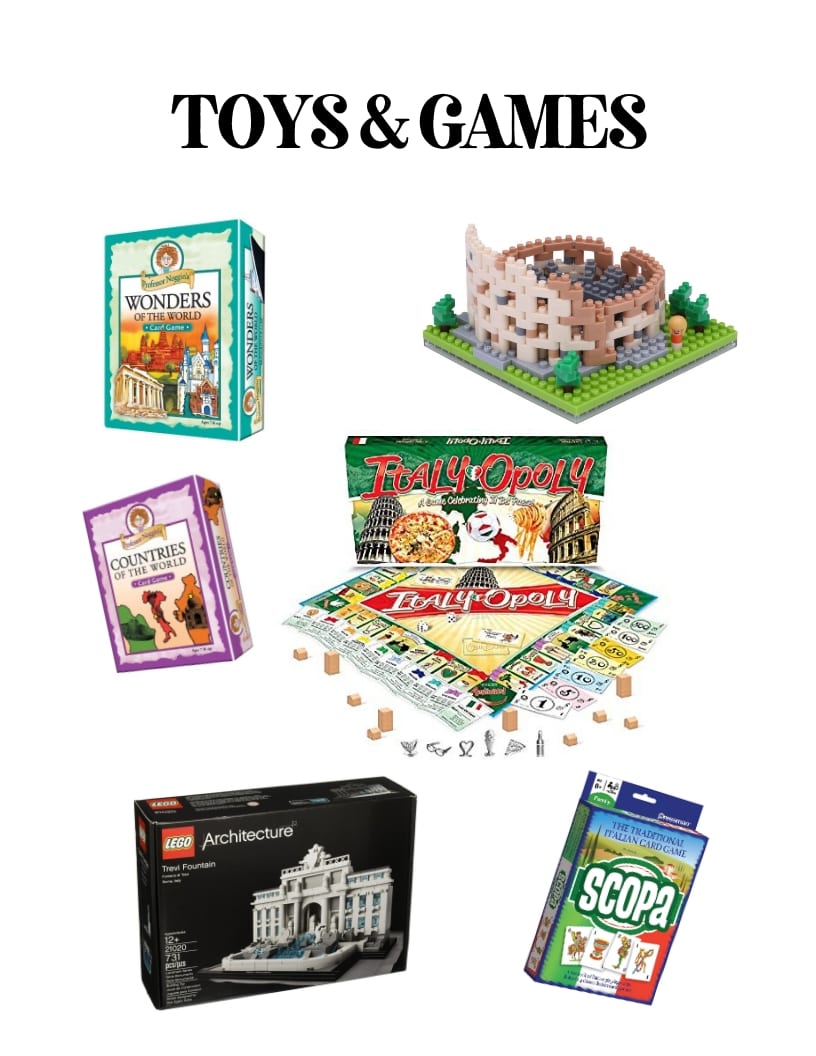 Professor Noggin Card Games:
We started playing these Professor Noggin games when our kids were about 4 & 6 years old. You can change how you play the game based on the age of your kids. We highly recommend them!
Ben has always been a lego guy, but these small nano block sets are a great alternative, and often cheaper than the Lego architecture sets.
Love monopoly? This is a silly, fun Italian themed version of the classic game, complete with gelato, wine bottle and pizza shaped tokens.
Lego sets of famous buildings around the world. These are the 2 available for Italy.
Classic Italian cards that you can play 4 games with, (we also have this book, with playing instructions for many Italian card games.)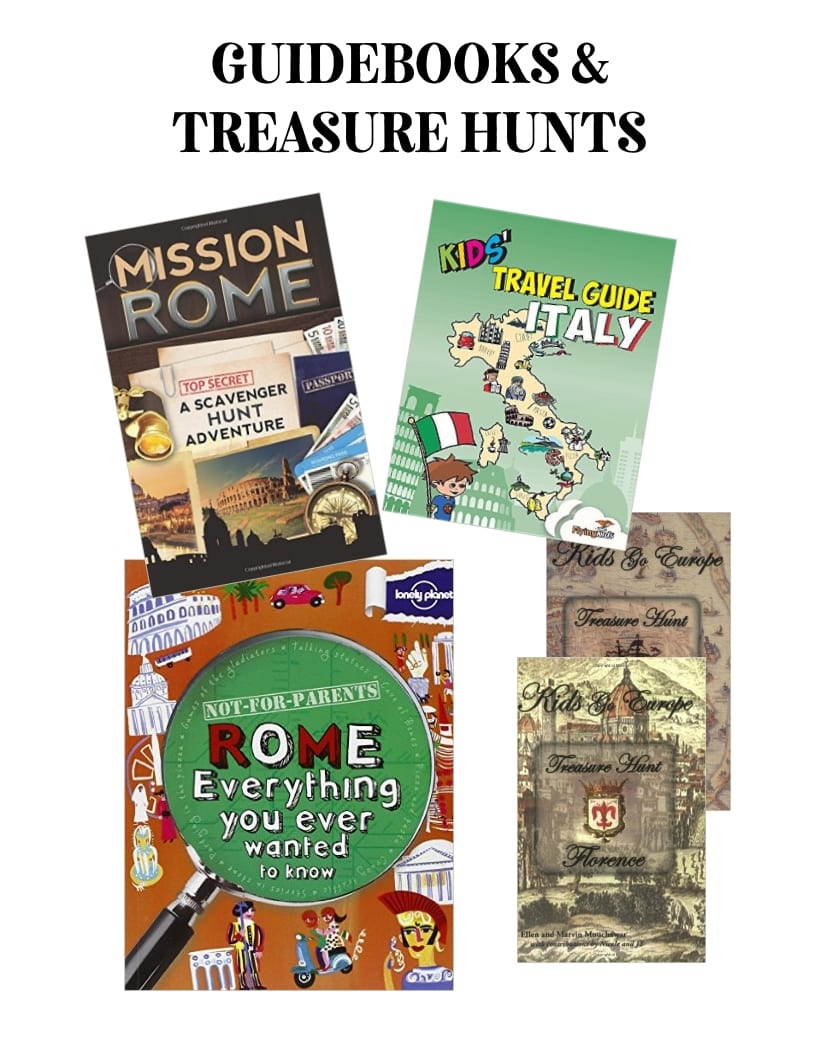 Scavenger hunts are so fun with both kids and teens, just adjust what you are looking for as the kids got older. You can make up your own… or try one of these listed below. We have enjoyed them all. 
Hosted by explorers Marco & Amelia, who lead kids through Rome with 19 themed trails with fun finds just for kids!
This series of Children's travel books from all over the world are my absolute favorite, and great for kids and adults alike. The art has a vintage 1960's feel that you'll love.
This is one of the first guidebooks we bought the kids when we decided to move to Italy. Our kids loved it and used it quite a bit to research and read about what they wanted to do and see on our first trip to Rome. A favorite.
A great intro to Italy for younger kids that includes puzzles, history, travel, food and language tips and more for planning a family trip to Italy. They also have a Rome version.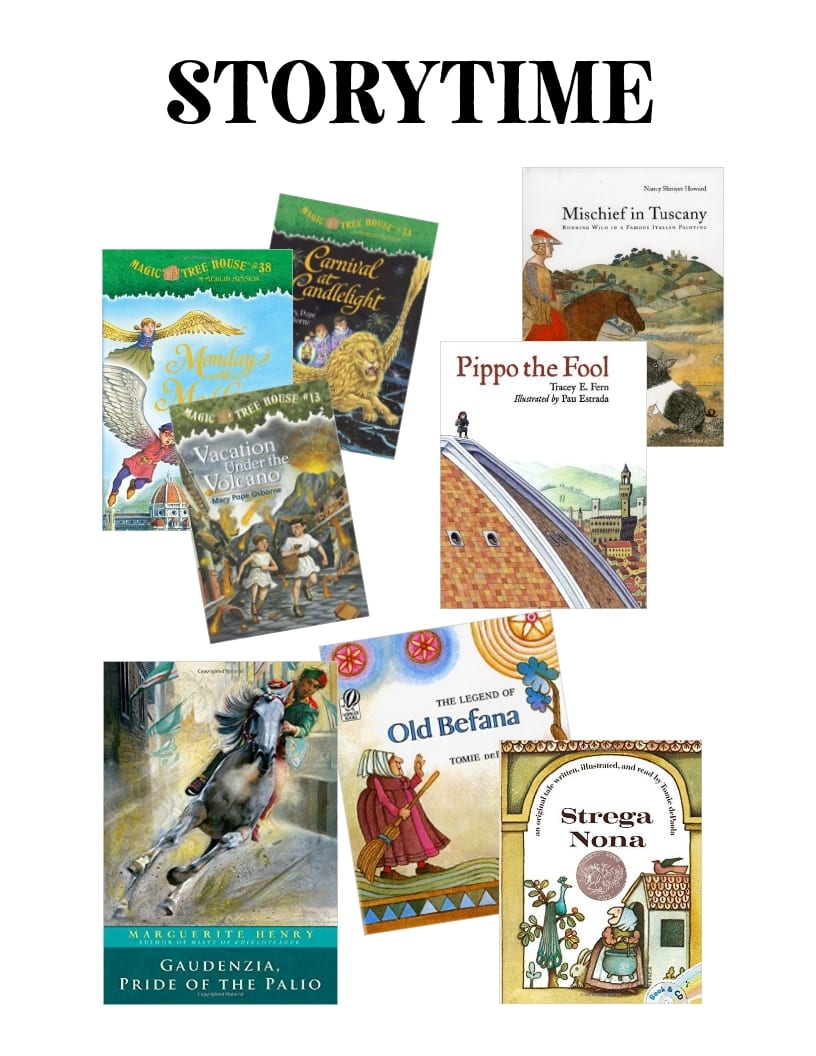 This whole series is a family favorite of ours- we have them in book form as well as the audio books (great fun for road trips)  All of them are great, I love how she teaches kids so much about different events in history, in a fun and engaging way. There are 3 that are Italy based, listed below.
One of the first gifts we brought back from Italy for our kids- it is an adorable story of a Tuscan pig exploring a 14th-century fresco which is in the Palazzo Pubblico, Siena. This would be a great intro to frescoes, and before a visit to Siena.
The story of Pippo the Fool, and the contest to find someone to design a dome for the great Duomo in Florence. (Spoiler- we know Pippo today as the famous and brilliant architect Filippo Brunelleschi.)
This wonderful book is by one of my favorite childhood Authors. She tells the story of Giorgio who dreams of becoming a horse trainer for the Historic Palio race, and the horse he comes to love and believes in, Gaudenzia.
A classic children's folktale about Strega Nona from a small village in Calabria.
A wonderful children's book sharing the classic tale of La Befana, who is an integral part of Italian Christmas traditions.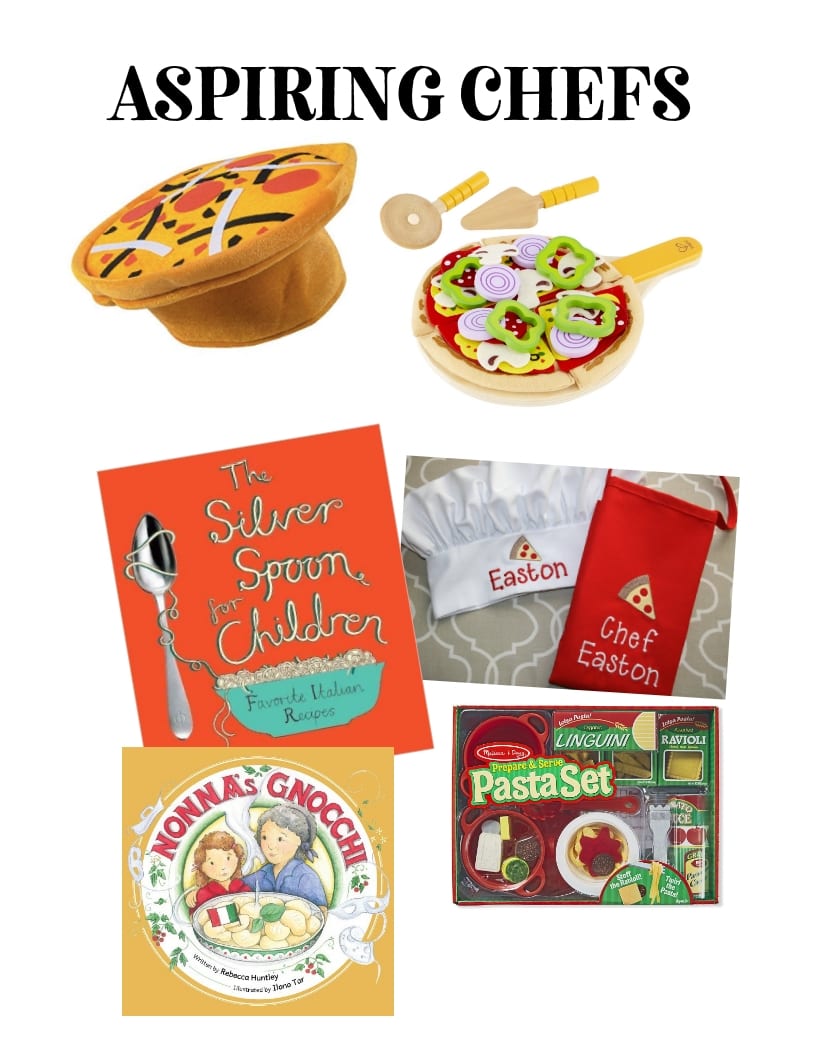 A silly and fun addition to your dress-up collection.
Do you have kids who love to play restaurant? This pizza playset is perfect for imaginary play, and really nice quality, by Hape.
An Italian Cookbook for kids, with the ingredients & utensils written in both Italian and English so you can learn a bit of Italian as you cook! I think this is adorable (the set is packaged in a pizza box) and have ordered it for my niece this year. I'll let you know if it's as cute as it looks! I also love that the company,  4% change for Children donates a portion of their proceeds to non-profit organizations that help children and families with children.
A children's version of the classic Silver Spoon cookbook, and a great addition to a budding cook's cookbook collection.
Tattletale Designs makes adorable personalized aprons for your favorite junior chef. She has many designs including matching sets for parent and child. So cute!
The warm and touching story of Nonna passing down her recipes, knowledge, and stories as she teaches Sofia how to make gnocchi.
A Really cute play Italian food for kids who love to pretend cook or play restaurant. Melissa & Doug toys are always excellent quality.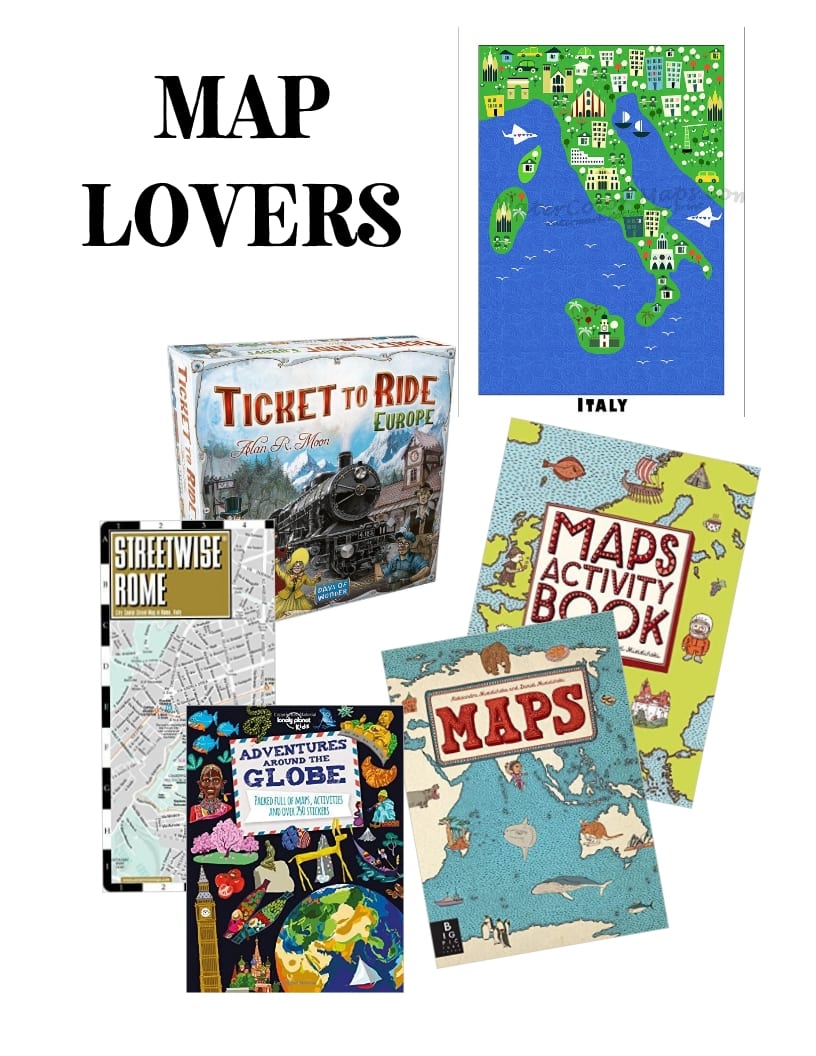 This would be so cute in a playroom, or kids bedroom- I love the vibrant colors.
Their ETSY shop is addicting- our Italy favorites can be found over here. (and are also featured on my Ultimate Italy Lovers Gift Guide from last year)
We first played this game last Christmas with family, and loved it so much we ordered the Europe version. A fun family game building train routes across Europe. (or whatever edition you get)
I've always been a map lover, but I credit these laminated, easy to fold Streetwise maps as one of the main reasons our kids started to love maps so much as young kids. Great for planning and dreaming- and for kiddos who like to "be in charge" of the map while you explore.
A Lonely Planet book for kids full of maps and activities to learn about the world.
I found this gorgeous book in Italian at the gift shop of the Archaeological Museum of Milan. I love our Italian version but haven't seen it online anywhere. Amazon has the English edition and it's equally as lovely.
This coordinating super fun activity book is by the same authors as Maps.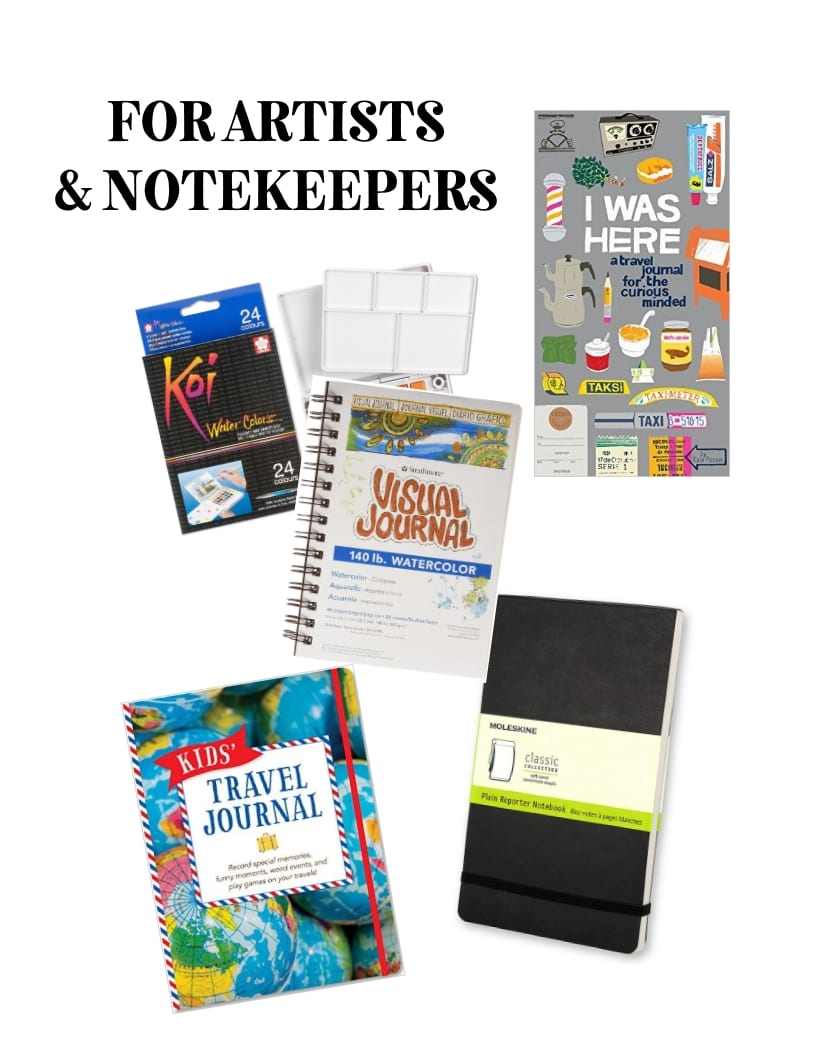 I first bought these for Abby and I when we moved to Italy- they are compact and easy to tote with you for travel. And the included water-filled pen/brush is genius!
An excellent heavyweight paper journal for watercolors or drawing- I love that it is spiral bound and not too big- easily fits in a large purse or daypack.
I'm convinced that keeping a handwritten journal is a great thing to have in this digital age- and I adore Kate Procrass's art. She has several travel journals available on Amazon- this one I really love for my teenagers. This guided journal is great for capturing little details of your daily explorations, as well as the moments that matter like your interactions with others, or things that catch your eye along the way.
This is a fab coloring book for older kids and adults- celebrating beautiful & delicious scenes throughout Italy.
(by Paper + Rock on ETSY) It can be hard to find fun jewelry for kids that is not too cutesy. Loving this gondola necklace for kids- simple and elegant. (They also have a gondola bangle bracelet.)
A great choice for the younger travelers in your life. I especially love the daily journal pages with room to write and also rate your day & mood.
Airportag has hundreds of cute things but I'm particularly fond of this colorful pouch with european airport codes.
I love everything in their shop, but especially the Rome items.. These are really nice for anywhere in your home, but also are super fun for kids rooms.
This style of notebook is great for any aspiring reporter who wants to jot down notes or reminders as you travel. My personal favorite Moleskine for journaling/sketching is this one.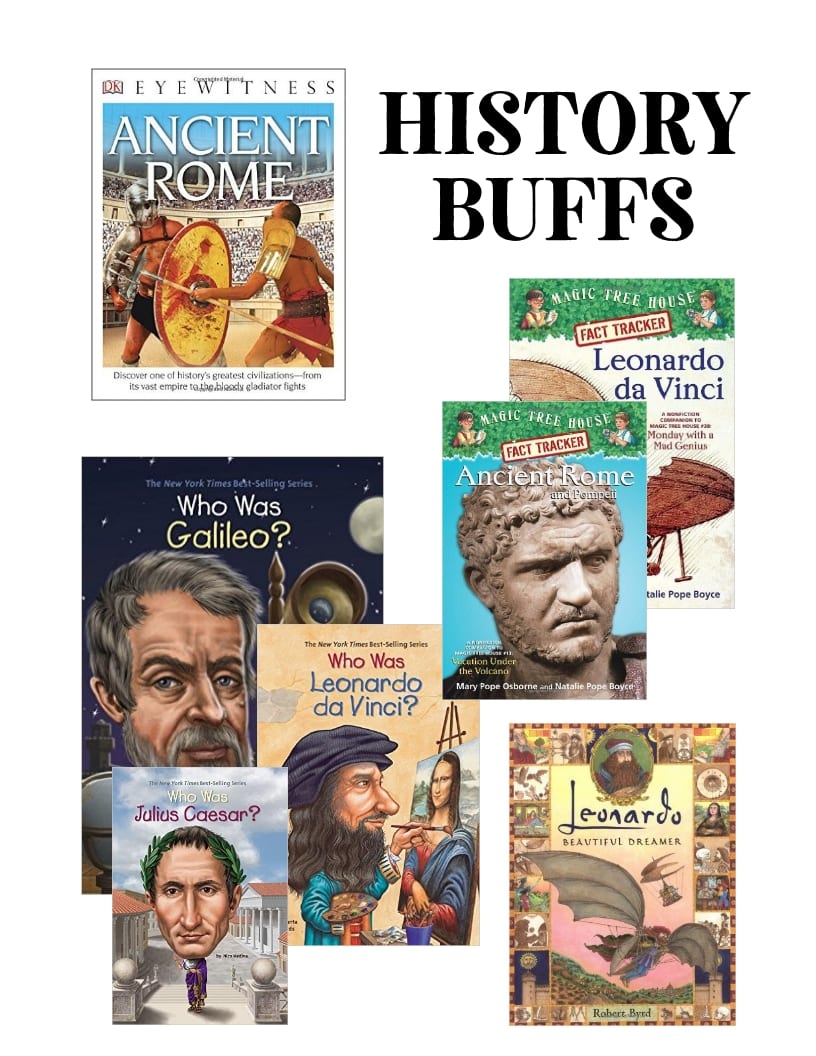 My son especially loved this book from ages 6-10. All of the DK eyewitness books are great and full of detail and photos.
Magic Treehouse Fact Tracker books:
Excellent companion books to The Magic Treehouse Stories.
Who was… books:
Who was Leonardo da Vinci? //  Who was Julius Caesar?  // Who was Galileo? Great for 8-10-year-olds- History for kids that isn't too bland and boring! Perfect for learning about someone before you travel, or for a school project.
Leonardo, Beautiful Dreamer: Another book I picked up in Italy- this book has gorgeous artwork, and follows the story and life of one of the most amazing people in history. An exceptional first taste of who Leonardo was, for kids.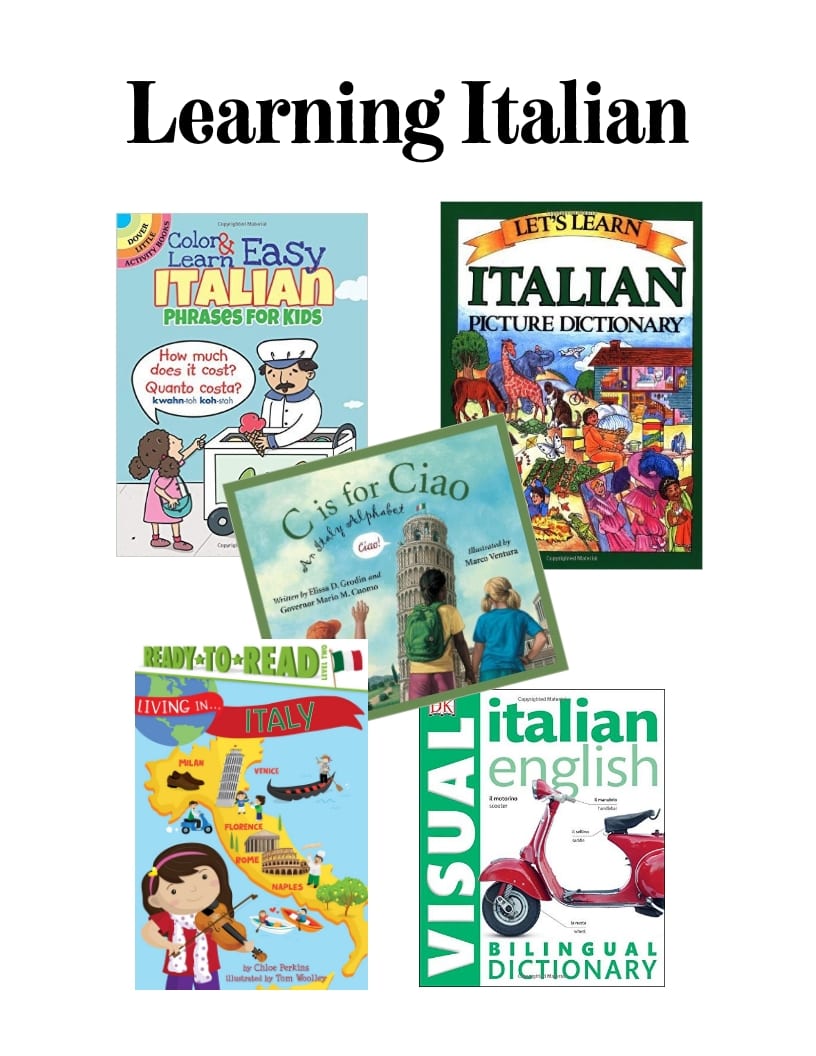 A pocket-sized book perfect for little ones who want to color and learn some basic Italian words and phrases.
A book of Italy in the alphabet. Exploring the history, art, traditions and beauty of Italy.
A classic, for all ages- with illustrations of daily items in English and Italian.
A darling small book for beginner readers, with simple details about Italy and what it's like to live there. This series has countries all over the world and would be a great gift alone, or as a set.
Something we all used while living in Italy and taking Italian lessons. Makes it easy to remember everyday objects around the house and things that are helpful to know when you are out and about.
I hope you enjoyed at these ideas and found some things the kiddos in your life might enjoy.  Tell me what I missed in the comments below!
Pin it for later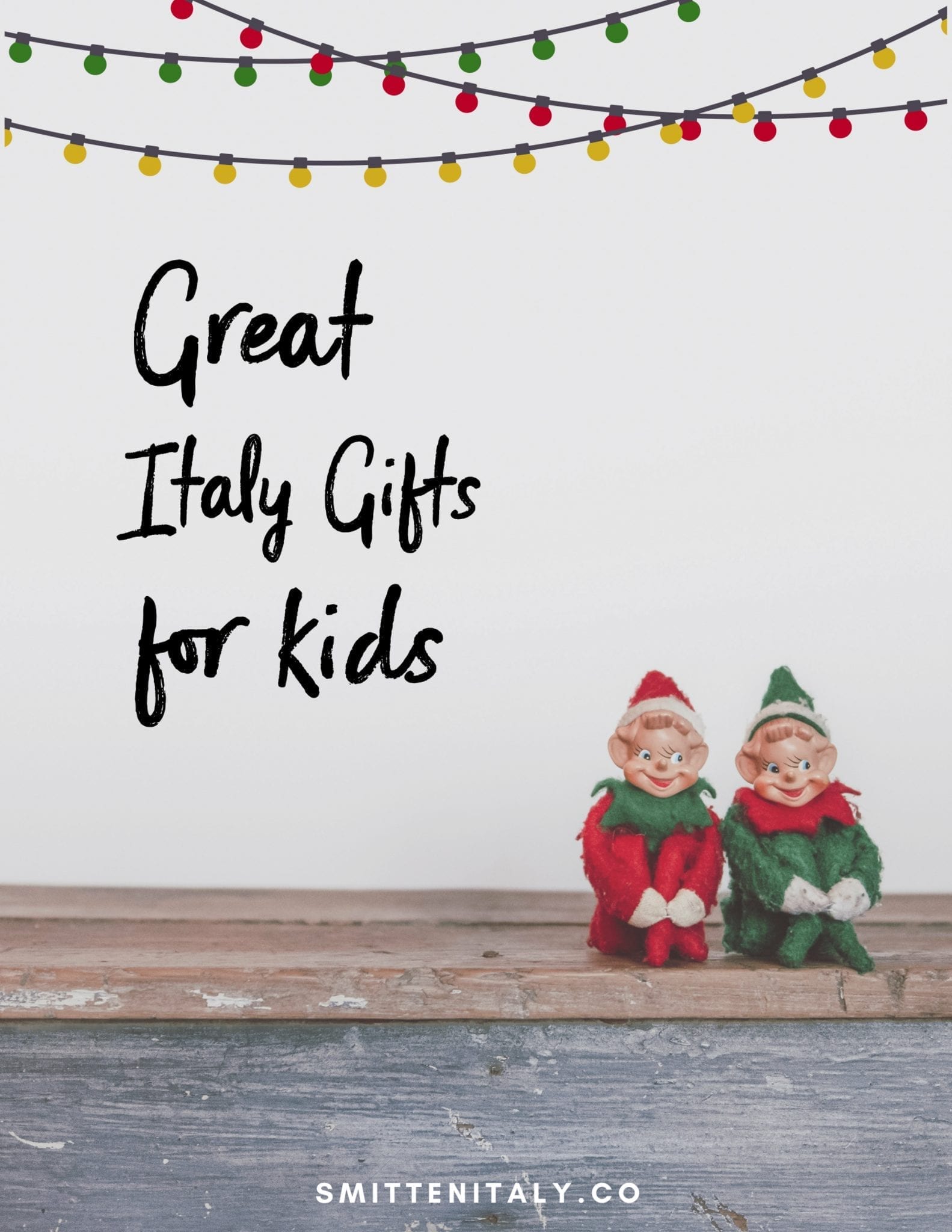 **This page contains affiliate links.  However,  I would never recommend a product or service unless I absolutely love it. Thank you for supporting Smitten Italy- Grazie!