Best Italian Cookbooks (five favorites)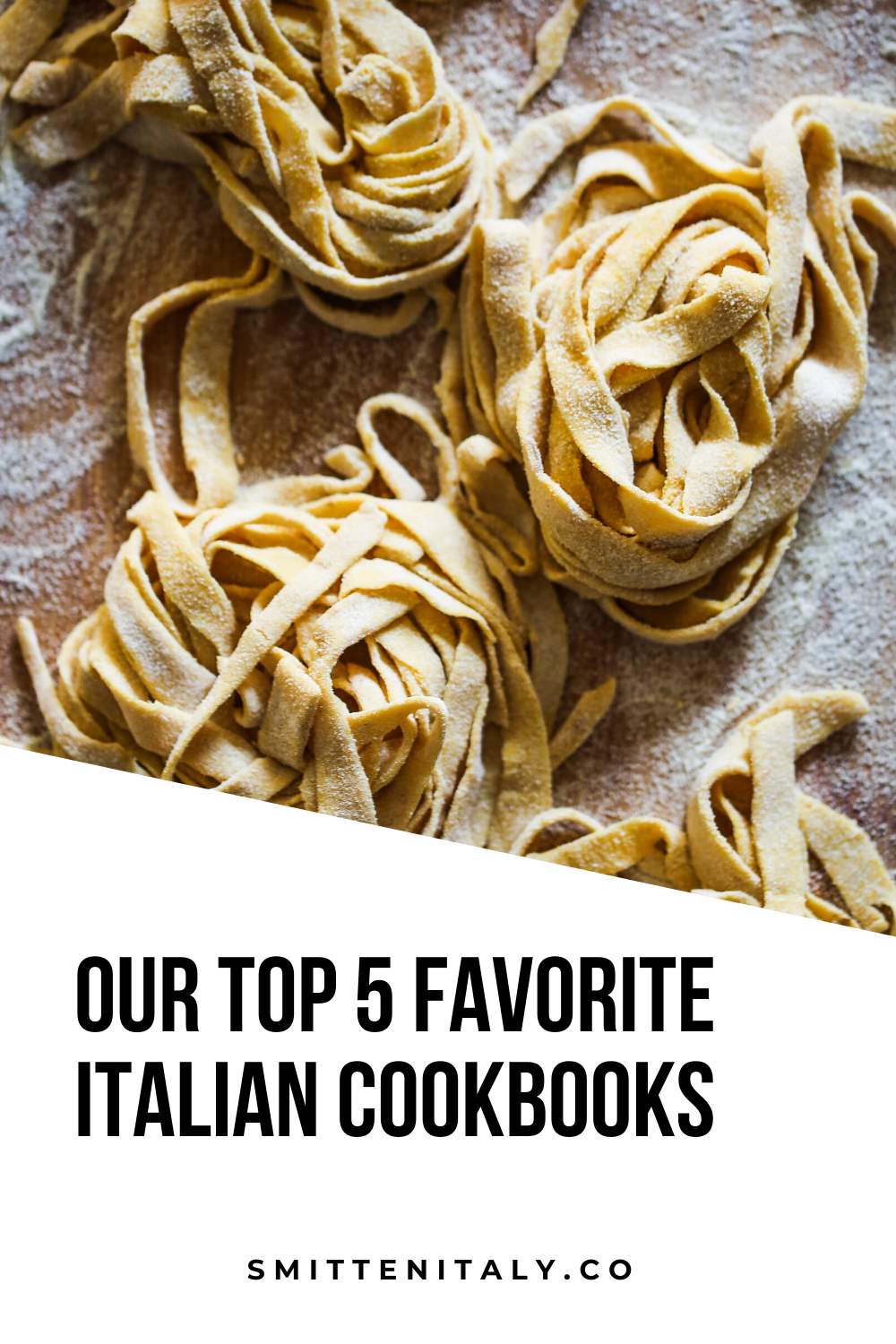 This post may contain affiliate links for your convenience. Read our disclosure policy here.
​
Best Italian Cookbooks (five favorites)
I've always fancied myself a collector, but maybe really I'm a cookbook hoarder- is that a thing? I love to read cookbooks like novels. My favorite ones include stories of the author, the recipes, or if I'm lucky- both.
I often buy a new cookbook for our annual road trip to the Oregon coast so that I can really enjoy it not only in the car, but then when I get to where ever I'm going.
Sometimes, (shocker) it even inspires me to cook while on vacation and I'll use my family as guinea pigs for my newest cookbook obsession.
My love affair with cookbooks grew even deeper when we moved abroad. I took so many books when we moved because I knew I would want the comfort of them around me- and even though we took wayyyy too much stuff with us to Italy- I never regretted once having my beloved stash in my Milano kitchen.
After moving back home, I found myself longing for Italy and nearly becoming tearful when I read my favorite Italian cookbooks. Hence this list.
This is the short list of my favorites, the best Italian cookbooks for me and I hope for you! These are the ones I would most certainly rescue in a fire, or from our doggos chewing adventures. (which if you know anything about my dogs– you'll completely understand.)
[tcb-script src="https://bookshop.org/widgets.js" data-type="search" data-affiliate-id="12274″][/tcb-script]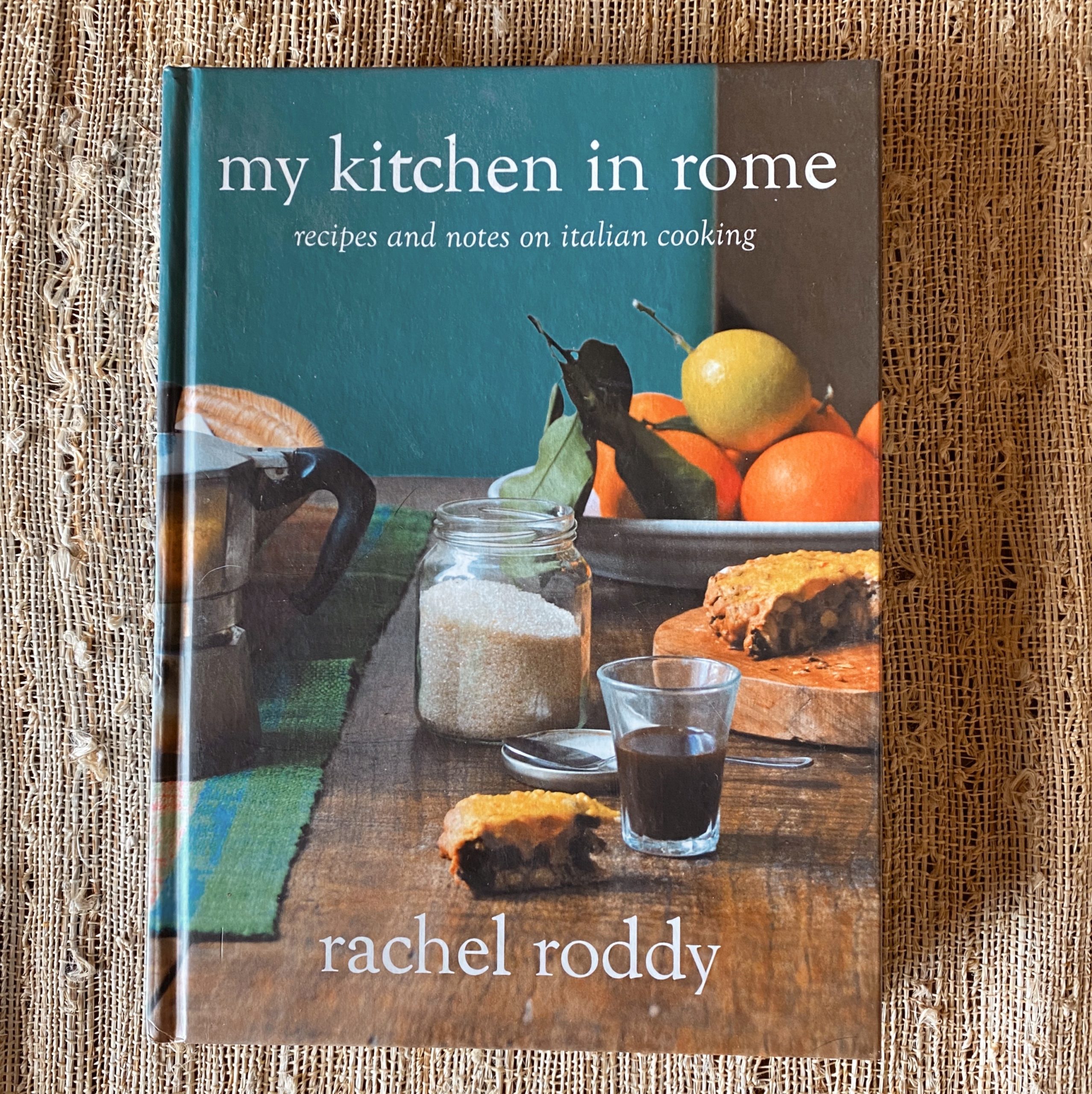 My Kitchen in Rome: by Rachel Roddy
I'm starting with My kitchen in Rome. If we were playing "what 1 book would you take if you were stranded on a desert island?" This would be it.
I fell for Rachel's writing years ago when she wrote the blog Rachel Eats, and have been following along since.
This book is her first cookbook and my favorite. You learn so much about Roman cuisine, with snippets of living in Rome and beautiful photography.
She has been writing a food column for The Guardian for years now- and that is always a great read as well- but there's nothing like having Rachel's words and recipes in your own kitchen with you.
Favorite Recipes:
Ciambellone di ricotta e limone (ricotta and lemon cake – a favorite in our house)
Finocchio alla Parmigiana (fennel baked with parmesan)
Pasta e Ceci (Pasta and chickpea soup)
Zucchini alla scapece (marinated zucchini with mint)
Pesce Ripiene (Baked peaches with butter and almonds)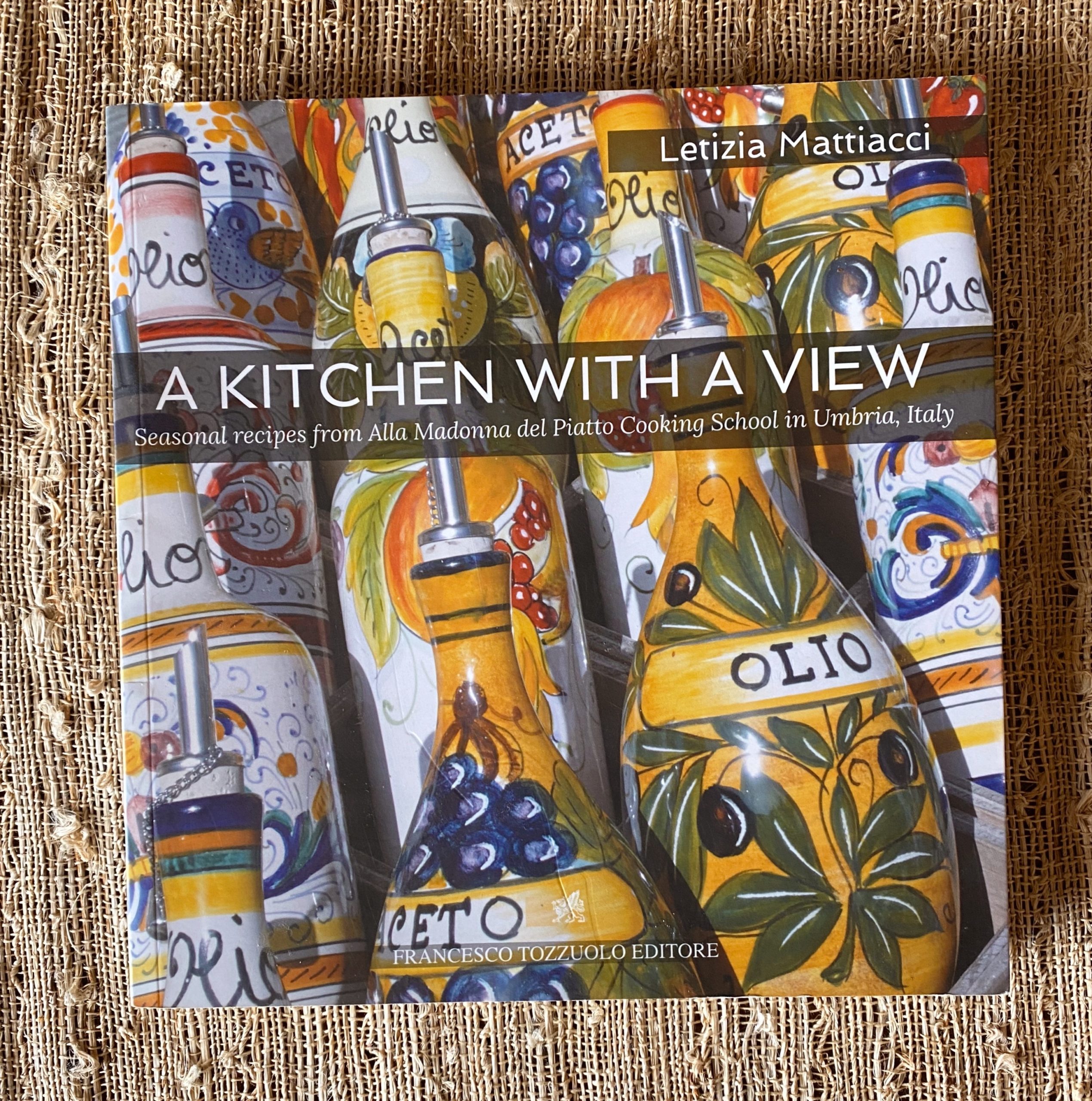 A Kitchen with a View: by Letizia Mattiacci
Letizia is a dear friend who has a cooking school on the side of a hill overlooking Assisi. A truly magical place that I hope you can visit someday.
For those of us lucky enough to have cooked with Letizia in her kitchen- the book is like a warm hug from her- familiar and filled with her practical cooking advice and beautiful photography from her husband Ruurd.
If you haven't been to her cooking school- this is the next best thing. She expertly shares tips & suggestions that make Umbrian home cooking approachable with easy to follow steps.
Not only will you learn her cooking secrets, but she also shares about the local food & culture of the area too.
Favorite Recipes:
Chicken alla Cacciatora, Umbrian style
Zuppa di Farro & lenticchie (farro & lentil soup with ginger)
Carpaccio di Zucchini
Food processor pasta dough (life changing!)
Pear-a-misu (Letizia's riff on tiramisu but with red wine poached pears)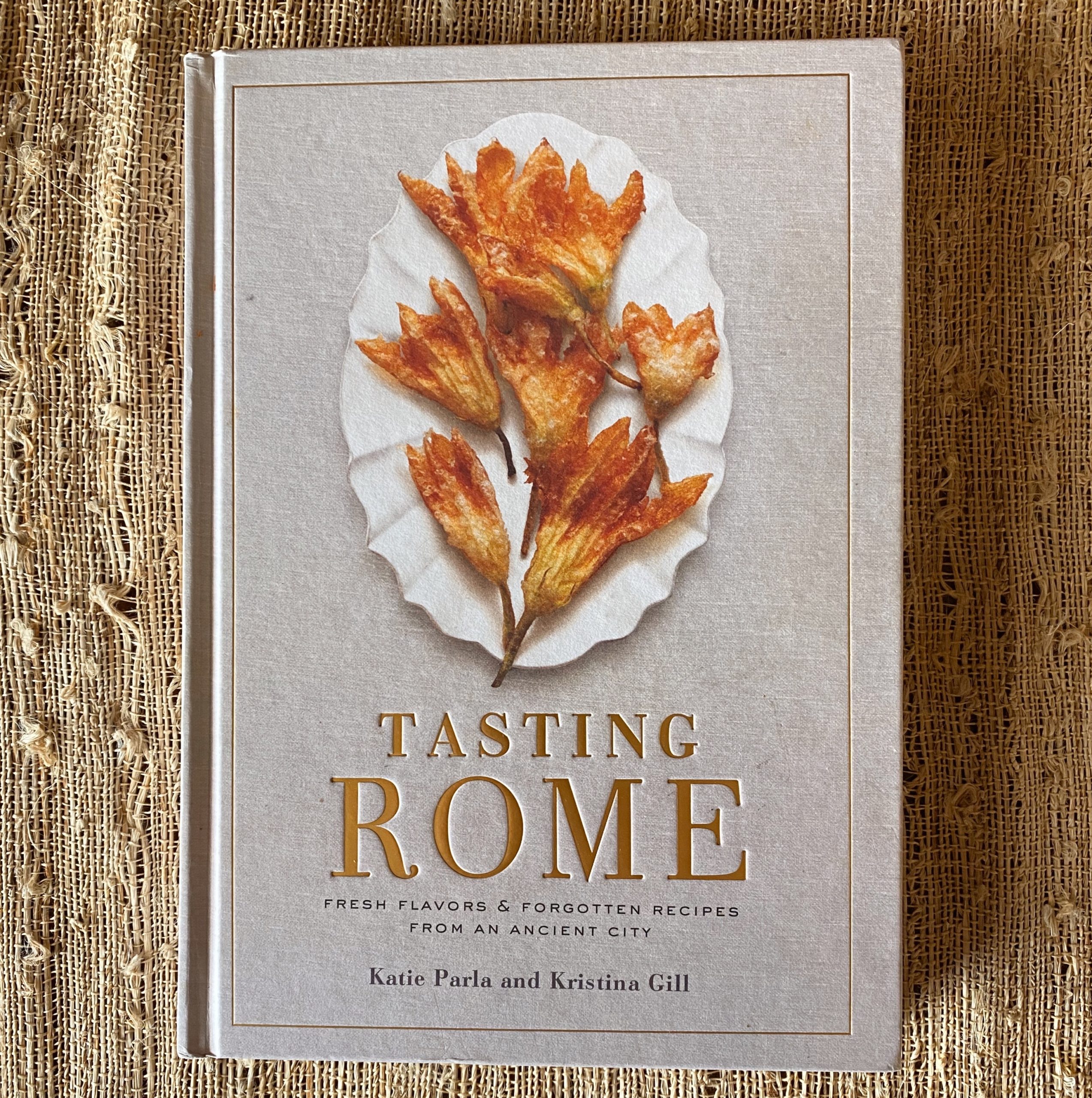 Tasting Rome: Fresh Flavors and Forgotten Recipes from an Ancient City: by Katie Parla & Kristina Gill
I'm a Rome junkie- and so when I heard that Katie Parla & Kristina Gill were writing a book about the food of Rome, I couldn't wait for it to arrive.
This book does a very good job of showing you all the sides of Rome- the neighborhoods, history- food & culture. It's a beautiful book filled with photography from Kristina Gill, an Italy based food & travel photographer.
If you love Rome- you will love this stunning book. (It makes a great gift too)
Favorite Recipes:
Suppli radicchio e gorgonzola (rice croquettes with radicchio and gorgonzola)
Insalata di carciofi crudi (shaved artichoke salad)
Sformatino di broccolo romanesco (romanesco custard)
Amatriciana Estiva (summer amitriciana)
Maritozzi con Panna (sweet buns with whipped cream)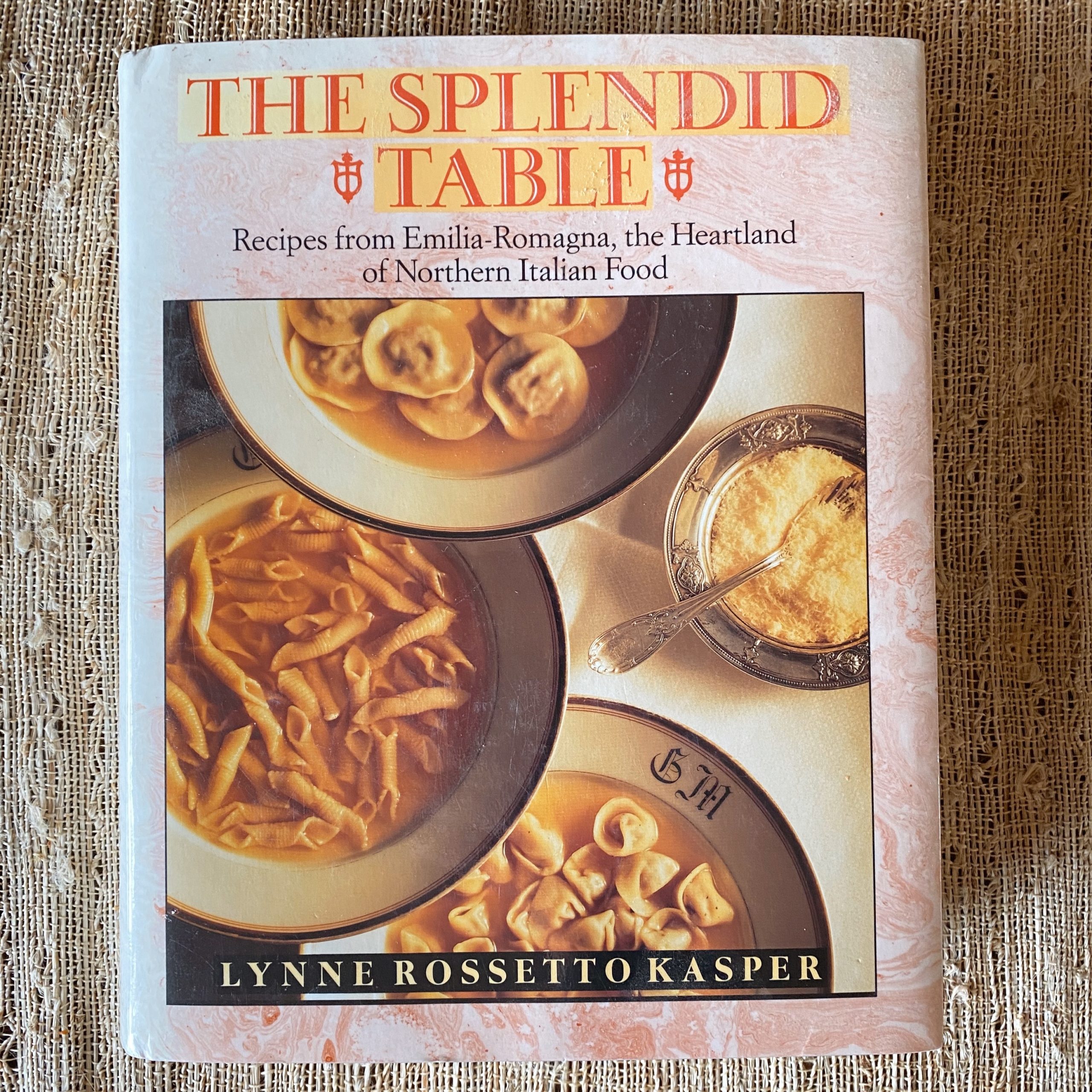 The Splendid Table: Recipes from Emilia-Romagna, the Heartland of Northern Italian Food: by Lynne Rossetto Kasper
This large book is filled with treasures from the region of Emilia Romagna. There are some photos, but the bulk of the book is all about the traditional recipes. (200 of them!)
It's laid out nicely with a few maps, art & little nuggets of food folklore sprinkled throughout.
Despite its size, I find it charming and a staple in my kitchen. Lynne lays out the best way to prepare each dish, including options of preparing some things ahead of time.
She also includes wine pairings, menu options & her cook's notes to each recipe.
Favorite Recipes:
Risotto al Barbera (risotto with red wine & rosemary)
Fagiolini al Pesto Modenese (green beans with balsamic pesto)
Cipolle alla Bolognese (sweet and sour onions)
Pappardelle alle Lenticchie (pappardelle with lentils and parmigiano-reggiano)
Pisaréi e Faso (Thumb pasta and tomato braised beans Piacenza style)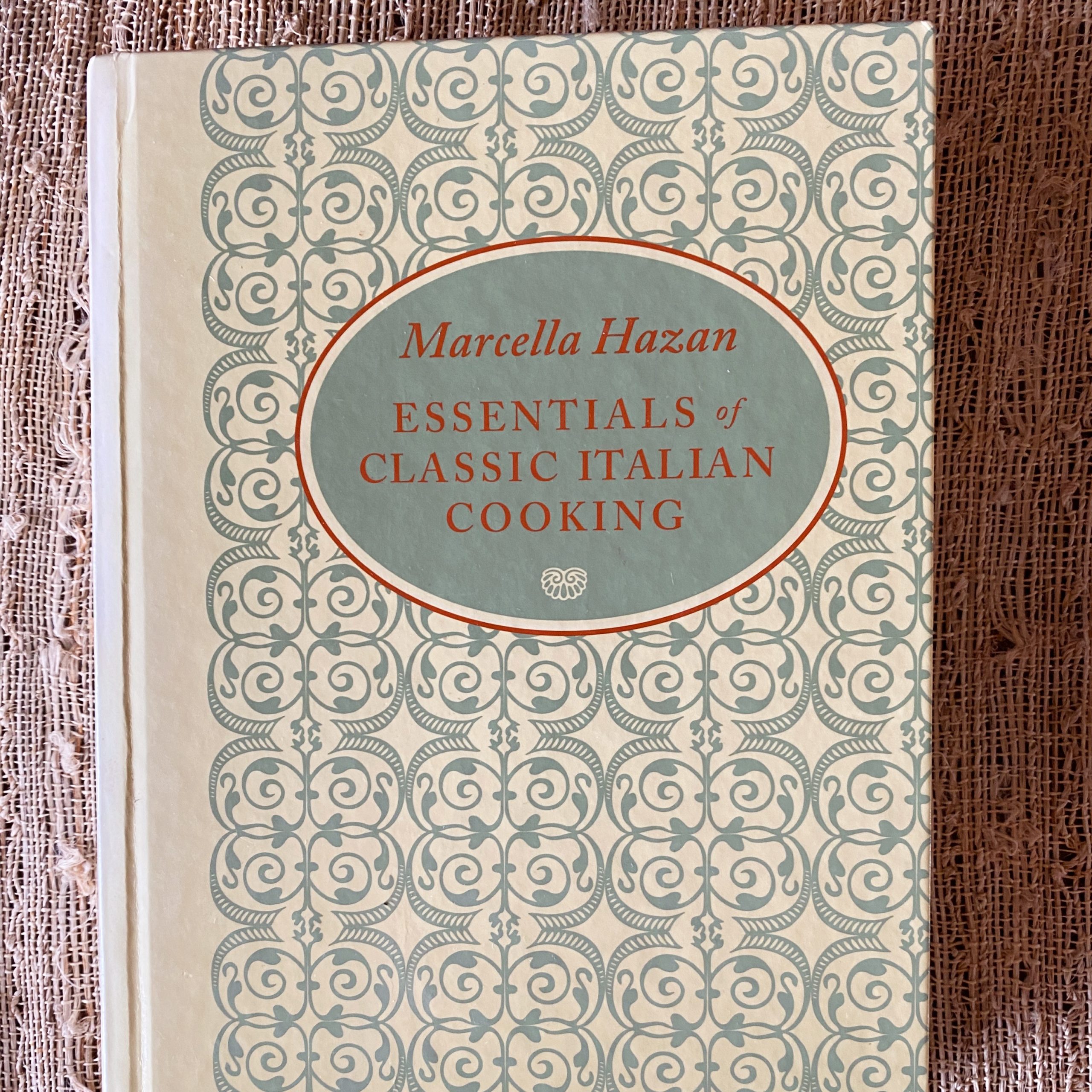 Essentials of Italian Cooking: by Marcella Hazan
This is a classic that every Italian food lover can benefit from. Marcella is the queen of Italian home cooking and although this book is big and has no photos- I still love it and find so much valued advice and back to basics for authentic Italian cuisine.
Marcella has detailed instructions & advice for even the most advanced recipes, giving you confidence along the way.
Favorite Recipes:
Baked green Lasagne with meat sauce, Bolognese style
Tomato sauce with onion & butter
Minestrone alla Romagnola (vegetable soup, Romagna style)
Risi e bisi (rice and peas)
Risotto alla Parmigiana (risotto with parmesan)
[tcb-script src="https://bookshop.org/widgets.js" data-type="search" data-affiliate-id="12274″][/tcb-script]
you might also like…
My favorite essential kitchen tools
How to create an Italian pantry
Five Italian food blogs I adore
SO that wraps up my five favorites version of the best Italian cookbooks. It was hard to narrow it to just 5, but I don't think you want to read my top 25 list. 🙂
I can't wait to hear what's on your list! Let me know…
Before you go- grab your Italian pantry guide! Click the photo below.

Pin this for later!