The Best 5 Minute Lunch: Insalatone del Capo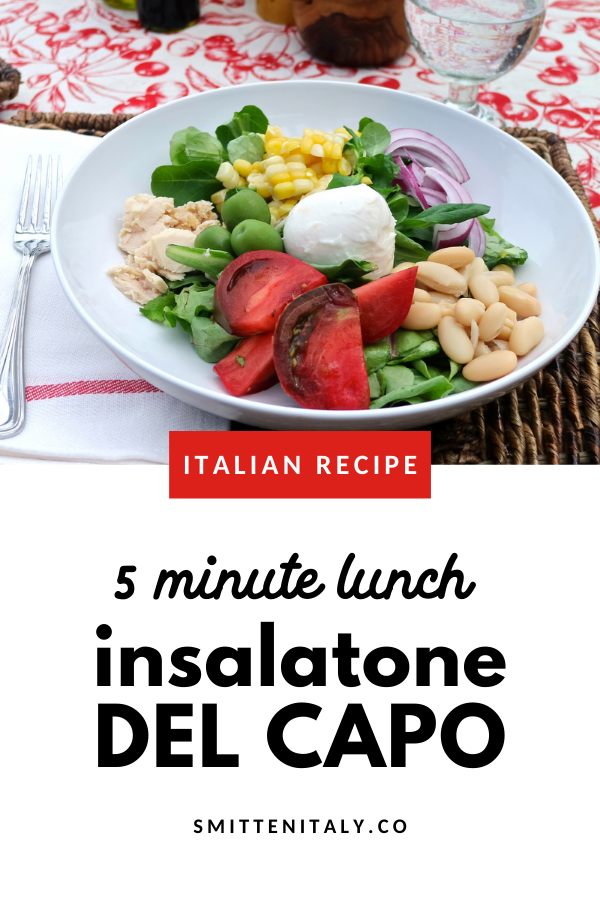 The 5 Minute Lunch: Insalatone del Capo
I think we pretty much all agree that Italian food is SO delicious. Fresh pasta, polenta, gorgonzola, gnocchi, risotto, the list of favorites goes on and on. However, most people don't think of going to Italy to eat salad. But sometimes when traveling you want a bit lighter of a meal, and the entree sized salads, "Insalatone" are the perfect fit.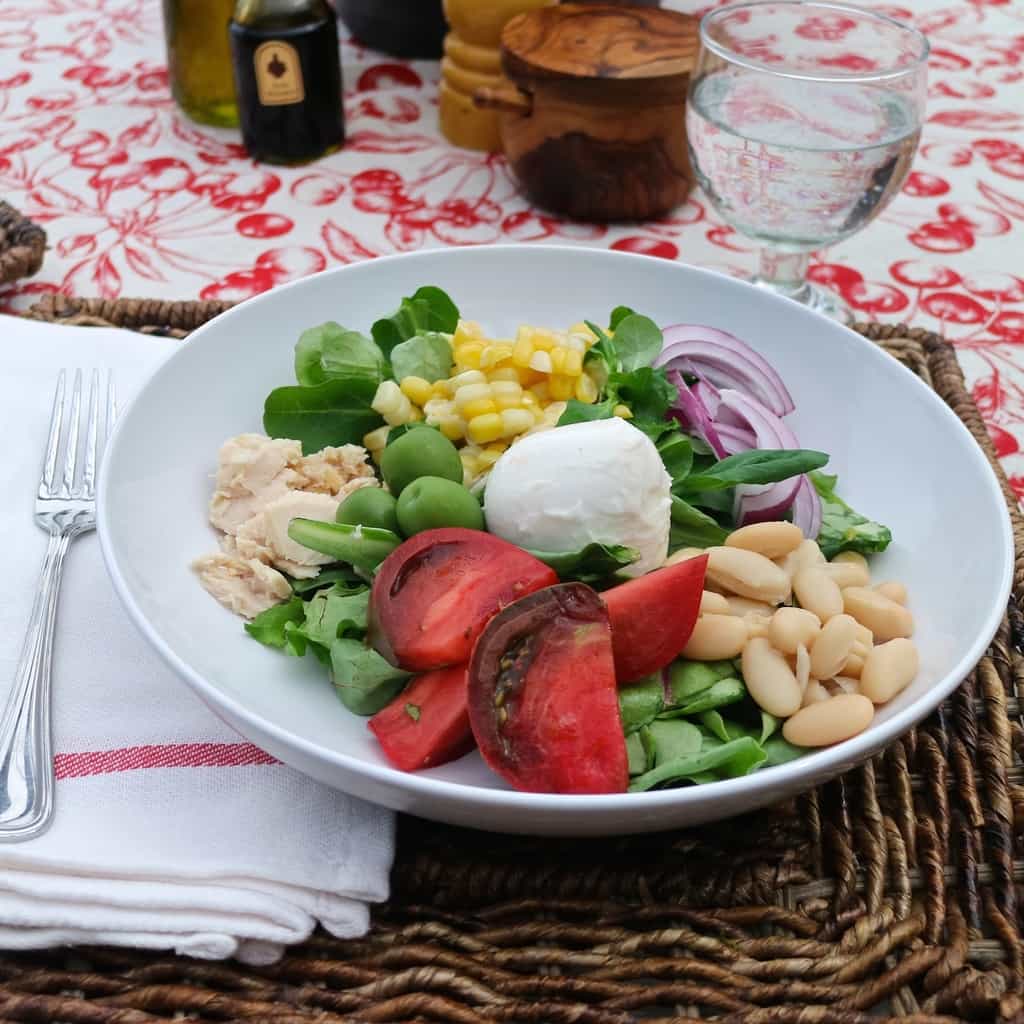 Nearly everywhere you travel in Italy there will be some sort of salad on the menu. They are usually fairly simple, and 99.9% of the time are dressed with olive oil and vinegar.  Sometimes listed under the Contorni section, but some restaurants give salads have their own section of the menu. When you are in the restaurant and want a salad as your meal, look for INSALATONE, literally big salads.
An insalata mista (mixed salad) is usually a small salad, but not always- sometimes it's big enough to share. Where we lived it was large or small depending on the restaurant but the Insalata Mista was always very simple. No frills, Definitely no corn or tuna like this delicious recipe I'm sharing today- the Insalatone del Capo!
Insalatone = The Big Salad
Insalata Mista = Mixed Salad (usually smaller)
Insalatone del Capo is the salad of my dreams.
It has the perfect mix of crunchy & soft, salty & sweet. I ordered it nearly every single time we went to Borgo Vione- my favorite restaurant close to our house in Italy. It's not really a recipe at all and it doesn't take much more than 5 full minutes. But because I love it so much- I wanted to share it with you!
It is perfect for summer lunches or dinners when you want something light but filling. Our whole family loves it. To please the peoples in my family- I put the ingredients in bowls and then they can add whatever they want to it. (we have 1 non-tuna eater in the family…)
Use your best olive oil & balsamic vinegar on this one, it will make your salad SING!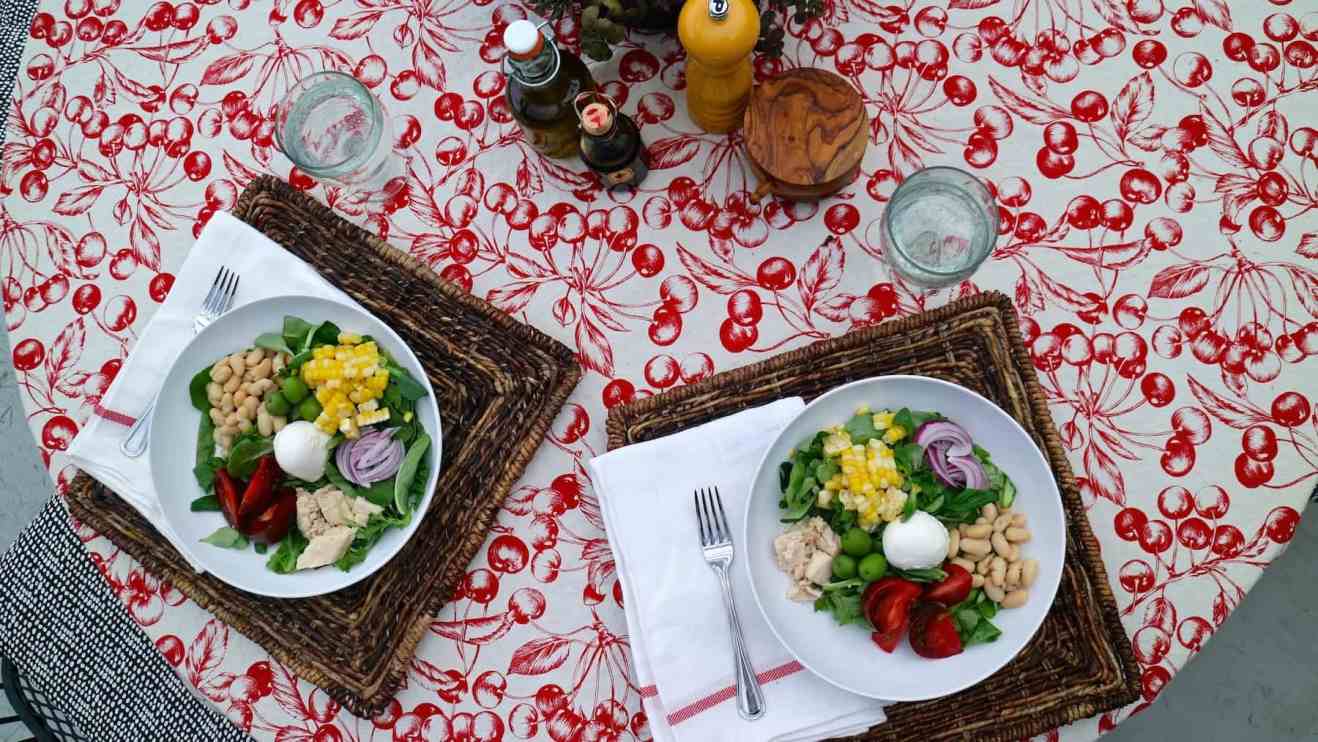 The Best 5 Minute Lunch: Insalatone del Capo
Insalatone del Capo is inspired from our favorite neighborhood restaurant in Milan, Borgo di Vione. This salad comes together in a manner of minutes and only needs some minimal prep. Place ingredients in small bowls, salad bar style if you have picky eaters. This is easily made vegetarian friendly by omitting the tuna.
Ingredients
8

Cups

Mixed Greens

4

small balls of fresh mozzarella

1

small red onion

sliced thinly

2

large heirloom tomatoes

cut into wedges

2

cans good quality chunk tuna

drained

2

leftover ears of cooked or grilled fresh corn

cut off the cob (or sub. thawed frozen corn)

1

can Cannellini beans

rinsed and drained

Your Favorite Olives

Best quality extra virgin olive oil

Good quality Balsamic Vinegar

Sea Salt & Pepper to taste
Instructions
Divide the greens between 4 large shallow bowls.

Add other ingredients as desired.

Drizzle with extra virgin olive oil & balsamic vinegar.

Add salt & pepper to taste.
Notes
Use your best olive oil & balsamic vinegar- it really makes a huge difference!
Looking for more easy summer recipes? Read this! 10 Easy Italian Recipes for Summer.
Pin it for later!