5 Cheese Pasta al Forno (aka birthday-palooza pasta)
My daughter's birthday is right after the holidays. Poor child.
She is a Y2K baby, born a week before her due date on a frigid snowy day in Colorado.
While everyone around us bought emergency generators and freeze dried food because something undefined but horrible was going to happen when the clock struck midnight- we were stockpiling diapers and dreaming of finally holding our baby girl.
She arrived safe and sound and we've been celebrating ever since.
More...
Birthdays are highly celebrated in this house with rituals and traditions that I hope my kids never get tired of. We call it Birthday-Palooza and we squeak every last drop of birthday madness out of the week surrounding the actual day.
I'll blame it on Abby's early January arrival, but I don't think she'll mind.
We do birthday breakfast-in-bed, birthday family date night (birthday kid gets to choose the cuisine + restaurant, or the menu if we stay at home) and because we all love ice cream I always buy a pint of the birthday girl or boy's favorite flavor just for them to eat whenever they want.
When they were young, we always held a party with their friends- usually at home but full of fun and food and games.
Over the years we've hosted princess parties, cowgirl parties, hula girl parties and cupcake making parties which were so fun and also so much work!
Part of me is glad now that she's older I can plan a dinner party with friends and family to celebrate my girl, and she's totally fine with it. (especially if she gets a fun night out with friends)
And as long as I make the birthday pasta.
I started making the 5 cheese pasta al forno about 12 years ago, and it has turned into our January baby's birthday dinner request every year. I only make it for her birthday, and maybe one other time each year- which is not because it is hard- (it is definitely not.)
As you can imagine from the name "5 Cheese Pasta al Forno" it is rich and decadent and is best kept for special dinner occasions. (Valentine's day anyone?) Or anytime you need a dose of comfort food indulgence, I suppose.
This dish also makes an excellent dinner party main dish. It feels fancy even though it comes together in just minutes- and you can serve it with a salad, some good bread, and wine and call it good.
It will be the best and easiest dinner party you've ever hosted!
Tips:
It's important to only partially cook the pasta. It should be nice and crunchy still when you pull it out of the water which will seem weird to you, but trust me, it will finish cooking in the oven.
Excellent in late summer when you can use fresh tomatoes and corn- but who wants to have their oven on at 500 degrees in the summer? Thank goodness it's also great in winter using frozen corn + good quality canned tomatoes.
The fresh basil can be skipped but I wouldn't recommend it, the fresh basil really makes this dish sing.
Use any kind of short pasta you like, I prefer conchiglie rigate (medium ridged shells) or mezze rigatoni because the cheese and corn and tomatoes get caught in the nooks and crannies. YUM!
Bake it long enough that it gets brown and bubbly- but not dried out. The timing will depend on the heat of your oven- the times below are based on my own oven and crunch preferences!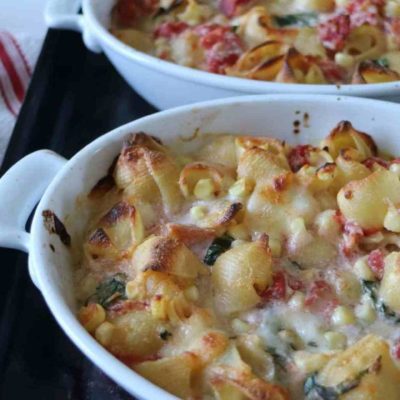 5 Cheese Pasta Al Forno
This recipe can easily be doubled for a larger crowd and is a favorite of ours for birthdays and special occasions due to its richness. It is foolproof and easy to personalize and make ahead!
Ingredients
2

cups

half & half

2

cups

chopped canned tomatoes in heavy puree

2

cups

frozen or fresh white corn

1/2

cup

freshly grated pecorino Romano cheese

1/2

cup

Fontina cheese

shredded

4

oz.

crumbled Gorgonzola cheese

4

oz.

ricotta cheese

1

ball of fresh mozzarella cheese

cubed

8

fresh basil leaves

coarsely chopped

1

pound

conchiglie rigate

4

T

unsalted butter

cut into small cubes

Coarse Kosher Sea Salt

Cracked Black Pepper
Instructions
Heat the oven to 500 degrees F.

Bring a large pot of water to a boil. Add a large handful of salt.

Meanwhile, in a large mixing bowl, combine all the ingredients except the pasta and butter. Stir well to combine.

Drop the pasta into the salted boiling water and parboil for 4 minutes. (it will finish cooking in the oven)

Drain the pasta and add to the cheese + tomato mixture, stirring gently to combine.

Divide the pasta mixture among 1 large 9x13 casserole dish, or smaller shallow gratin dishes. Dot pasta with the cubed butter.

Bake until brown + bubbly. (10 minutes for small ramekins, 20 for a 9x13 sized pan.)

Let cool for 5 minutes, then serve.
Notes
This recipe can be doubled if you are feeding a crowd. You can make this the day before and then bake it off at the last minute. It also keeps well, if there are any leftovers!
I hope you like this Five cheese pasta al forno recipe! If you try it, let me know what you think!
Pin this for later!