3 Days in Rome (With Kids)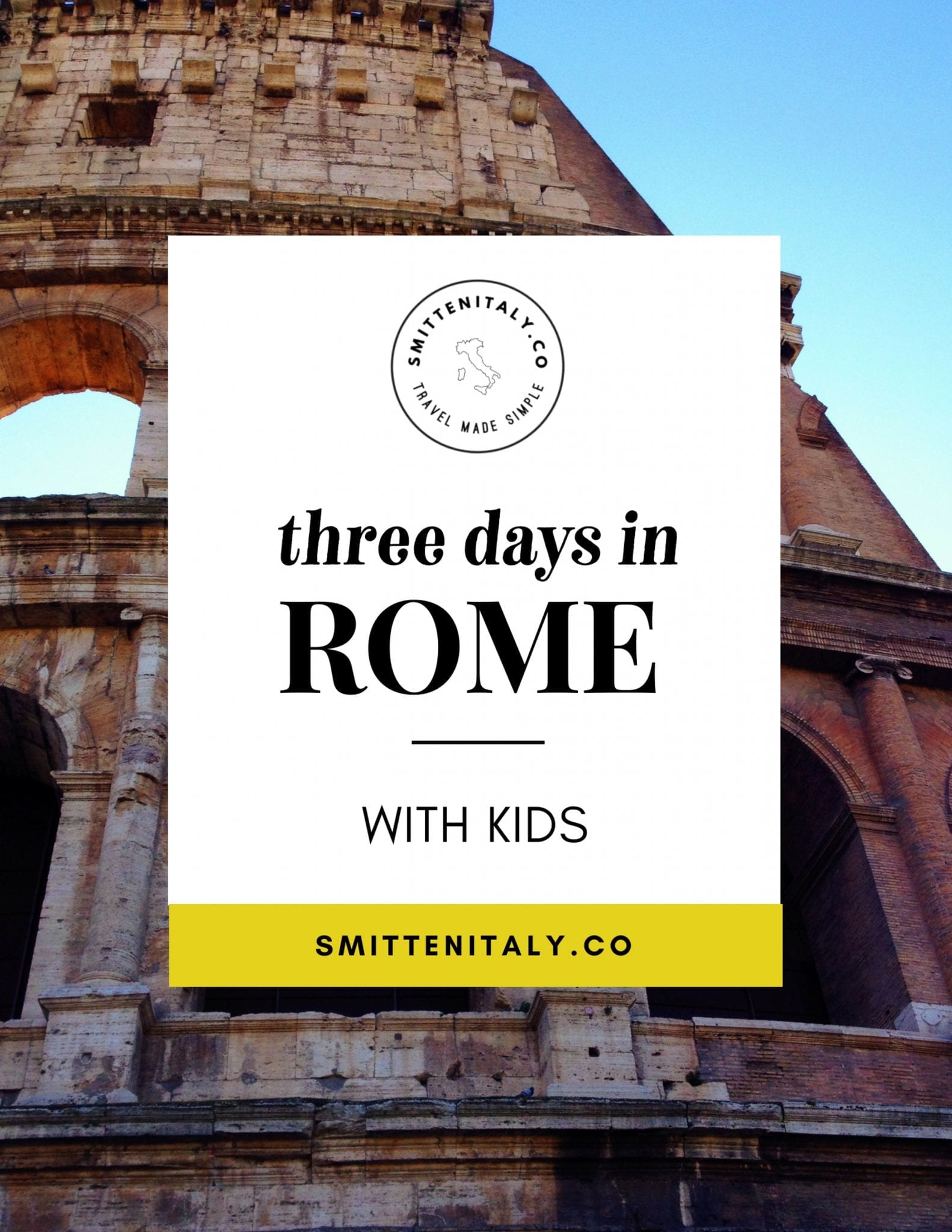 Disclaimer: This page contains affiliate links. If you found this article helpful, I'd love it if you'd consider using our links to book your trip. This costs you nothing extra, but we get a small referral fee which helps keep Smitten Italy running.
3 Days in Rome with Kids.
We had a 3 day weekend this month and hopped the 6pm fast train to Rome after school. It took 5 hours, door to door with the drive to the metro, and taxi to our hotel once in Rome. What a dream! We arrived tired and excited and oh-so-happy to be there.
Our plan this weekend was to spend a slow weekend in Rome, taking the kids to our favorite free sights and soak in the atmosphere as well as eat at some of our favorite places.
Skip to the bottom for the whole list of our suggested weekend shenanigans.

Campo de'Fiori
First stop the next morning. It was a madhouse, but I love walking through the produce section of  the market.  And I always get sucked in to those talkative spice vendors tempting me with their fun concoctions, and the many varieties of sun dried tomatoes. Suddenly I found myself in line spending 16 euros on a spice blend for fish (?) and some sweet and chewy sun dried tomatoes. Really? I'll blame it on the intoxication of being in ROME.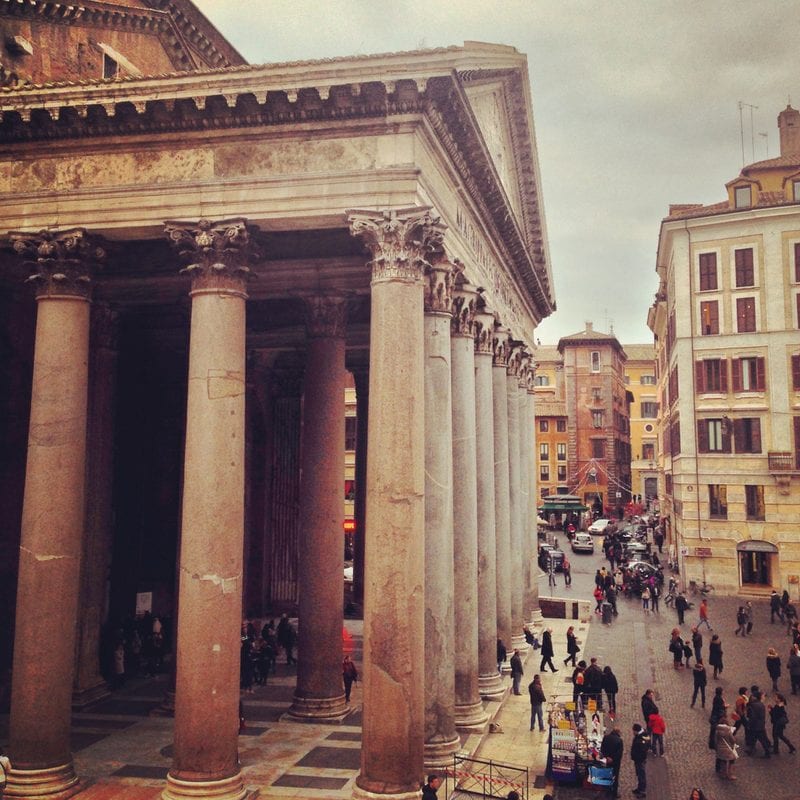 The Pantheon
Always busy, Always breathtaking. I enjoy sitting on the steps surrounding the fountain in the shadow of my favorite landmark and people watching and imagining all the things that have happened right here.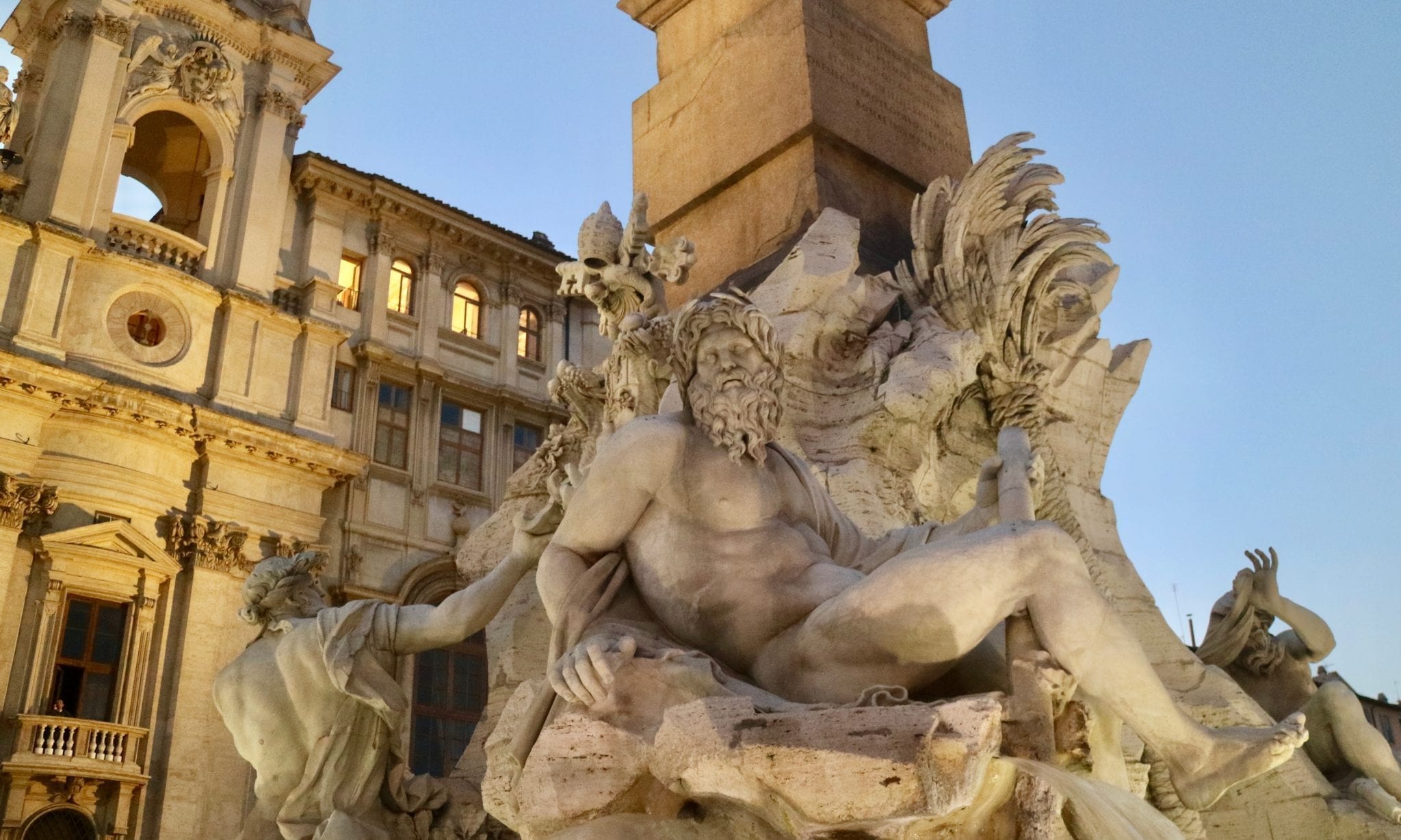 Piazza Navona
Bustling and beautiful. Full of artists and musicians. Fun people watching and great art if you are willing to hunt. We have bought several paintings there that I absolutely love.
Fontana delle Tartarughe
This sweet fountain in a small piazza in the heart of the Jewish Ghetto is always a welcome sight. Don't miss tasting some Jewish Roman food while you are in the neighborhood- it's one of the tastiest areas of Rome.
Tip: Grab a copy of Tiffany Parks book Midnight in the Piazza before your trip and read it together. It will make the hunt for the fountain even more fun and meaningful!
Enoteca Cul de Sac
One of our favorite restaurants. A casual wine bar with great food. We love their onion soup and cacio e pepe. Everything we've ever tasted there actually has been amazing.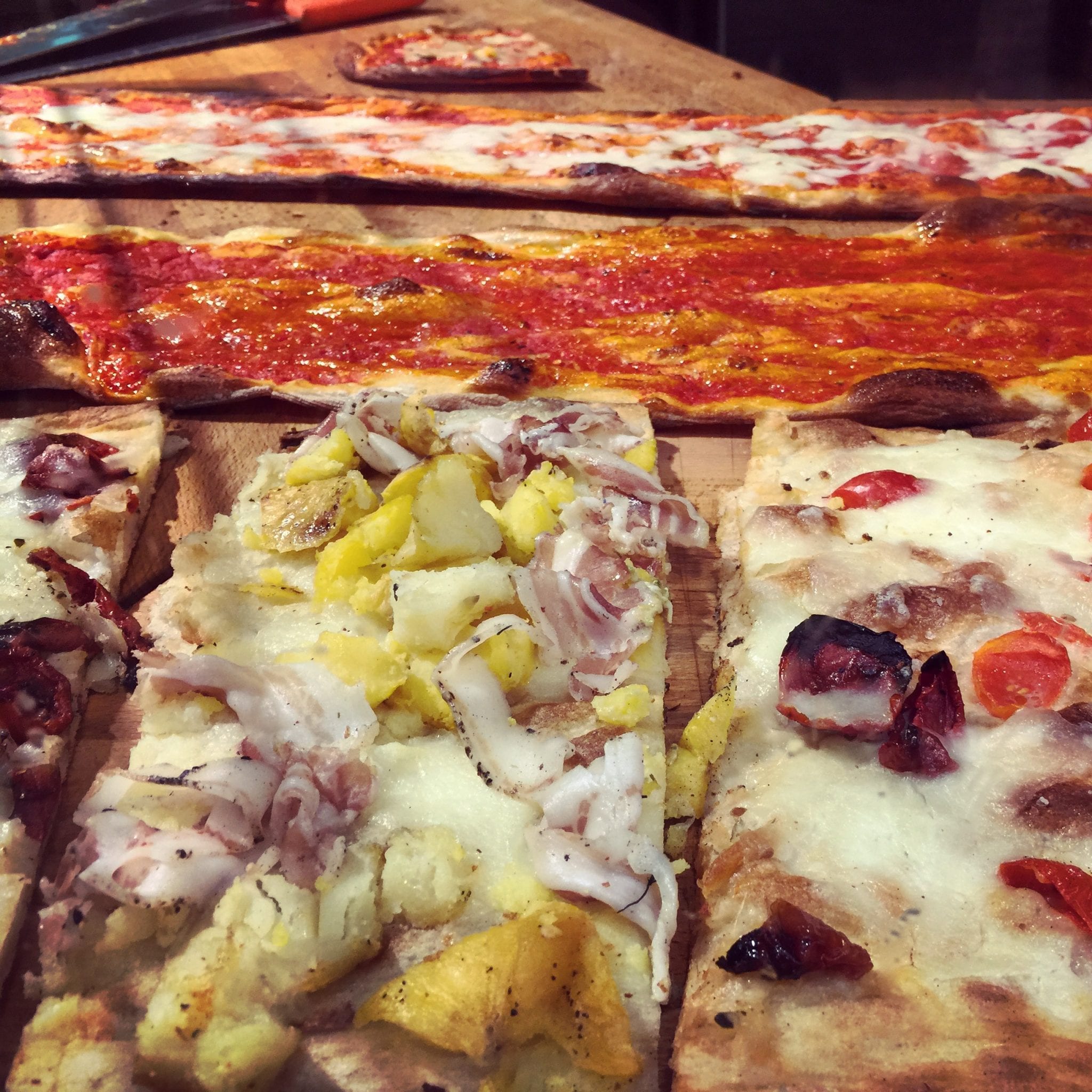 Antico Forno Roscioli
A favorite place for pizza al taglio and suppli in Rome. Always packed but worth the squeeze. Go to the counter and catch the eye of someone behind the counter so they know you are really ordering and not just drooling over the beautiful food. Pick what you want and they will weigh it and give you a ticket to go pay. Pay for your food & drink, then come back to the counter with your receipt to pick up your food. If you're lucky there will be a tiny table to share, because I guarantee you will have so many things you want to try and it's impossible to juggle all of it in your hands!
The kids are now hooked…
Ristorante Da Giggetto
For us, a must eat place every time we are in Rome. This time, we saved it for our last dinner in Rome. A classic in the Jewish Ghetto- we adore their fried artichokes, baccala, eggplant parmesan and cacio e pepe. If the weather is nice, you should definitely eat on the patio over looking the ruins of Portico d' Ottavia.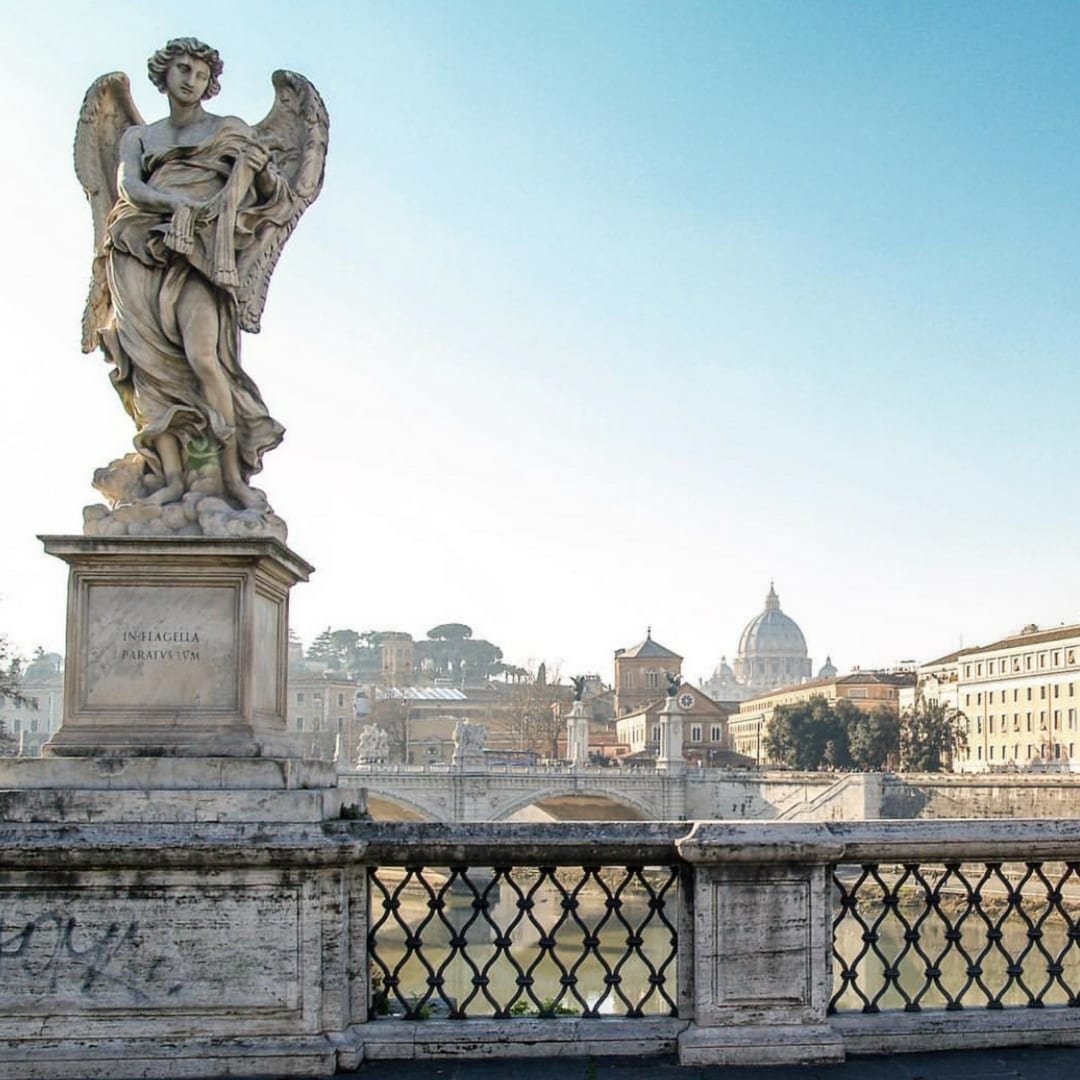 Walking in the city, viewing Vatican Square all lit up at night, walking across the Ponte Sant'Angelo, taking in the scene at the Pantheon, stopping for a treat at a small café tucked down a side street- it was a wonderfully relaxed and delicious weekend.
The kids both declared this their favorite city ever. Which makes my heart very happy, because I feel the same way.
Below are some of the things we did this trip to Rome with kids in tow… You can spend a fair amount of money in Rome if paying for tours and entrance fees, which we also do, just not this trip. But interspersing the splurge items with some of these wanderings can make your Roman weekend a bit more affordable and relaxed.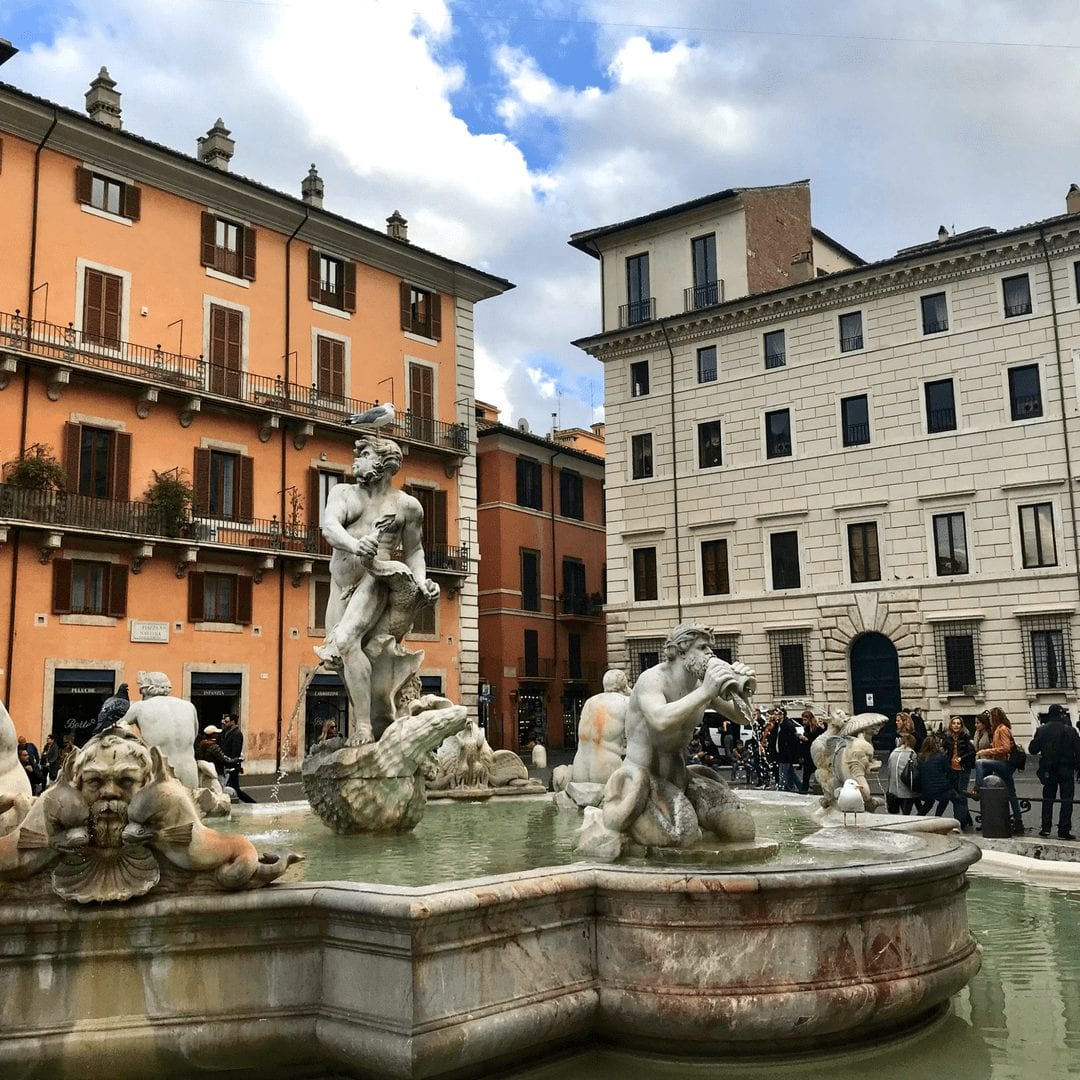 Wander. 
Vatican square | Free and gorgeous both night & day. Lovely walk to include with the Castel Sant'Angelo & Bridge below
Ponte Sant'Angelo | The bridge leading to the Castel Sant'Angelo, filled with Bernini angels. (stunning at night or during the day)
Castel Sant'Angelo | Built by Emperor Hadrian in 123 AD, this building is been a monumental tomb, fortress & papal housing and connected to the vatican by the "Passetto di Borgo", the passageway that was used for Popes to have an escape route in case of attack.
Pantheon | Best preserved building of Ancient Rome. Famous for it's architecture, this building has been a pagan temple and a Christian church.
Trastevere | Quirky fun neighborhood to wander and get lost in on the other side of the Tiber.
Campo dei Fiori | Large open air market, touristy but still super lovely and full of atmosphere.
Jewish Ghetto | Most lovely and delicious neighborhood in Rome. We love to stay here & eat here. (don't miss the Fontana delle Tartarughe- turtle fountain)
Piazza Navona | Famous Bernini fountains and place I love to wander when the artists are out.
Via Marghutta | A favorite tiny street, the setting of Roman Holiday's famous apartment and some cool shops.
Via Giulia | Beautiful street running along the Tiber River.
Largo di Torre Argentina |  Cat Sanctuary amongst Roman Ruins from 400 BC.
Circus Maximus | Ahh the history! Fun to walk through and imagine the chariots and crowds.
Villa Borghese | Gorgeous park, one of the best overlooks of the city IMO, and great place overall to walk/bike/picnic/explore with kids.
Gianicolo Hill | Known as the 8th hill of Rome, rising above Trasevere- this is a great walk and view over the city. I also love to peek at the American Academy in Rome while up there and imagine I'm hanging out with Anthony Doerr.

Eat + Drink. 
(Delicious Kid Friendly Places We Love.)
See & Do.
If you decide you'd like to do more than just wander, eat & explore- consider adding one or two of these options below to your itinerary.
Walks of Italy |  Pristine Sistine Tour,  Underground Colosseum & Roman Forum Tour   Both of these tours are lengthy but interesting, our pre-teens loved them. (until the Roman forum when they were just DONE seeing things and it was cold)
Musement | Small Group Rome Tours with Local Guides (Kid friendly Sistine Chapel/Vatican Museum Tour)
Catacombs of San Callisto | An interesting and budget friendly tour, is visiting the Catacombs of San Callisto along the Appian way. Tours are held in multiple languages and are required to go down into the Catacombs. The kids loved this, it wasn't too long and was the perfect mix of creepy & interesting. One of the largest and most important catacombs in Rome.
Borghese Gallery | We've only taken the kids to 1 museum in Rome, and this one is a don't miss in my opinion. It is a great size (smaller) has a mix of famous sculptures and paintings and is right in the middle of a giant park. It is well worth making the reservation (required) and taking an hour or 2 to explore.
The Roman Guy | Trastevere Food Tour Delicious food walking tour, great for families.
Casa Mia Food & Wine | Custom private food & wine tours (highly recommended)
Sleep. 
The Beehive |  Via Marghera, 8 // Various styles of rooms (hostel, hotel, guesthouse) from 25 eu- 80 eu depending on type. Lovely & friendly lodging near Termini station. Owned by an American family who are long time Rome residents.
Italy Perfect vacation Rentals | The ultimate in vacation rentals- owned by 2 sisters who check each lodging personally and make sure it is up to their lovely high standards. I can't recommend them enough, they have beautiful properties and provide so much information which is valuable on its own. (Read my review of Apartment Pasquino here. A 2 bedroom vacation rental near Piazza Navona and a great base for all your Roman exploring.)
Magia in Trastevere | Really nice 3 bedroom 2 bath apartment in Trastevere. We loved it, it was quiet and modern and had fabulous air-conditioning (a must) an elevator in case you don't want to take the stairs, a washing machine and was just a great base for one of our family rome trips. Just downstairs is a great restaurant where I had one of the best bowls of Cacio e pepe of my life!
Albergo del Senato  | Piazza della Rotonda, 73 // Doubles from 140 euro &  up A beautiful hotel right in the middle of the action. We spent one Christmas week here, and loved it. (tip: ask for a corner room looking over the Pantheon)
At Your Place B&B | Via di Porta Castello 33 // Doubles from 64 euro & up Simple B&B with a great host and great breakfast. Near the Vatican.
---
Buon Viaggio & Happy Exploring, Friends!
-Heather
Pin it for later!