10 Easy Italian recipes for summer.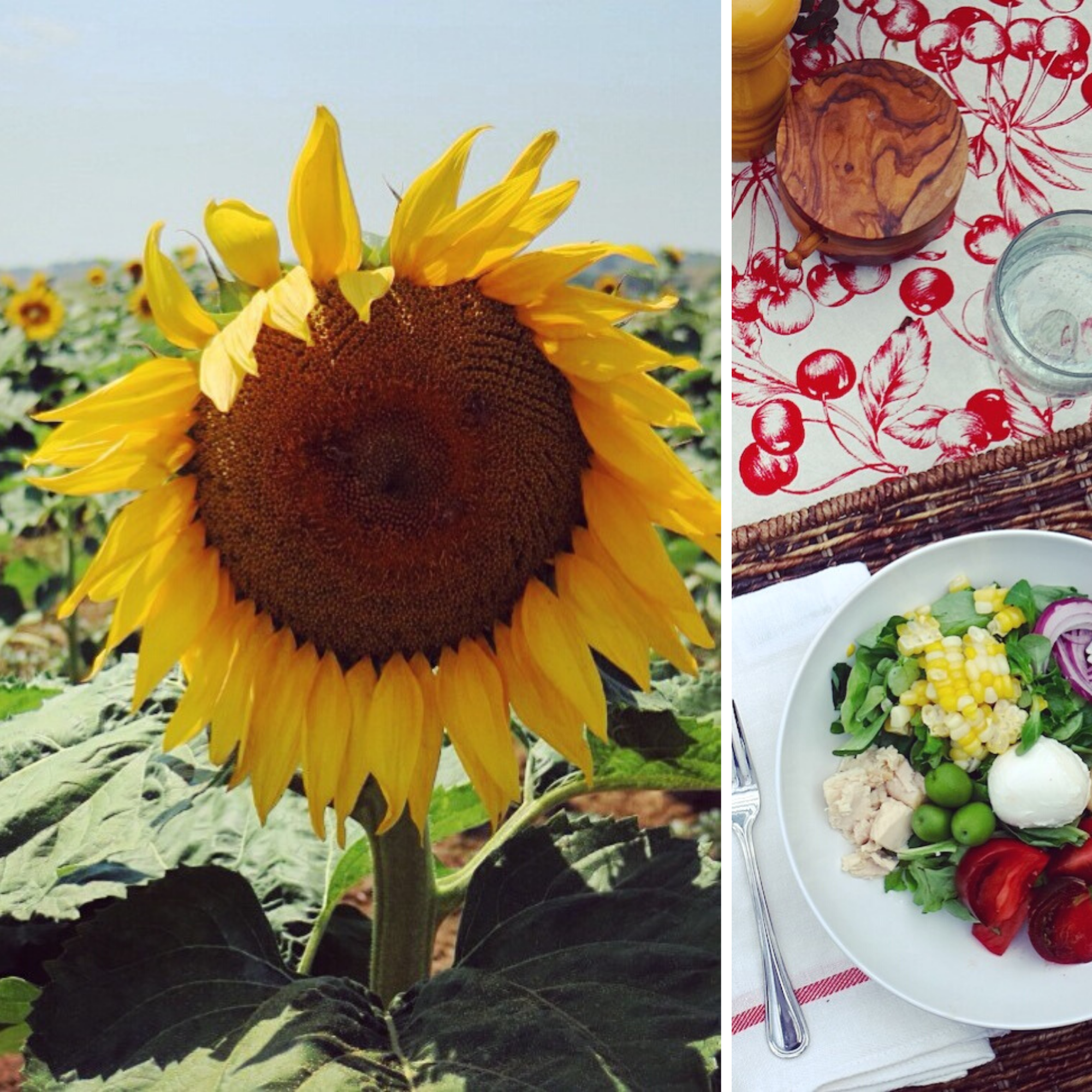 updated 07/20
10 Easy Italian recipes for summer.
Summertime in Italy? I remember it well.
Long, hot days- where work and anything requiring much movement at all slows to a crawl. The antidote is the constant company of a caffé shakerato, (Italian iced coffee) a strong fan, and heaps of lemon granita.
And cooking? Forget about it. Italians are masters of using produce at its peak to eat well, but also very simply during the hottest days of summer.
Below are some of our favorite summer Italian recipes- mostly salads + ideas for hot summer nights, whether you are eating at home or abroad. (click on the recipe name to go to that recipe)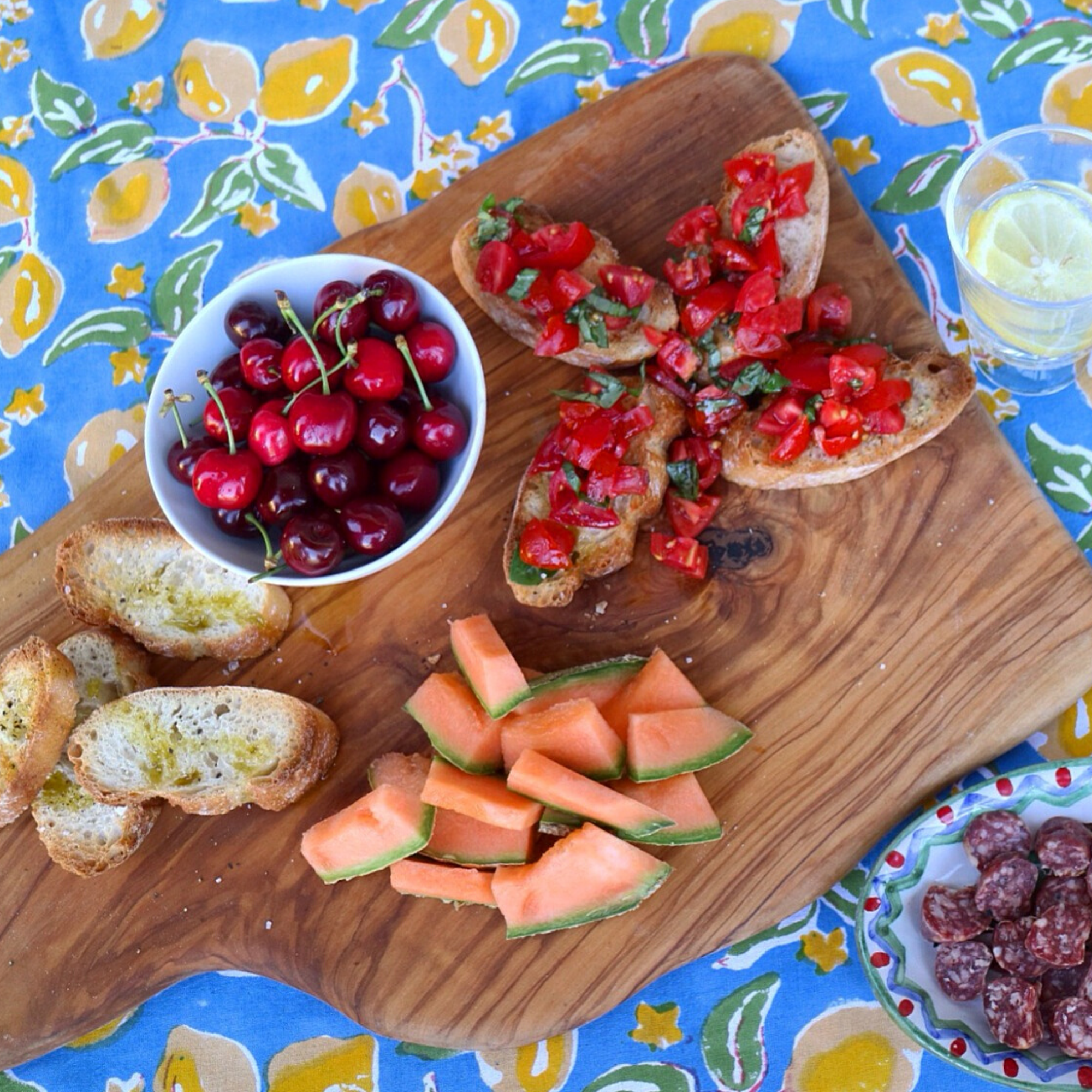 Perfect Pairings for Summertime Eating
Cantaloupe + Prosciutto
Tomatoes + Mozzarella
Cannellini Beans + Tuna
Pesto + Pasta
Cooled Farro, Herbs + Veggies
Crostini + Toppings (stone fruit + burrata or tomatoes + basil are favorites)
Pro tip: Make the pasta or grain in the morning when it's cool, add other ingredients and chill. Your meal will be ready and waiting by the time lunch or dinner time arrives.
-Buon Appetito!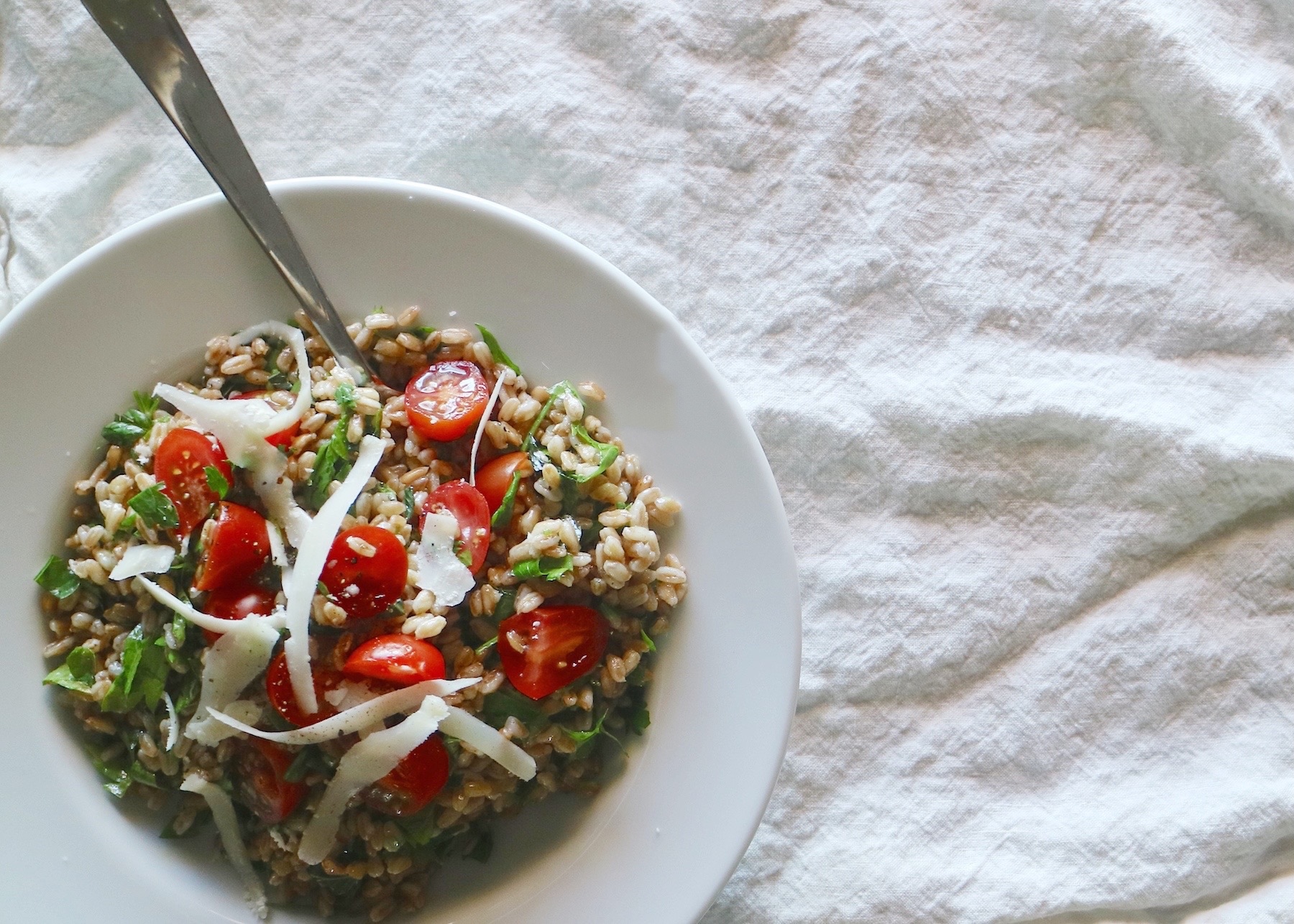 Farro is so versatile, you can do a million things with it- this is one of my favorites. Light and lemony, it's perfect chilled or at room temperature. It comes together quickly and you can make it ahead and it still is great- the super flexible + unfussy dish of the bunch.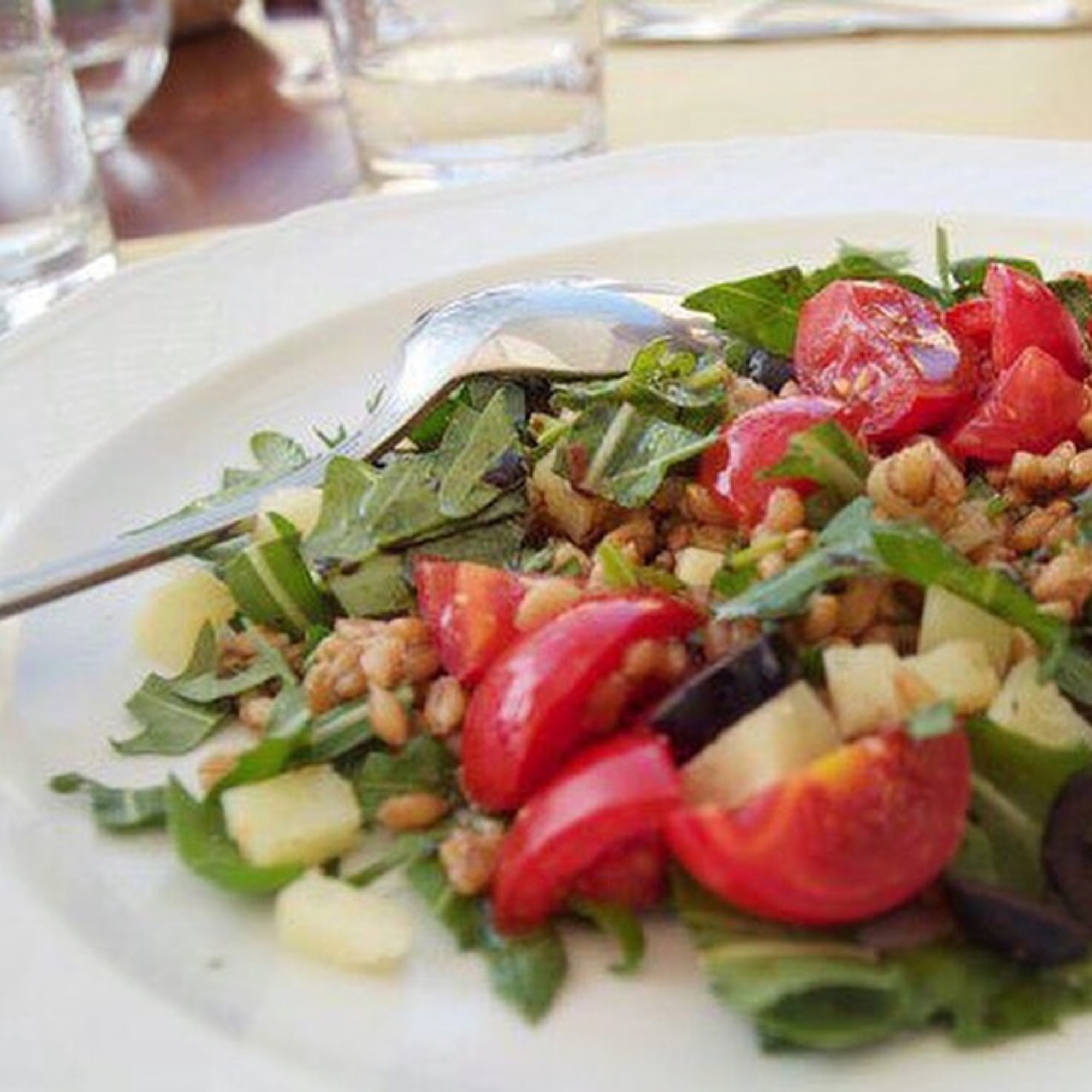 I often wax poetic about my love for Umbria. This salad takes me there every time I make it.
It's great by itself, as a side dish, or as part of your apericena. It reminds me of my first trip to Umbria, a 3-hour lunch on the Piazza in Montefalco, and the days that followed where I made my version of it at our little apartment for 3 meals straight.
I could not get enough. It's that good. But simple.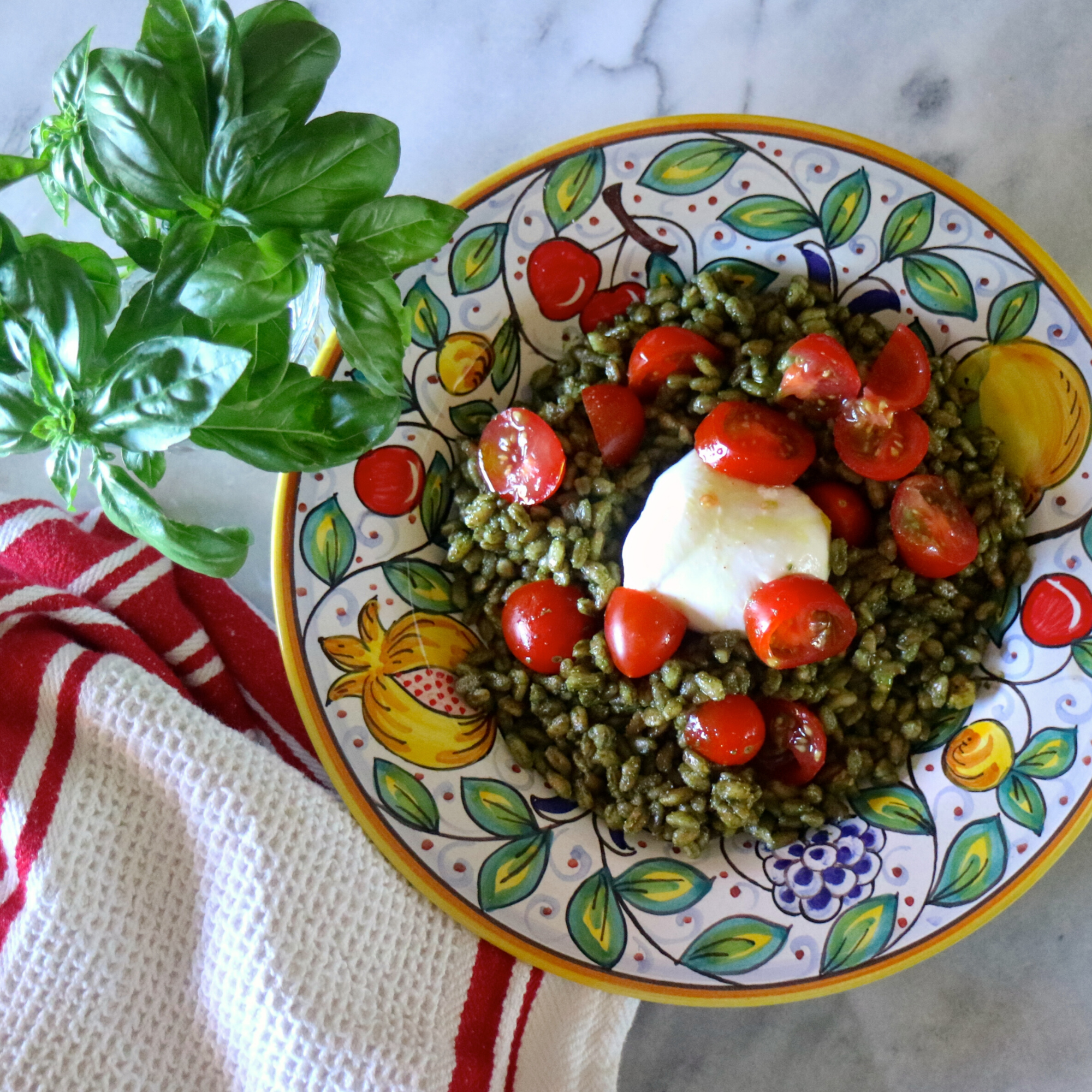 Farro Salad with Burrata, Tomatoes + Pesto.
Another farro salad that is fantastic for parties at room temperature but with creamy burrata and pesto. (you can also jazz it up with some fresh basil or arugula- but it's great as is)
Just 4 ingredients- all to taste, but here are the rough amounts.
2 cups uncooked farro
16 oz. chopped cherry or grape tomatoes
1/2 cup to 1 c. Pesto
2 balls of Burrata (the most delicious cheese, worth seeking out)
(olive oil, salt + pepper)
Directions:
Cook 2 cups of farro (according to package)
Let it cool a bit. Stir in some pesto and chopped grape tomatoes to taste.
Top with burrata.
Taste and season with salt + pepper if needed.
Sometimes if it seems dry, I drizzle a little good olive oil on top before serving.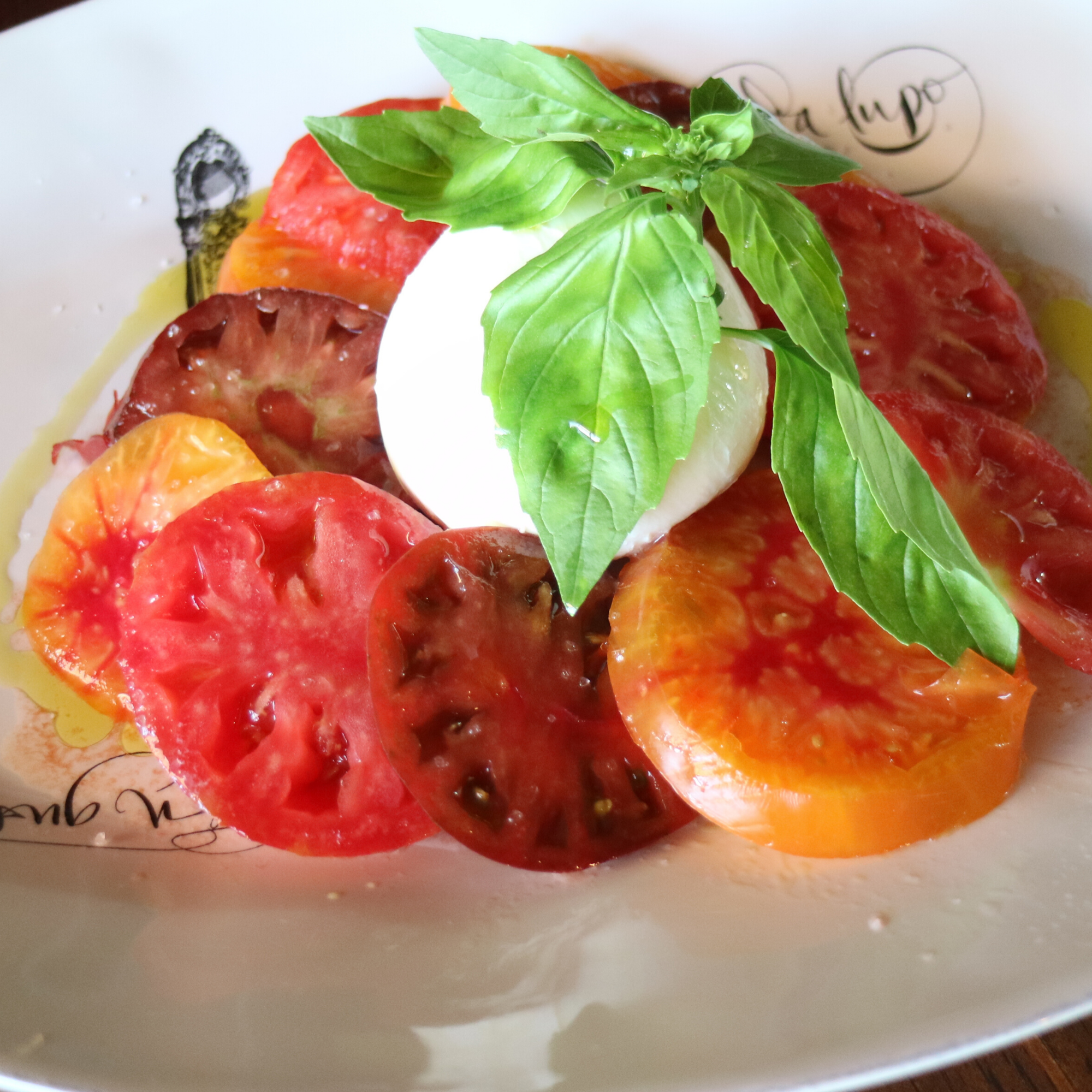 Insalata Caprese.
Caprese Salad is a bit misunderstood in America I think. It's often overdressed when it really just want to hang out with friends and feel the sun and the wind on its face. (Metaphorically speaking that is.)
Here's how you do it.
Get the best tomatoes you can find.
Get the best Mozzarella you can find.
Grab some basil leaves off of your patio pot, or at the market.
Here's where it gets tricky. Slice or dice? Layer or stir? Bowl or platter? It's up to you.
All you need is the best olive oil you can lay your hands on, and maybe a little salt and pepper.
No, my friends- true Italian Insalata Caprese does not have balsamic on it.
But if you like it that way, I promise not to tell…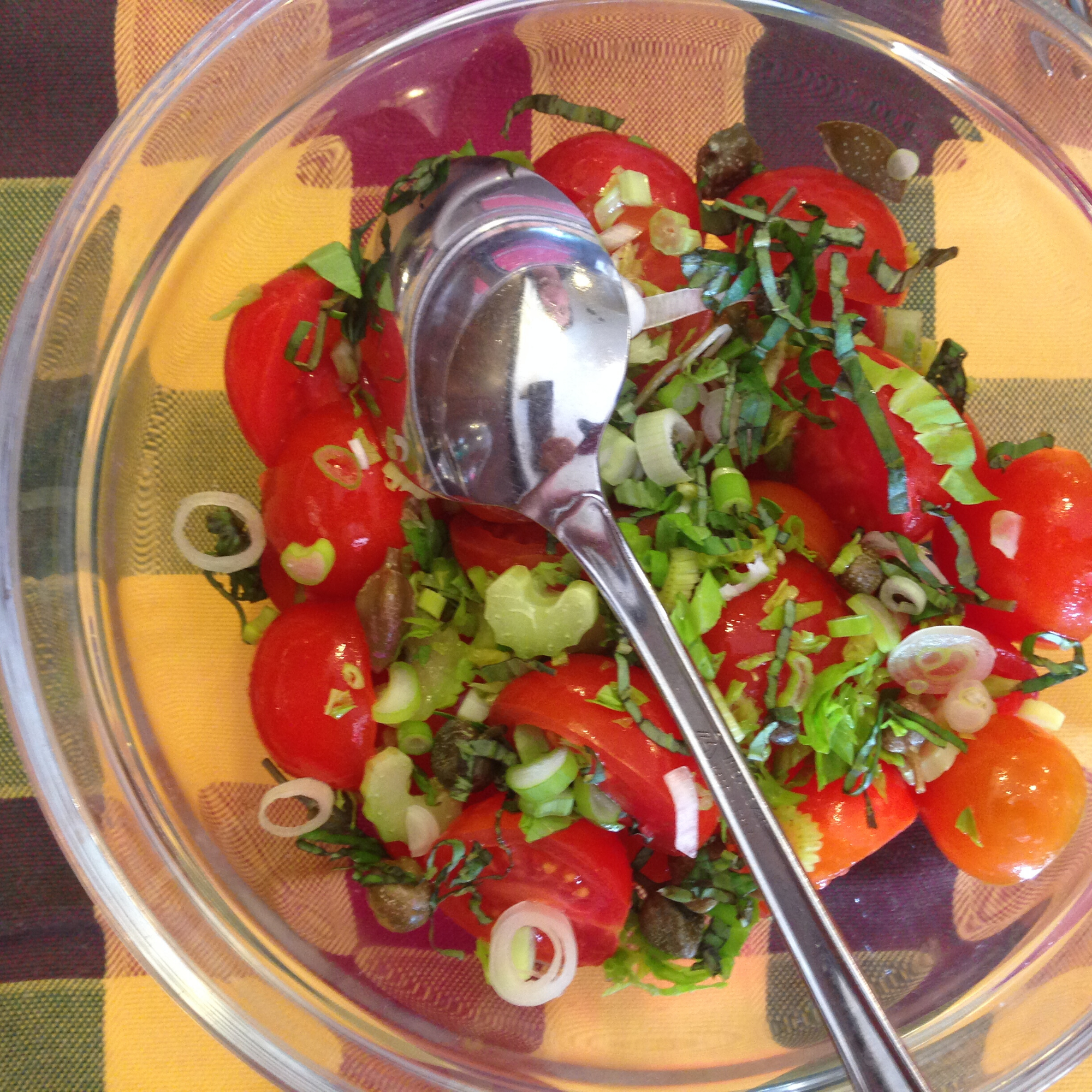 Sicilian Tomato Salad.
I am not fibbing when I say this is the easiest side dish. It's so deliciously simple and just looking at this photo makes me think of our week in Modica where we had it many days in a row. SO good. Here's my version.
Ingredients:
Best tomatoes you can find, chopped
1 bunch of green onions, chopped
1 stalk of celery, chopped finely
2 T. capers
Fresh basil, torn into small pieces
Best olive oil
Sea Salt + Dried Oregano
Stir it all together and let it sit a bit so the salt + olive oil can do their magic (1 hour is great if you have it.)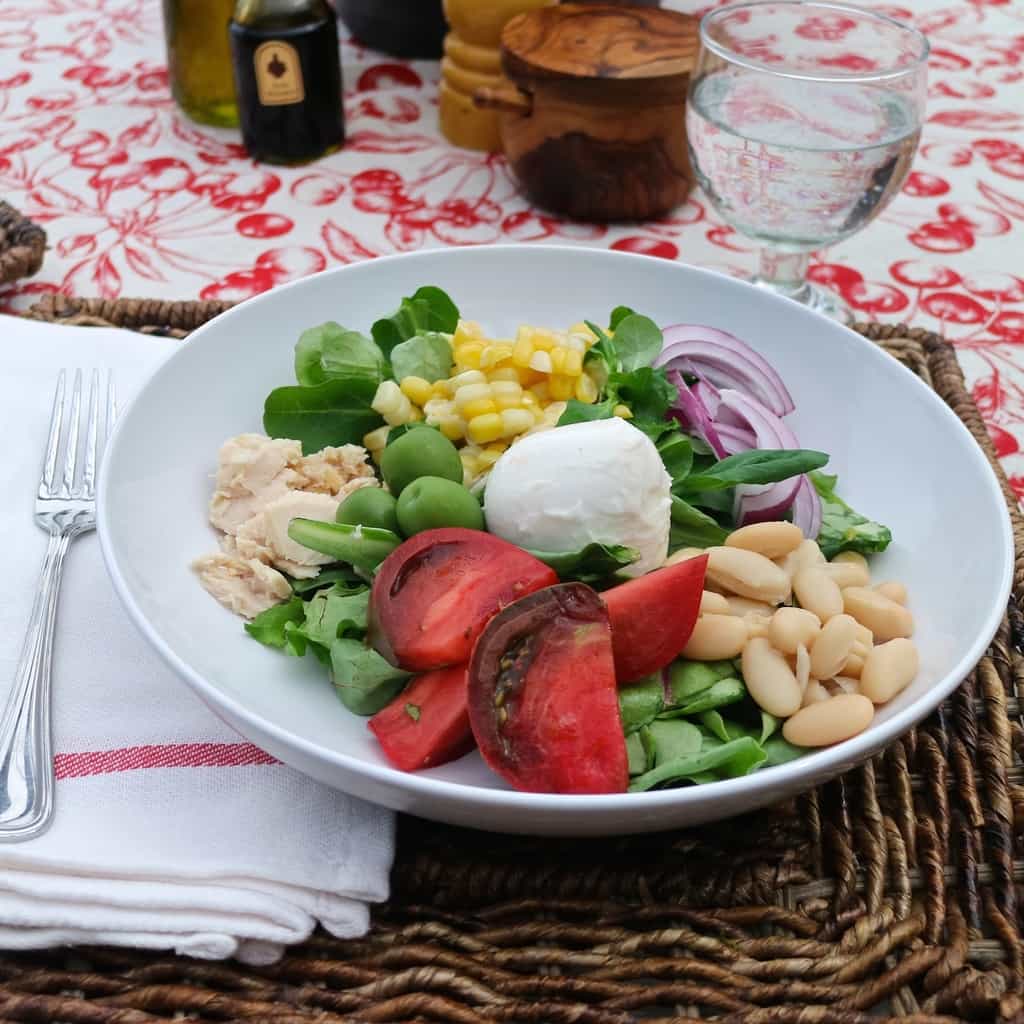 I often ordered this at lunch in Italy as my main meal, but it makes a great dinner time salad as well.
When I make it at home, I put everything out salad bar style, because some of my people who shall remain nameless don't like beans, and others don't like tuna.
This way everyone can make their own version, and be happy.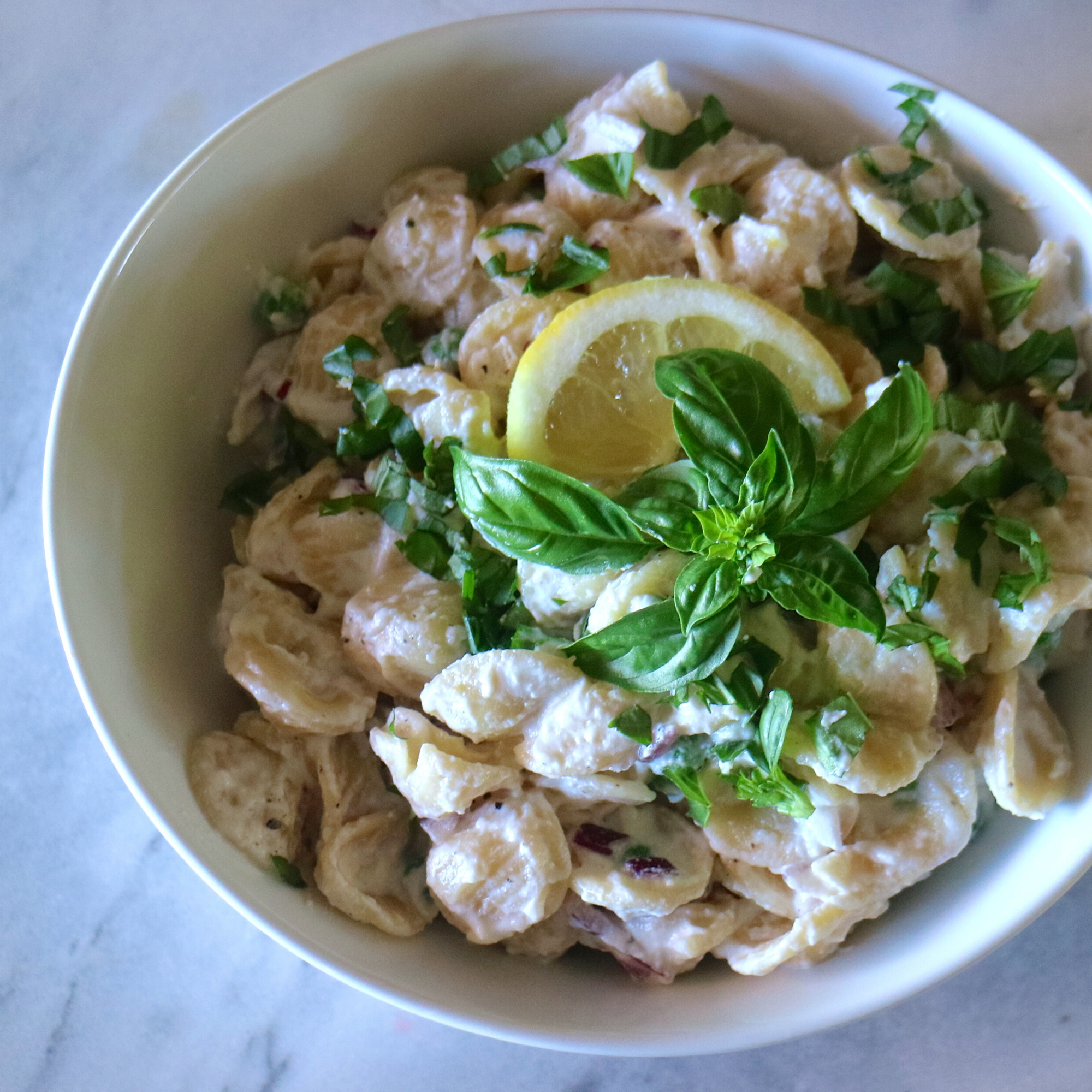 This grown up pasta salad is just begging to be taken to your next party. This one is a little more decadent because of the ricotta, buy the best you can find- it will make a huge difference.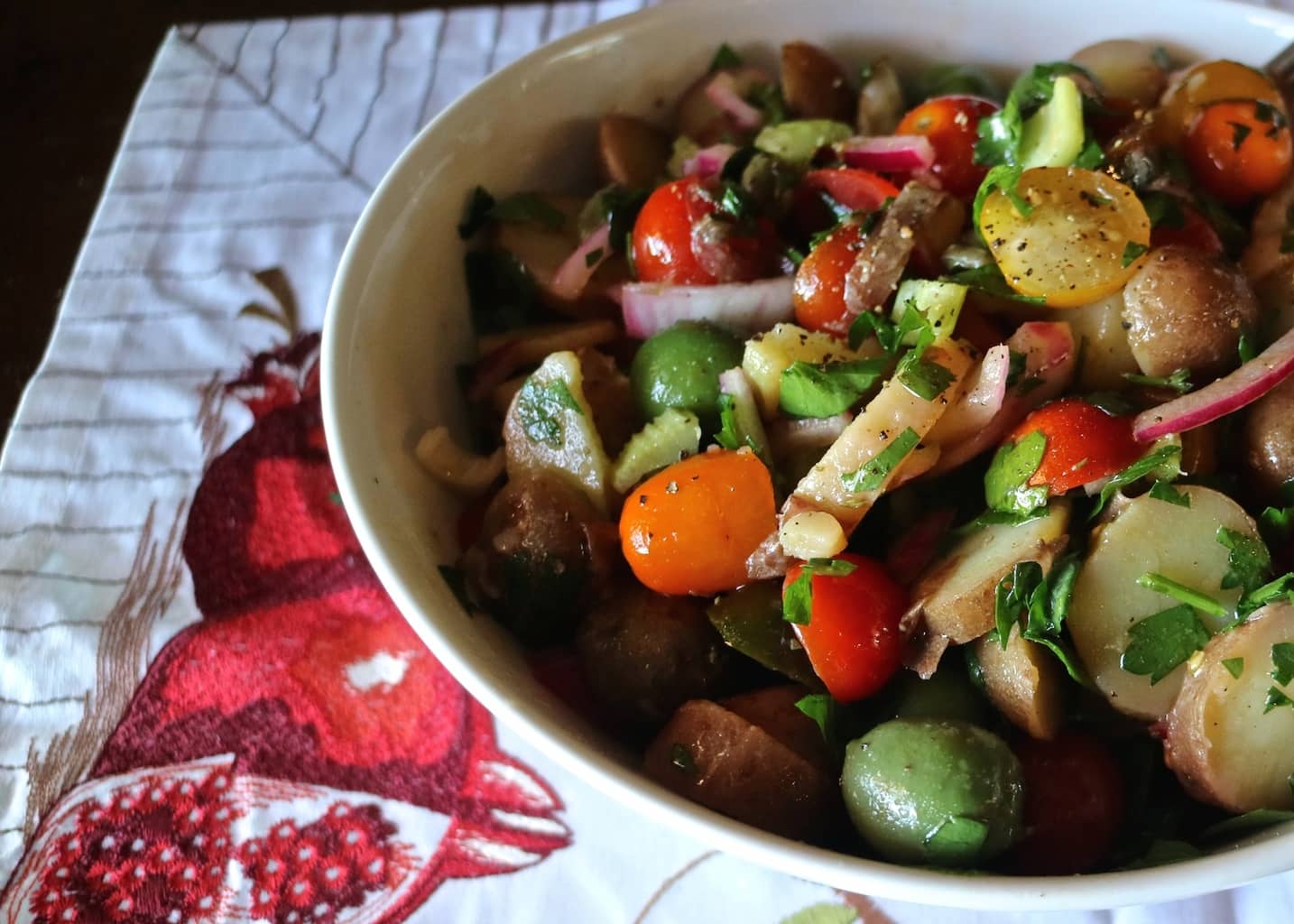 I'm drooling on my keyboard thinking about the food in Sicily. It surprised me how much I loved it. Everything was so fresh and had different flavors than I was used to up in Milan.
This Sicilian Style potato salad blew me away with its simplicity and freshness. Feel free to add or subtract ingredients to your taste, but for the love of all things Italian, you should use a great quality olive oil!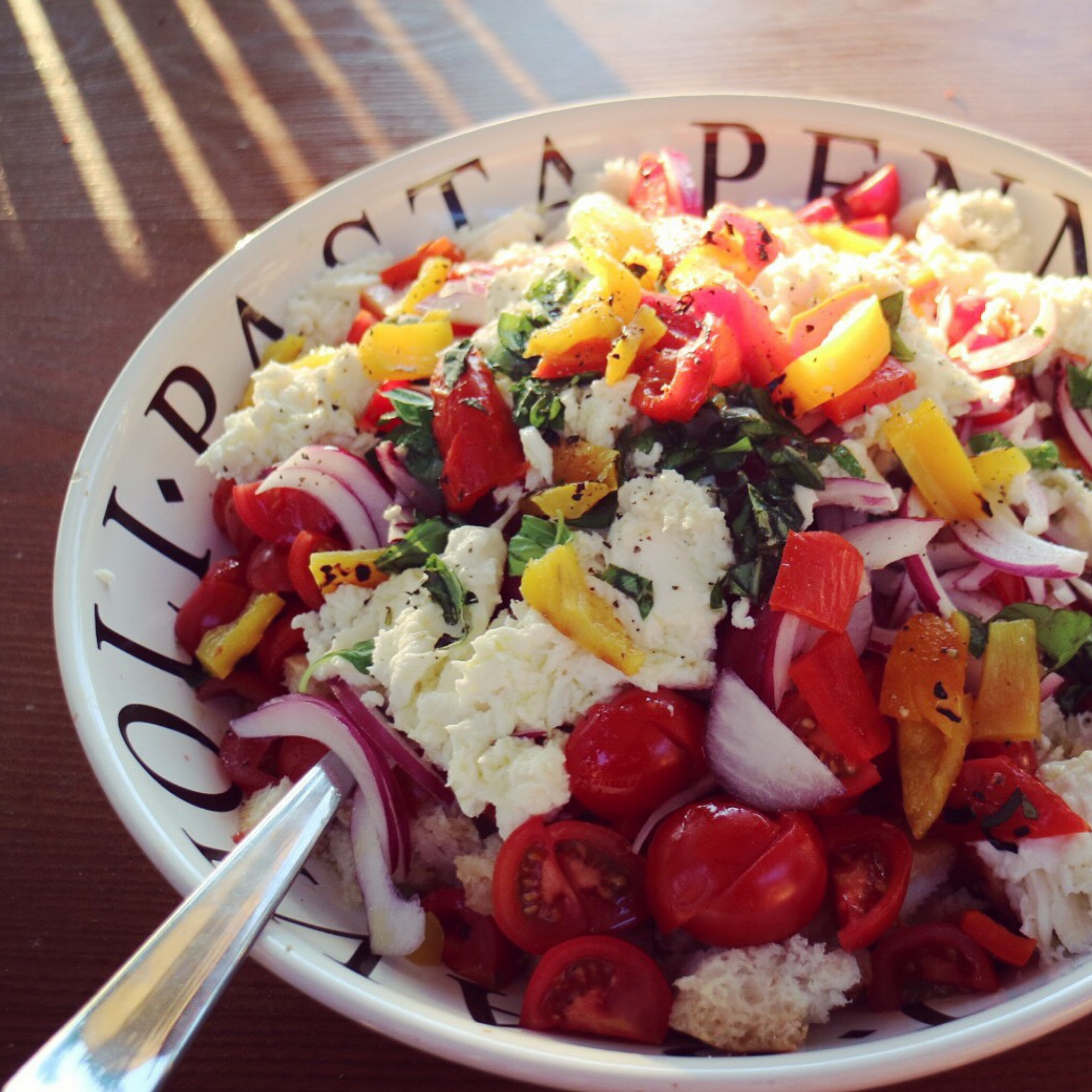 How do YOU Panzanella?
I usually like this Tuscan salad fairly straightforward and simple- but this epic everything but the kitchen sink Panzanella turned out pretty tasty. I don't pretend to claim this is traditional- but it was a great way to use up the leftovers from our holiday in Umbria. For some more traditional variations, I go to the Tuscan Food Expert,
For some more traditional variations, I go to the Tuscan Food Expert, Juls' Kitchen. She has several panzanella recipes that I really love.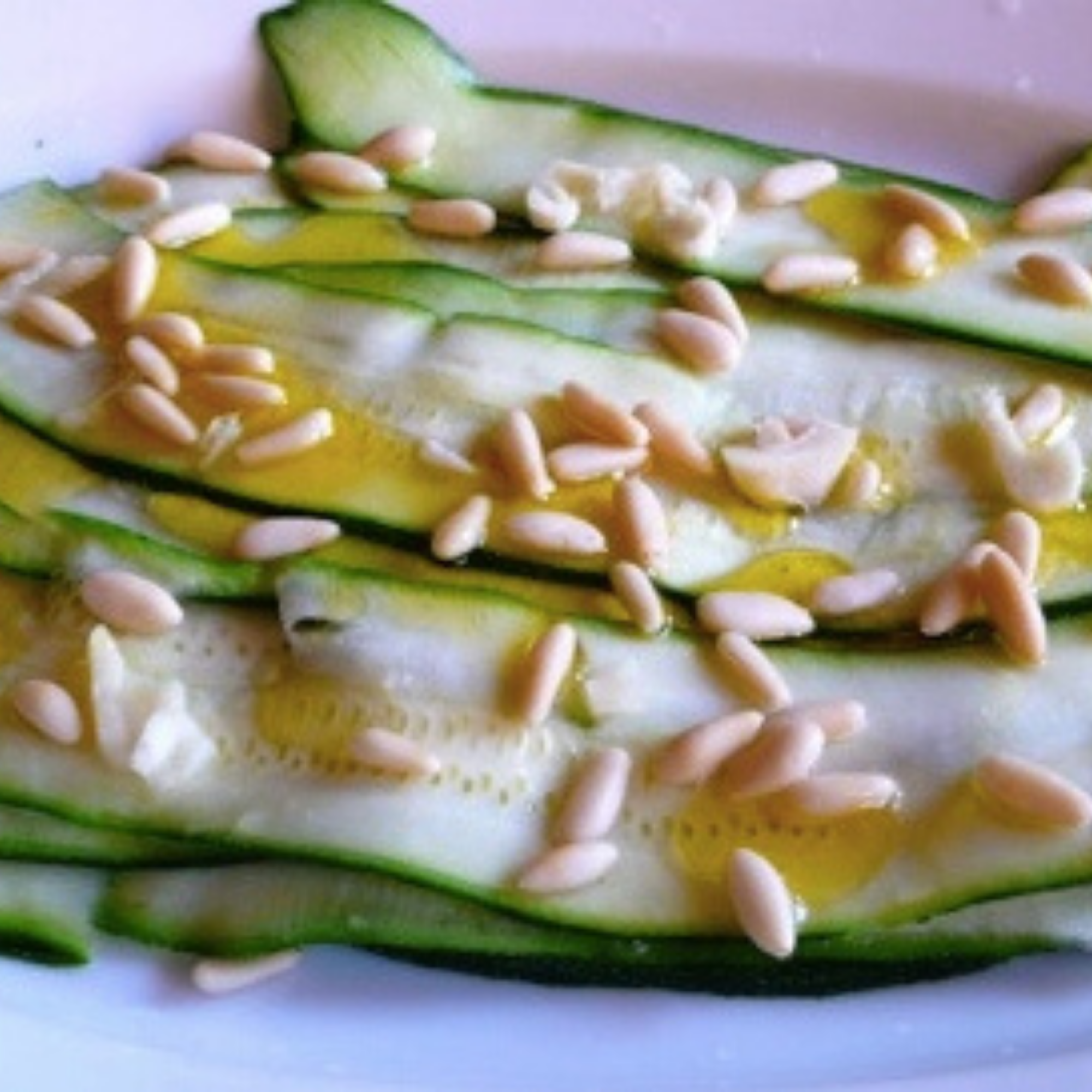 The first time I had this dish was a day spent cooking with Letizia in Milan. I had never tasted Zucchini Carpaccio, and I was so intrigued. Tender zucchini, sliced thin and marinated in olive oil, garlic and lemon. It is a super light fresh side dish perfect with almost any meal. Try it and let me know what you think!
Tender zucchini, sliced thin and marinated in olive oil, garlic and lemon. It is a super light fresh side dish perfect with almost any meal. Try it and let me know what you think!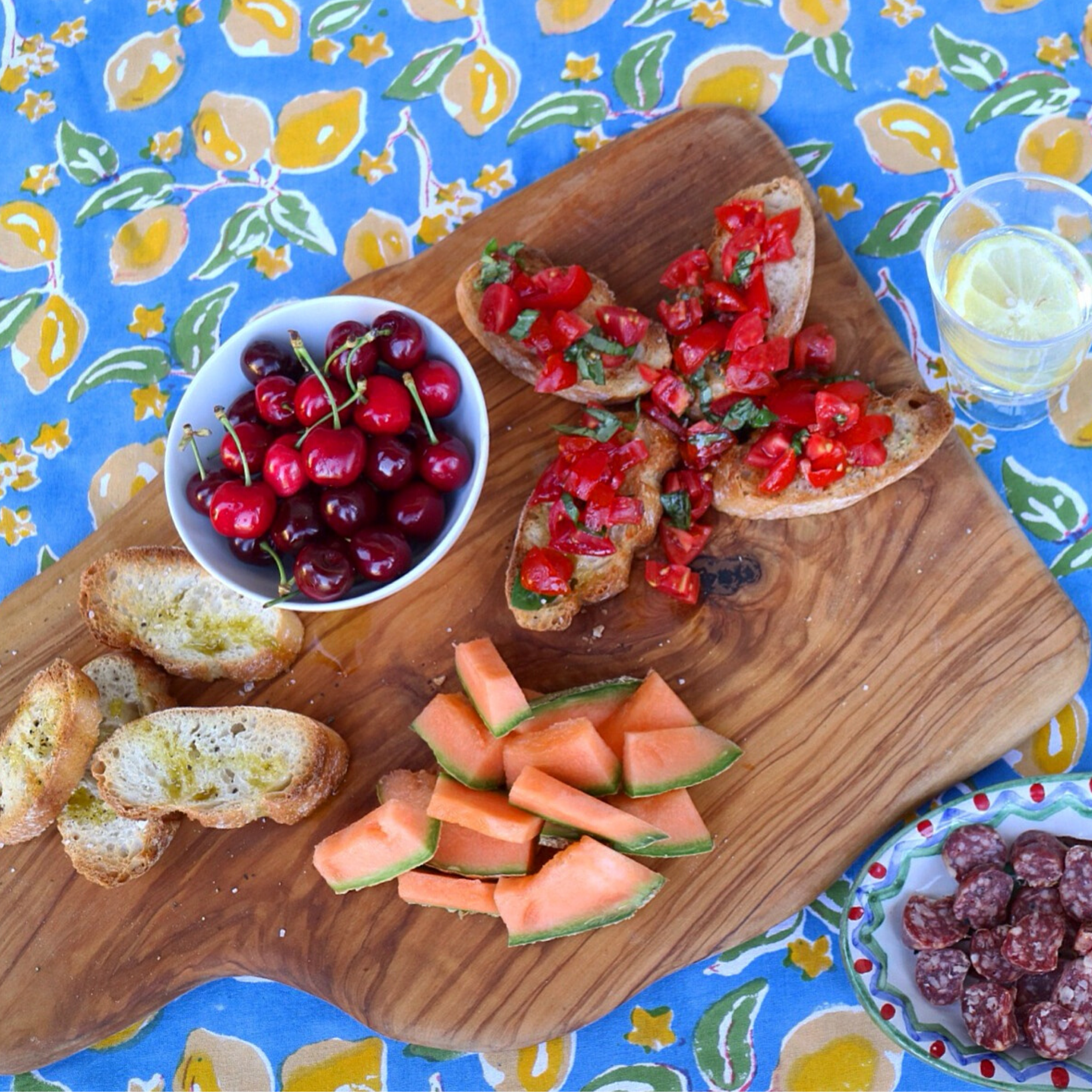 The art of Apericena.
To have a taste of Italy on your back porch all summer long, you must start an aperitivo tradition. Or in this case, "apericena" which is more of a meal than the drink + snack type traditional aperitivo.
It's super easy and unfussy and takes as little or as much time and effort as you want to put into it. This is one of our favorite go-to's for entertaining, or a hot night when you don't even want to think about making dinner.
Pop open a bottle of Prosecco, Rosé or make some Aperol Spritz. For the kids, make a mocktail with ginger beer, limes, and a little mint. If you are skipping alcohol- sparkling water with lemon + strawberries is always festive.
Grab a platter- arrange your favorite in-season fruit, cheese, baguette, crackers or bruschetta, salami, raw veggies, good olives and poof- dinner is done!
Make it fancier with some cold salads (made ahead of time,) or a frittata that you make in the morning and serve in little wedges at room temp.
The idea is to eat well, but eat light and fresh. Definitely a favorite in our house.
Ok, friends- what's your go-to meal for hot summer nights? I'd love more ideas!
p.s. For more Summer Italian Recipes- visit our Pinterest Board.
PIN IT FOR LATER